© Andrea Canter
On stage at the Icehouse last fall, experimental keyboardist Wayne Horvitz returns to the Twin Cities to perform with Josh Granowski and Davu Seru on the Thursday Night Jazz at Reverie series this week, June 15 (9 pm). They will be joined by special guest, trumpeter Noah Ophoven-Baldwin.
Based in Seattle, renowned visiting McKnight composer, pianist and keyboardist Wayne Horvitz is the leader and principal composer for many ensembles including Sweeter Than the Day, Gravitas Quartet, and most recently Electric Circus, a digital ensemble that uses audio and video to push the conception of beats and rhythms. An improviser on both piano and electronics, he has collaborated with Bill Frisell, Liz Lerman, Paul Taylor, and John Zorn, and has received support from Meet the Composer, the Mayor's Office of Arts and Cultural Affairs in Seattle, and MAP Fund in addition to his 2016 Doris Duke Award. Currently an adjunct professor of music at Cornish College for the Arts in Seattle. Horvitz toured 21 Minnesota towns in 2016 with his "21 Pianos", an interactive, site-specific project performed on an extremely out-of-tune piano. The project will culminate in a book and two CDs. He is also premiered "Those Who Remain Part II" at the Seattle Art Museum in January 2017.
Josh Granowski is a renowned bassist with a reputation for being versatile and supportive in any context. In recent years he has become a stalwart of Minnesota's traditional jazz scene, playing in the Butch Thompson Trio as well as with Patty & the Buttons and The Southside Aces. Yet he also has been a longtime bassist/collaborator with improvising artists George Cartwright, Davu Seru, Bookhouse Trio, Midwest Paul Cook, Byron Johnson-Blanchard Trio, and more.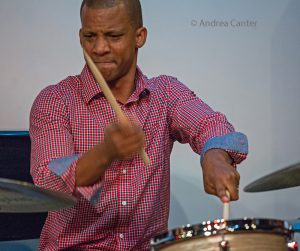 Recently highlighted in the Star Tribune, Twin Cities native Davu Seru is respected internationally for his free jazz drumming as well as his performances in jazz, rock and avant-garde improvised music. Primarily self-taught, his percussion style is notable for its attention to sound, silence and melodic line as much as rhythmic pattern. Davu has worked with such inventive musicians as Charles Gillett, Elliot Fine, Paul Metzger, Anthony Cox, Dean Granros, Dean Magraw, Wendy Ultan, Adam Linz, Evan Parker, George Cartwright, James Buckley, Taylor Ho Bynum, and Nicole Mitchell. In addition to leading No Territory Band, he currently plays with Merciless Ghost, Milo Fine, J. Otis Powell‽, Dean Magraw (monthly duo at the Black Dog), and more; curates a monthly show at Khyber Pass Cafe; and is a member of the composer-improviser collective orchestra, Cherry Spoon Collective. Davu earned a Bachelor's degree in African-American Literature and a Master's in English from the University of Minnesota, where he is now a professor of African-American Literature and Culture. He has received awards from the American Composers Forum (Minnesota Emerging Composer Award) and the Metropolitan Regional Arts Council, and commissions from the Zeitgeist Ensemble and Walker Art Center. He is the inaugural Artist in Residence at Studio Z in St. Paul.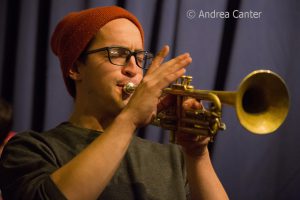 Trumpeter Noah Ophoven-Baldwin was one of Pat Moriarty's star pupils at Roseville Area High School, and has shared the bandstand a few times at Studio Z with his former teacher. Moriarty notes that "he's an excellent player but his creativity, imagination, and thorough knowledge of the entire history of jazz trumpet set him apart from other young guns." More recently, Noah was on the front line of the University of Minnesota's Jazz Ensemble I, and since graduation four years ago, has appeared regularly in Adam Linz's Le Percheron, in the trumpet section of the Adam Meckler Orchestra and has played with Jake Baldwin, Nelson Devereaux, the Brass Barn Polka Band, in soul-funk band Hustle Rose, and with Pat Moriarty and Ellen Lease in Resurrection. A busy composer as well as performer, Noah is the co-founder of the musician's collective, Vector Families.
Thursday Night Jazz at Reverie is curated by Steve Kenny, and takes place weekly at 1931 Nicollet Av South in Minneapolis (at Franklin). No cover but donations ($10 suggested) are appreciated to support the musicians and the jazz series. Full Thursday schedule at www.thursdaynightjazzatreverie.info