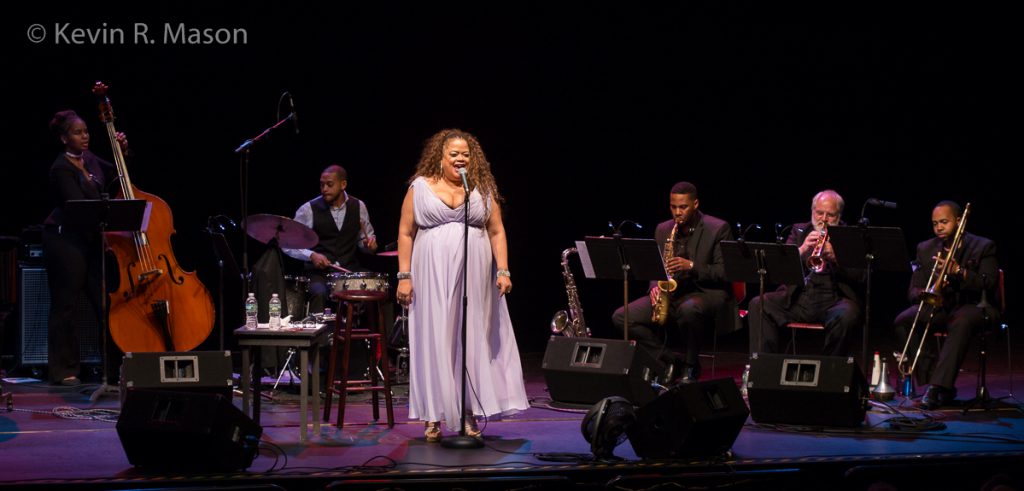 On Saturday May 6, 2017, the On Stage at Kingsborough series presented a stellar show, Four Women: Nina, Lena, Abbey, & Billie, starring exciting chanteuse Natalie Douglas, at the Leon M. Goldstein Performing Arts Center at Brooklyn's Kingsborough Community College. Natalie is a recording artist who has performed to rave reviews all over the world, including Italy, Turkey, United Kingdom, Monaco, Greece, Montenegro, Argentina, and Mexico, and has performed at Carnegie Hall, Birdland, and Café Carlyle. She is a darling of the cabaret world, and has won numerous well-deserved awards, including the Back Stage Bistro Award for Outstanding Female Vocalist, eight MAC Awards (Manhattan Association of Cabarets and Clubs) for Outstanding Vocalist, and accolades from the Mabel Mercer Foundation.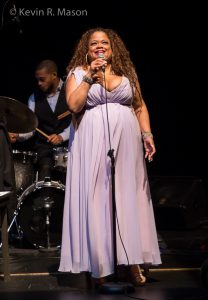 The concert was a wonderful tribute to four of the most iconic singers in the history of jazz and the Great American Songbook: Nina Simone, Lena Horne, Abbey Lincoln, and Billie Holiday. The evening started with the classic song from Show Boat, "Can't Help Lovin' Dat Man." Natalie described how much Lena Horne wanted to play the role of the biracial character Julie in the film version of Show Boat, but was passed over for white actress Ava Gardner, who ironically was one of Lena's best friends in real life. Unfortunately, most people in Hollywood didn't really know what to do with Lena. So, with only a few exceptions, she usually ended up isolated in one or two musical numbers as a "specialty act" that could be deleted when the movie was shown in the South. Therefore, Lena recorded, toured, and did theater and club dates to make a living.
Natalie gave the audience a lot of interesting historical details and anecdotes about the singers' lives and careers between songs, which really added a lot to the evening, making the show a fine blend of great music and illuminating facts. She has a powerful voice that can soar, but she also has the ability to be soft and subtle, and her dramatic flair with songs is most impressive. She was joined at Kingsborough by Danny Hall on trombone, Tim Wendt on trumpet, Stantawn Kendrick on saxophone, Darrian Douglas on drums, Endea Owens on bass, and Musical Director/pianist Mark Hartman (who has been working with Natalie for over 20 years).
Natalie sang a very moving and beautiful song written by Abbey Lincoln, "Wholly Earth," and said the message about sharing the world with everyone is more important than ever these days. On "Stormy Weather," Natalie really belted out Lena's signature number in the best torch song tradition, and she described Lena Horne as "a force of nature, a force to be reckoned with." The next song in the set was a whimsical ditty that showed a playful side of Nina Simone that was rarely seen. The song, "Marriage Is for Old Folks," from the off-Broadway musical version of The Secret Life of Walter Mitty, was a true delight in the assured hands of Natalie and her talented band.
"Mr. Bojangles" was introduced with the surprising fact that it wasn't written about the dancer, Bill "Bojangles" Robinson, but about a man in jail with the nickname "Bojangles" because of his dancing. However, the song stuck to Bill Robinson, and has become legend. Natalie said that Nina's version of the song gave her a new appreciation for it, and she expressed appreciation for all the sacrifices that were made by performers like Bill Robinson, adding that she's proud to stand on their shoulders. Her rendition of the song was heartbreaking and lovely. Natalie Douglas is as much a fine actress as she is a gifted singer, making her show much more than just a collection of songs. A fine bass solo by Endea Owens punctuated Douglas' sultry version of "God Bless the Child." Natalie recounted how Billie's inspiration for writing that song came when she asked her mother to lend her some money. When Billie's mother said no, Holiday was motivated to write this timeless classic. The group then performed a rousing "Day In, Day Out," which Natalie described as "the fastest song we play."
"Strange Fruit," one of the songs most associated with Billie Holiday, was introduced at Café Society in New York. Natalie recalled how the composer of the song, Abel Meeropol, was deeply troubled by all the lynchings that were happening in the South, and wanted to do something about the appalling situation. Reportedly, Billie did not want to sing the song at first, but was eventually convinced to do it, no doubt influenced by her own experiences with institutional racism in the music business.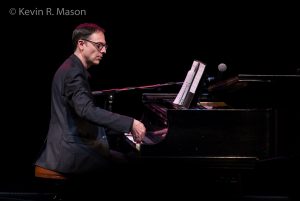 "Strange Fruit" was followed by Nina Simone's incendiary protest song, "Mississippi Goddam." The powerful song was written in 1963, after the news of the assassination of Medgar Evers and the bombing murder of the four little girls, Addie Mae Collins, Denise McNair, Carole Robertson, and Cynthia Wesley at the 16th Street Baptist Church in Birmingham, Alabama. Nina was so heartbroken and outraged by these events, as well all the horrifying news of violence, vicious attacks by dogs, and hosing used against citizens striving to gain their civil rights, that she sat down and wrote "Mississippi Goddam" in a half hour; it just poured out of her! Over the years, it has become one of the most memorable and resonant protest songs ever written.
In a much lighter vein, during the 1980s, the makers of the perfume Chanel No. 5 used Nina's song, "My Baby Just Cares For Me" in a series of commercials. Although Nina had sold the rights to the recording, it created a renaissance in her career, and she got a lot of gigs out of it. Near the end of the show, Natalie joked about pretending the last song was really the end of the show, when in the grand tradition of cabaret, everyone knows there will be an encore! Then she got serious and told the audience that it means the world to her that they came out to see her, especially since there are a million other things they could be doing in the area. She also praised her band members, as well as Anna Becker and the rest of the staff at Kingsborough Community College. Natalie noted that the cabaret world is a close-knit community of performers, and everyone she knows loves coming to Kingsborough. The penultimate song of the concert, Abbey Lincoln's "Throw It Away," speaks of there always being light and hope at the end of the tunnel, a sentiment that is as apt as is was when Abbey wrote the lyrics years ago.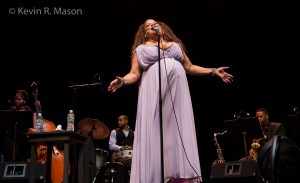 Introducing the last song, "The Best Is Yet to Come," Natalie said that she had been singing this number for about five years, and she continues to sing it as a reminder that despite all the turmoil in the world, wonderful music, great food, and good friends will always be here, no matter what. This show certainly did justice to the music, activism, and legacies of the marvelous Nina Simone, Lena Horne, Abbey Lincoln, and Billie Holiday. Wisely, Natalie didn't try to imitate any of the singers, but honored them with her own fabulous interpretations of the music that made them famous.
For more information about Natalie Douglas, and her upcoming activities, go to: www.nataliedouglas.com.
On Stage at Kingsborough will be hosting Hot Summer Nights, a series of outdoor concerts, each Saturday from July 1 to 22, that includes Wycliffe Gordon and His International All-Stars. For more information about shows and tickets, go to: www.OnStageAtKingsborough.org.