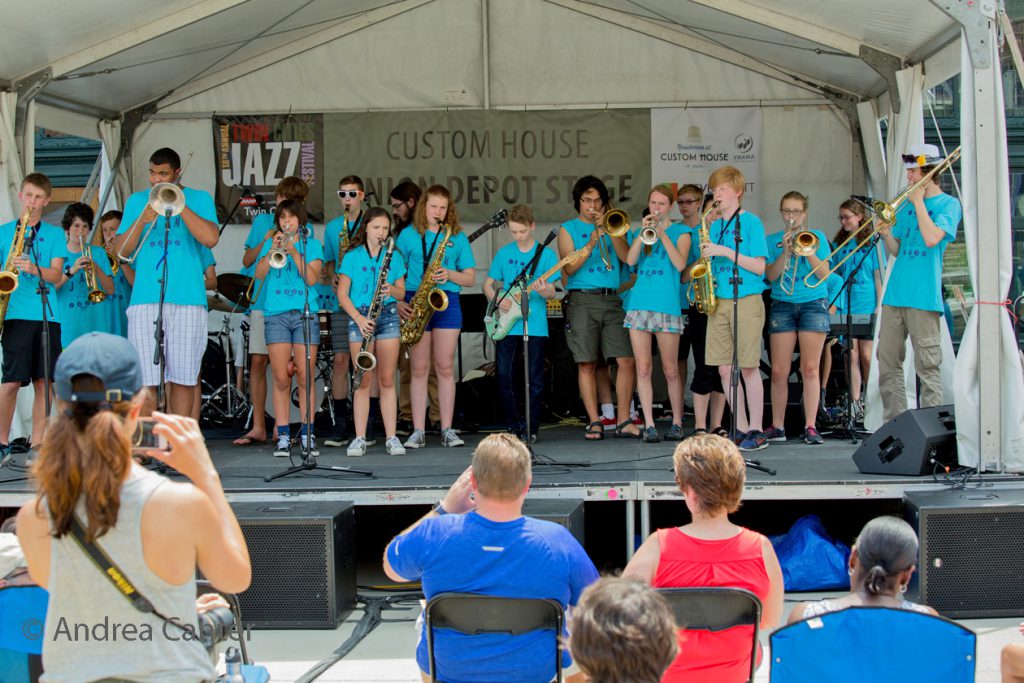 © Andrea Canter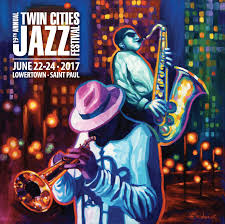 Day Two of the Twin Cities Jazz Festival features two free clinics (Emmet Cohen, Anat Cohen) at McNally Smith College of Music, Anat Cohen and her Choro Adventuroso ensemble, the first afternoon of music on the Youth Showcase at Union Depot, the Jazz Vocal Showcase at the TPT Street Stage, and great music from the likes of Eric Kamau Gravatt, JazzMN Orchestra, Jon Weber, Mississippi, Bryan Nichols, Joel Shapira, and…. the list goes on.
Headliners and More, Friday, June 23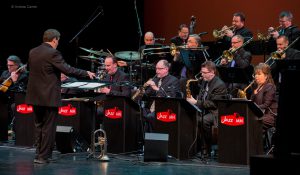 4pm, JazzMN Orchestra. One of the top big bands in the Midwest, the nonprofit JazzMN Orchestra was formed in 1999 to "promote, preserve and perpetuate jazz, America's indigenous art music, through performance, historical preservation, and education." The band is directed by founder Doug Snapp and features 17 of the best musicians in the Twin Cities. Each year, JazzMN's concert season boasts top international artists as guest composers, conductors and soloists. Recent guests have included Maria Schneider, Tierney Sutton, Bob Mintzer, Miguel Zenon and more. 4 pm, Securian Main Stage at Mears Park.
4-7 pm, Dakota Foundation for Jazz Education Youth Showcase. Opening two afternoons of performances by top area student ensembles, the DFJE launches the Youth Showcase with the Walker West Jazz Ensemble II, followed by the teens of Below Zero and stellar voices of the McNally Smith College of Music Honors Vocal Ensemble. 4-7 pm, Starkey Hearing Technologies Union Depot Stage.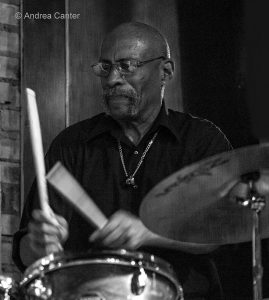 6 pm, Eric Kamau Gravatt and Source Code. An alum of the bands of McCoy Tyner, Joe Henderson, Freddie Hubbard and Blue Mitchell as well as Weather Report, Eric Kamau Gravatt essentially has had two careers in jazz with a couple decades of separation. Like John Coltrane and long-time associate McCoy Tyner, he is a native of Philadelphia. Originally a conga player, Gravatt taught percussion and music in Philadelphia and Washington, DC in the 1960s. Miles Davis invited him to join his band, but Gravatt turned down the Prince of Darkness to follow Wayne Shorter into Weather Report, with whom he toured and recorded. He moved on to the fusion band Natural Life (with Bobby Peterson and Bob Rockwell), a move that brought him to the Twin Cities some 30 years ago. Demands of family and a desire for financial stability took Gravatt out of fulltime music and into fulltime work as a guard at the Minnesota Correctional Facility in Lino Lakes. Only after retiring from Lino Lakes did Gravatt return to his calling, touring again with McCoy Tyner, performing with his band, Source Code, and engaging in some more experimental improvisations with metro area musicians, including the quartet Bottomless Pit and in duo with Dean Magraw. Gravatt's long-running ensemble Source Code (from software lingo for a collection of instructions to generate the programs that run on our computers, PDAs, cell-phones and toasters) tackles the works of such titans as Coltrane and Jackie McLean—and Gravatt's band has the power to handle the repertoire. 6 pm, Securian Main Stage at Mears Park.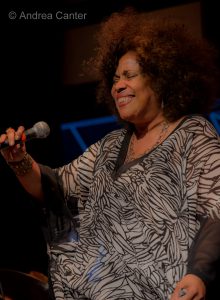 6 pm, Rhythm in Rice, "Jazz and Motown" with Pippi Ardennia. Since she first exploded onto the Mears Park Stage about six years ago, vocalist/songwriter/educator Pippi Ardennia has been a significant force on the local music scene, particularly finding and nurturing young talents through her PipJazz Foundation's youth program. An accomplished jazz and blues singer in her own right, Pippi has also helped launch the careers of such young lions as Will Kjeer, Edmund Catlin, Zosha Warpeha, Jordan Anderson, Levi Schwartzberg and more. Her "Jazz and Motown" will feature some PipJazz Alumni and new protege's. 6-9 pm, Rice Park.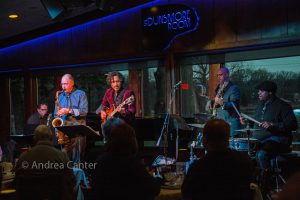 7 pm, Mississippi. Suffice to say that this little Lowertown Deli has not likely hosted such high flyers as this ensemble headed by saxophonist/composer/educator Pete Whitman. Also leader of his long-running X-Tet, Pete directs the Brass and Woodwinds Department at McNally Smith and keeps busy with the JazzMN Orchestra and other ensembles. His usual cohorts in Mississippi include pianist Peter Schimke, bassist Jeff Bailey, and drummer Kevin Washington. 7 pm, Golden's Deli.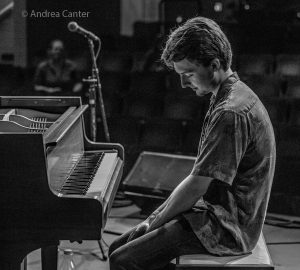 7:30 pm, Tribute to Bobby Peterson with Will Kjeer. If you want to hear a lot of jazz piano,  just park yourself at Vieux Carre. In addition to Jon Weber's opening sets and closing jam sessions each night, the club pays a special tribute to one of the legends of Twin Cities jazz, the late Bobby Peterson. Cousin of Linda, Patty, Ricky and Paul Peterson, Bobby was one of the most remarkable pianists to perform in the Midwest, and is often cited as teacher, mentor and role model of the next generation of Twin Cities' jazz pianists. 20-year-old Will Kjeer is a logical choice to pay homage to Bobby, himself a prodigious talent who has performed at the festival since his early teens at Uncle Kenny Hort's Artists Quarter, and beyond with his own bands, the Dakota Combo, Hoaxer, Group 47 and more. He joins Billy Peterson and Kenny Horst, Bobby's partners on the recording Live at the Artists Quarter.  7:30 pm, Vieux Carre'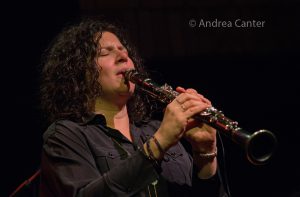 8:30 pm, Anat Cohen and Choro Adventuroso.  A crowd-pleaser and clarinet virtuoso, Anat Cohen returns to the Twin Cities and her first appearance at the jazz festival. Born in Tel Aviv, Israel, Cohen began studying the clarinet at age 12, and by 16 was playing in the Jaffa Conservatory's Dixieland band and taking up tenor saxophone in the school's big band.  She moved on to the Thelma Yelin High School for the Arts to concentrate on jazz. After playing tenor saxophone in the Israeli Air Force band, Anat came to Boston to study at the Berklee College of Music. After moving to New York after graduation, she worked with such Brazilian ensembles as the Choro Ensemble and Duduka Da Fonseca's Samba Jazz Quintet; she explored the music of Louis Armstrong, Bix Beiderbecke, Jelly Roll Morton, Sidney Bechet, and Pan-American contemporaries. Anat's debut CD on her own Anzic label, Place and Time, was one of All About Jazz–New York's "Best Debut Albums of 2005." Noir and Poetica followed in 2007 to enthusiastic reviews, and Anat became the first female reed player and first Israeli musician to headline at the Village Vanguard.  Her fourth release as leader,  Notes From the Village (2008) and Clarinetwork: Live at the Village Vanguard (2010) followed, the latter with her Goodman project quartet of Benny Green, Peter Washington, and Lewis Nash. Cohen has lead or co-lead nearly 30 recording sessions, and has established herself as not only a widely respected bandleader and prolific composer, but one of the most versatile instrumentalists of her generation, conversant with modern and traditional jazz, chamber music, Brazilian choro and Afro-Cuban Styles. She is also one of the most awarded clarinetists in modern music, winning numerous polls and awards for her melodic invention and improvisational acumen. Anat has appeared several times at the Dakota. For her festival debut–coming on the heels of her brand new releases of Brazilian music–she shares the stage with her Choro Adventuroso ensemble, with whom she released Luminosa in 2015, highlighting her affinity for Brazilian folk traditions filtered through modern jazz improvisation.  6 pm clinic at McNally Smith; 8:30 pm, Securian Main Stage at Mears Park.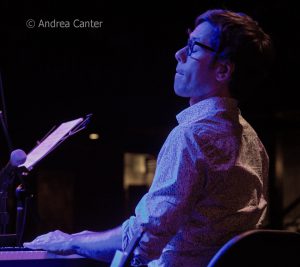 10/11:30 pm. Bryan Nichols Quintet. Bryan Nichols studied classical piano with a "neighborhood piano teacher" but came to jazz on his own, developing his skills without formal jazz studies beyond a summer in the Minnesota Institute for Talented Youth. After studying genetics in college ("which I've done absolutely nothing with, ever"), he moved to Chicago where he performed with Corey Wilkes, Maurice Brown, Jeff Parker, Nicole Mitchell, Von Freeman, Ari Brown, Hamid Drake and Ernest Dawkins. Back in the Twin Cities in 2005 after his residency in Betty Carter's Jazz Ahead program, Bryan quickly became a favorite pianist among the more forwarding-spinning jazz ensembles, currently including the Zacc Harris Group, Mancrush, Atrium Jazz Ensemble, and the Minneapolis/Chicago collective, City of Fiction, as well as his own trio, quintet and nonet. Over his career, Bryan has appeared at international festivals including Sons d'Hiver (Paris, France) and Kerava Jazz Festival (Kerava, Finland) as well as at local and regional festivals such as the Chicago Jazz Festival, Minnesota Sur Seine Festival and Twin Cities Jazz Festival. In 2009, he received a grant from the American Composers Forum, and in 2010, a fellowship from the McKnight Foundation.  Now with his quintet (Bright Places) and solo (Looking North) recordings behind him, he hopes to record with his trio in the near future. He has also taught at the MacPhail Center for Music, University of Minnesota Morris, and University of Wisconsin-Eau Claire. Joining Bryan at the Black Dog will be long-time cohorts Michael Lewis and Brandon Wozniak on saxophones, Chris Bates on bass and JT Bates on drums.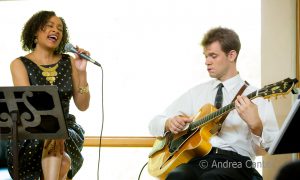 More Festival Gigs!
Just a sampling of musicians and ensembles performing on Friday!
2 pm, Emmet Cohen clinic at McNally Smith College of Music
5 pm, Katia Cardenas, Makers Mark Stage
6 pm, Anat Cohen clinic at McNally Smith College of Music
6 pm, Joel Shapira, Big River Pizza
6-10 pm, Festival Jazz Vocal Showcase (Jennifer Grimm, Lila Ammons, Debbie Duncan) at TPT Street Space
7-11 pm, Erin Livingston, Lobby Bar at the Saint Paul Hotel
7 pm, Sam Miltich, Charmin Michelle and Friends, Como Lakeside Pavilion
8 pm, Dave Graf, Citizen Supper Club (Intercontinental Hotel)
8/9:30 pm, Larry McDonough Quartet, World of Beer
8:30 pm, Fall of the House of Usher, Black Dog
9 pm, Emmet Cohen, Vieux Carre'
9 & 10:30 pm, Tres Mundos, Barrio
9:30 pm, Minnesota Hard Bop Collective, Golden's Deli
… and a lot more. See full schedule at www.twincitiesjazzfestival.com