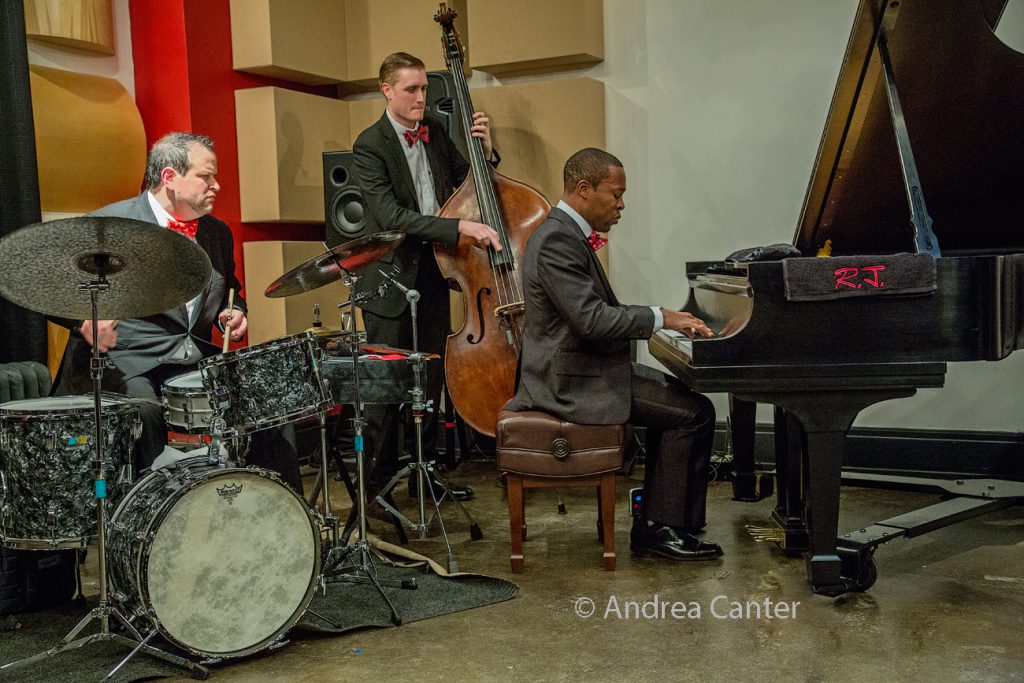 © Andrea Canter
The Dunsmore Room at Crooners' Lounge in Fridley, MN continues its tradition of booking outstanding pianists, both regional favorites and international stars. Richard Johnson straddles both realms, making his Dunsmore Room debut on June 27-28. His trio both nights includes local veterans Jeremy Boettcher on bass and Adrian Suarez on drums. On Wednesday, he adds acclaimed vocalist Debbie Duncan. Both shows begin at 7 pm.
Richard Johnson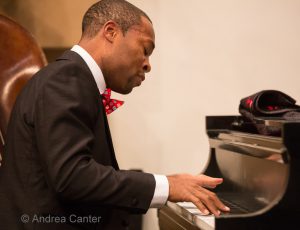 Once part of the Wynton Marsalis Septet, Richard Johnson is emerging as one of the most exciting pianists of his generation, garnering praise from Herbie Hancock as a "highly creative talent." The Pittsburgh native was introduced to gospel piano by his father when he was five. Living in Massachusetts, Richard formed his first piano trio as a high school junior, and for two consecutive years, won the state's "best jazz soloist" award. Richard pursued jazz studies at Berklee College of Music in Boston, completing his degree in two years, then continued on for a master's degree at the Boston Conservatory. The following year, while studying at the Thelonious Monk Institute at the New England Conservatory, he toured South America with the Monk Institute, playing with Herbie Hancock; he also performed with the Monk Institute Sextet, directed by Ron Carter. Richard moved to New York in 1999, joining the Wynton Marsalis Septet and Lincoln Center Jazz Orchestra. He also was a member of Russell Malone's Quartet and Irvin Mayfield's Quintet, and has performed with Bobby Watson, with whom he appeared at the 2010 Twin Cities Jazz Festival at Mears Park.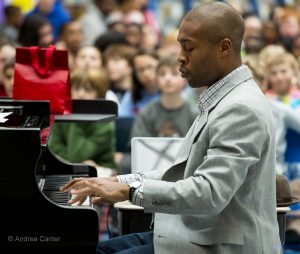 Shortly after, Richard relocated to the Twin Cities, maintaining his international touring schedule including State Department tours, in addition to collaborations with area artists, including Babatunde Lea and Zacc Harris. A dedicated jazz educator, Richard held residencies with Jazz Aspen and the Thelonioius Monk Institute, taught at the Middle School Jazz Academy (Jazz at Lincoln Center) and at a new program for high school students at the Brooklyn Academy. His Reach AFAR "Jazz to Hip-Hop" programs have been extremely popular in schools across Atlanta in conjunction with the performing band "AFAR." He conducted educational programs in Twin Cities area schools and has taught at the University of Wisconsin-Eau Claire.
Currently Richard is representing Jazz at Lincoln Center (JALC) as Global Ambassador and Musical Director in the Middle East. In his current role he performs with world-class artist promoting jazz to a vast array of audiences. While stationed overseas, Richard provides educational programs for children in the Middle East and Asia.  His most recent recording, released in March 2017, is Music Is Business.
Debbie Duncan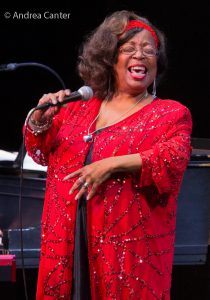 Born in Memphis, Debbie Duncan grew up in Detroit, where her parents surrounded her with their favorite jazz, gospel, folk, and classical recordings. From her earliest years, Debbie was steeped in Ella Fitzgerald, Joe Williams, Sarah Vaughan, Carmen McRae, Gloria Lynne, Dakota Staton, Mel Torme, Ray Charles, and Chris Connors. She was also exposed to heavy gospel during summers with her grandparents in Memphis and St. Louis. Although she always intended to sing, Debbie studied flute in high school, not auditioning for the school choir until her senior year. Still concentrating on flute as her major at Wayne State University, Debbie continued to study voice, ultimately joining the Wayne State Women's Chorale. Her vocal talent now at the forefront, soon she had a regular club gig and recorded back-up vocals for Mitch Ryder and Bob Segar.
Moving to Los Angeles in 1976, Debbie had a seven-year stint at the Hungry Tiger and sang throughout the area club circuit. Eventually she worked with drummer Pete Johnson (formerly of Manhattan Transfer), and when he moved to Minneapolis, he convinced Debbie to join him for what was to be a six-week job at Rupert's Night Club in 1984. The short gig lasted seven years. Forming a quartet with Don Stille, Gary Raynor and Phil Hey, Debbie soon became known as the "Working-est Singer" in the Twin Cities, winning many Minnesota Music Awards as well as the MMA's first award as "Perpetually Outstanding Performer." Debbie's  performance resume includes opening for Miles Davis, Herbie Hancock and Stephane Grapelli, and appearing with Bobby Watson (Horizon), Mark Murphy, Von Freeman, Marlena Shaw, Dee Dee Bridgewater, Joe Henderson, Jimmy McGriff, John Hendricks, Delfeayo Marsalis, and Kenny Werner. She's released five recordings, was a founding member of The Girls, appeared in an acclaimed role in the Ordway's production of Blues in the Night, and has appeared in several solo productions at the Capri Theater. Later in August, Debbie will make a live recording at the Dakota Jazz Club.
The Dunsmore Room at Crooners Lounge is located at 6161 NE Highway 65 (Central Av NE), just north of I-694 and about 15-20 minutes north of downtown Minneapolis. Reservations at www.croonersloungemn.com
See the full Music Calendar on the Crooners' website, and note upcoming national artists, including Geoffrey Keezer (July 3), Teri Roiger (July 10); Kendra Shank (August 2), Kevin Mahogany (August 8-9), Bob Rockwell and David Hazeltine (August 14-15), and Lee Konitz (August 20).