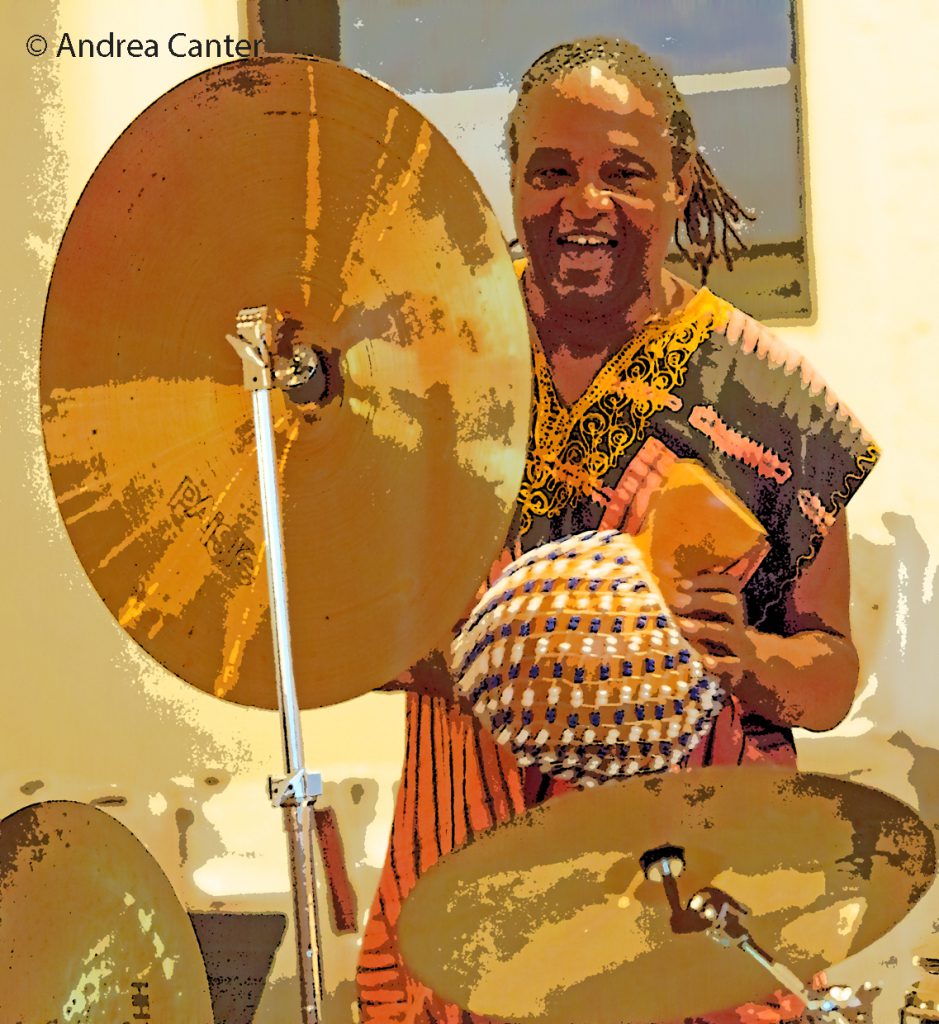 © Andrea Canter
Saturday Night Jazz at the Black Dog is back on its usual weekly schedule on June 29,  following a three-night extravaganza during the 2017 Twin Cities Jazz Festival. Nearing its third anniversary, the series presents renowned percussionist Babatunde Lea leading a band of otherwise young lions, after yet another young lions' ensemble–the Drew Stinson Trio– opens the evening.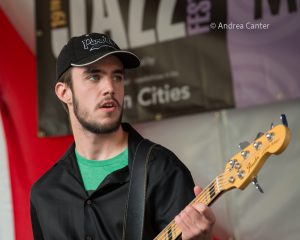 Drew Stinson Trio (7 pm)
Drew Stinson studies bass McNally Smith College of Music. In addition to leading his trio, he  plays bass for the Julian Manzara Quartet and is a founding member of Sound Skirmish, a quartet with Patrick Adkins, Levi Schwartzberg and Ben Ehrlich. Drew's cohorts at the Black Dog include Adkins on piano and Geoffrey Randall on drums.
Babatunde Lea Quartet (8:30 pm)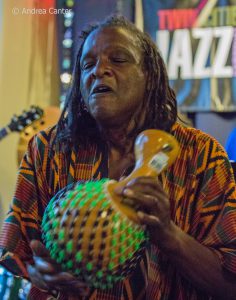 Babatunde Lea's vast experience over 50 years as a master percussionist, along with the spiritual depth in everything he does, has made him one of the most esteemed musicians of the past half century. A New York native who was raised in Engelwood, NJ, Lea (given name Michael) came to music naturally. His aunt was one of the first women to play in a marching band. Shortly after starting on drums at 11, he saw Babatunde Olatunji and his Drums of Passion, and soon changed his own name to Babatunde. Absorbing the rhythms of Africa and the Caribbean, Lea moved west to the Bay Area at 18, expanding his palette with affiliations with Bill Summers (Bata Koto) before joining Juju, leading to another relocation, this time to Richmond, VA. But perhaps the most influential connection was with Leon Thomas, who he had known from church back in New Jersey. "Leon sang in the choir. I used to see him sing every Sunday and he would 'turn the church out!'" recalled Lea. Babatunde ended up working in Thomas's band in the early 70s. "Leon was not only the bandleader and one of my bosses," Lea explains, "but he was very instrumental to my artistic growth. He was a great influence on the type of music I like and the genre of music that I play." Back in the Bay Area, He returned to the Bay Area a few years later, he worked with Stan Getz, Joe Henderson, McCoy Tyner, Randy Weston, Van Morrison and, particularly, Oscar Brown, Jr., who was "like a father, he was an activist and I learned a lot just being around him," recalls Lea.
Babatunde released his first album as leader, Levels of Consciousness in 1979, recording with a band called Phenomena, which grew out of the Loft Jazz Association. It was nearly two decades before his next release, Level of Intent, on his own label, Diaspora Records, which was reissued in 2003 when he co-founded Motema Records with Jana Herzen. Four albums later on Motema, Lea released a tribute to Leon Thomas, Ubmo Weti (2009). In 2010, he moved to Pennsylvania to teach at Gettysburg College, moving again a year later when he finally landed in the Midwest.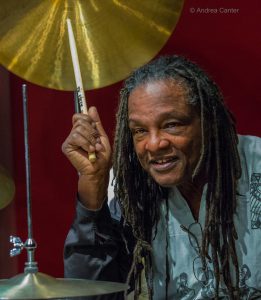 Babatunde Lea has presented clinics and demonstrations of his approach to merging traditional African percussion with American jazz, yielding a drum kit he refers to as the Troponga. But his long-term commitment to education is not just about music but also about social justice and spiritual connections. In 1993, with his wife Virginia, he founded the Educultural Foundation, a California non-profit organization that provides workshops, classes, and presentations. "The purpose I try to imbue my music with is that our growth as human beings should strive toward an anti-racist, anti-sexist, anti-homophobic, egalitarian, democratic universal society and I don't care how many life times it takes to get there!" says Babatunde.  "I draw a lot from African culture, and one of the main things I've come to understand is that music is functional; in African culture, music accompanies everything… from birth ceremonies to funerals. The music is there to open people up to the deepest experiences of life. Music is a resource like oil or water; it does the bidding of who controls it. For my part, I know exactly what I want done with the energy I create with my music. It is my wish that my music will empower people to look within and become agents of peace and change in their hearts, in their families and in the world at large."
Joining Babatunde at the Black Dog will be three young artists who are making their own impact on the local scene–pianist Will Kjeer, bassist Jax Ravel, and saxophonist Matthew Trice.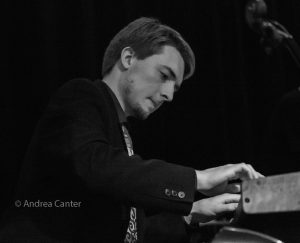 At 20 years-old and already an acclaimed performer on the Twin Cities jazz scene, pianist and composer Will Kjeer has not constrained his resume to his home state.  He has performed as a bandleader and sideman around the U.S. and in Canada at venues in the Twin Cities (Artists Quarter, Vieux Carre', Jazz Central, Studio Z, Black Dog, Icehouse), at the Twin Cities and Iowa City Jazz Festivals, and at the John F. Kennedy Center for the Performing Arts in Washington DC, the Lighthouse Cafe in Los Angeles, and the Upstairs Jazz Club in Montreal, Quebec.
Will began college studies at the California Institute of the Arts, and now continuing at McGill University.  He's also a three-year member of Steve Kenny's Group 47 and founding member of Hoaxer. Will has participated in international and competitively-selected programs, including Ravinia's Steans Music Institute in 2016 and the 2017 class of Betty Carter's Jazz Ahead.  He has been fortunate to learn from mentors such as Billy Childs, Jason Moran, Rufus Reid, Reuben Rogers, Xavier Davis, and Ralph Peterson.  He currently studies with acclaimed international pianist Jean-Michel Pilc.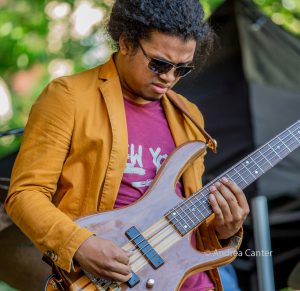 Born in Madegascar , Jax Ravel grew up in a musical family and was exposed to Western Music, including Frank Sinatra, Antonio Carlos Jobim, Carlos Santana and the Beatles, as well as the native sounds of Madegascar. His father started him out on piano and drums.  He discovered the electric bass at age 12, and it quickly became his main instrument. Melding bebop, Latin, rock and native Madegascar musics, Jax went on to tour Europe and Africa, moving to Paris and then to the U.S., where he has performed extensively in New York and Chicago as well as the Twin Cities. Recent local gigs have taken him to the Republic Airport and Reverie. He's also appeared with Rodney Ruckus at the Twin Cities Jazz Festival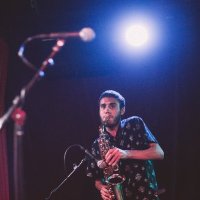 New Jersey native Matthew Trice studied at McNally Smith College of Music and has performed the McNally ensembles. He led a quartet at Jazz Central and has played with such ensembles as Jack and the Coax and experimental fusion band Eclectic Yes, for whom he also serves as arranger.
The Black Dog is located at 308 Prince Street in the street level of the Northern Warehouse in St. Paul's Lowertown Arts District. Saturday Night Jazz at the Black Dog is curated by Steve Kenny. No cover but a donation (tip jar) is appreciated to help support the musicians and the series. ($10 suggested, cash or tip jar token). Series schedule at www.saturdaynightjazzattheblackdog.info