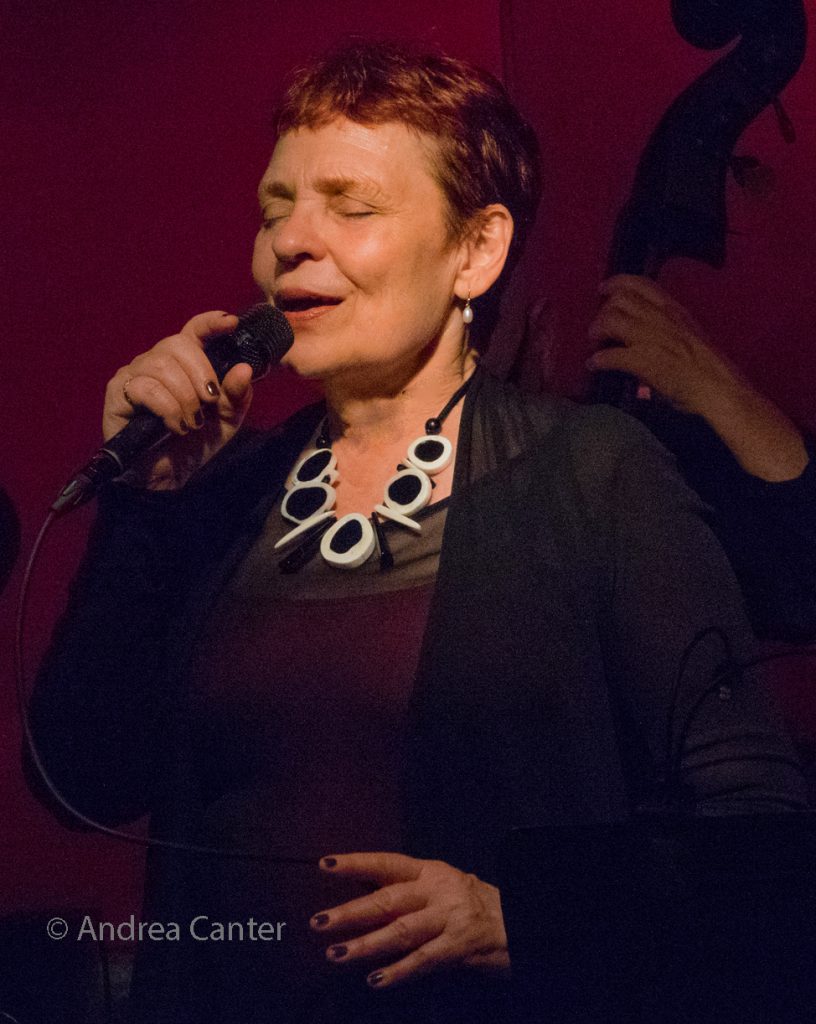 © Andrea Canter
"To hear Teri Roiger is to experience that peculiarly beautiful combination of improvisation, tone, feeling, and phrasing that are distinct elements of jazz freedom. She is made for those who still understand the meaning of the term 'the real thing.' "– Stanley Crouch (2016)
Vocalist and native Twin Citian Teri Roiger will return "home" with husband, bassist John Menegon on July 10, bringing her new Billie Holiday project to the Dunsmore Room at Crooners Lounge.  Joining Teri and John will be local talents Phil Aaron on piano and Phil Hey on drums. Her visit last summer was a preview of her new recording which was officially released this spring, Ghost of Yesterday: Shades of Lady Day (2017, Dot Time Records).
Teri and John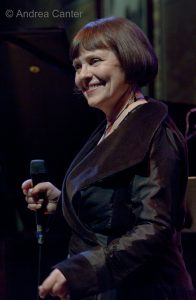 The husband/wife team of Teri Roiger and John Menegon has performed as a musical collaboration for over 20 years. Multi-talented, Roiger is a jazz vocalist who also plays piano; Menegon is a jazz bassist who also sings and plays guitar. Composers and lyricists, the pair often collaborate as writers as well as teaching in the jazz program at SUNY New Paltz. Their past appearances in the Twin Cities include Teri's gig at the Artists Quarter, John's performance with David Fathead Newman at the KBEM Winter Jazz Festival, both in 2006; their appearance at the Dakota in 2011; and their Dunsmore Room debut in 2016.
Described as singing at the intersection of Abbey Lincoln, Billie Holiday, and Anita O'Day, Teri Roiger began her career at age 13 as a church organist and ensemble singer, gradually moving into jazz. She came to the attention of the Twin Cities' renowned stride pianist Butch Thompson, and soon the two performed as a duo in clubs and at festivals in the U.S. and Europe. Teri moved on to work with small groups and big bands in the Midwest, and then in New York where she studied with Jay Clayton and Sheila Jordan. Her performance and recording credits include Kenny Barron, Bruce Barth, Kenny Burrell, Jimmy Cobb, Robin Eubanks, Jack DeJohnette, Frank Kimbrough, Al Foster, Fred Hersch, Kirk Lightsey, David "Fathead" Newman, Dewey Redman, Roswell Rudd, Matt Wilson and many others.  The title track of her acclaimed second recording, Still Life, won third prize in the jazz category in the world-renowned International Songwriting Competition. Her acclaimed third CD, Dear Abbey, a tribute to the late Abbey Lincoln released in 2012, featured pianist Frank Kimbrough, drummer Steve Williams, and of course bassist John Menegon. Noted jazz critic Stanley Crouch, "The very fine singer Teri Roiger is one of the few who truly comprehended what Abbey Lincoln did with time, timbre, and phrasing. Most importantly, she is not what they call a clone. Teri absorbed everything into her own individuality, can actually swing hard, sing impressive ballads, and emote the invincible and real feeling of jazz."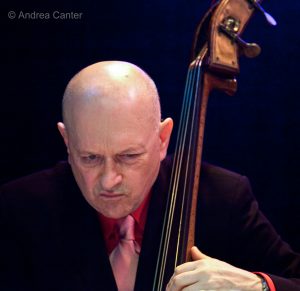 Bassist John Menegon worked for several years in Montreal before relocating to New York City in the mid-1980s to study jazz at Long Island University. He served many years as a member of David "Fathead" Newman's Quintet and Dewey Redman's Quartet, and has also performed or recorded with Matt Wilson, Frank Kimbrough, John Hicks, Yoron Israel, Jack DeJohnette, Kenny Burrell, Kenny Barron, Bruce Barth, Paul Bley, Anthony Braxton's Tri-Centric Orchestra, Nick Brignola, Jimmy Cobb, Al Foster, Slide Hampton, Sheila Jordan, Lee Konitz, Joe Lovano and many others. John has released three CDs as a leader, filled with his own compositions, including Soul Advice and Search Light, which include Dewey Redman, John Gunther, Mark McLean, Mark Dziuba, John DiMartino, Teri Roiger, and Tani Tabbal. His New Moon (with two drummers) features Teri on voice/spoken word. Noted John Kelman (All About Jazz New York), "Menegon met the demands of the music with a combination of relaxed swing and more outward-looking freedom. His solos were the perfect confluence of rhythmic invention and melodic conception." John released his fourth album in February 2016, I Remember You, a series of dedications to some of the musicians who have influenced him over his career, featuring Frank Kimbrough on piano, Tineke Postma on saxophones, Matt Wilson on drums, and Teri on 2 vocal tracks.  This spring, John and his Quartet East released Blew by Blues with Kimbrough, Steve Williams on drums and Joel Frahm on saxes, along with four guest vocalists including Teri; the album sports six of John's originals along with two from the late Charlie Haden and another from Ornette Coleman.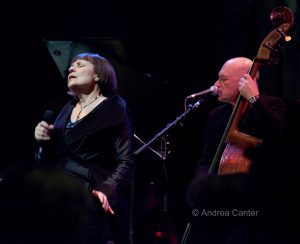 Together, Teri and John are prolific composers, arrangers, educators and performers. They scored the music for the documentary film Beyond Iconic about renowned photographer Dennis Stock and one of the top ten finalists at the Sao Paulo Film Festival. They recorded, arranged and produced their first joint recording, Misterioso, with Kenny Burrell and Jack DeJohnette. In addition to standards and original compositions, the recording includes Teri's lyrics for "Misterioso" (titled "Listen to Your Soul"), which gained approval from the Monk family. They also created Jazzstock in 2011, a jazz festival in Woodstock with such artists as Joe Lovano, Marilyn Crispell, John Abercrombie, Matt Wilson, Frank Kimbrough, Sheila Jordan and more. Committed educators, John and Teri have developed and presented courses at Williams College in Williamstown, MA, focusing on the music of Charles Mingus, Jaco Pastorius, Miles Davis, Billy Strayhorn and Monk. Teri and John have taught in the SUNY-New Paltz jazz program for over ten years, with Teri teaching jazz voice, jazz history and vocal jazz ensembles, and John teaching jazz bass, jazz history, recording techniques, jazz ensembles, and history of rock.
Ghost of Yesterday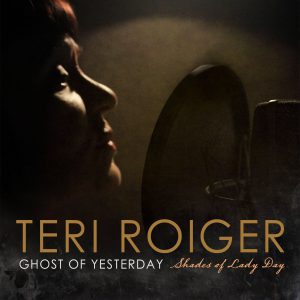 On Teri's new album, she honors Billie Holiday with "songs made famous by Ms. Holiday, songs written by Ms. Holiday, and some very moving songs about Ms. Holiday with some of my original lyrics … showing the many facets of Billie…her ebullient joy, her rebellious spirit, her rich sensuality, and the depth of her blues." And Roiger succeeds–brilliantly– in mining those many facets with support from her usual rhythm team of pianist Wayne Hawkins, bassist John Menegon, and drummer Steve Williams, with a variety of guests including Rosewell Rudd on trombone.  What would Billie Holiday sound like today? And how would her singing and interpretations have evolved if she had lived another 20 years? Teri Roiger's voice sounds nothing like Billie Holiday but her storytelling suggests not only Billie but Abby Lincoln and Sheila Jordan as well. Nodding to tradition, the music still swings, yet it is personal, modern yet timeless. There are twelve tracks, each a masterpiece of time, interpretation, and selling–and writing– a lyric.  Teri's original vocalese based on Lester Young's solo opens "(I Don't Stand a) Ghost of a Chance," her marvelous phrasing requiring some vocal acrobatics matched by Jay Collins' saxophone. Another standout,  Teri and John's arrangement of "What a Little Moonlight Can Do" opens with a bouncing bass solo from John, Teri following with a scat workshop. "Them There Eyes" (additional lyrics by Teri based on Ella Fitzgerald's solo) is a dazzling romp that suggests the storytelling charms of Sheila Jordan as much as Abbey Lincoln, and "Lady Day" is both reminiscent of the biographical lyrics of Sheila's ode to Charlie Parker and Teri's strong ties to the music of Abbey. Add in Billie herself — it's quite a legacy.
The Dunsmore Room at Crooners Lounge is an intimate listening room, located at 6161 NE Highway 65, just north of I-694 in Fridley, about 20 minutes northeast of downtown Minneapolis. Reservations strongly recommended at www.croonersloungemn.com.