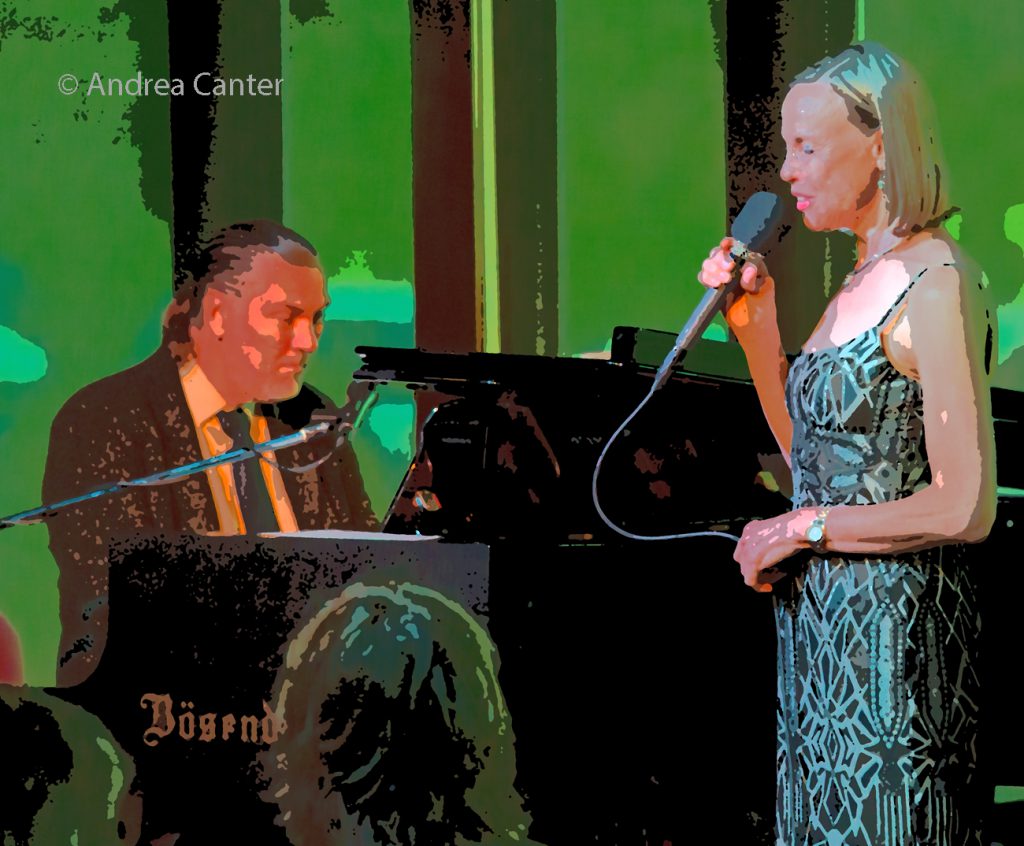 © Andrea Canter
One of the hallmarks of the tunes in the Great American Songbook is their longevity and timelessness. The songs are familiar to many but, in the hands of great musicians, the tunes remain fresh decades later. Vocalist Connie Evingson and pianist Jon Weber have been injecting new life into old songs for the past five years, often via the Jazz at the Jungle series at the Jungle Theater where they continue to explore the Ella Fitzgerald Songbooks. In Fridley, just north of Minneapolis, Connie and Jon first brought Ella to the Dunsmore Room in April; now they return with another edition, "Ella Sings Ellington, July 11-12 (7 pm). They will be joined by usual cohorts Gordy Johnson on bass and Dave Karr on Reeds.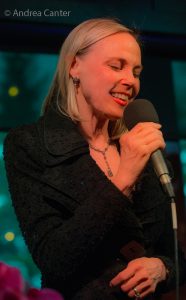 A native of Hibbing in northern Minnesota's Iron Range, Connie Evingson grew up listening to her father's records of Duke Ellington, Count Basie, Ella Fitzgerald, Sarah Vaughan, Joe Williams, Tony Bennett, Lambert, Hendricks and Ross, and later Peggy Lee and Shirley Horn. Influenced by these early muses as well as the musical icons of her generation (the Beatles, Joni Mitchell, Bob Dylan, Sting, Bonnie Raitt), Connie's eclectic tastes were soon evident, from her first club gig at the old Night Train in St. Paul to a brief stint with the Minnesota Vocal Jazz Ensemble before she joined Moore By Four in 1986. With Moore by Four, Connie performed and toured the world throughout the late 80s and 90s, often opening for the biggest stars in music. In the past decade, her career as a soloist has included nine CDs for Minnehaha Music, most releases charting on Jazzweek's Top 50 for extended periods. Long regarded as among the top echelon of jazz artists in the Midwest, recipient of two McKnight Artist Fellowships, and nominated as Jazz Week's Vocalist of the Year in 2005, Connie's back-to-back recordings of hot club swing (Gypsy in My Soul, Stockholm Sweetnin') brought renewed attention to the genre and led to performances at Jazz Alley in Seattle, Blues Alley in Washington, DC and appearances in Europe.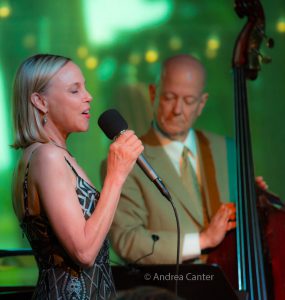 But Connie Evingson has never been one to rest on the laurels of a popular style, and even while Gypsy in My Soul was climbing the charts in 2005, she was delving into a new project, the songs of Dave Frishberg. Little Did I Dream (2008) was arguably one of Connie's most successful recordings, gaining accolades from local and national press. "Little did I dream that one day I'd get to record an entire album of his songs—with him at the piano," said Connie. Connie's 2012 Sweet Happy Life showcased her "framing and saluting [Norman] Gimbel's work with her delightful voice, superb diction, timing and phrasing" (All About Jazz). In addition to curating Jazz at the Jungle productions over the past five years and heading a monthly Jazz in the Lounge gig at the Minneapolis Woman's Club, Connie appears regularly at the Dakota, Vieux Carré, and Crooners Lounge, and, in June 2013, made her Jazz at Lincoln Center debut in Michael Feinstein's "Swinging With the Big Bands," featuring Wynton Marsalis. Connie's recent projects include a return to hot club repertoire with All The Cats Join In, recorded with the John Jorgenson Quartet and released at the Dakota in fall 2014, as well an ongoing series of productions at the Jungle Theater with pianist Jon Weber. About two years ago, she assembled what she has dubbed the Minnehaha Hot Club, performing often at Vieux Carré. Connie received an Artist Initiative Grant for 2015 from the Minnesota State Arts Board, which supported concerts at the American Swedish Institute. She was featured vocalist with the JazzMN Orchestra on the Main Stage of the 2017 Twin Cities Jazz Festival.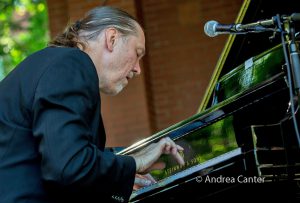 As a toddler in Milwaukee playing a toy organ, Jon Weber already displayed both perfect pitch and memory. By age 6 he had memorized 2,000 songs from his grandmother's old piano rolls. A self-taught musician, Weber took off two years from piano during his teens to develop counterpoint in his left hand by playing guitar. Returning to the piano, Jon and his quintet opened for Pat Metheny, Buddy Rich, Freddie Hubbard, and Stanley Turrentine at major summer jazz festivals. Since moving to Chicago in 1987, and then to New York a few years ago, Jon has performed around the world as well as in the recording studio. In addition to his remarkable chops, Jon Weber is well known for his incredible music knowledge. He's been the subject of profiles by CNN, CNBC, Black Entertainment TV, Bravo/Arts, National Public Radio, and Voice of America. In New York, he has been a regular performer at the 92nd Street Y jazz series and at the Algonquin Hotel; performed last winter at the Metropolitan Room with local songbird Maud Hixson as part of a tribute to songwriter Mickey Leonard; and is the host of the Piano Jazz spin-off, Piano Jazz: New Generation on National Public Radio. He's become a fixture of the Twin Cities Jazz Festival, hosting evening jams at the Artists Quarter through 2013 and returning to host jams at the new Vieux Carré during the 2015 and 2016 festivals; Jon performed in several configurations at the 2017 festival, soloing and leading the jam sessions at Vieux Carre', performing with Connie Evingson on the Maker's Mark Stage as well as for a special set at Vieux Carre', and performed during the pre-fest donors party.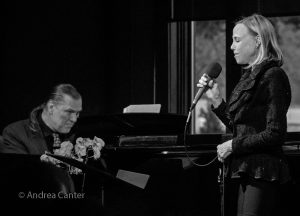 Connie Evingson and Jon Weber first paired up during the 2012 Twin Cities Jazz Festival and on a Prairie Home Companion European cruise, where they cooked up the idea for a show for Connie's Jazz at the Jungle series at the Jungle Theater in south Minneapolis. They have since appeared together a number of times at the Jungle, including shows devoted to the songs of Dave Frishberg, "Desert Island Picks" from the Great American Songbook and popular stars, several editions of The Best of the Ella Fitzgerald Songbooks, and the roots of American song in folk, blues, ragtime, country and Tin Pan Alley.  About a year ago, they first brought their partnership to the Dunsmore Room, returning in April 2017. Now, following recent performances at the Twin Cities Jazz Festival and Jungle Theater, they're back in the Dunsmore Room, just the sort of intimate space that allows Ella and Ellington, and Evingson and Weber, to shine. (Note few seats remain for July 11, best availability for July 12.)
The Dunsmore Room in Crooners Lounge is located at 6161 Highway 65 NE, just north of I-694 and about 20 minutes north of downtown Minneapolis and St. Paul. Reservations strongly recommended at www.croonersloungemn.com. Tickets $20/$45 for dinner + show. Best availability for Wednesday night.