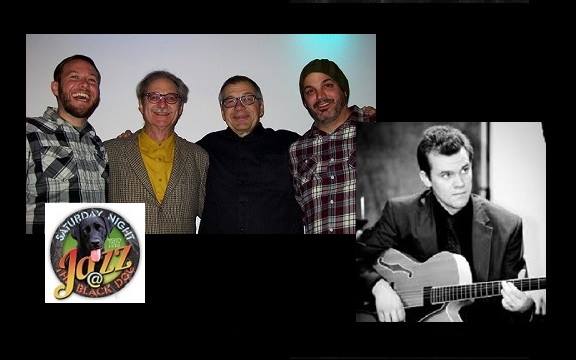 © Andrea Canter
What's better than a night with a virtuosic jazz guitarist? How about an evening with THREE? Saturday Night Jazz at the Black Dog on July 15 gets underway at 7 pm with a trio fronted by Django-inspired Sam Miltich, whose credits include heading the Clearwater Hot Club and performing with Charmin Michelle, Connie Evingson, Dave Karr and more. At 8:30 pm, the "prime time" sets features the quartet Tall Tales, led by veteran performer and composer Dean Granros, and cavorting with a second guitarist–Zacc Harris (Atlantis Quartet, American Reverie). Both ensembles are further enhanced by bassist Chris Bates and drummer Jay Epstein.
Sam Miltich Trio (7 pm)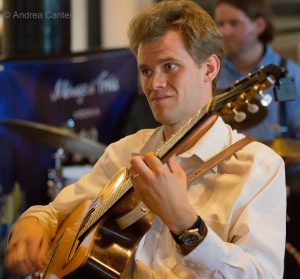 Music, like the surrounding forests of Northern Minnesota, was just a normal part of family life for young Sam Miltich. Dad Matthew Miltich taught English at the area community college and played electric bass. At age 7, Sam discovered an Erroll Garner recording in the family collection and commandeered it, declaring Garner to be a "genius." Soon he was learning to play piano, but a fire that destroyed the family home forced him to find another outlet. At age thirteen he picked up the guitar and taught himself to play bluegrass and folk. His life-defining moment came at fifteen, watching the Woody Allen film Sweet and Lowdown about the life and music of Django Reinhardt. The music for him was magic, "the fire and passion, the East European country sound….Everything I loved rolled into one," he noted in an interview on National Public Radio. Sam ordered instructional videos by Paul Meiling and began intense study on his own, practicing eight hours per day. Seeking a playing partner, he convinced his father to switch to upright bass. And seeking more in-depth instruction, he convinced his father to drive cross country for a lesson with Meiling, who invited the teenager to sit in with the famed Hot Club of San Francisco.  He began touring with the Robin Nolan Trio when he was 18; toured for two years with the Hot Club of San Francisco, and founded the Clearwater Hot Club in 2003. In 2010, he launched the Big Dipper Jazz Band, a six-piece traditional ensemble.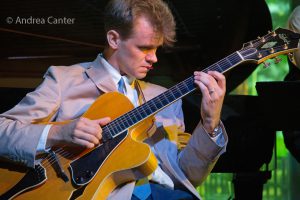 Sam's interests extend to Brazilian choro, French musette, Eastern European tamburitza, and other forms of traditional folk music, a bit of blue grass, but mastering gypsy jazz is his mission. "It's so hard…I have to practice and listen all the time… but it is my favorite music so it doesn't bother me that I am doing that." In addition to touring with the Hot Club of San Francisco, Sam has played in Holland, Germany and Japan; toured with David Grisman and the Stephane Wremble Trio; played at the Lincoln Center in New York City in a concert honoring Django with international musicians; and has shared the stage and bill with the Ferre' Brothers, Angelo DeBarre, Dorado Schmitt, Fapy Lafertin, Ludovic Beier, Samson Schmitt, and Ken Peplowski. His recent musical collaborators, in addition to the Clearwater Hot Club, have included popular vocalist Charmin Michelle, mandolin virtuoso Peter Ostroushko, legendary Twin Cities saxophonist Dave Karr, jazz and classical guitarist Joan Griffith, Dutch jazz violinist Tim Kliphuis, and local trad jazz hero, pianist Butch Thompson.
Tall Tales (8:30 pm)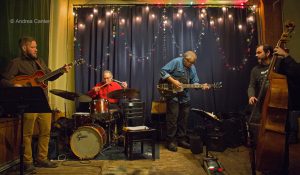 About two years ago, Dean  Granros assembled what was intended as a one-off with fellow guitarist Zacc Harris, bassist Chris Bates and drummer Jay Epstein, performing on the Bridge Series at Jazz Central. But the chemistry was too powerful, the music too incendiary to stop at one gig. Dubbing the group Tall Tales, Dean has since brought the quartet into the Black Dog, Nicollet (Reverie), Studio Z and Icehouse, and ultimately into the studio to lay down tracks for what (surprisingly) was his first recording devoted to his original music.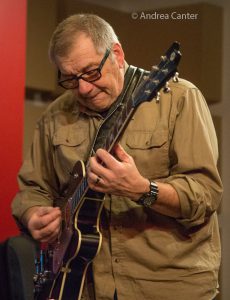 Noted Don Berryman (Jazz Police), "Dean Granros is a musical Jekyll and Hyde, mild mannered when he takes the stage and settles into the groove but eventuallDean Granros © Andrea Canter
Dean Granros studied music theory and composition at the University of Minnesota for in 1970-1972, and studied composition with John Gessner at MacPhail Center  for Music in 1973. Concurrent with those academic studies, he served a lengthy apprenticeship in jazz and blues, playing nightclubs such as the old Blue Note in North Minneapolis, the Extraordinaire, and the Downtowner. He was a co-founder of one of the Twin Cities seminal experimental jazz groups, "The Whole Earth Rainbow Band" in 1970, and in 1974 he created and wrote for "Lapis," an ensemble dedicated to exploring composition with structured improvisation.
From 1985 through 1993, Dean joined former Weather Report drummer, Eric Kamau Gravatt, in the high energy post-bop band, Kamanari.  He co-founded the progressive and virtuosic improvising trio F*K*G in 1995, with saxophonist Scott Fultz and drummer Dave King. In 2002, he joined George Cartwright's band Curlew, touring the Eastern U.S. and playing the EdgeFest in Ann Arbor, MI; he was featured on Curlew's much lauded 2003 Cuneiform release, Mercury. Also in 2003, Dean began playing weekly Wednesday nights at the Artist Quarter with the exploratory quartet, How Birds Work. Granros also continues to perform locally with groups such as Starry Eyed Lovelies (with Mike Lewis, Anthony Cox and Dave King), FKG and How Birds Work. His ensemble "AntiGravity" explores new directions in  improvisational composition. Over his career, Dean Granros has performed extensively at concert venues like the Walker Art Center and First Avenue, and his music has been featured on MPR, KBEM, and KFAI radio. Earlier this month, Dean and Joel Shapira released Jazz Guitar Duets: Live From the Twin Cities Jazz Festival, recorded in June at the Black Dog.
Noted Don Berryman (Jazz Police), "Dean Granros is a musical Jekyll and Hyde, mild mannered when he takes the stage and settles into the groove but eventually he will play like a madman taking the music where no sane person would and then makes it beautiful when he gets there."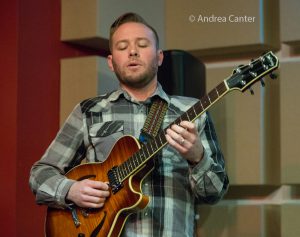 Guitarist Zacc Harris is a California native who came to Minneapolis about ten years ago from Illinois, where he graduated from Southern Illinois University. Here he formed the Luminessence Trio (now Zacc Harris Trio), continuing weekly gigs at the Riverview Wine Bar. Zaac also leads his Quartet, the Atlantis Quartet, Vital Organ, the Zacc Harris Group, Counterclockwise, and American Reverie; performs frequently with Brandon Wozniak, Adam Meckler and Babatunde Lea; and teaches at Hamline University as well as private guitar lessons. He's also curated the Jazz at Studio Z series for five seasons.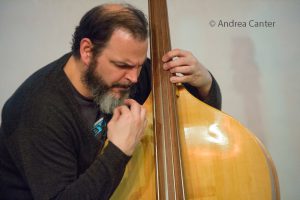 Bassist Chris Bates is familiar to Twin Cities audiences through his associations with the Motion Poets, Atlantis Quartet, How Birds Work, Red Planet, Framework, and many other cutting edge ensembles and big bands. He also leads the Good Vibes Trio and his fluctuating ensemble Red Five, both of which released impressive debut albums over the past few years.  Chris also curates a monthly improvisation series at Jazz Central. Chris studied at the University of Wisconsin–Eau Claire and later with Anthony Cox, was an original member of the Motion Poets, a 1999 McKnight Composer Fellow, and recipient of a composer's commission from Zeitgeist.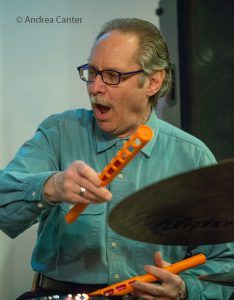 Of trapset master Jay Epstein, Cadence Magazine's David Lewis noted that "his dazzling cymbal and snare work extends the lineage of Tony Williams and Jack DeJohnette." For many years, Epstein managed time for the Phil Aaron Trio with a long-running weekly gig at the Hotel Sofitel in Bloomington and recently reunited; more recently he has toured with Five by Design. These days, Jay keeps busy with Red Planet, Framework, Counterclockwise, Firebell, Bronkow Vision, Off the Map, and a duo with John Penny, and in support of a long list of visiting and area vocalists and instrumentalists. Jay released Long Ago on Igmod Records, has recorded with Bill Carrothers and Chris Lomheim, and appears on each of Gordon Johnson's Trios, among a long list of sideman credits.
Tall Tales (Shifting Paradigm Records, 2015) includes five of Dean's compositions, ranging from the twisty opening "Blues for All" to the animation of "Chinese Orange" to the funky twang of "Roots" to the Eastern vibe of "No. 2" and the anthemic closer, "For Sonny Sharrock." The two covers include a dramatic tear on "Monk's Dream" and the album's big surprise, a modern romantic turn on Django Reinhardt's "Nuages."
There's no such thing as too much guitar! Hear for yourself at the Black Dog this Saturday night, July 15.
The Black Dog is located in the Northern Warehouse at 308 Prince Street, at East 4th Street and Broadway across from the CHS Field in St. Paul's Lowertown. Nearing its third anniversary, Saturday Night Jazz is curated by Steve Kenny; no cover but tips/donations appreciated ($10 recommended) to support the series and the artists. Full schedule online at www.saturdaynightjazzattheblackdog.info