"…Juli Wood, a gutsy tenor and baritone saxophonist who also sings with the earthy gusto of an R&B diva filtered through a hard bop sensibility." –Bill Milkowski, Jazz Times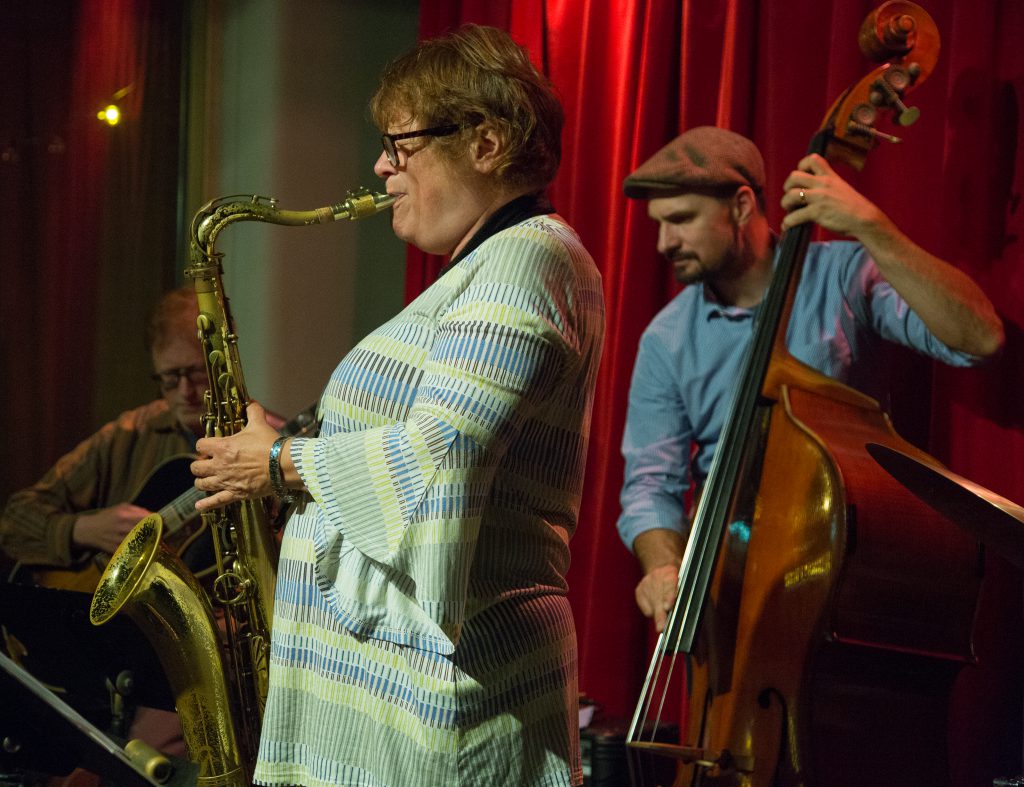 It's a little different twist to Saturday Night Jazz at the Black Dog this weekend (July 22). The first set of music, usually an up-and-coming or newly assembled jazz group, is part of the weekend's Lowertown Blues Festival, and features jazz and blues singer Lila Ammons with the Paul Barry Blues Trio at 6 pm (note early start time).  The headline jazz set at 8:30 pm features visiting Chicago-based saxophonist/vocalist Juli Wood and her ensemble.
Paul Barry Blues Trio With Lila Ammons (6 pm)
The Paul Barry Blues Trio blends Chicago Blues and West Coat Jump Blues. The trio includes leader/harmonica player Paul Barry, guitarist Jon Pederson and pianist Tampa Spatz, and features the blues vocals of Lila Ammons.
Paul Barry has been involved in the Twin Cities blues scene since 1980, sharing the stage with the likes of Willie Dixon, Jimmy Rogers, Sunnyland Slim and more, and was a protege of the late William Clarke.  After a hiatus due to health and family matters, Barry was back on the scene in 2011 when he formed Paul Barry and the Ace Tones and the Paul Barry Blues Trio. He released his debut album, Talk Is Cheap, in 2016.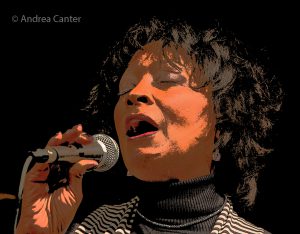 Not all legacies live up to their heritage, but  Twin Cities vocalist Lila Ammons stands tall with the likes of Ravi Coltrane, John Pizzarelli, and Marcus Gilmore. The granddaughter of Boogie Woogie master pianist, Albert, and niece of tenor sax titan, Gene "Jug" Ammons, Lila proves that one can indeed make a successful leap from classical voice to jazz singer. A Chicago native, Lila began singing at age three, when she also started to teach herself piano. She moved on to formal piano and later violin studies, and performed in school plays and musicals. After earning a Bachelor of Music in Vocal Performance at the University of Michigan, Lila moved to New York where she earned her Master's in Vocal Performance from the Manhattan School of Music. Ammons spent twelve years singing opera, recitals and oratorio in the US and Europe, as well as doing commercial and film work. But the genetic pull of jazz and blues eventually was too strong to ignore, and on relocating to the Twin Cities about 12 years ago, Lila moved steadily into the worlds of swing, bop, blues and (true to her roots!) boogie woogie.
Lila has performed around the region at the Twin Cities Jazz Festival and Freedom Jazz Festival, on the Heritage Stage at the Chicago Blues Festival, and on the Arches Piano Stage at the Cincinnati Blues and Boogie Woogie Festival. Among local club and concert stages, Lila has been heard at Bar Lurcat, Dakota Jazz Club, Bloomington Center for the Arts, Jazz Central, Tangiers, and more. A few yeas ago, in honor of Albert Ammons 100th birthday, Lila presented a series of concerts throughout the U.S. She has been the featured vocalist with the ABC&D of Boogie Woogie quartet with German pianist Axel Zwingenberger and British musicians, Ben Waters, Charlie Watts (of "Rolling Stones" fame), and Dave Green. With Zwingenberger, she released Lady Sings the Boogie Woogie (2008), a documentation of lost gems of the boogie woogie and classic blues eras, and continues to tour throughout Europe with Zwingenberger. For her first solo jazz recording project, The Nearness of You (2013), Lila assembled a veteran New York team with Onaje Allan Gumbs sharing piano duties with James Weidman; Leon Dorsey on bass, and Steve Williams on drums fill out the rhythm section, with special guests including Houston Person on tenor and Marvin Sewell on guitar.
Juli Wood Quartet (8:30 pm)
(Note: Bio of Juli Wood drawn from her website)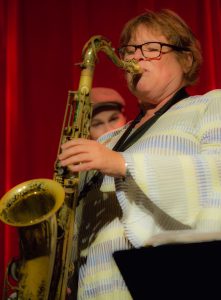 For the past twenty years with four albums as a leader, several studio projects as a sideman, and countless worldwide performances, saxophonist, vocalist and composer Juli Wood has established herself as a swinging, lyrical and entertaining performer on Chicago's music scene.  Juli has played many jazz clubs and festivals nationally and internationally –Chicago Jazz Fest, Hyde Park Jazz Fest, Milwaukee's Summerfest, kansen Jazz and Blues (Stockholm), Pori Jazz Fest (Finland), Bent J's club (Aarhus, Denmark), Storyville (Helsinki), Arlandia Jazz Fest (Aaland Islands, Finland) and Chicago's main jazz clubs (Jazz Showcase, Green Mill, Andy's and Katerina's). Juli is in the tradition of saxophonists who were also great vocalists, such as Cleanhead Vinson, Eddie Harris, and Louis Jordan.
Juli's love for the saxophone dates back to sixth grade. "I remember watching Soul Train as a kid on T.V. in the 70's and seeing Maceo Parker playing alto sax with James Brown. I thought that was the coolest looking and sounding instrument in the world! So the love affair with the saxophone started in the sixth grade and has been going strong ever since." Juli studied jazz music at the Wisconsin Conservatory of Music with David Hazeltine and Berkley Fudge. "I've been so fortunate to be mentored by wonderful jazz artists," she said. "I played a lot in Milwaukee and Chicago with Melvin Rhyne, a great bebop organist who began his career in Indianapolis with the Wes Montgomery trio." Juli recorded a quintet CD with Rhyne (Movin' and Groovin": The Juli Wood Quintet Featuring Mel Rhyne), and the ensemble played at the 1998 Chicago Jazz Fest.
Juli moved to Chicago in 1996 where she "hooked up with two of the great veteran jazz pianists there –Earma Thompson and Jodie Christian. Both Earma and Jodie played many gigs with the great saxophonist Eddie Harris. I learned a lot from both of them, especially how to play swinging tunes!" Her most recent recording, Synkkä Metsä (OA2 Records, 2015) is a set of Finnish folk songs. "My grandparents all came from Finland to the USA in the early 1900's. I grew up hearing the music and my parents taught me a little of the Finnish language. I was on one of my yearly trips to Finland  to play a few festivals and clubs, and  was listening to Art Farmer's recording of Swedish folk songs called To Sweden With Love. It hit me then that I should make a CD of the simple and hauntingly beautiful Finnish folk songs, instrumentally and in a jazz style. Synkkä Metsä or "Dark Forest" refers to the forests and lakes of Finland. "It's a magical place dear to my heart," notes Juli.
At the Black Dog, Juli will be joined by Paul Silbergleit on guitar, Clay Schaub on bass, and Mike Schlick on drums.  Juli is back in town on July 28, performing with the funky R&B Cadets at the Dakota.
Saturday Night Jazz at the Black Dog takes place at 308 Prince Street in the Northern Warehouse in St Paul's Lowertown Arts District. The jazz series is audience-funded via tip jar contributions ($10 suggested) which support the artists and the series. Full schedule at www.saturdaynightjazzattheblackdog.info