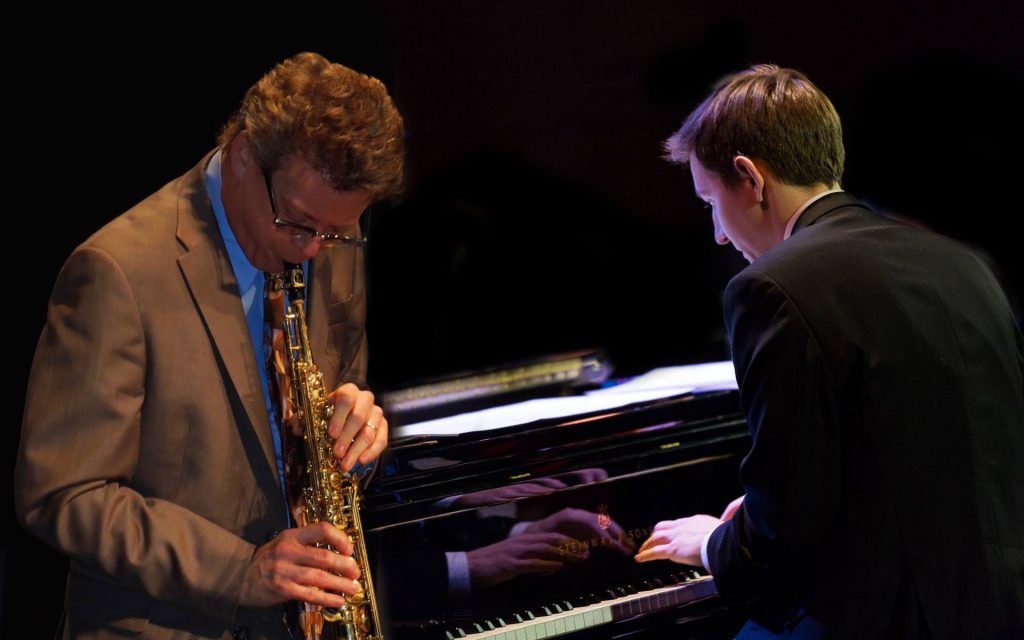 [Jazz Central Press Release]
Five years after recording their live debut album Vu Jà Dé, NYC-based, Iowa native jazz pianist Jon Snell and his former mentor/teacher, saxophonist Chris Merz (University of Northern Iowa) reunite to present a series of duo concerts in the Midwest. Exploring the creative and intimate possibilities that the duo environment offers, Snell and Merz navigate this setting using their own original compositions as a launching pad for further discovery. Hear them in Minneapolis at Jazz Central Studios on Wednesday, August 2, 7-9 pm.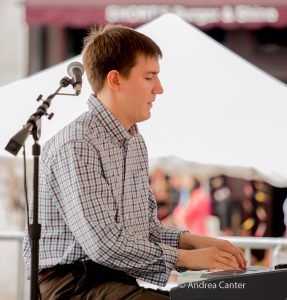 Jon Snell is a jazz pianist, composer, and educator living in New York City. In New York, he has performed with a variety of groups at some of the city's most esteemed venues, including Dizzy's Club Coca-Cola at Jazz at Lincoln Center, the Metropolitan Museum of Art, and Knickerbocker Bar and Grill. Recent projects include performances with jazz trombonist Luis Bonilla and a monthly performance series at the 55 Bar with the jazz vocalist group Vinyl Live, under the direction of Theo Bleckmann, Gretchen Parlato, and Kate McGarry.
Snell completed his undergraduate degree at the University of Northern Iowa where he received the Purple and Old Gold Award for Conspicuous Achievement in Music, given to only one student from the graduating class. He studied jazz piano with Bob Washut and classical piano with Sean Botkin. Upon moving to New York, Snell attended the Manhattan School of Music where he completed his master's degree in Jazz Performance and received the William H. Borden Award for Outstanding Accomplishment in Jazz, also given to only one student from the graduating class. In addition to fulltime studies at MSM, Snell served as a teacher's assistant and tutor for undergraduate and graduate courses in jazz harmony/counterpoint, ear training, and improvisation. He studied jazz piano with Garry Dial and Phil Markowitz, and classical piano with Lisa Yui.
Snell is the founder and lead instructor for Jazz Lessons NYC (www.JLNYC.com), established in 2015, primarily catering to students at the collegiate level via Skype lessons. Snell has served on the faculty of jazz camps for middle and high schoolers and has been a guest artist and clinician at the collegiate and high school levels. He is also a teaching artist for Manhattan School of Music's Distance Learning Program, which presents videoconferencing classes and workshops worldwide. In addition to performances on the East Coast and in the Midwest, Snell has performed internationally in Thailand. In addition to a collection of over 50 original works for small ensembles, Snell composes for studio orchestra and big band; is a past recipient of ASCAP's Young Jazz Composer's Award; and is commissioned to compose works for universities and individuals.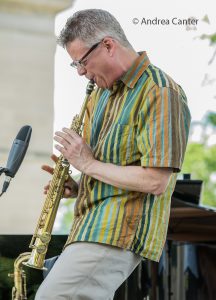 Chris Merz has served as Director of Jazz Studies and Director of the award-winning UNI Jazz Band One at the University of Northern Iowa since 2002. Under his direction, the band has traveled to Thailand as well as the East Coast of the US, and has recorded 13 CDs featuring many original compositions and arrangements by student and faculty writers. The 2006 recipient of the CHFA University Book and Supply Outstanding Teaching Award, Merz was the 2016 recipient of the John L. Baker Faculty Development Award, and was inducted into the Iowa Jazz Educators' Hall of Fame in 2015. He is a Past President of Jazz Educators of Iowa (JEI), and the founder and director of the UNI Combo Camp, an annual event for high school jazz students and music educators, which takes place each June.
Chris's recording credits include Steve McCraven, Darius Brubeck, John Rapson, and Jon Snell, as well as his own projects–Counterculture, the Chris Merz/Bob Washut Duo, The X-tet, and Equilateral. His 1997 release with the X-tet, Mystery Is My Story, prompted Dave Brubeck to write, "I am very pleased with this wonderful band. Naturally I would admire a group like yours that, to me, is a grand extension of what we were doing…when we were the 'new thing'".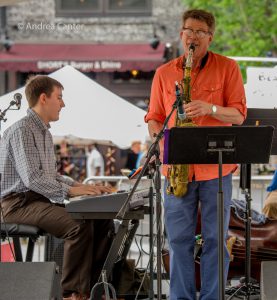 Current projects include Colossus Central (an exciting new big band led by UNI alum Michael Conrad) and the quartet, Christopher's Very Happy. Band., which performs Merz's originals exclusively. CVH.B.'s debut cd, We Are Bathed in Sunlight, was recently released on RealTown! Records. An accomplished composer/arranger for large jazz ensembles, Merz has received commissions from university and high school big bands throughout the country, and is published through UNC Jazz Press and ejazzlines. He is also a highly sought-after guest soloist, clinician and conductor at university and high school jazz festivals nationwide, and is endorsed by D'Addario and TM Custom tenor saxophones.
Jazz Central Studios is a nonprofit performance and education venue located at 407 Central Av SE in Minneapolis. Note Snell/Merz start time is 7pm; cover $10 ($5 with student ID).. On Wednesdays, Jazz Central Studios becomes a veritable laboratory for new compositions and jazz experiments presented by stalwarts of the local jazz community. See full schedule at http://jazzcentralstudios.org