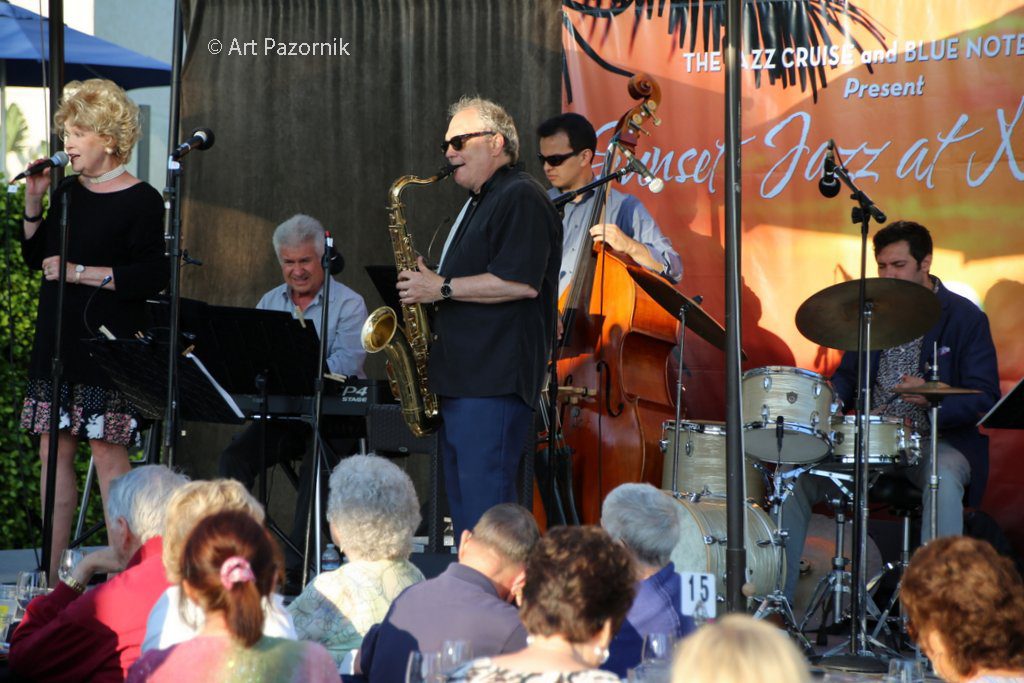 Kicking off the 8th Annual Sunset Jazz at Newport series on July 12th was the Ken Peplowski Quartet with special guest vocalist, Sue Raney.  Peplowski plays tenor sax and also clarinet just about an equal amount of time on many of his gigs.  He has been a regular at Newport Jazz's Jazz Party Concerts for a number of years and always brings an exciting show for all the patrons.  This particular day, Peplowski had an exceptional quartet: Tom Ranier – piano, Mike Gurrola – bass, Kevin Kanner – drums, and, of course, Peplowski on tenor sax and clarinet.
They began with a 1939 tune by Duke Ellington, "The Flaming Sword," done in two beat (or cut 4/4 time) throughout the tune with Peplowski on clarinet, Gurrola taking a good solo on a nice suave sounding number.   "An Affair to Remember" is usually done as a slower ballad, but tonight was played differently as an up tempo piece.  Kanner played some smaller drum breaks for this one.  Peplowski was on tenor sax.  They continued with a sweet ballad by Noel Coward, "I'll Follow My Secret Heart" with Peplowski on clarinet.   Another cool and impressive tune from Richard Rogers, "Blue Room," followed.   Peplowski's playing is suave and definite on all his performing whether on tenor sax or clarinet.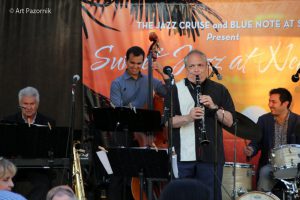 The audience of jazz patrons tonight was filled to the max as usual for Sunset Jazz events at Newport. Peplowski introduced vocalist and star of the evening, Sue Raney.  Raney began singing at age four in her home state of Kansas.  Her parents were very supportive of their daughter's early singing talents, and before she was a teenager she was working professionally.   At age fourteen she was on Jack Carson's radio show and later was the main vocalist on Ray Anthony's television show.  She signed with Capitol Records at age 17, releasing her debut album with Nelson Riddle, When Your Lover Has Gone, in 1958.  She was also featured with Stan Kenton in 1962.  Her list of recording endeavors is a long one over her long illustrious career.
Peplowski talked about Raney's recent Japan tour and then the trio backed her opening song, "That Face."  Her voice is smooth and distinctive.  All her enunciations are perfect.  She continued with this stellar trio singing one line of "Come Fly With Me," then segued into "I Love Being Here with You."  The audience showed a lot of interest and applause throughout this entire concert.  Raney gave a little history of some meaningful parts of her career. The band then continued with Gordon Jenkins' "This Is All I Ask" (Sue Raney and Peplowski on tenor sax), "The Song Is Ended (But the Melody Lingers On)" (Raney and Peplowski on clarinet).  Closing the first set, "Tenor Madness" with Ken Peplowski (tenor sax) was a moving number for the quartet.  Fantastic playing of this great jazz standard included solos from all the quartet.  (Info from Mike Gurrola:  This was the only known recording featuring both Sonny Rollins and John Coltrane performing together.)
Set Two had some exceptional music and also some comedy from Ken Peplowski.  He has been friends with Joe Rothman and John Mc Clure for a long time.  His comedy jabs fun at both of them.  The audience had several good laughs during both sets.
"Recado Bossa Nova" composed by Djalma Ferreira began the second segment of this concert.  This tune was originally recorded by Zoot Sims.  Peplowski played clarinet with the trio.  Continuing, they played the beautiful tune, "I've Never Been in Love Before" (Peplowski, tenor sax and trio) and "The Tender Trap" (Peplowski, clarinet).
Sue Raney returned, complete with costume dress change, backed by the illustrious trio and singing "It Could Happen to You" and "Aren't You Glad You're You." With Raney, Peplowski played clarinet on "Why Did I Choose You" (from the Broadway musical The Yearling) and on the closing tune, "I'll Be Seeing You."  The entire show receiving a well-earned standing ovation!
See websites: www.kenpeplowski.com. www.sueraneySRO.com, and www.sunsetjazzatnewport.com.  Be sure to check Sunset Jazz Newport's website.  Some outstanding concerts are coming!
Adapted from  L.A. Jazz Scene online, August 2017.