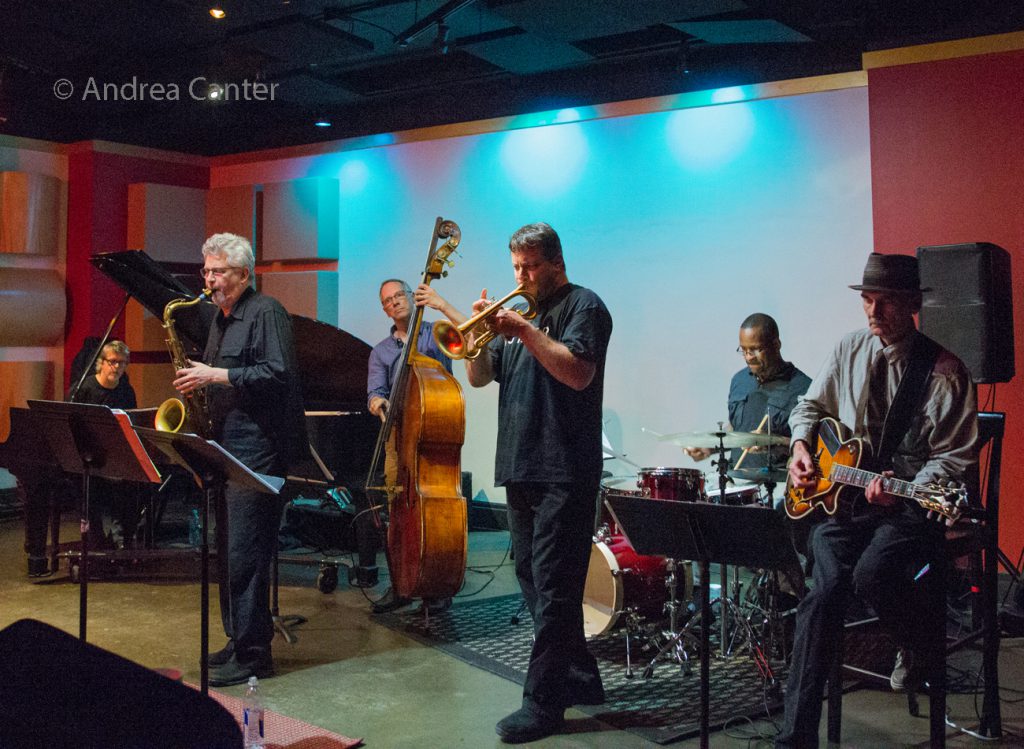 © Andrea Canter
It's a night to celebrate young lions and wizened veterans. The long-running Illicit Sextet returns to the Black Dog on August 12  to headline the Saturday Night Jazz series. The evening opens with the young guns of the Will Schmid Quartet.
Will Schmid Quartet (7 pm)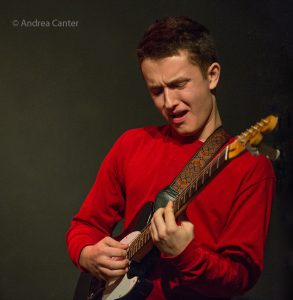 Tonight was actually scheduled as a duo with guitarist Will Schmid and bassist Charlie Lincoln. But last Monday night at Jazz Central, Will and Charlie joined Patrick Adkins (piano) and Jesse Thorson (drums), and were so inspired that they decided to bring the quartet to the Black Dog. Better hear them now as all four return to colleges in the Midwest and East Coast in a few short weeks!
In one configuration or another, guitarist Will Schmid has performed across the Twin Cities and beyond. A 2016 graduate of Minnetonka High School, Will was active in school bands as well as the Minnesota Youth Jazz Band. Throughout his high school years, Will led duos, trios, and quartets at such venues as the 318, Black Dog, Reverie, and Jazz Central. With fellow guitarist Adam Astrup, Will performed in duo at the 2016 Winter Jazz Festival, summer Twin Cities Jazz Festival, and in both duo and quartet at the 2016 Iowa City Jazz Festival. A trombonist as well as guitarist, Will is now studying both instruments as well as majoring in math and physics at Case Western Reserve University in Cleveland.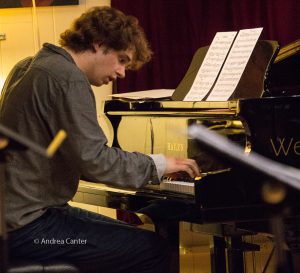 Pianist Patrick Adkins is a graduate of Edina High School who performed with the Dakota Combo and Minnesota Youth Jazz Band. Now a senior at Lawrence Conservatory, Patrick leads Sound Skirmish, an ensemble he organized during his high school days with Levi Schwartzberg, Drew Stinson and Ben Ehrlich. He's also presented an evening of solo piano and original compositions at Jazz Central and recently co-led the Adkins-Peterson Quartet with Luke Peterson.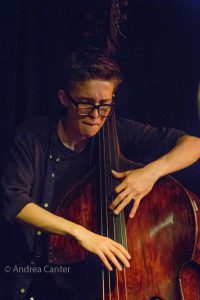 Bassist Charlie Lincoln has completed two years of jazz studies at the Berklee College of Music in Boston, where he recently joined Berklee's Global Jazz Institute. A South High alum, Charlie was already a busy gigging musician before graduation, playing with the Dakota Combo, Central Standard Time, the Charles Lincoln Group, and subbing with Eric Gravatt's Source Code. In his senior year, Charlie was selected as one of two winning youth songwriters in the Eric Stokes Songwriting Contest and was on stage for the Young Performers Showcase for the Zeitgeist New Music Cabaret.  In addition to curating a summer series at Jazz Central last year, he performed with the Dave Brattain Trio as well as with Hoaxer during the 2016 Twin Cities Jazz Festival. This summer, Charlie has performed around town with Hoaxer, No Exit, and other ensembles as well as touring Asia.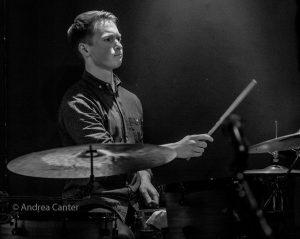 Drummer Jesse Thorson is a 2014 graduate of Minnetonka High School, where he performed with school music ensembles.  Now heading into his senior year at Columbia University (New York) majoring in Sustainable Development, Jesse also studies in the Louis Armstrong Jazz Performance Program where's he's had the opportunity to play with such guest artists as Miguel Zenon, Armen Donelian, and Steve Nelson, and play in ensembles under the instruction of Don Sickler and Helen Sung. Jesse has also studied privately with Tony Moreno and supports a variety of projects in New York and the Twin Cities area, including jazz combos, folk groups, and worship music collectives.
Illicit Sextet (8:30 pm)
Steve Kenny, Kelly Bucheger, and David Roos formed the IS in 1987 with cohorts from the University of Wisconsin River Falls. The band decided to focus on original compositions as "an outstanding vehicle for personal and group expression." The focus on original material was one of the unique features of the band, and a long-standing weekly gig at O'Gara's in St. Paul afforded them the opportunity to try out their new music. But in the mi-90s, the band, for various reasons, went on hiatus. A long one. Fifteen years is a long wait to reconvene, but the band reunited in 2009 at the Artists Quarter with the same personnel who were playing in the mid 90s. In 2013, the sextet finally released the sequel to its debut Chapter One — Chapter Eleven. The recording gap closed considerably as IS waited only three years for number three, Addendum (2016).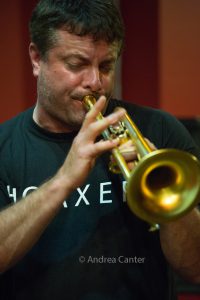 Steve Kenny, FLUMPET™, co-founded the Illicit Sextet after graduating from UW-River Falls. Among other projects, he led The Bastids and then Group 47 weekly at the Artists Quarter, and more recently at Jazz Central, the Icehouse, the Black Dog and more. Group 47 recorded an LP, Straight to Vinyl, released in summer 2014. Kenny also received a Metropolitan Regional Arts Council grant to produce a 10-week summer series of jazz at Studio Z in 2014, which he has brought back in 2015 and 2016, featuring "All Originals" from local ensembles, including the Illicit Sextet. In fall 2014, Steve launched the Saturday Night Jazz at the Black Dog series, and with Illicit Productions, assembled and released the first Twin Cities Jazz Sampler, a collection of tracks from 13 area jazz ensembles. In 2015, he inaugurated another weekly series, Friday Night Jazz at The Nicollet (now Thursday Night Jazz at Reverie) in Minneapolis; the series is on hiatus as Reverie seeks a new location. Steve also curates three nights of jazz at the Black Dog during the Twin Cities Jazz Festival.  With Illicit Productions, Kenny released the second volume of the Twin Cities Jazz Sampler in late 2016. In addition to IS, and Group 47, Steve leads several quartets, Central Standard Time, What Would Monk Do, and performs with a long list of area musicians including Larry McDonough, with whom he has performed a tribute to Miles Davis and Chet Baker.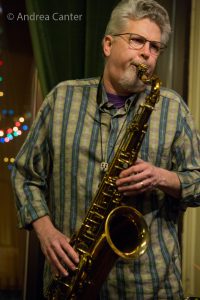 Paul Harper, tenor sax, joined the Illicit Sextet in the mid 90s. A busy Twin Cities performer, Paul has appeared on numerous recordings (including Charmin Michelle's Pure Imagination) and performs on sax and flute with guitarist Joel Shapira, Charmin & Shapira & Friends, and other ensembles through Sunset Park Music. Paul leads several ensembles, including Show and Tell, Chordless Quartet, and the Bardo Quartet.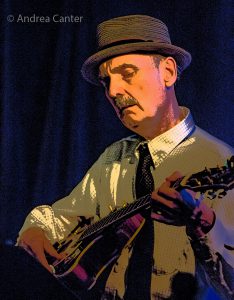 David Roos, guitar, also a founding member of the Illicit Sextet, leads the trio Exquisite Corps,  sold  guitars at The Podium in Dinkytown until it closed recently, and devotes time to teaching and writing about jazz guitar and theory.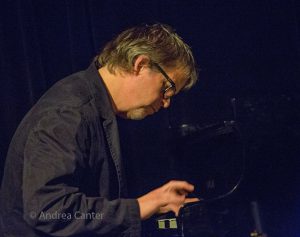 Chris Lomheim, piano, was a protégé of the late Bobby Peterson. Today he is one of the most in-demand pianists in the metro area, backing area vocalists and heading his own trio, quartet and quintet, as well as playing and recording with the Reid Kennedy Trio and more. Chris returned to the studio in 2014 to record a trio project of all original compositions (Timelines), released to rave reviews. Chris is heard at least monthly in solo at Vieux Carre', continues to perform solo for High Tea at the Saint Paul Hotel, and is a featured performer at Orchestra Hall, the Dunsmore Room, and more.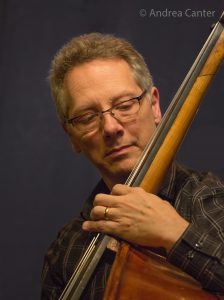 Tom Pieper, bass, is on the faculty of the MacPhail Center for Music. With wife Karen, he performs as SpiritJazz, and is also the middle school orchestra director for the Wayzata Schools.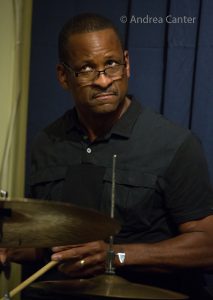 Nathan Norman, drums, has an extensive resumé performing with area artists, including vocalists Debbie Duncan, Connie Evingson, JoAnn Funk, and Charmin Michelle. He's also played and/or recorded with Bill Banfield, Nancy Bierma, Robert Huntley, French 75 and more, and performs regularly with the Travis Anderson Trio.
Saturday Night Jazz at the Black Dog takes place at 308 Prince Street in St. Paul's Lowertown Arts District, on the street level of the Northern Warehouse. No cover but donations (tip jar or tip jar token, $10 suggested) appreciated to support the jazz series and musicians. Full Saturday Night Jazz schedule at www.saturdaynightjazzattheblackdog.info; full music schedule at the Black Dog at www.blackdogstpaul.com