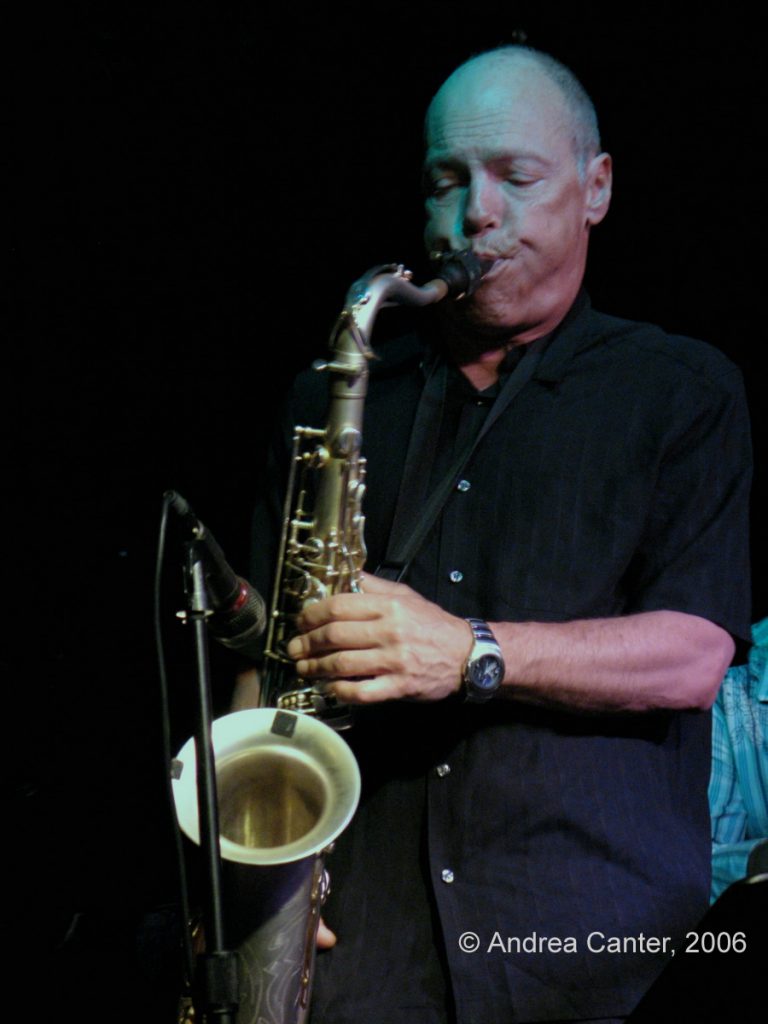 © Andrea Canter
"This is straight-ahead bop and postbop served with panache by pros who share taste and hours together on the bandstand." — Britt Robson, StarTribune
Back in the heydey of the Artists Quarter, Twin Cities native saxophonist Bob Rockwell was a regular performer, ultimately relocating to New York and then to Copenhagan where he has continued and expanded his career. One of his frequent collaborators at the old AQ was pianist David Hazeltine, based in Milwaukee until his own move to New York. Bassist Billy Peterson and drummer Kenny Horst, co-owners of the AQ, were the usual rhythm team. For two nights in the Dunsmore Room at Crooners Lounge, August 14-15, the magic of those Artist Quarter gigs returns as Rockwell and Hazeltine team up again with Peterson and Horst.
Bob Rockwell was born in Miami, Oklahoma, but grew up in Minneapolis. As a teenager he performed in rock , R & B & Big Bands, and toured the states extensively from his to his early 20's. Bob spent a few years in Las Vegas (late 60s-early 70s), playing at The Sands, Tropicana, The Dune and Cesar's Palace before returning to the Twin Cities in 1974. Here he recorded his acclaimed debut album, Androids, receiving 5 stars from Downbeat. With Billy Peterson, he was a member of Natural Life, recording several albums and touring the U.S.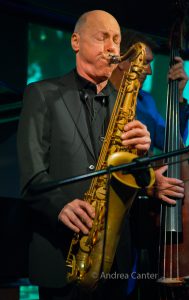 Bob moved to New York in 1978 where he joined the Thad Jones-Mel Lewis Orchestra. He went on to work with the Mel Lewis Orchestra, Tito Puente, Freddie Hubbard, Ray Drummond, Billy Hart, Rufus Reid, Victor Lewis, Tom Harrell, Anthony Cox, Richie Bierach, and more. Then he moved again in 1983, this time to Copenhagan, Denmark, and performed with Ernie Wilkins, Kenny Drew, Marilyn Mazur, Kenny Wheeler and more, and particularly collaborated with Danish pianist Jan Kasperson and bassist Jesper Lundgaard; for a while he continued to perform annually at the Artists Quarter.  In 2003, Rockwell received the Ben Webster Award. He featured significantly in the Danish Radio Jazz Orchestra's touring, broadcast, and recording schedule, as well as in smaller ensembles such as "The Repertory Quartet" and The "Organisers". It's been more than a decade since Bob performed in the Twin Cities.
Noted for adventurous arrangements, rhythms, and harmonies, as well as swinging, melodic original compositions, New York pianist David Hazeltine brings both a reverence for tradition and a unique inventive spirit to the bandstand. And he's no stranger to the Twin Cities, having spent his childhood and early career in the Midwest. A native of Milwaukee, Dave fell in love with jazz when his mother gave him a Jimmy Smith recording. He played his first professional gig (on organ) at age 13 (weekends at a neighborhood Italian restaurant), switching to piano at 15.  During his college years, Dave became the house pianist at Milwaukee's Jazz Gallery, where his first gig was with the great tenor player Sonny Stitt, who became a mentor. Soon he was playing with such visiting legends as Charles McPherson, Eddie Harris, Pepper Adams, and Chet Baker.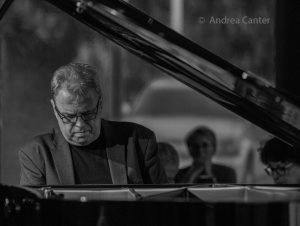 Baker encouraged Dave to move to New York in 1981. Personal issues sent him back to Milwaukee two years later, but he expanded his horizons throughout the Midwest, playing venues in Chicago and the Twin Cities, as well as Milwaukee. Returning permanently to New York City in the early 1990s, Dave started playing at the old Star Café in the company of Junior Cook and Curtis Fuller, then went on the road with Jon Hendricks. Later he played with his "Classic Trio" (drum legend Louis Hayes and bassist Peter Washington) as well as serving as sideman for Freddie Hubbard, James Moody, the Faddis-Hampton Sextet, Slide Hampton Big Band, the Carnegie Hall Jazz Band, and Marlena Shaw, for whom he also served as arranger and musical director. He also appeared as the guest artist on Marian McPartland's Piano Jazz.
Hazeltine's first recording as leader in 1996 (Four Flights Up, Sharp Nine) featured Slide Hampton, and received wide acclaim from critics and musicians. His American recordings have included Sharp Nine and Criss Cross, while in  Japan, he has released six trio recordings for Venus, including tributes to Bill Evans (Waltz For Debby) and Horace Silver (Senor Blues). Today, Hazeltine has two dozen recordings as leader to his credit, including a series with the collaborative ensemble, One for All, which includes Eric Alexander, Steve Davis, Jim Rotondi, Joe Locke, and Joe Farnsworth. Also heavily involved in jazz education, David Hazeltine was co-founder and director of The Jazz School in Milwaukee and the Program Coordinator of Jazz Studies (later Department Chairman) at the Wisconsin Conservatory of Music. More recently, he served as Associate Professor at Berklee College of Music and is currently on the faculty of SUNY- Purchase. He most recently appeared in the Twin Cities in the Dunsmore Room in June 2016, and shortly after served as consultant to Crooners in the purchase of the current Steinway D piano.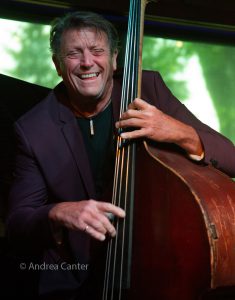 From Minnesota's "First Family of Music," bassist Billy Peterson sang in commercials with sister Linda at age 9 and played bass and drums in his father's ensembles while in junior high. He played in a variety of combos and big bands throughout his high school years, including a summer tour with the Righteous Brothers and a stint with the Lawrence Welk All-Stars. After graduation, Billy played three years with Billy Wallace (Clifford Brown's pianist) and co-founded the band Natural Life with saxman Bob Rockwell. He has recorded with Leo Kottke and performed or recorded with BB King, Johnny Smith, Lenny Breau, and the late Les Paul. Due to tour commitments, he passed on an invitation to join the Bill Evans Trio (Marc Johnson's good fortune!). In 1975, he appeared on Bob Dylan's acclaimed Blood on the Tracks, and a few years later began a long-standing collaboration with Ben Sidran, which led to his 20+ year association with the Steve Miller Band. Billy continues to tour with Bob Rockwell in Europe, records and tours with the Dave King Trio, and appears in the Twin Cities with The Peterson Family, How Birds Work, What Would Monk Do, and other ensembles.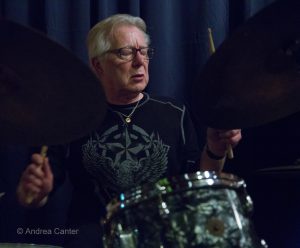 When Kenny Horst wasn't busy running the Artists' Quarter, he tended the drum kit with many of the AQ's visiting and local artists, and anchored the long-running Tuesday Night Band. He also performed regularly with How Birds Work, the Dean Granros Trio, and The Five. Said Don Berryman (Jazz Police), "Great hard-bop, soul jazz, and fusion chops and the sweetest guy you could meet." With the closing of the AQ in 2013, we've seen more of Kenny behind the trapset at such venues as Jazz Central Studios, The Nicollet, Icehouse, and the Black Dog; he's recently had a weekly gig at the newly renovated Lexington in St. Paul.
Memories of the finest bebop will return over two nights in the Dunsmore Room with the Bob Rockwell-David Hazeltine Quartet.
The Dunsmore Room at Crooners Lounge is located at 6161 NE Highway 65 (Central Av) in Fridley, just north of I-694 and about 15 minutes north of downtown Minneapolis. Reservations recommended at www.croonersloungemn.come.