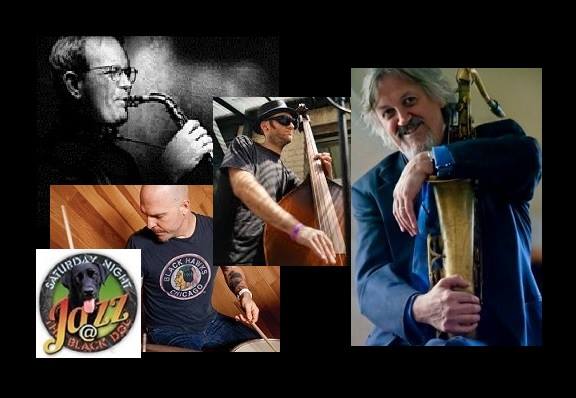 © Andrea Canter
Into a fourth year of weekly presentations of the top jazz artists in the Twin Cities and beyond, Saturday Night Jazz at the Black Dog takes no break for the holiday weekend. Instead, curator Steve Kenny has booked two ensembles well known for tackling challenging music, often of their own design. After an opening set from the John Devine/Bill Lang Quartet, the Cartwright/King/Granowski Trio takes the stage, with some surprise guests.
John Devine/Bill Lang Quartet (7 pm)
Once called the 'Worst Saxophone in America" (by Roseanne Barr), John Devine and Bill Lang are a real earful! The saxophonists will be joined by bassist Brock Thorson and drummer Alden Ikeda.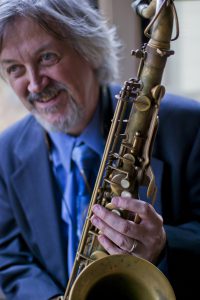 Saxophonist/composer John Devine has been an active member of the Twin Cities' musical community since returning from Arizona in 1980. In the early '80s he performed with the John O'Brien Ensemble, Unemployment Compensation, 64K, Don't Look and the John Devine Saxophone Quartet. From the mid-80s through the mid-90s he was also a member of St Paul's horn-driven R&B band, the Checkers, and the classical ensemble, the Twin Cities Saxophone Quartet. Devine and cellist Michelle Kinney formed the large improvising ensemble, IMP ORK, in 1986. Over the past twenty years, Devine has played solo sax around the Twin Cities at the Loring Cafe and Loring Pasta Bar, among other venues. His compositions are played by numerous area ensembles and have been used by area choreographers and theater groups.
Saxophonist/flautist Bill Lang studied jazz and composition at the University of Wisconsin, Madison with Les Trimming, Jimmy Chentham and Cecil Taylor. His local exploits on the freer side of jazz have included gigging with Ryan Olcott, Mike Lewis, Jon Davis, Carei Thomas, Alden Ikeda, Brock Thorson and of course John Devine. Bill has over 30 years of performing and teaching experience, which her brings to students at Eckroth Music.
Bassist Brock Thorson is a long-time associate of John Devine and Bill Lang; he has also played with Carei Thomas, the Just Friends Big Band, and in duo with poet Ted King. Thorson also sells and repairs string instruments out of his Brock's Bass Shop. Thorson earned his BFA degree from the University of Colorado.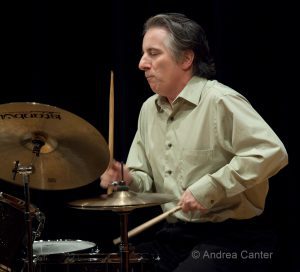 St. Paul native Alden Ikeda has played drums and percussion for nearly four decades, noting Baby Dodds as a significant influence. Over his career, Alden has played with Juluis Hemphill, Don Cherry, Roscoe Mitchell, Jon Davis, Dean Granros, George Cartwright, Benny Weinbeck, John Devine, Frank Foster , Billy Bang and many others. Currently Ikeda co-leads the Carei Thomas-Alden Ikeda Group and performs with George Cartwright and Adam Linz in the Gloryland Ponycat Band.
Cartwright/King/Granowski (8:30 pm)
Like a perfect storm, saxophonist George Cartwright, drummer Dave King, and bassist Josh Granowski will converge with the full force of improvisation.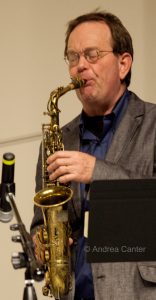 A master of saxophone and improvised music for nearly 40 years, George Cartwright was born in the Mississippi Delta and worked his way nearly to the headwaters, first playing rock, studying at Mississippi State and other schools in the Deep South, moving to New York to study with avant garde reedsman Anthony Braxton, and finally arriving in Minnesota in 1999 after a long stint in New York and another in Memphis. His most notable bands have included the Ornette-inspired Curlew (a fixture at the Knitting Factory in New York in the 80s and 90s), Gloryland Pony Cat which he founded in the Twin Cities with Adam Linz and Alden Ikeda, and the trio Merciless Ghost with Josh Granowski and Davu Seru. In addition to work with such renowned artists as Ornette Coleman, Sonny Sharrock, Myra Melford, Butch Morris and others, he's also worked with a long list of improvising artists in the Twin Cities, including Carei Thomas, JT Bates, Michelle Kinney, Jacquelin Ultan, Anthony Cox, Michael Lewis, Dean Granros, Andrew Broder, Pat Moriarty, Ellen Lease, and more. George received a McKnight Composer's Fellowship in 2003 and that same year was named City Pages "Jazz Artist of the Year".  In 2008 he received a Jerome Foundation Composer's Grant to write and perform Davey Williams' radio play, Bonanaza: The Musical.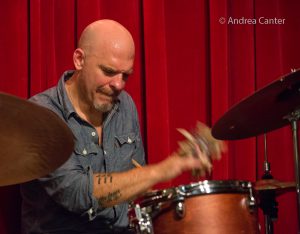 If Dave King's long-standing work with The Bad Plus and Happy Apple has brought him the most attention, his talents and affiliations hardly end there. In fact, at any given moment, King is likely involved in at least ten projects ranging from the jazz-oriented  Dave King Trucking Company, Bad Plus, Happy Apple, and Vector Families to rock bands like Halloween Alaska and impossible-to-define electronic outfits like Gang Font. King grew up in the Twin Cities, starting off on piano at age four before switching to drums in fifth grade. As a teen he forged his early music connections with fellow Golden Valley residents Reid Anderson and Craig Taborn, whose paths would intersect again and again. At 19, King headed west, working as a session musician in LA in the early 90s before returning to the Twin Cities to find his own voice. Soon he helped design and define the sound of Happy Apple, the trio that came together in 1996, ultimately complete with saxophonist Michael Lewis and electric bassist Erik Fratzke and straddling avant garde jazz and alternative rock. In addition to his discography with The Bad Plus and Happy Apple, and his tours and recordings with the Dave King Trucking Company, King appears on a long list of other recordings and has recently performed in duo with JT Bates (Real Bulls) and with the ensemble Vector Families with Anthony Cox and more. In 2010, he released a solo album combining his skills as drummer, pianist and composer, Indelicate (2010).  A couple years later he formed a trio with pianist Bill Carrothers and bassist Billy Peterson, leading to the acclaimed release, I've Been Ringing You, and appearances from the Village Vanguard to Vieux Carre' and Crooners.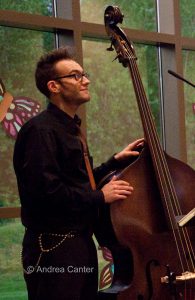 Josh Granowski is a renowned bassist with a reputation for being versatile and supportive in any context. In recent years he has become a stalwart of Minnesota's traditional jazz scene, playing in the Butch Thompson Trio as well as with Patty & the Buttons and The Southside Aces. Yet he also has been a longtime bassist/collaborator with improvising artists George Cartwright, Davu Seru, Bookhouse Trio, Midwest Paul Cook, Byron Johnson-Blanchard Trio, and more. This past spring he appeared on local stages with renowned keyboardist Wayne Horvitz.
Saturday Night Jazz at the Black Dog is supported by audience contributions to the "tip jar," essentially a voluntary cover charge of $10 (give what you can and as much as you can!). Weekly schedule at www.saturdaynightjazzattheblackdog.info. The Black Dog is located in St Paul's Lowertown at 308 Prince Street, in the Northern Warehouse. Information, menu, and full music schedule at www.blackdogstpaul.com