© Andrea Canter
"Miles Davis said that the only question for a musician was, 'Do you have ideas and can you project them?' For Snowblind, the answer is, 'at all times.'" – Phil Hey
 The brass-laden quintet Snowblind easily earned drummer Phil Hey's admiration, as well as broad-based fan support,  since it first launched over a decade ago. Through 2013, the band was often on stage at venues throughout the Twin Cities, particularly playing at the Artists Quarter until the club closed. Pretty much on hiatus since then, Snowblind is back in action this weekend, headlining Saturday Night Jazz at the Black Dog, following an opening set from the Steve Kenny Trio.
Steve Kenny Trio (7 pm)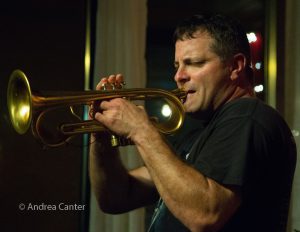 Saturday Night Jazz curator Steve Kenny was recently on stage with his headlining quintet (Nelson Devereaux, Levi Schwartzberg, Ted Olsen, Miguel Hurtado). Tonight they pare down to a trio with just Kenny, Olsen and Hurtado.
A graduate of the University of Wisconsin River Falls, trumpeter Steve Kenny has performed with What Would Monk Do, the Cedar Avenue Big Band, and Larry McDonough's quintet (tribute to Chet Baker) as well as leading several editions of his own quartets and quintets, and Group 47. He's best known as co-founder of the Illicit Sextet, an ensemble popular in the 1990s before taking a long hiatus, and back in action for the past six years. With support from state arts board grants, he has curated the summer series, "All Originals" at Studio Z, now in its fourth season. In fall 2014 he launched the weekly Saturday Night Jazz at the Black Dog series, and in spring 2015, brought a similar series (Friday Night Jazz) to The Nicollet, later rebranded and rescheduled as Thursday Night Jazz at Reverie, running until the venue closed at the end of July 2017 and now moving to Friday nights at Jazz Central in October. In his spare time, Steve juggles a fulltime tech job, graduate studies in Computer Science, gigs with a number of bands, and managing the Jazz Police website.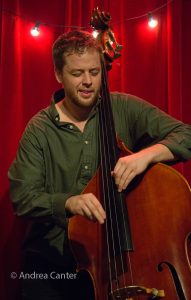 Ted Olsen studied bass with Travis Schilling and Adam Linz. He graduated from St. Paul's Como Park High School in 2010 and went on to study composition at Luther College in Decorah, IA, finishing college studies at the University of Northern Colorado in spring 2015. In the Twin Cities, Ted has taught at the Twin Cities Jazz Workshop and has performed as leader and sideman at various venues including the Artists Quarter, Jazz Central, Black Dog, Icehouse, Vieux Carré and Twin Cities Jazz Festival. He's performed frequently with Steve Kenny, Javi Santiago, Aaron Hedenstrom, Miguel Hurtado, and more. Ted will soon release his debut recording as leader (September 20 at the Icehouse).
Miguel Hurtado (drums) played throughout the Twin Cities as a teenager in several youth bands, as well as with South High jazz ensembles. After graduating from the Manhattan School of Music in spring 2010, he returned to the Twin Cities where he quickly became a busy member of the local jazz scene. He has led his own ensembles at the Twin Cities Jazz Festival and performed at the Artists Quarter and Dakota; more recently he has been heard at Jazz Central, the Icehouse, Black Dog, and more. In addition to leading his own bands, he has performed with Jake Baldwin, John Raymond, Jeremy Walker, Javi Santiago, Joe Strachan, Ted Olsen, Will Kjeer, Steve Kenny, and Courageous Endeavors. He's also expanding his musical resumé, playing with some local pop and R&B singers, particularly Alicia Steele and vocalist/rapper Toussaint Morrison.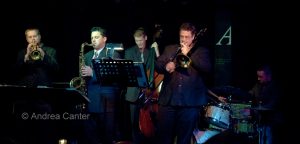 Snowblind (8:30 pm)
The founding musicians of Snowblind came together in 2005 through their connections to the University of Minnesota.  Although there have been some personnel shifts over the years, the current ensemble includes the original horn section of Shilad Sen, Adam Rossmiller, and Scott Agster, along with original drummer Reid Kennedy and more recent addition Graydon Peterson on bass.
Tenor saxman and Chicago native Shilad Sen graduated from Northwestern University and completed doctoral studies in Computer Science at the U of M. Currently on the faculty at Macalester College, he contributes horn arrangements as well as original compositions to the Snowblind repertoire. Sen was runner-up in the 1996 North American Saxophonist Alliance Collegiate Jazz Competition and was selected to perform at Orchestra Hall in Chicago as one of seven finalists in the 1993 Illinois Young Performers Concerto Competition. His performance credits include Danilo Perez, Ron Blake, Rufus Reid and Dennis Diblasio, as well as the Adam Meckler Orchestra and other ensembles in the Twin Cities.
Once a student of Tiny Baker, trombonist Scott Agster is an alum of the famed University of North Texas One O'Clock Lab Band who has furthered his studies at the U of M, where he earned his DMA degree. His eclectic chops are featured locally with Salsa del Soul and Jack Brass Band; with Doug Haining he formed the Explosion Big Band that performs monthly at Jazz Central Studios. A veteran of international jazz festivals, Scott has performed with Slide Hampton, Nicholas Payton, Phil Woods, Benny Golson, Dave Douglas and more. Scott has taught at the MacPhail Center for Music and is currently on faculty at McNally Smith College of Music.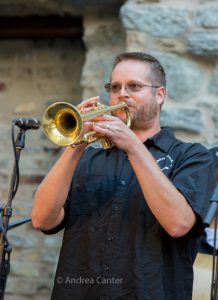 Adam Rossmiller is a trumpeter and music educator who keeps busy performing and teaching. Performance credits include the Doc Severinsen Big Band, Glen Miller Big Band, JazzMN Big Band, Bach Society of MN, Pete Whitman's X-tet, Mt. Olivet Lutheran Church Brass, Dr. Mambo's Combo, Jack Brass Band, and Ronn Easton's All Star Soul Revue. He has also had the pleasure of performing with Jason Marsalis, Natalie Cole, Eric Alexander, Mike Stern, Nicholas Payton, Fred Wesley, Diane Schuur, Ernie Watts, Wayne Bergeron, the Hornheads, the Four Tops, Martha & the Vandellas, and Wayne Newton. In addition to his faculty position at McNally Smith College of Music, Adam directs the Jazz Ensemble at Concordia University and teaches at the Mt. Olivet School of Music.
Bassist Graydon Peterson joined the band in 2007 when original bassist Mark Drehmann moved to New York. Graydon graduated with a degree in music composition from the University of Wisconsin-Eau Claire. As a member of the Down Beat award-winning UWEC Jazz Ensemble I, he performed with such guest jazz artists as Lewis Nash, Ingrid Jensen, Jason Marsalis, Chris Botti, and Christian McBride.  In Minneapolis, Peterson is a first-call bassist for area vocalists, leads his own Graydon Peterson Quartet, and performs with a long list of bands including Firebell, Adam Meckler Quintet, and Charanga Tropical.
Drummer/educator Reid Kennedy has provided his timekeeping skills to such luminaries as Joe Lovano, Phil Woods and Gunther Schuller. The Winona, MN native has studied percussion with Peter Erskine, Jeff Hamilton, Dave Weckl and Phil Hey, as well as vibraphone with Steve Yeager. In addition to performances with chamber and symphony ensembles, Reid has also appeared with Phil Woods, Shelly Berg, Bob Florence and the Disney All American College Band. Locally  leads his own trio, releasing his debut recording in 2010. Reid also appears around the metro with Jack Brass Band, Nooky Jones, Southside Aces, Copper Street Brass, and more. In addition to teaching at McNally Smith College of Music, Reid is an active composer whose original music has  appeared on Fox, Showtime, Starz, The Learning Channel, and WCCO Television.
According to the musicians, "We have a variety of influences and backgrounds that we mix into our compositions and performances. You might hear some old school elements in one chart mixed with more modern deconstructive elements. We also infuse some of our music with humor." Notes Twin Cities drum king Phil Hey, "Their approach and sound is their own, yet firmly rooted in the tradition of Max Roach's late 50s/early 60s groups with Booker Little, Charles Mingus' various piano-less groups and Dave Holland's recent quintets…They can play 'rag-time to no-time' and are well versed in hip-hop, funk and Latin music in addition to swing and bop." And adds Twin Cities trombone master Dave Graf, "It all coheres into a quirky, melodic group sound, full of unexpected turns and infused with a refreshing sense of playfulness."  Snowblind released their first recording in late 2005, aptly titled Arctic Fury, a set combining original tunes and covers of jazz classics. A year later came Taking Shape, a diverse set of all original tunes contributed by each of the original band members.
Snowblind combines the key ingredients to the success of this instrumentation—diverse rhythms; multi-hued harmonies; interesting arrangements that highlight virtuosic solos and telepathic interactions. They reach back to their traditional roots while simultaneously reaching ahead to their own shapes and sounds.
Saturday Night Jazz at the Black Dog takes place weekly at 308 Prince Street in the Northern Warehouse in St Paul's Lowertown. Series schedule at www.saturdaynightjazzattheblackdog.info. This is an audience-funded series, supported by contributions to the tip jar ($10 suggested) via cash or tip jar token purchased at the Black Dog. Full bar and kitchen. The Black Dog presents an eclectic schedule of music nightly– full calendar at www.blackdogstpaul.com