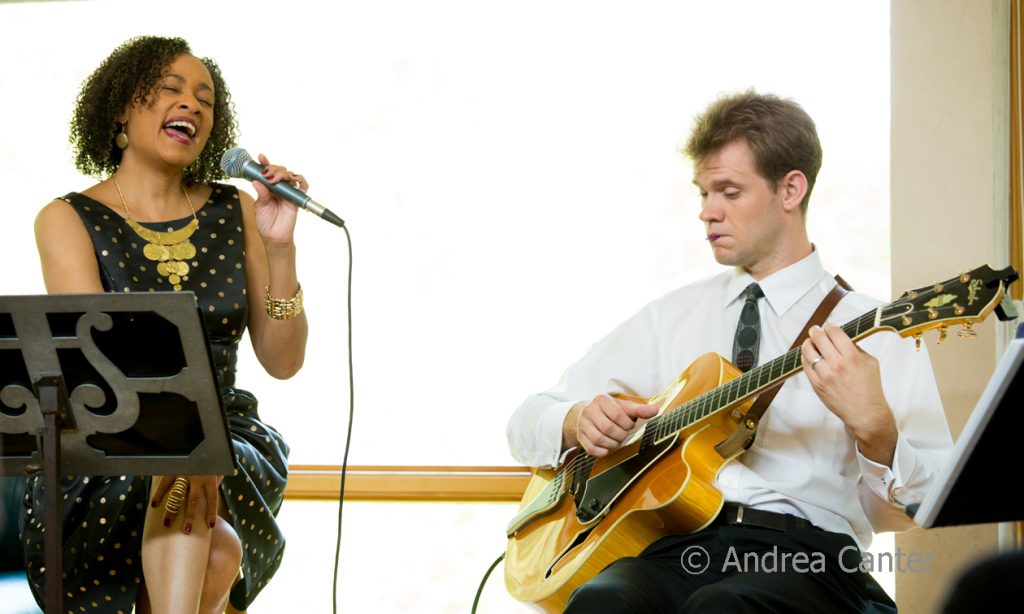 © Andrea Canter
The dazzling guitar-vocal partnership of Charmin Michelle and Sam Miltch returns to the Dunsmore Room on September 11 (7:30 pm) with a program of the music of Billie Holiday.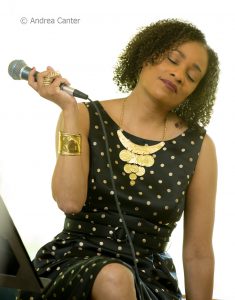 Charmin Michelle sings with "taste and understatement, swing and savoir faire, grace and grooves, intimacy and panache" (TC Music Net).  Born in Birmingham, AL,  Charmin moved to Minnesota as a young child. Although the Land of 10,000 Lakes has been home ever since, her experiences have taken her around the world, with internationally known pianists Mulgrew Miller and Kirk Lightsey in 1997, at jazz festivals throughout Europe and, most recently, on tours in  Spain and France. She had a long-standing Monday/Wednesday night gig at Fireside Pizza with pianist/accordionist Denny Malmberg through spring 2015; the duo continues to perform at various venues including Crooner's Lounge.  Sunday nights often find her at the Cinema Ballroom with the Jerry O'Hagan Orchestra. She has performed in duo with guitarist Joel Shapira for many years (Charmin & Shapira) and more recently they have expanded to "Charmin & Shapira and Friends," gigging on stages at the Dakota, Vieux Carre' and more. Gutiarist Sam Miltich is a more recent duo partner.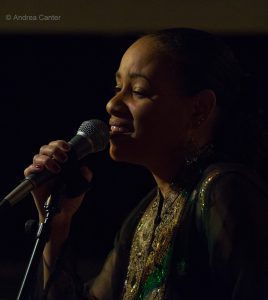 On her three solo recordings—Your Eyes (Zimboy, 1994), Destination Moon (CM, 1998), and Hot (CM, 2001), she covered tunes of Billie Holiday, the Great American Songbook, blues and bossa. Her newly released CD, With Thanks Benny Carter, was recorded during a tour in France in 2015, and features Jean Francois Bonnel (alto/clarinet), Chris Dawson (piano), and Francois Laudet (drums), with cover art by Grammy-winning jazz vocalist, Cecil McLorin Salvant.  On the big stage of Orchestra Hall, Charmin joined Delfeayo Marsalis in an all-star tribute to Louis Armstrong a few years ago, and appeared at the French Quarter Jazz Festival in New Orleans in 2011, where she sang with the Minneapolis South High School jazz band and sat in with Delfeayo Marsalis and Irvin Mayfield. Charmin joined Pippi Ardennia in winter 2014 at the Capri Theater in a revue dubbed "Girl Talk."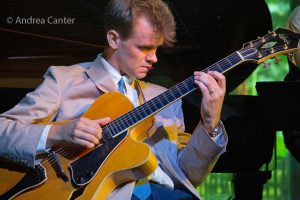 Music, like the surrounding forests of Northern Minnesota, was just a normal part of family life for young Sam Miltich. Dad Matthew Miltich taught English at the area community college and played electric bass. At age 7, Sam discovered an Erroll Garner recording in the family collection and commandeered it, declaring Garner to be a "genius." Soon he was learning to play piano, but a fire that destroyed the family home forced him to find another outlet. At age thirteen he picked up the guitar and taught himself to play. His life-defining moment came at fifteen, watching the Woody Allen film Sweet and Lowdown about the life and music of Django Reinhardt. The music for him was magic, "the fire and passion, the East European country sound….Everything I loved rolled into one," he noted in an interview on National Public Radio. How can you learn more about the gypsy jazz style of Django living 20 miles from the nearest town in rural Minnesota? Sam ordered instructional videos by Paul Meiling and began intense study on his own, practicing eight hours per day. Seeking a playing partner, he nudged his father to switch to upright bass. And seeking more in-depth instruction, he convinced his father to drive cross country for a lesson with Meiling, who invited the teenager to sit in with the famed Hot Club of San Francisco.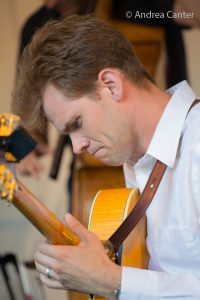 Sam founded the Clearwater Hot Club in 2005 and Big Dipper Jazz Band in 2010. In addition to touring and recording with the Hot Club of San Francisco, Sam played at the Lincoln Center in New York City in a concert honoring Django with international musicians; and has shared the stage with David Grisman, the Ferre' Brothers, Angelo DeBarre, Dorado Schmitt, Fapy Lafertin, Ludovic Beier, Samson Schmitt, and Ken Peplowski. He's also recorded with Connie Evingson, Patrick Harison, and Dave Karr in addition to five releases with the Clearwater Hot Club. Sam has been a featured performer at recent Twin Cities Jazz Festivals.
It's rare to have a performance in the Dunsmore Room without a piano, but in the case of Sam and Charmin, you won't miss the Steinway!
The Dunsmore Room at Crooners Lounge is located at 6161 Highway 65 NE (Central Av) in Fridley, just north of I-694 and about 20 minutes north of downtown Minneapolis. Tickets $15. Reservations at www.croonersloungemn.com