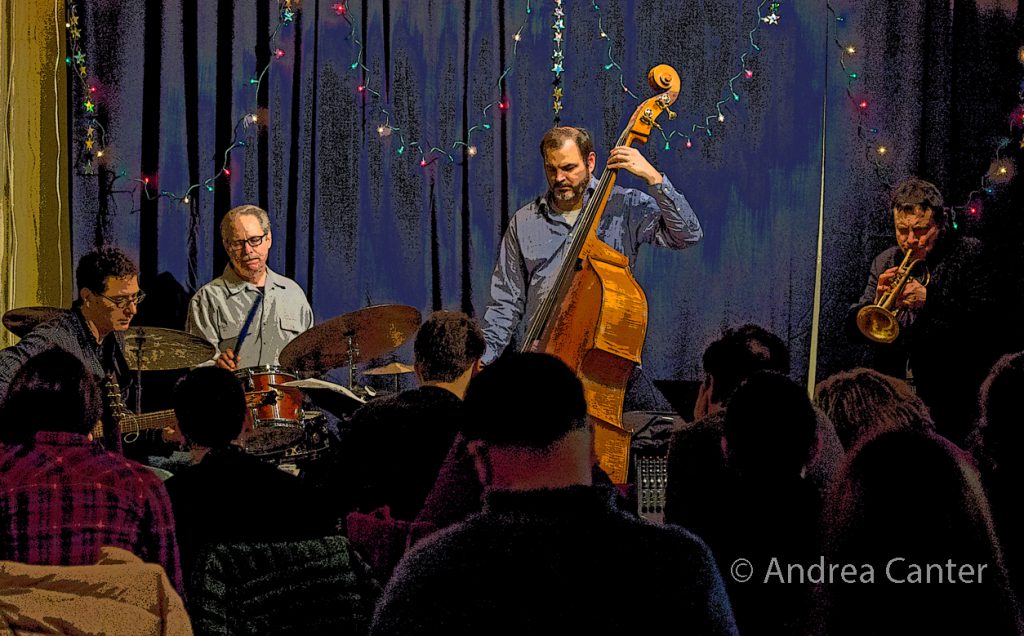 © Andrea Canter
Three of the Twin Cities' most creative musicians have performed for the past 15+ years as Framework, specializing in original works and inventive covers of modern jazz heroes. On September 22, drummer Jay Epstein, guitarist Chris Olson, and bassist Chris Bates take the stage at Studio Z in St Paul's Lowertown to close out the summer All Originals Jazz season.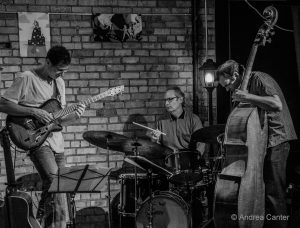 Framework is one of the Twin Cities most durable jazz alliances. A Guitar Society showcase provided the first opportunity for Epstein to join forces with Olson. Bates, already a frequent collaborator with Epstein, formed the third side of the triangle, and Framework was born.
"There is lots of common ground between us as players/composers and fans of certain musicians and approaches to playing," notes Chris Bates. "For example, the Gateway Trio (Dave Holland, John Abercrombie, Jack DeJohnette), Bill Evans Trio, Bill Frisell, John Scofield, Oregon, Keith Jarrett Trio, Chick Corea. I think in the earlier days of the band we were trying to sound more like a piano trio as far as repertoire and our interactive approach. Over the last several years we have been delving into more 'idiomatic' playing where we rely on more of the natural tendencies of the guitar and bass by playing in open string keys and utilizing the natural aspects of our instruments to create our musical palate."
This development is apparent in the mostly original compositions that Framework typically plays, both live and on their self-titled recording. Notes Bates, "We are certainly playing more in E and G and D than we ever did before. Those keys allow Chris Olson and I to use our instruments' open strings as anchor points within our solo's and within the tune. It's a very common way for bassists and guitarists to build tension/release and excitement within a song… Overall this band has a very introspective sound and our material tends to be a little mellower and more intimate than other guitar trios. The chamber music qualities of the ballads and the attention to space and mood far outweigh any need to blast or bludgeon the listener."
Framework's first recording (on Gone Jazz) was dubbed as "one of the best hometown jazz albums of the year" by Tom Surowicz (Star Tribune), "both cerebral and visceral, electric and acoustic, with sublime compositions, enviable empathy and a couple very cool Wayne Shorter covers."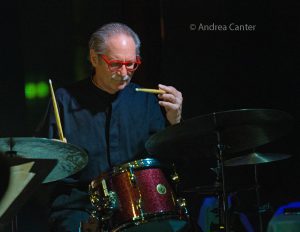 Of trapset master Jay Epstein, Cadence Magazine's David Lewis noted that "his dazzling cymbal and snare work extends the lineage of Tony Williams and Jack DeJohnette." For many years, Epstein has been one-third of Red Planet with Dean Magraw and Chris Bates. These days, in addition to Framework, Jay keeps busy with Red Planet, Firebell, Impulso, Dean Granros' Tall Tales, a duo with guitarist John Penny, and other ensembles, as well as supporting area vocalists and touring with Five by Design. He released his own acclaimed recording Long Ago on Igmod Records, has recorded with Bill Carrothers and Anthony Cox (Easy Company), and appears on each of Gordon Johnson's Trios, among a long list of sideman credits.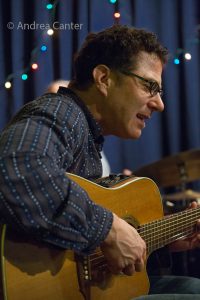 Chris Olson is a dedicated jazz educator as well as performer. Since earning a master's degree in jazz studies/performance from the University of North Texas, he's taught guitar, jazz history and improvisation as well as directing jazz ensembles at UW-Stevens Point, Wausau Conservatory of Music, UW-Marathon County, and Inver Hills Community College. Currently on the guitar faculty at McNally/Smith College in St. Paul, he also teaches guitar lessons and jazz combos at the MacPhail Center for Music and summer programs at the Shell Lake (WI) Arts Center. Chris has performed with Bob Mintzer, Louis Bellson, Terry Gibbs, Ira Sullivan, and Bobby Vinton, and has appeared frequently at the Black Dog where he heads a monthly "Chris Olson Project."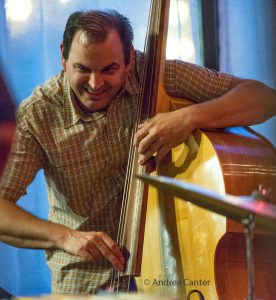 Chris Bates, with his brother, drummer JT, grew up with jazz, sons of trumpeter/bandleader Don Bates. Chris began bass lessons in 4th grade and progressed to jazz studies at the University of Wisconsin-Eau Claire before returning to the Twin Cities to study with Anthony Cox. A member of the original Motion Poets, Chris has focused on composing (he was a 1999 McKnight Composer Fellow) and leading ensembles (Red 5, Good Vibes Trio), as well as playing regularly with Red Planet, Atlantis Quartet, Volcano Insurance, How Birds Work, Tall Tales, Adam Meckler Orchestra, Leisure Valley, and more. He's often on the bandstand for local and visiting artists.
All Originals Jazz Series is ending its fourth summer season, curated by Steve Kenny and taking place at Studio Z, 275 E. 4th Street (Northwestern Building) in St. Paul's Lowertown. Music at 8 pm, tickets $10 at the door or at www.originaljazz.org.