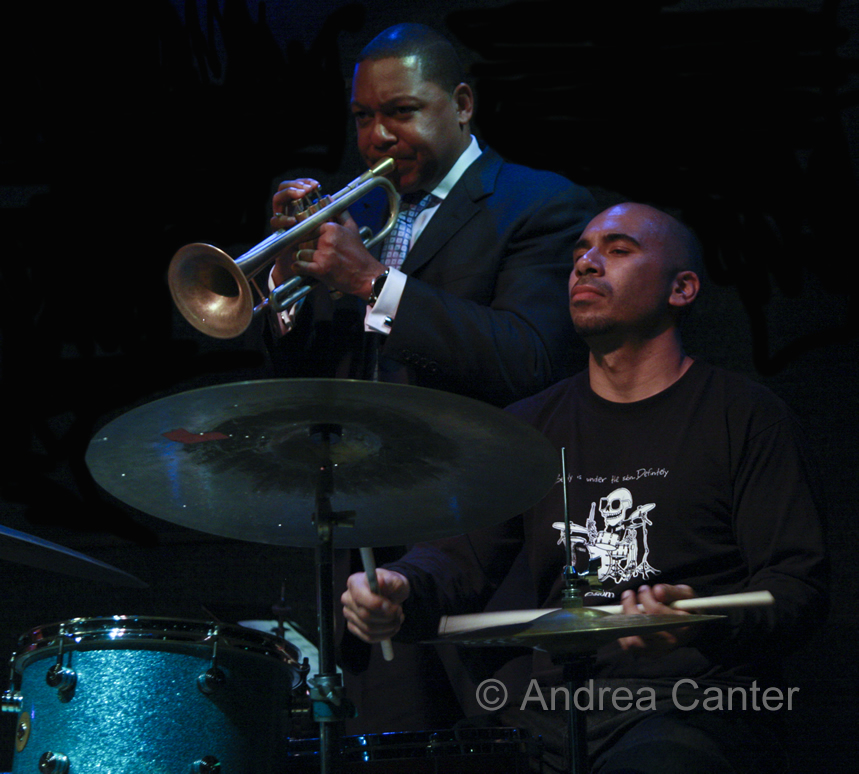 © Andrea Canter
One of the most lauded trumpeters in both classical and jazz, Wynton Marsalis brings his acclaimed Jazz at Lincoln Center Orchestra to Minnesota Orchestra Hall on September 24, 7:30 pm.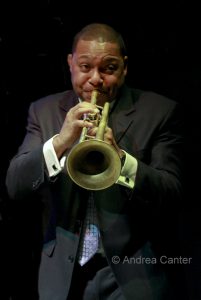 Wynton Marsalis was born and raised in New Orleans, son of pianist/educator Ellis Marsalis and second of six brothers, including esteemed jazz artists Branford, Delfeayo and Jason.  Wynton received his first trumpet at age 6, and was soon playing in his church band. By 14, he had played with the New Orleans Philharmonic, and at 17 became the youngest musician ever accepted into Tanglewood's Berkshire Music Center in Lenox, MA, where he was awarded the school's prestigious Harvey Shapiro Award for outstanding brass student. After Tanglewood, Wynton enrolled at Juilliard in New York, and soon joined Art Blakey and the Jazz Messengers, as well as working with Sarah Vaughan, Dizzy Gillespie, Sweets Edison, Clark Terry, Sonny Rollins, Ron Carter, Herbie Hancock, Tony Williams and more. Leading his own ensemble, he released his first eponymous album on Columbia in 1982. His career immediately hit the stratosphere, and a year later he became the first musician to win Grammy Awards for both jazz and classical recordings, a feat he repeated in 1984. He has since won multiple Grammies in both categories.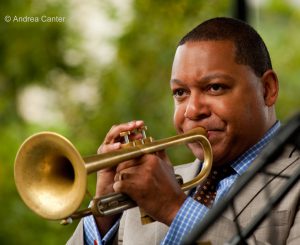 On a mission to rekindle interest in the founding fathers of jazz through performance and education, Marsalis and his ensembles built new audiences through concerts and workshops. Among modern musicians who participated in Wynton's workshops were James Carter, Christian McBride, Roy Hargrove, Harry Connick Jr., Nicholas Payton, Eric Reed and Eric Lewis. Marsalis founded Jazz at Lincoln Center in 1987, initially a concert series intended to expand the public's exposure to jazz. Over the past 25 years, Jazz at Lincoln Center has grown to include its own 15-piece touring orchestra, educational programs, and a complex in Manhattan that includes three performance spaces. Marsalis also began focusing on music composition, writing short and extended pieces that reflected his interest in early jazz styles. In 1995, he composed his first classical work, a string quartet entitled "At the Octoroon Balls." He won the Pulitzer Prize for Music in 1997 for his large-scale jazz work "Blood on the Fields" –the first time that a jazz musician ever received the honor.  Marsalis has received several honorary degrees and, in 2005, was given The National Medal of Arts. In 2012, along with his father and brothers Branford, Delfeayo and Jason, he was recognized as an NEA Jazz Master. He was also a leader in reconstruction efforts in New Orleans after Hurricane Katrina, organizing Higher Ground, a benefit at Lincoln Center.
Wynton's classical career has also been noteworthy, including a dozen acclaimed recordings and performances with leading orchestras, including the New York Philharmonic, Los Angeles Philharmonic, Boston Pops, The Cleveland Orchestra, Saint Louis Symphony Orchestra, English Chamber Orchestra, Toronto Symphony Orchestra and London's Royal Philharmonic.
Marsalis has also contributed to music via radio and television broadcasts and as a book author. In October 1995 PBS premiered Marsalis On Music, an educational television series on jazz and classical music, written and hosted by Marsalis and enjoyed by millions of parents and children. Around the same time, National Public Radio aired the first of Marsalis' 26-week series, Making the Music. These entertaining and insightful radio shows were the first full exposition of jazz music in American broadcast history. Wynton's radio and television series were awarded the most prestigious distinction in broadcast journalism, the George Foster Peabody Award.
Marsalis has also written five books: Sweet Swing Blues on the Road, Jazz in the Bittersweet Blues of Life, To a Young Musician: Letters from the Road, Jazz ABZ (an A to Z collection of poems celebrating jazz greats), and his most recent release, Moving to Higher Ground: How Jazz Can Change Your Life.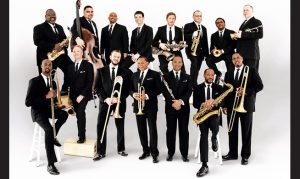 The Jazz at Lincoln Center Orchestra was founded in 1988 as part of the Lincoln Center's summer concert series, "Classical Jazz." Comprised of 15 of today's finest jazz soloists and ensemble players, the band has been the Jazz at Lincoln Center resident orchestra since 1988. The orchestra has toured over 300 cities, 35 countries and six continents, performing and presenting educational programs including Jazz for Young PeopleSM family concert series, the Essentially Ellington High School Jazz Band Competition & Festival, the Jazz for Young PeopleTM Curriculum, educational residencies, workshops, and concerts for students and adults .
Concert cosponsored by the Dakota Jazz Club, Twin Cities Jazz Festival, and KBEM Jazz 88 radio. Tickets are available from the Orchestra Hall Box Office, 612-371-5600. Orchestra Hall is located at 1111 Nicollet Mall in downtown Minneapolis. Note the Minnesota Orchestra does not perform on this program.