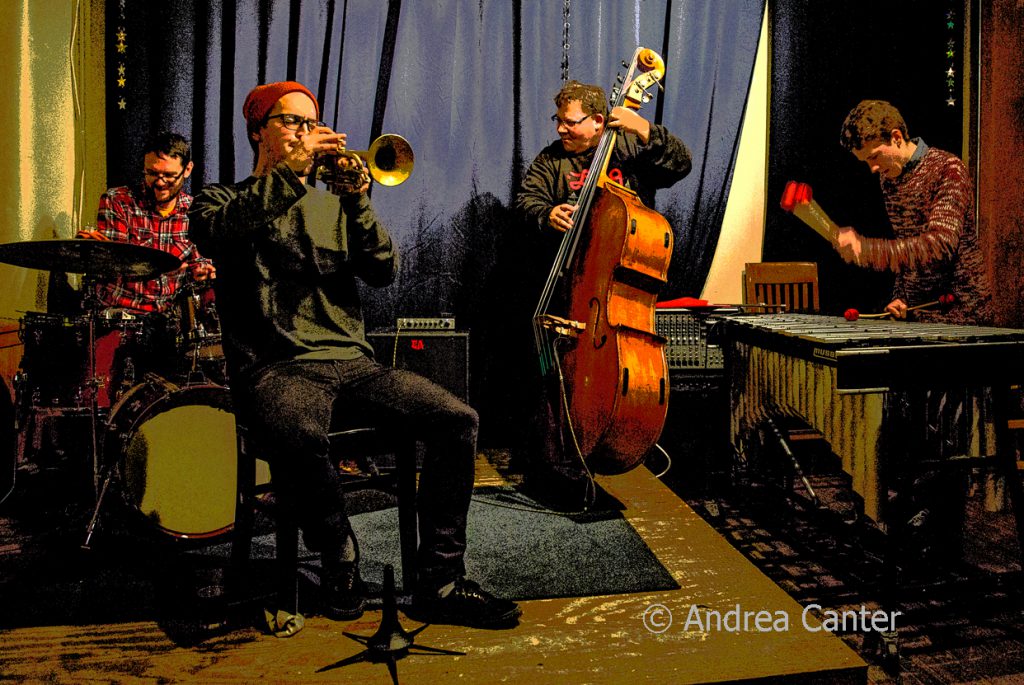 © Andrea Canter
After a two-year run, curator Steve Kenny needed a new home for his weekly Minneapolis jazz series when Reverie Bar closed its doors in July. Now he has a new venue, a new night and a new name as The Illicit Jazz Workshop launches on Friday nights at Jazz Central, 8-10 pm. Head of Illicit Productions, Kenny will host this weekly series of Twin Cities jazz masters starting this weekend, October 6, featuring Adam Linz's Le Percheron with vibraphonist Levi Schwartzberg, trumpeter Noah Ophoven-Baldwin, and drummer Cory Healey. Following Le Percheron, Peter Shu leads the North Central College jazz band for a late night session.
Le Percheron
Renowned bassist and instructor Adam Linz assembled this cross-generation ensemble about three years ago, performing mostly on the New Music series at Khyber Pass Cafe in St Paul.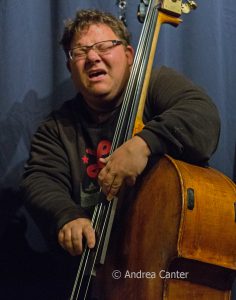 After graduating from Park Center High School in Brooklyn Center and bass studies with Peter Olson at MacPhail, Adam Linz earned degrees in physics at Columbia University and in jazz studies at William Paterson University. He eventually returned to the Twin Cities, building his reputation as an adroit and innovative bassist with Fat Kid Wednesdays, Gloryland Pony Cat, FKG, the Lease/Moriarty Quintet, and more recently with the Dave King Trucking Company. Over his career, he's also appeared with Evan Parker, Stanley Turrentine, Milt Jackson, Dosh, Francois Tusques, Douglas Ewart, and Ten Thousand Things Theatre Company. Linz is an active jazz educator, having taught at MusicTech (now McNally Smith College), MARS, Minnesota Institute for Talented Youth (MITY), and Augsburg College, and is currently Jazz Coordinator at the MacPhail Center for Music where he directs the Dakota Combo. Noted Richard Brody (New York Times), "Linz has a big tone, like Charlie Haden's, strums like Jimmy Garrison, and has a sure sense of musical space like Gary Peacock."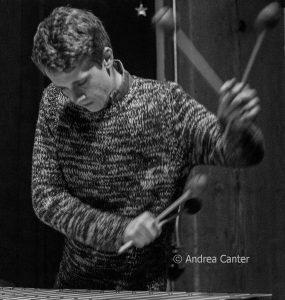 Levi Schwartzberg (vibraphone) is a 2014 graduate of Minneapolis Southwest High School, where he played for school ensembles, including the combo Cosmic Troubadours. As a vibraphonist, Levi performed with the Dakota Combo and PipJazz Youth All-Stars for two years each. He studied piano for about ten years, and took up the vibes in middle school, progressing quickly to a four-mallet level. Now in his senior year at the University of Minnesota where he is majoring in physics,  Levi performs with the U's Jazz Combo, as well as around town in his own ensembles and numerous bands with such veterans as Davu Seru, Steve Kenny and more.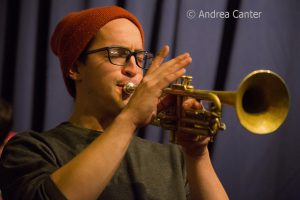 Noah Ophoven-Baldwin was one of Pat Moriarty's star pupils at Roseville Area High School, and has shared the bandstand a few times with his former teacher. Moriarty notes that "he's an excellent player but his creativity, imagination, and thorough knowledge of the entire history of jazz trumpet set him apart from other young guns." More recently, Noah was on the front line of the University of Minnesota's Jazz Ensemble I, and since graduation four years ago, has appeared regularly in the trumpet section of the Adam Meckler Orchestra and has played with Jake Baldwin, Nelson Devereaux, the Brass Barn Polka Band, in soul-funk band Hustle Rose, and with Pat Moriarty and Ellen Lease in Resurrection. A busy composer as well as performer, Noah is the co-founder of the musician's collective, Vector Families.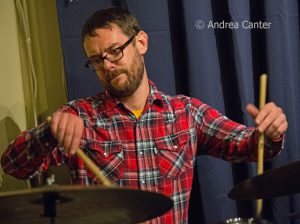 An Iowa native who studied at the University of Northern Iowa, Cory Healey moved to the Twin Cities about four years ago after stints in Chicago and New York. His unique and versatile style of drumming led to performance opportunities in a wide range of genres and touring extensively in North America and Europe. While in Chicago, Cory performed regularly with Fareed Haque's Flat Earth Ensemble (Owl Records), neopsychodelic-post rock jazz group Algernon (Cuneiform Records), John Goldman's Quadrangle, The Mutts, and Van Ghost. Healey has performed with Kenny Wheeler, Dr. Lonnie Smith, John Abercrombie, David Berkman, Bob Florence, Peter Apfelbaum, Dr. Bob Washut, Chris Merz, Ike Riley, Anthony Smith's Trunk Fulla Funk, and more. In addition to fronting his own groups, including Cory Healey's Beautiful Sunshine Band, Cory has appeared locally with the Bryan Nichols Quartet, Adam Linz's Le Percheron, Chris Bates Trio, Jon Pemberton Trio, and more.
The nonprofit Jazz Central is located at 407 Central Av SE in Minneapolis. Cover $10. Full schedule at http://jazzcentralstudios.org