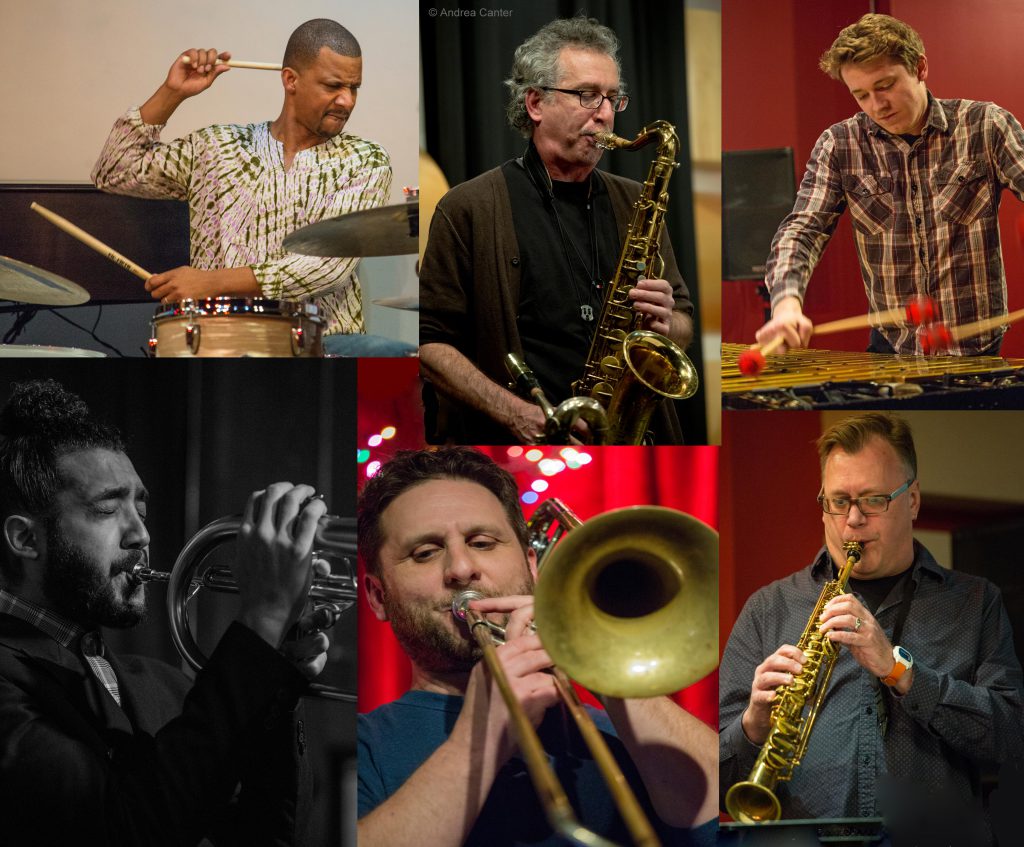 © Andrea Canter
"The squawks, silences and knotty time signatures usually associated with art-house music get a big boost from the staccato funk of hip-hop and the circular rhythms of Ghana, all underpinned by the blues."  — Britt Robson, Star Tribune
For more than two years, Steve Kenny presented Friday Night Jazz at the Nicollet, which morphed into Thursday Night Jazz at Reverie, running weekly until Reverie was forced to close in July 2017. Now Kenny is back in Minneapolis with another weekly series, the Illicit Jazz Workshop at Jazz Central Studios, every Friday night at 8 pm. One of the most inventive bands on the earlier series, Davu Seru's No Territory Band takes the spotlight at Jazz Central this week, Friday, October 13, with a horn-heavy line-up featuring Seru on percussion, Omar AbdulKarim on trumpet,  JC Sanford on trombone, Scott Fultz on bari sax, Nathan Hanson on saxophones, and Levi Schwartzberg on vibes.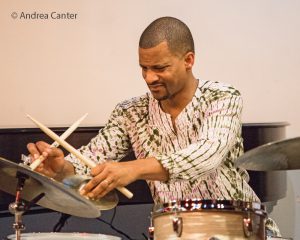 Recently highlighted in the Star Tribune, Twin Cities native Davu Seru is respected internationally for his free jazz drumming as well as his performances in  jazz, rock and avant-garde improvised music. Primarily self-taught, his percussion style is notable for its attention to sound, silence and melodic line as much as rhythmic pattern. Davu has worked with such inventive musicians as Charles Gillett, Elliot Fine, Paul Metzger, Anthony Cox, Dean Granros, Dean Magraw, Wendy Ultan, Adam Linz, Evan Parker, George Cartwright, James Buckley, Taylor Ho Bynum, and Nicole Mitchell. In addition to leading No Territory Band, he currently plays with Merciless Ghost, Milo Fine, J. Otis Powell‽, Dean Magraw (monthly duo at the Black Dog), and more; curates a monthly show at Khyber Pass Cafe; and is a member of the composer-improviser collective orchestra, Cherry Spoon Collective.
Davu earned a Bachelor's degree in African-American Literature and a Master's in English from the University of Minnesota, where he is now a professor of African-American Literature and Culture. He has received awards from the American Composers Forum (Minnesota Emerging Composer Award) and the Metropolitan Regional Arts Council, and commissions from the Zeitgeist Ensemble and Walker Art Center. He is the inaugural Artist in Residence at Studio Z in St. Paul.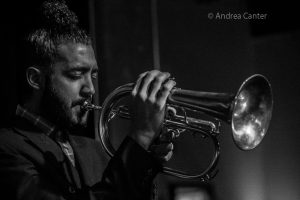 Omar AbdulKarim has been playing trumpet since the early age of 14 months. His first teacher was his father, Twin Cities trumpeter and leader of Ahmed and the Creators, Ahmed AbdulKarim. A graduate of Minneapolis Washburn High School, Omar has shared the stage with Roy Hargrove, Joshua Redman, Method Man, KRS-ONE, and Talib Kweli, to mention a few. Omar has also had the pleasure of performing with Nicholas Payton's Television Studio Orchestra and Valery Ponomarev's Big Band. Omar has also written and recorded with Lauryn Hill and Jose James. His Influences include Fats Navarro, Miles Davis, Freddie Hubbard, Woody Shaw, John Coltrane, and Lee Morgan. After living in New York for 11years, where he completed the undergraduate program at the New School for Jazz and Contemporary Music, Omar recently moved back to Minnesota where he is currently composing new music for his upcoming album, performing with Source Code and the Minnesota Hard Bop Collective, leading his own quartet, and more.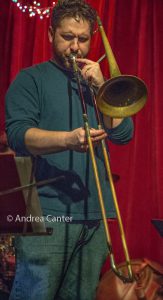 A  protégé of legendary composer Bob Brookmeyer, trombonist JC Sanford studied at the University of Northern Iowa and completed doctoral studies at the New England Conservatory. Moving to New York in 2000, he became involved with the BMI Jazz Composers Workshop under the direction of Manny Albam and Jim McNeely, and remained trombonist/contractor of the BMI/New York Jazz Orchestra until 2016. He has also appeared as a trombonist on recordings with such diverse bands as Andrew Green's Narrow Margin, the Andrew Rathbun Large Ensemble, Nathan Parker Smith's jazz/prog rock big band, and Joseph C. Phillips, Jr.'s new music/jazz hybrid orchestra, Numinous. In New York, JC built a reputation as conductor of large ensembles, including the John Hollenbeck Large Ensemble, Alan Ferber Nonet, Alice Coltrane Orchestra, and his own JC Sanford Orchestra. Relocating to Northfield, MN last fall, JC has become an active member of the local jazz scene, leading his quartet, the trio Triocity, and big band, and performing with Chris Bates' Red Five.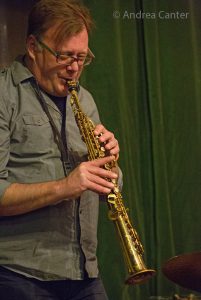 Composer/performer Nathan Hanson (tenor and soprano saxophones) has been described as "unexpectedly tasteful and dignified" by ImproJazz-France. Over his career, he has performed with such legends as Dizzy Gillespie, Cecil Taylor, Mark Dresser, Carei Thomas and Douglas Ewart, as well as with current stars Chris Potter, Tony Malaby, Liberty Ellman, Elliot Humberto Kavee and Federico Ughi.  A graduate of Newberry College and the University of South Carolina, Hanson worked on the East Coast for many years before returning to his hometown of Minneapolis. A member of the Fantastic Merlins, Nathan has maintained a longstanding duo with bassist Doan Brian Roessler and has collaborated with local luminaries George Cartwright, Viv Corringham,  and Pat Moriarty. Awards include grants and commissions from New Music USA, The American Composers Forum, Meet the Composer, City of St. Paul Cultural STAR, The Cedar Cultural Center, MN State Arts Board, The Jerome Foundation, The Southern Theater, and the National Performing Arts Convention.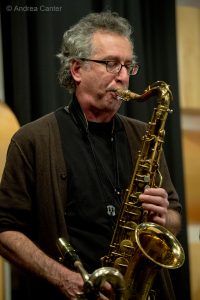 Scott Fultz (bari sax) has performed throughout the Twin Cities for 30 years, since starting out on guitar and saxophone with the soca band Shangoya. He's worked across genres from jazz and avant garde to Latin and blues, with Anthony Cox, Dave King, Bill Carrothers, Bruce Henry, Billy McLaughlin, Dean Granros, Phil Hey, Zacc Harris, Patrick Harison and more, including bands Monk in Motian and Skeleton Crew.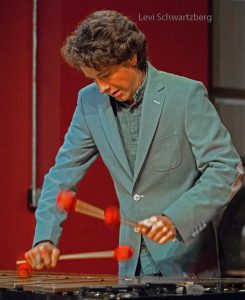 Levi Schwartzberg is in his fourth year at the U of M, but he's been perfecting his four-mallet technique on vibes since high school days. He is also an accomplished pianist, currently performing on both instruments in the U of M Jazz Combo. A graduate of Minneapolis Southwest High School who participated for two years with the Dakota Combo, Levi has led his own ensembles at Jazz Central, Black Dog and Khyber Pass Cafe as well as performing with Adam Linz's Le Percheron, Will Kjeer, Steve Kenny, the Charles Lincoln Group, Sound Skirmish, and more.
The Illicit Jazz Workshop takes place every Friday night at 8 pm at Jazz Central Studios, 407 Central SE in Minneapolis. Cover $10. Schedule and information at https://theillicitjazzworkshop.info