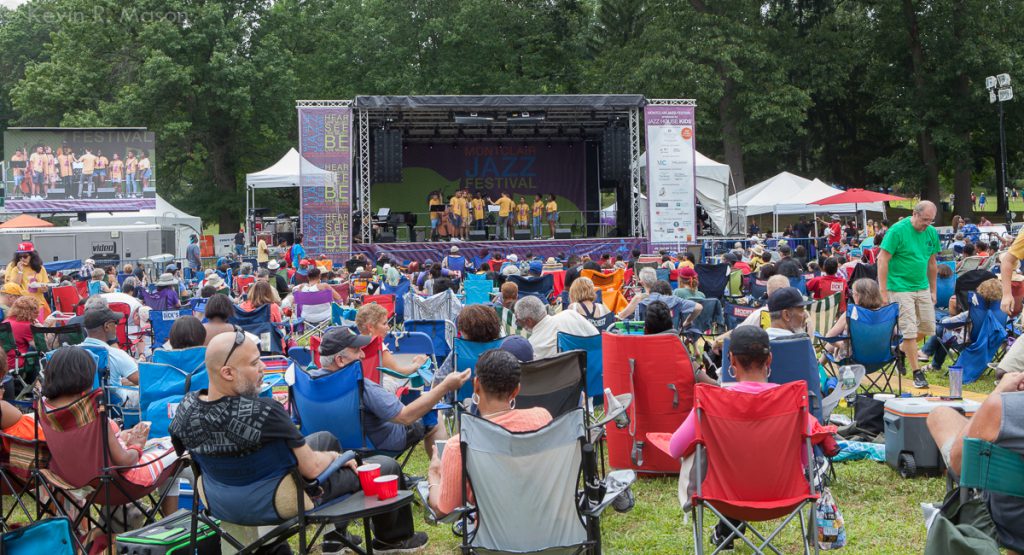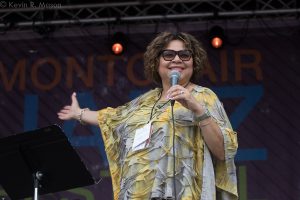 The Montclair Jazz Festival, in its eighth year, took place on August 12, with a line-up that included established jazz artists and aspiring student musicians. Montclair Jazz Festival (MJF), a free event, is the brainchild of jazz vocalist Melissa Walker and her husband, acclaimed bassist Christian McBride, who provides creative direction. Walker is the Founder and President of Jazz House Kids, which the MJF website describes as follows: "…a Montclair-based nonprofit that has gained a reputation as one of the nation's preeminent arts education and performance organizations….Montclair Jazz Festival is the pinnacle musical and community engagement program for the organization, which works closely with 1,500 students each year at its Jazz House facility in Montclair, in underserved schools, and at its Jazz House Summer Workshop. With an emphasis on access and inclusion for all young people, Jazz House Kids provides more than 40% of its student body with tuition assistance to see its mission flourish."
Melissa Walker also says on the MJF website, "We are proud that the Montclair Jazz Fest has metamorphosed into one of the largest and greatest free summer events in New Jersey.…Along with the Montclair Film Festival in the spring, the Montclair Jazz Fest has become part of the fabric of our community and a world-class event, solidifying this town's standing as a thriving arts and cultural destination all year round."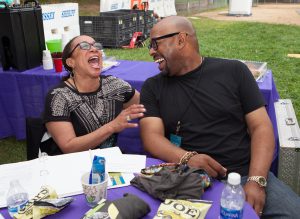 The audience received a heartfelt welcome from Mistress of Ceremonies, acclaimed Emmy and Golden Globe winner S. Epatha Merkerson, who was so warm and witty, she even made the "housekeeping" notices (about first-aid stations and what to do if the weather turned bad) sound entertaining. Ms. Merkerson said that she was happy and honored to serve as Mistress of Ceremonies at MJF, since she got to hear so much fabulous music all day. Esteemed radio host Gary Walker from WBGO 88.3 FM was the announcer for the day, and he carried out his duties with enthusiasm.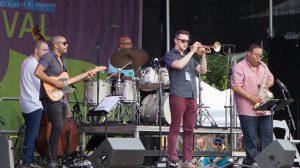 The Ted Chubb Band. Trumpeter Ted Chubb was joined by alto saxophonist Bruce Williams, guitarist Seth Johnson, bassist Tom DiCarlo, pianist Oscar Perez, and drummer Alvester Garnett, on a great set with songs from Ted's CD, Gratified, Never Satisfied, including "Space," "East of the Sun, West of the Moon" and "Little Sid." Chubb spoke passionately about the spiritual meaning of the title of the CD, which he said was taught to him by the great trumpeter/teacher William B. Fielder. Ted also served as Director of the Jazz House Kids Summer Workshop and Special Programs, and discussed his wonderful experiences with the students.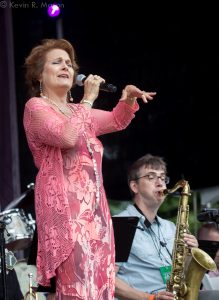 Jazz House Collective – The Centennial Project. This group was made up of faculty members from the Jazz House Kids Summer Workshop. Their excellent musicianship was clear, and they served as living examples for their students to emulate. The band honored some of the jazz icons who were born 100 years ago, on Thelonious Monk's "Well, You Needn't" and Mongo Santamaria's "Afro Blue." There was a tribute to Dizzy Gillespie, and they also performed Duke Ellington's "I Got It Bad," with beautiful vocals by Amy London.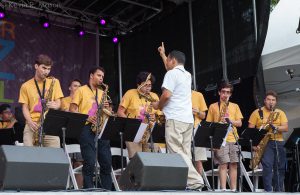 Jazz House Big Band Featuring Dee Dee Bridgewater. Dee Dee Bridgewater started with "I Just Found Out About Love" as a duet with a young vocalist, Claudia Nketia. Dee Dee said of Claudia, "That is a beautiful, angelic voice, and a jazz star in the making." The two hadn't rehearsed the song, but improvisation and flexibility are foundations of jazz, so it isn't really a surprise that an accomplished singer would be able to pull it off, and lead her partner successfully. Bridgewater also said that she was thrilled to share the stage with the aspiring student musicians who comprised the band. The set finished with a swinging big band favorite, "Flying Home" by Lionel Hampton and Benny Goodman.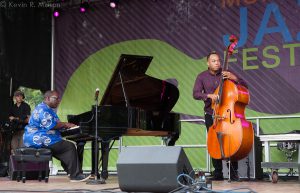 Cyrus Chestnut Trio. Keyboardist Cyrus Chestnut, bassist Eric Wheeler, and drummer Chris Beck gave an impressive concert, which Chestnut started with a piano solo that showed off his classical music training. His bandmates joined him for an extended seasonal mash-up that included "Summertime" and "Autumn Leaves." They also performed "I've Never Been in Love Before," and songs from Cyrus' CD, There's a Sweet, Sweet Spirit.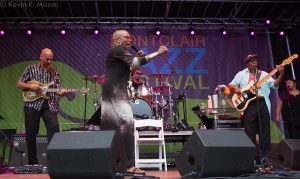 Dee Dee Bridgewater & Memphis Soul Symphony. If there had been an MVP Award at MJF, NEA Jazz Master Dee Dee Bridgewater would have been the clear winner, since she wore many hats, in addition to starring in this penultimate show of the Festival. Looking striking with her shaved head and lots of statement jewelry, she started her set with a raucous, fun interpretation of "I Can't Get Next to You." She followed with songs from her latest CD, Memphis, Yes I'm Ready, including "B.A.B.Y." and Pop Staples' protest song "Why Am I Treated So Bad?" Backed by a talented group that included pianist Dell Smith, bassist Barry Campbell, and guitarist Charlton Johnson, Dee Dee sang a version of "Don't be Cruel" that was so soulful and funky, even Elvis would have taken notice. She put her own sultry spin on another Presley song, "Hound Dog," which was originally written for Willie Mae "Big Mama" Thornton. Bridgewater talked about B.B. King, who would always call her up onstage, the first time in Paris, France. She remembered her surprise that he even knew who she was! When you listen to all the feeling she put into "The Thrill is Gone" it becomes abundantly clear why B.B. King would enlist her talents whenever he could. She encouraged the audience to always acknowledge where they came from, and never be ashamed of their past, then she got the crowd on their feet with her sensational rendition of "Try a Little Tenderness." The encore was an emotionally powerful "Purple Rain," in tribute to Prince.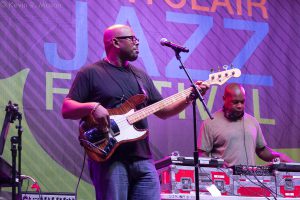 A Christian McBride Situation. Melissa Walker introduced the final act of MJF, her husband, bassist Christian McBride, and she praised everyone who helped this festival to exist. In a video, Christian spoke about MJF's importance as a growing concern that will create some great jazz history. At the start of the live portion of the show, McBride explained that whenever he's not with his regular touring band, he calls each group he puts together for different shows and various themes "a situation," thus the name of the set. This was a soul-packed concert with McBride on electric bass, keyboardist Rachel Z, guitarist Adam Rogers, D.J. Logic on turntables, drummer Bernard "Pretty" Purdie, and vocalist Antoinette Henry. The show also featured music from the film project that George Duke participated in for the Library of Congress, Family Affair. The last song of the set was a super-funky "Car Wash," and Christian called S. Epatha Merkerson, Gary Walker, Dee Dee Bridgewater, Melissa Walker, Louis Prima Jr., and a bunch of the Jazz Camp Kids, to come up on stage and party!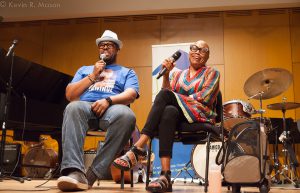 And the Beat Goes On – More MJF Music. Trumpeter Ted Chubb, who served as Director for the Jazz House Kids Summer Workshop, spoke about the training the students received in technique, small combos, and many other aspects of jazz, in over 100 hours during two weeks of instructions. The students vividly displayed the lessons they learned throughout the Festival, in different groups.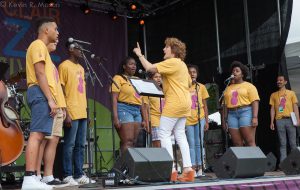 The emerging talents of the 52nd Street Big Band started the MJF on the main stage in fine fashion. The talented kids in Philly Soul Big Band paid tribute to TSOP (The Sound of Philadelphia). The Bright Moments Big Band had some stellar solos in a set that included "Moanin'" and "Watermelon Man," and they were remarkably professional for such young musicians. The Big Solid Sax Mob did a fine job on Benny Carter's "Doozy." The Afro-Latin Big Band played "Afro Blue," "Cubano Chant," and a hot, swinging set finale, "Manteca." The Jazz House Vocal Large Ensemble paid tribute to legendary singers Ella Fitzgerald and Lena Horne, among others, with beautiful vocalese on "Blue Skies," "Stormy Weather," and "Caravan." Dynasty Big Band played "Gingerbread Boy" and "Papa was a Rolling Stone" after only a few opportunities to rehearse, which you'd never have known.
Melissa Walker spoke between sets about the great support Jazz House Kids had received from the National Endowment for the Arts (NEA). She also noted that the organization was recently in danger of being dismantled due to budget cuts, and asked people in the audience to sign a petition to keep the NEA going.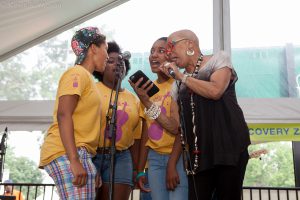 Family Jazz Discovery Zone. At a second stage, the Family Jazz Discovery Zone hosted children's book readings by Louis Prima Jr. and Dee Dee Bridgewater, discussions, games, and exciting performances by The Jazz House Alumni Ensemble, the Jazz House Adult Ensemble, and several student combos. Dee Dee Bridgewater sat in with an all-girl group, The Chica Girls. It was a marvelous place for family-oriented activities all day!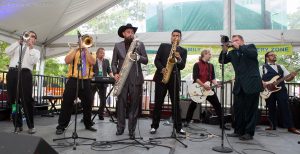 Louis Prima Jr. and the Witnesses featured vocalist Leslie Spencer, drummer A.D. Adams, guitarist Ryan McKay, saxophonists William Pattinson on baritone and Marco Palos on tenor and alto, trombonist Philip Clevinger, bassist Jonathan Frias, trumpeter Ted Schumacher, and keyboardist Greg Fox. The multi-talented Louis Prima Jr. showed his drumming skills on "Sing, Sing, Sing," and added trumpet support and vocals throughout the set. The Witnesses showed great virtuosity and energy, and they impressively covered various musical genres with ease. They had the crowd fully engaged and singing along on "Proud Mary," and a medley of "Angelina" and "Zooma Zooma."
Sponsors. For any jazz festival, sponsorship is important. For free festivals, sponsorship is essential. Fortunately, MJF has several committed sponsors, including presenting sponsors The Bravitas Group and The Silver Family Foundation. There were several other sponsors: Steinway & Sons; The Montclair Times; Howl at the Moon Creative; Art Works; Joe Tea; Wellmont Theater; George Wein; Montclair Art Museum; North Coast Brewing Co.; New Jersey Performing Arts Center; Clara Maass Medical Center; Baristanet; Montclair Public Library, and many more.
Melissa Walker said, "An ambitious undertaking, the "no tickets required" Montclair Jazz Festival, which attracts thousands of music lovers and families from across the region, would not be possible without the tremendous support of our sponsors, community and government partners, and generous individuals who believe in Jazz House Kids' mission."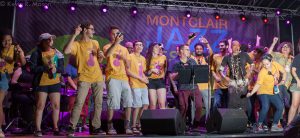 Wrap-Up. Christian McBride called Montclair, NJ a "utopia for creativity," not just from a musical perspective, but from a historical one. He stressed the importance of keeping the names of the jazz legends alive, and to help the next generation of musicians become legends themselves one day. Melissa and Christian are certainly doing their parts with Jazz House Kids and the Montclair Jazz Festival! Next year's Festival will be held on Saturday, August 11, 2018. MJF features a week full of concerts, talks, and other jazz events in support and promotion that lead up to the Festival itself, and the list will be announced shortly. For more information, go to www.montclairjazzfest.org.