[Portions of this article from Minnesota Hard Bop Collective press release]
On Saturday, November 18, the Minnesota Hard Bop Collective returns to the Boom Room at Boom Island Brewing Company in North Minneapolis, this time to explore the music of iconic tenor saxophonist Sonny Rollins. A fluid ensemble led by Jesse Simon, this installment of the Collective features Joe Mayo on tenor sax, Ted Olsen on bass, and Simon on drums.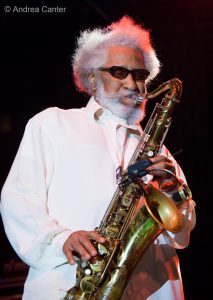 Widely recognized as one of the most important and influential jazz musicians, Sonny Rollins has been called "the greatest living improviser" of our time. Rollins has recorded over sixty albums in his seven-decade career; a number of his compositions, including "St. Thomas", "Oleo", "Doxy", "Pent-Up House", and "Airegin", have become jazz standards. On Saturday, the MNHBC is going to pay homage to one of Rollins' most iconic hard bop albums, A Night at the Village Vanguard. This recording was performed as a "sax trio" – without the harmonic aid of a piano or guitar – featuring only saxophone, bass and drums. This format opens up the improvisational process and makes the musicians more accountable for the harmonic changes in the music often covered by a guitar or piano.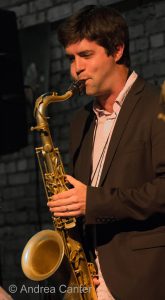 Saxophonist Joe Mayo has performed all over the world for Carnival Cruise Lines and on tour with the hot British indie rock group, Friendly Fires. He can evoke the pure understated sound of Paul Desmond in one song — and then channel Junior Walker or Clarence Clemmons on the next tune! Locally he leads his own quartet, performs with the Twin Cities Latin Jazz Orchestra, Adam Meckler, and jazz/R&B band Wild Honey, and co-leads President Flow and Really Big Shoe. A native of Connecticut, Joe earned degrees at the University of Massachusetts and SUNY Purchase, and studied with saxophonists Adam Kolker, Ralph Lalama, Eric Alexander and Seamus Blake, and with trumpeter Scott Wendholt. Over the past year Joe has appeared in leading and supporting roles throughout the Twin Cities at Jazz Central, the Black Dog, Reverie, Studio Z and more.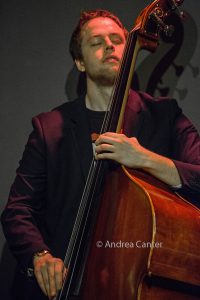 Ted Olsen studied bass with Travis Schilling and Adam Linz, graduating from St. Paul's Como Park High School in 2010. He went on to study composition at Luther College in Decorah, IA, finishing college studies at the University of Northern Colorado in spring 2015. In the Twin Cities, Ted has taught at the Twin Cities Jazz Workshop and has performed as leader and sideman at various venues including the Artists Quarter, Jazz Central, Black Dog, Twin Cities Jazz Festival, and more, often in the company of Javi Santiago and Miguel Hurtado. He has also branched out into working with artists from the folk, rock, R&B, and contemporary classical scenes. Ted won the 2012 Eric Stokes Song Contest held by the American Composers' Forum; in 2015 he was a finalist in the ASCAP Herb Alpert Young Jazz Composers' competition. Earlier this fall, Ted released his debut album as leader, Joyfire.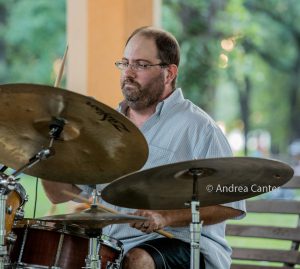 Originally from Boulder, Colorado, drummer Jesse Simon started playing drums at age 9, was gigging in the Boulder/Denver area by age 13, and recorded his first album at 14. While still in high school Jesse got the opportunity to perform with Lew Tebakin, Conti Condoli and, at the Telluride Jazz Festival, with Phil Woods.  Jesse moved to the Twin Cities in 2002 after graduating from the Manhattan School of Music and working in New York, Houston, and Denver. Family and other obligations stalled his jazz career, but about two years ago, he took the plunge at Jazz Central and has gone on to lead his own ensembles emphasizing hard bop repertoire. Jesse draws on "Don Sickler's extensive transcription library of all the classic Blue Note and other recordings from that time period.  So I decided to bring it all together here in the Twin Cities with all our exceptional talent." Jesse curates jazz in the Boom Room every Saturday night, and once or twice per month features the talents of the Minnesota Hard Bop Collective.
Come hear this exceptional "sax trio" of top notch Twin Cities musical professionals as they revisit the timeless music of Sonny Rollins, and enjoy some of the best beer in the metro!
Boom Island Brewing is located in North Minneapolis at 2014 Washington Av North (suite 300); www.boomislandbrewing.com