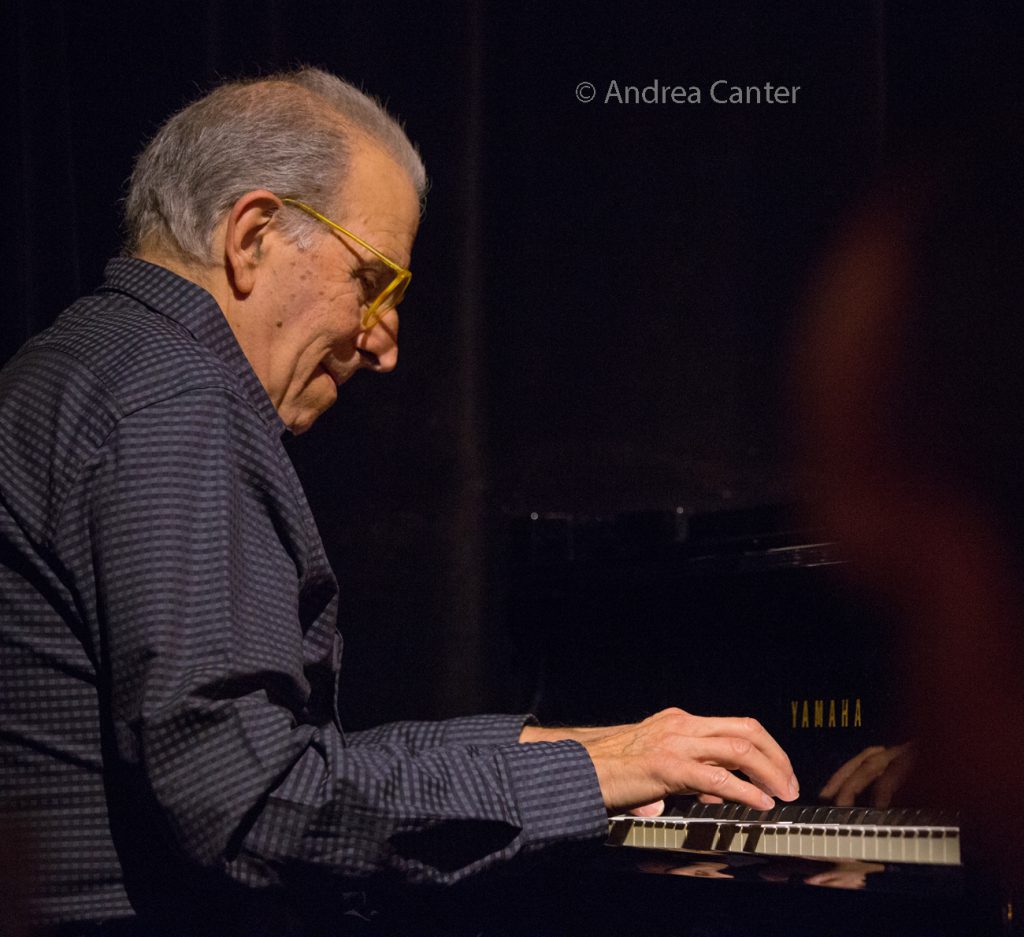 © Andrea Canter
[The Lead Sheet is published monthly and updated weekly; updated 11-17-17]
Visitors this week include Jon Weber (joining Connie Evingson this weekend at the Jungle Theater), New York Benny Banack (at Jazz Central Sunday and in the Dunsmore Room Monday), Stu Katz (back at Vieux Carre' on Wednesday).
Friday, November 17.  Illicit Jazz Workshop at Jazz Central presents saxophonist/composer Joan Hutton and her Joan Hutton Project, featuring Dave Milne (saxophones), Jesse Mueller (piano), Joan Griffith (bass) and Jendeen Forberg (drums).
The Atlantis Quartet is back in action, in the Dunsmore Room at Crooners for the Friday "late night" series. 
Saturdy, November 18. Saturday Night Jazz at the Black Dog welcomes back Chris Bates Red Five, now a septet featuring Chris Thomson and Pete Whitman on saxes, JC Sanford on trombone, Steve Kenny on trumpet, Davu Seru on drums, Thomas Nordlund on guitar, and of course the leader on bass. Come early for the monthly JazzINK Youth Showcase, featuring the high school jazzers of the Tamberwood Quartet–twins Harry (bass) and Charlie (sax) Menken, pianist August McKinney, and drummer Nick Adams.
The Boom Room at Boom Island Brewing keeps jazz booming every Saturday night, and tonight the Minnesota Hard Bop Collective presents a trio (Joe Mayo on sax, Ted Olsen on bass, Jesse Simon on drums) playing the music of Sonny Rollins' Tonight at the Villlage Vanguard.
Sunday, November 19. Connie Evingson presents her new installment of Jazz at the Jungle (Theater), this time celebrating "Horn Heroes," the music of the great jazz horn players Gerry Mulligan, Dizzy Gillespie, Zoot Sims, Charlie Parker, Sonny Rollins, Lester Young, Miles Davis and more. Her cohorts include Jon Weber on piano, Dave Karr on sax and  Chris Bates on bass.  
At the Dakota, the Brubeck Brothers return with a show honoring their father. Dan Brubeck, drums and Chris Brubeck, bass & trombone, join Mike DeMicco, guitar, and Chuck Lamb, piano in a straight-ahed quartet that appropriately also explores odd time signatures. All About Jazz wrote: "There's really nothing out there that comes close to their unique brand of inventiveness." 
At Jazz Central, a rare Sunday gig features the first of two local shows for young trumpeter/vocalist Benny Benack and his trio. He's best known for his roles in major big bands, including the Christian McBride Big Band, Mingus Big Band, Dizzy Gillespie All Stars, Jimmy Heath Big Band and Bobby Sanabria's Afro Cuban Jazz Orchestra.