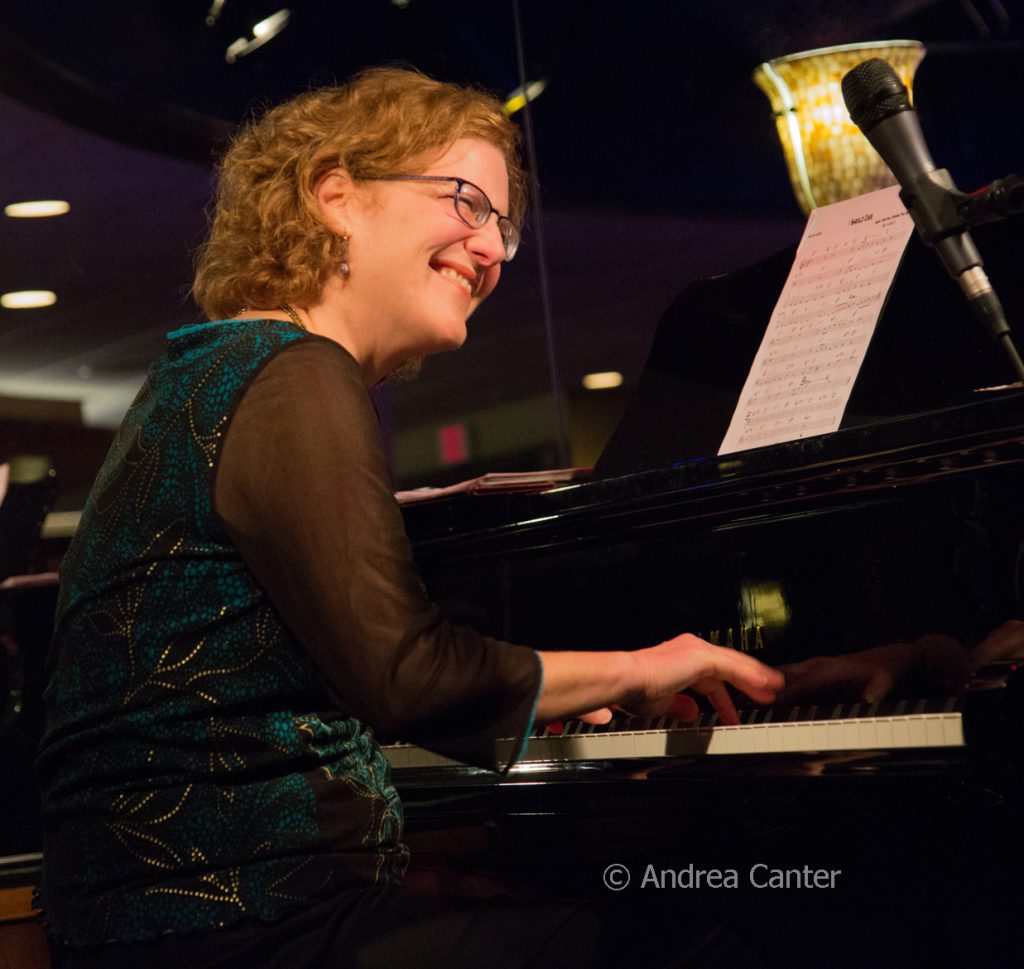 © Andrea Canter
Less than two months following the release of her album of Monk arrangements (Mysterious Thelonious), pianist/composer/educator Laura Caviani holds another CD celebration, this one filled with original tunes that pay homage to Shakespeare, muses (McCoy Tyner and Mary Lou Williams), and favorite geography. Again, her cohorts Chris Bates (bass) and Dave Schmalenberger (drums) join Laura, this time in the Dunsmore Room of Crooners Lounge in Fridley, MN, on Wednesday, December 6 (7:30 pm). Both Confluence and Mysterious Thelonious will be available at the show.
Laura Caviani Trio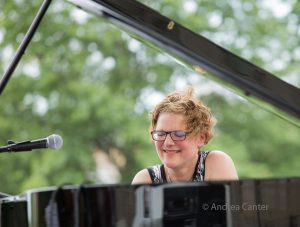 Raised in the Midwest where she studied trumpet as well as piano through high school, Laura Caviani received a Bachelor's of Music in Composition from Lawrence University in Appleton, WI, and a Masters of Music in Improvisation from the University of Michigan at Ann Arbor. Caviani is a veteran of nearly three decades of performing, recording and composing, including appearances with Toots Thielemans, Bob Mintzer, and Dave Liebman, and touring and recording with star vocalist Karrin Allyson. As a leader she has five acclaimed recordings to her credit and a long list of supporting roles with local musicians. Projects have included her tributes to Horace Silver, Mary Lou Williams and Thelonious Monk; Soul Café with guitarist Steve Blons and saxman Brad Holden; Pete Whitman's Xtet; JazzMN Orchestra; and her cross-genre Alec Wilder project. In spring 2011, she collaborated with Prudence Johnson, Joan Griffith and other area composers to create "A Girl Named Vincent," setting the poems of a young Edna St. Vincent Millay to music for both live performance and recording. And more recently she has presented "From Bach to Bop" – jazz arrangements of favorite classical works– at a number of venues including the Artists Quarter, Hopkins Center for the Arts, and Jazz @St. Barneys. Laura made her formal debut as a vocalist about one year ago at Jazz Central and has since collaborated with guitarist Chris Olson on vocal performances. Her trio has also performed in the Dunsmore Room at Crooners Lounge and on the main stages of the Twin Cities and Iowa City Jazz Festivals.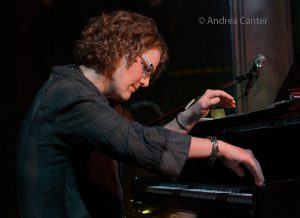 Laura's releases include Dreamlife, As One, Angels We Haven't Heard, In Your Own Sweet Way, Going There, and Sambanova (with Joan Griffith); she released a remake of the holiday album Holly, Jolly and Jazzy in 2013; and of course her new interpretations of Monk, Mysterious Thelonious.  Laura currently directs big bands at Carleton College in Northfield and has previously taught at MacPhail Center for Music, McNally Smith College of Music, St. Olaf College, St. John's University, UW-Eau Claire, UW-Stevens Point, and Shell Lakes Arts Center.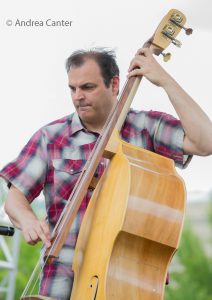 Chris Bates (and his brother, drummer JT) grew up with jazz, sons of trumpeter/bandleader Don Bates. He began bass lessons in 4th grade and progressed to jazz studies at the University of Wisconsin-Eau Claire before returning to the Twin Cities to study with Anthony Cox. A member of the Motion Poets, Chris was a 1999 McKnight Composer Fellow, and often lends his compositions to the many ensembles that he juggles throughout his busy performance schedule. Over his career, he has played with Mose Allison. Lee Konitz, Joe Lovano, Steven Bernstein, Howard Levy, Michael Attias, Ira Sullivan, Eric Alexander, Tim Sparks and more. In addition to his local ensemble work, he has played solo concerts using both acoustic and electronic instruments, duets with fellow bassists Adam Linz and Anthony Cox, and appears on over 30 recordings. In 2012, Bates debuted his quintet Red 5 and a new trio, Good Vibes, with vibes master Dave Hagedorn and drummer Phil Hey. With Red 5, he released New Hope in 2013; Good Vibes released its self-titled debut recording in April 2014. Around that time he also launched a monthly improvisation series at Jazz Central. One of four recipients of a commission from local new music ensemble Zeitgeist in 2014, Chris performs regularly with too many bands to list, including the Atlantis Quartet, Red Planet, Dean Granros' Tall Tales, Framework, Laura Caviani Trio, Bill Simenson Orchestra, and more.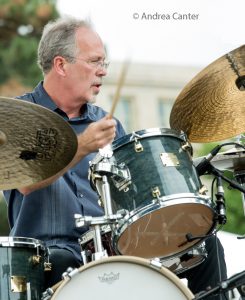 Drummer Dave Schmalenberger received his DMA in Percussion Performance and World Music from West Virginia University, his Master of Music Degree in Orchestral Percussion from the University of Michigan, and Bachelors Degree in Jazz Studies from Capital University. He has performed locally with Pooch's Playhouse, Laura Caviani, Alma Brasileira, Joan Griffith, the Jazz Imports, Vocal Essence, Synergy (a 10-piece dance band), SCHAG (jazz percussion duo with Dave Hagedorn), JazzMN Orchestra, Benny Weinbeck Trio, Russ Peterson Big Band, Cedar Avenue Big Band, Chris Lomheim Quartet, and with vocalists Debbie Duncan, Judi Donaghy, Connie Evingson, Charmin Michelle, and Dennis Spears. Dave has also kept time for Lynne Arriale, John Scofield, Conrad Herwig, Kevin Mahogany, Steve Turre, the Jimmy Dorsey Orchestra, Cab Calloway, Rufus Reid, the Fifth Dimension, and The Mills Brothers, as well as in productions at the Ordway and Children's Theatre Company. He also toured with the Summit Brass Ensemble and the Intergalatic Contemporary Ensemble (I.C.E.). Dave is currently on the percussion faculty of McNally Smith College of Music.
Confluence
Laura's latest project grew from a commission by the Great River Chorale to add instrumental compositions to a concert based on Shakespeare's A Midsummer Night's Dream. The five resulting works became the centerpiece of the new recording, along with original tunes honoring Laura's muses McCoy Tyner and Mary Lou Williams, new arrangements of "Somewhere Over the Rainbow" and "Shenandoah," and the title track, inspired by one of Laura's favorite haunts, the valley where the Mississippi and Minnesota Rivers meet. (A portion of the proceeds of this album will go toward Friends of the Mississippi River, dedicated to protection and preservation of Minnesota's cherished waterways.)
The trio opens with Laura's nod to McCoy Tyner, "In the Moment," which not only conjures Tyner's high energy themes but also the jerky feel of Monk; Chris Bates offers a bouncing solo over Dave Schmalenberger's splashes and pounding figures. Honoring Mary Lou Williams, "Boogaloo for Mary Lou" is a bluesy swinger with appropriately a touch of gospel. "The Return," first recorded some years ago with Gordon Johnson's trio, suggests a beautiful standard with unsung lyrics.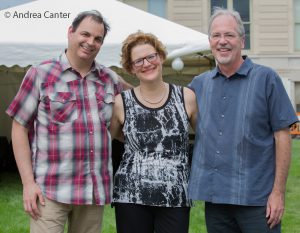 Of the two covers, "Somewhere Over the Rainbow" is given a brighter, modern beat, lifted by Dave's brushwork while Chris presents his most melodic side. This is "home," and there's no place like it. Laura's other re-arrangement, the traditional "Shenandoah," conjures the lyricism of Lynne Arriale, Laura's expansive voicings elegantly supported by subtle bass and drums. The title track, too, tells the story of a magnificent river (or, in this case, the meeting of two), honoring the power as well as beauty of nature, the Lakota's "Garden of Eden."  Like the joining of the rivers, the individual artists intertwine musically such that the whole is greater than the sum of the parts– a confluence of melody and harmony.
The Shakespeare-inspired, 5-track core could easily serve as a stage soundtrack, reflecting key characters, scenes, and themes of one of the Bard's most beloved works, A Midsummer's Night Dream. In between the dark drama of "Thief of Love" and the high adventure and musical acrobatics of "Puck's Luck," Laura and the trio weave portraits of "Mortal Fools" — the percussive antics of Dave Schmalenberger defining "The Lunatic," the delicate, majestic flow of "The Lover," the exquisite melodicism of "The Poet." Surely the entirety of A Midsummer's Night's Dream could fuel five more tunes for a stand-alone epic?
One of the most active jazz composers in the Twin Cities, Laura Caviani will hopefully continue to document her wide range and fertile imagination, and share her efforts in the company of this very compatible trio.
The Dunsmore Room at Crooners Lounge is located at 6161 NE Highway 65 in Fridley, just north of I-694 and about fifteen minutes north of downtown Minneapolis. Show at 7:30 pm; dinner menu available. Reservations at www.croonersloungemn.com or (763) 571-9020. More information available at www.lauracaviani.com