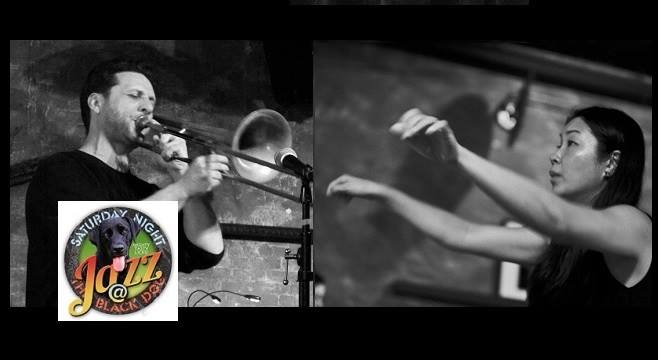 © Andrea Canter
Recent transplants from New York City, Asuka Kakitani and JC Sanford will premiere their own 17-piece Inatnas Orchestra on the Saturday Night Jazz at the Black Dog series in St. Paul on December 16 at 8:30 pm. The Steve Kenny Trio (with Kameron Markworth and Miguel Hurtado) will open the evening in the bar at 7 pm. Note that due to the size of the orchestra, the Inatnas ensemble will perform in the larger dining room at the Black Dog.
Steve Kenny Trio (7 pm)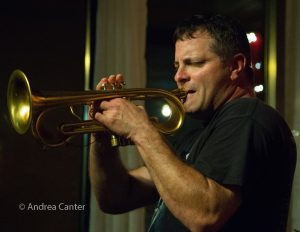 Curator of the Saturday Night Jazz series, trumpeter Steve Kenny leads a trio to open the evening. Kenny has performed with What Would Monk Do, the Cedar Avenue Big Band, and Larry McDonough's quintet (tribute to Chet Baker) as well as leading several editions of his own quartet and Group 47. He's best known as co-founder of the Illicit Sextet, an ensemble popular in the 1990s before taking a long hiatus, and back in action for the past eight years. Steve has received a Minnesota Music Award, West Bank School of Music Jazz Composer award, and multiple honors as Best Jazz Trumpet at the Eau Claire Jazz Festival. With support from a state arts board grant, he has curated the "All Originals" jazz series at Studio Z over four summer seasons. In fall 2014 he launched the weekly Saturday Night Jazz at the Black Dog series, and in spring 2015, brought a similar series (Friday Night Jazz) to The Nicollet, later rebranded and rescheduled as Thursday Night Jazz at Reverie, running until the venue closed at the end of July 2017; that series has now moved to Jazz Central on Fridays as the Illicit Jazz Workshop. In his spare time, Steve juggles a fulltime tech job, graduate studies in Computer Science, gigs with a number of bands, and also manages the Jazz Police website.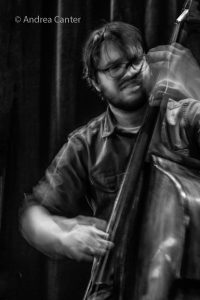 Bassist, composer, and teaching artist Kameron L. Markworth is a graduate of Indiana University, Augsburg College, and McNally Smith College of Music, currently teaching Jazz History at Augsburg. Locally he has performed with Paul Harper's Bardo Quartet, Steve Kenny's Central Standard Time, Aaron Hedenstrom Trio, and the Lars-Erik Larson Trio.
Miguel Hurtado (drums) played throughout the Twin Cities as a teenager with Javi Santiago in several youth bands, as well as with South High jazz ensembles. After graduating from the Manhattan School of Music in spring 2010, he returned to the Twin Cities where he quickly became a busy member of the local jazz scene. He's led his own ensembles as well as performing with Jake Baldwin, John Raymond, Jeremy Walker, Javi Santiago, Joe Strachan, Ted Olsen, Courageous Endeavors, and Steve Kenny, among others.
Inatnas Orchestra (8:30 pm)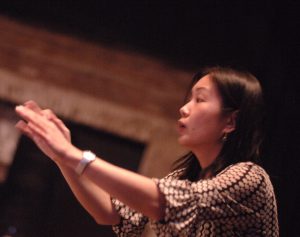 Asuka Kakitani is a composer, arranger, and conductor. She is the founder of her 18-piece big band, the Asuka Kakitani Jazz Orchestra in 2009, featuring some of the most creative musicians in New York City, including Mark Ferber, Jason Rigby, John O'Gallagher, Pete McCann, John Bailey, Sara Serpa, and more. AKJO has been performing her music in venues in the New York City area such as Drom, ShapeShifter Lab, Bowery Poetry Club, St. Peter's Church, and regularly at Tea Lounge as a part of the "Size Matters" Large Ensemble Series.  Their 2013 debut album Bloom earned critical acclaim and was selected as one of the best albums on the NPR Music Jazz Critics Poll, All About Jazz, Lucid Culture, and DownBeat Magazine.
Kakitani was featured on the international radio program PRI's The World, and was selected as a DownBeat Critic Poll Rising Star Arranger. Her awards include the BMI Charlie Parker Jazz Composition Prize, the Manny Albam Commission, two Composer Assistance Grants from the American Music Center, the Brooklyn Arts Fund, and recently was a recipient of the Jerome Fund for New Music from the American Composers Forum. Kakitani was a member of BMI Jazz Composers' Workshop 2004 to 2007 under guidance of Jim McNeely, Mike Abene, and Mike Holober. Along with JC Sanford, she is co-founder of the Twin Cities Jazz Composers' Workshop.
A protégé of legendary composer Bob Brookmeyer, trombonist JC Sanford studied at the University of Northern Iowa and completed doctoral studies at the New England Conservatory. Moving to New York in 2000, he became involved with the BMI Jazz Composers Workshop under the direction of Manny Albam and Jim McNeely and remained trombonist/contractor of the BMI/New York Jazz Orchestra until 2016. He has also appeared as a trombonist on recordings with such diverse bands as Andrew Green's Narrow Margin, the Andrew Rathbun Large Ensemble, Nathan Parker Smith's jazz/prog rock big band, and Joseph C. Phillips, Jr.'s new music/jazz hybrid orchestra, Numinous.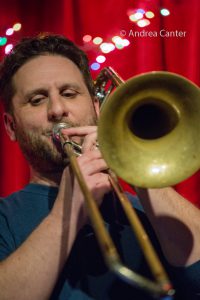 JC's compositions have been performed by leading artists such as John Abercrombie and Dave Liebman and he has built a reputation as conductor of large ensembles, including the John Hollenbeck Large Ensemble, Alan Ferber Nonet, Alice Coltrane Orchestra and his own JC Sanford Orchestra. The JC Sanford Orchestra's album, Views from the Inside, received worldwide acclaim as well as a coveted recording grant from the Aaron Copland Foundation. JC also wrote, performed and conducted a score to accompany the 143-minute 1927 silent classic  Ben Hur for the Syracuse International Film Festival, including the film theme "Forest Hills" which now appears on Can You Believe It. He also curated a weekly large ensemble series ("Size Matters") at the Tea Lounge in Brooklyn in addition to leading his orchestra, quartet and trio.
Of his return to the Midwest last year, JC notes that "We have a 2-year-old daughter and I went to school in Northfield, and my mom still lives there. New York kind of wore us out, and so we decided we're going to go somewhere, and that seemed like a really good option. I had a few connections to the Twin Cities music scene. It just seemed like the natural thing to do."  And he wasted no time jumping into the local jazz scene, adding his trombone to Chris Bates' Red 5, performing with his quartet, and launching a Minnesota edition of his trio, Triocracy. Earlier in 2017, Sanford founded the Twin Cities Jazz Composers' Workshop alongside composers Asuka Kakitani, Adam Meckler, Aaron Hedenstrom, Kari Musil, and Dave Stamps.
Now Asuka and JC have joined forces to form their own Twin Cities-based ensemble, the Inatnas Orchestra. The 17-piece big band will feature local Twin Cities artists:
Dave Milne, Aaron Hedenstrom, Pete Whitman, Joe Mayo, Brian Handeland – woodwinds
Pete Davis, Jake Baldwin, Riley Helgeson, Russ Johnson – trumpets
Dave Stamps, JC Sanford, Ben Bussey, Matt Plummer – trombones
Dave Hagedorn – vibraphone
Javi Santiago – piano
Chris Bates – bass
JT Bates – drums
Asuka Kakitani – conductor
"We've really been excited about the level of musicianship and creativity in the Twin Cities area," Sanford says. "So many great players around. We really can't wait to have them present our music to an audience."
The Black Dog is located at 308 Prince Street, in the street level of the Northern Warehouse in St Paul's Lowertown Arts District. Full music calendar at www.blackdogstpaul.com. Saturday Night Jazz series schedule at www.saturdaynightjazzattheblackdog.info;  in lieu of a cover, $10 per set donation requested to support the series and the musicians.