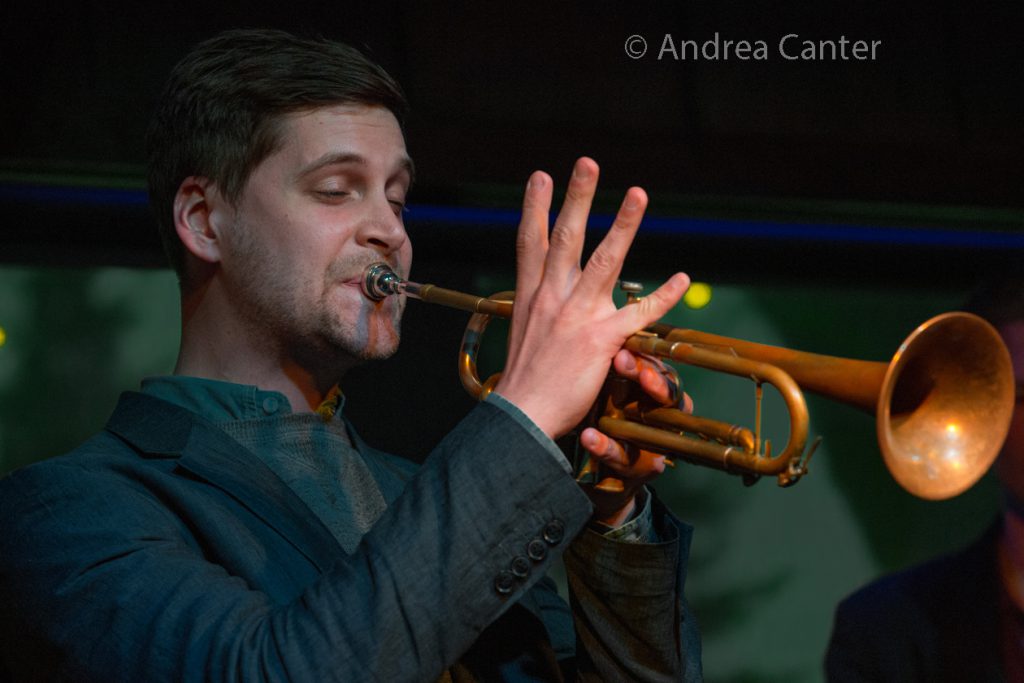 © Andrea Canter
"Electrifyingly new and strangely familiar at the same time…with his mix of modern sounds and old-fashioned feeling, Raymond is steering jazz in the right direction."––Downbeat Magazine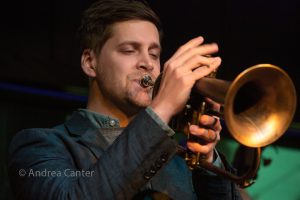 Even as a freshman at the University of Wisconsin-Eau Claire, trumpeter John Raymond exuded an unusual degree of commitment to his craft, apparent in his playing with Jeremy Walker's first edition of Jazz Is Now! And his commitment was obvious as he led increasingly sophisticated versions of the John Raymond Project on the stages of the Dakota and Artists Quarter, as he moved on to graduate studies at the State University of New York at Purchase, as he released his first full-length recording (Strength and Song) under the guidance of mentor John Faddis. Dubbed "a prepossessing young trumpet player" by the New York Times after that first release, John never stopped moving forward, refining his voice and his approach to composition as he continued to make his way in the New York jazz scene. Now, a decade after his first pro gigs, John has added a lauded quartet recording featuring the great drummer Billy Hart to his resume (Foreign Territory, Fresh Sound/New Talent, 2015), and over the past two years, two well regarded recordings with his touring trio, Real Feels (with Gilad Hekselman and Colin Stranahan). A more frequent visitor to the Twin Cities now that he has left New York for Indiana University, John returns "home" for the holidays, leading his "Standards Trio" with Graydon Peterson and Phil Hey at Jazz Central on Friday, December 22 (8-10 pm), on the Illicit Jazz Workshop series.
After starting trumpet in fifth grade in suburban Minneapolis, John Raymond moved on to playing in school jazz ensembles in junior high and high school. At the University of Wisconsin-Eau Claire, John played in the top ensembles from his first semester and toured China in late 2006; he also studied with Terell Stafford and performed with Jeremy Walker's Jazz Is Now! Orchestra in Minneapolis during his freshman year, and with Maria Schneider at the 2005 UW-EC Jazz Festival. While balancing classes and college bands, John also found time to start his first edition of the John Raymond Project with cohorts from Eau Claire, releasing a self-titled recording in spring 2006.  In the Twin Cities, John also played with the Yohannes Tona Band and founded the Twin Cities Horns, an ensemble that frequently joined Cuban piano dynamo Nachito Herrera, for whom John also provided arrangements; he toured with Darnell Davis and the Minneapolis-based gospel group, Remnant; and arranged and recorded on three Grammy-nominated songs for R&B singers Ann Nesby and Calvin Richardson. In 2008 and 2009, John was a finalist in the jazz category of the National Trumpet Competition.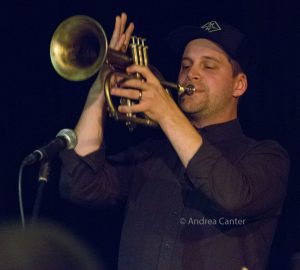 After college graduation in 2009, John made the move to New York, enrolling in graduate studies at the State University of New York at Purchase where he studied with acclaimed trumpeter Jon Faddis.  Just being in the vicinity of the Big Apple brought many gigging opportunities for the John Raymond Project, including the Iridium Jazz Club, Small's, and Cornelia Street Café. John has also had a number of opportunities to test his wings as a jazz educator, including teaching summers at the SUNY Purchase Jazz Workshop and as part of the United Nations International School.
Mentor Jon Faddis produced Raymond's debut, full-length recording, Strength and Song, and arranged to use the famed, now defunct Bennett Studios. For the recording, John called upon another Twin Cities' native son and frequent collaborator, keyboardist Javier Santiago, then a recent graduate of the New School. Other New York-based cohorts–guitarist Gilad Hekselman, bassist Raviv Markovitz and drummer Cory Cox — rounded out the core quintet, with rising star, Grammy nominee Gerald Clayton sitting in on piano on two tracks, and alto sensation Tim Green contributing his horn to two more.
Other recent projects include an ensemble with Gilad Hekselman, Sullivan Fortner, Matt Brewer and Otis Brown III, serving as featured artist at the 2015 NYC Winter Jazz Festival, FONT (Festival of New Trumpet) Festival, and Center City Jazz Festival; leading ensembles at Dizzy's Club Coca-Cola, Smalls Jazz Club and Chicago's Jazz Showcase; performing with Orrin Evan's Captain Black Band, performing at the Austin City Limits Music Festival and on NPR's Toast of the Nation New Year's Eve celebration; and recording with Grammy-nominated singer Sara Bareilles.  His Real Feels trio (originally dubbed Roots Trio), with Hekselman and drummer Colin Stranahan, performed in the Big Apple and appeared at Studio Z in St. Paul shortly before going into the studio to record the album that became Real Feels (Shifting Paradigms Records, 2016).  The trio followed with Live Volume 1 (Shifting Paradigm Records, 2017) and will soon release Joy Ride on Sunnyside. John has returned to Twin Cities stages frequently over the past few years, performing at the Icehouse, Studio Z, Vieux Carre', and the Dunsmore Room at Crooners Lounge.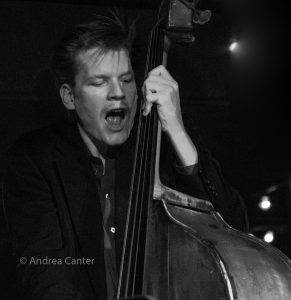 Graydon Peterson played electric bass in his high school pep band and dabbled in rock music before finding his way into jazz. At the University of Wisconsin-Eau Claire, he was a member of UWEC's Downbeat Award-winning Jazz Ensemble I and performed with such guest jazz artists as Lewis Nash, Ingrid Jensen, Jason Marsalis, Chris Botti, and Christian McBride.  In Minneapolis, Peterson is a first-call bassist who often works with top area vocalists, including  Debbie Duncan and Connie Evingson. He performs regularly with the trio Firebell with Park Evans and Jay Epstein, the Adam Meckler Quintet and Orchestra, and a long list of instrumentalists. Peterson launched his own quartet in fall 2011 as a means of focusing on his own compositions, and released the quartet's first recording in 2013. He followed in 2015 with Duets, featuring each member of his quartet in duets with each other.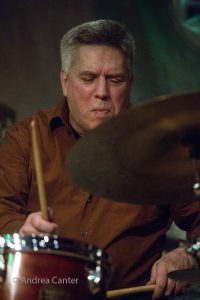 A former student of Ed Blackwell and Marv Dahlgren,  Phil Hey was born in New York City and raised in Philadelphia. One of the busiest drummers in his adopted home in the Twin Cities, Phil toured for 20 years with the late Dewey Redman and is often on the bandstand backing touring artists, local vocalists (Connie Evingson, Lucia Newell), and small ensembles (Chris Lomheim, Laura Caviani, Mary Louise Knutson, Dave Karr).  Phil (along with bassist Gordy Johnson) has toured with British vocalist Stacey Kent, including gigs at Birdland in New York. He also manages percussion duties for the Pete Whitman X-Tet, Benny Weinbeck Trio, Dean Sorenson Sextet and Chris Bates' Good Vibes Trio, and teaches at the U of M and St. Olaf College. Phil's recording credits are legion, including on the Artegra label with the Chris Lomheim Trio (The Bridge), Pete Whitman Quintet (Sound of Water) and X-Tet (Where's When). His more recent recordings include a volcanic duo with trumpeter Kelly Rossum (Conflict), a sublime trio date with Mary Louise Knutson (In the Bubble), and the 2014 debut release of the Good Vibes Trio.  Phil also contributed to Von Freeman's Live at the Dakota, rating four stars from Down Beat. In 2006, City Pages named Phil its Jazz Artist of the Year. His long-running Phil Hey Quartet continues to be popular among Twin Cities jazz fans, and performed on the main stage of the Iowa City Jazz Festival in 2015.
Expect the John Raymond Standards Trio to put a unique spin on jazz standards and more.
The Illicit Jazz Workshop series is curated by Steve Kenny, every Friday night at Jazz Central, 407 Central Av SE in Minneapolis. Visit https://theillicitjazzworkshop.info/schedule for full schedule. Jazz Central is a nonprofit venue that presents a wide range of jazz at least six days per week; see http://jazzcentralstudios.org for schedule and information. $10 donation requested.