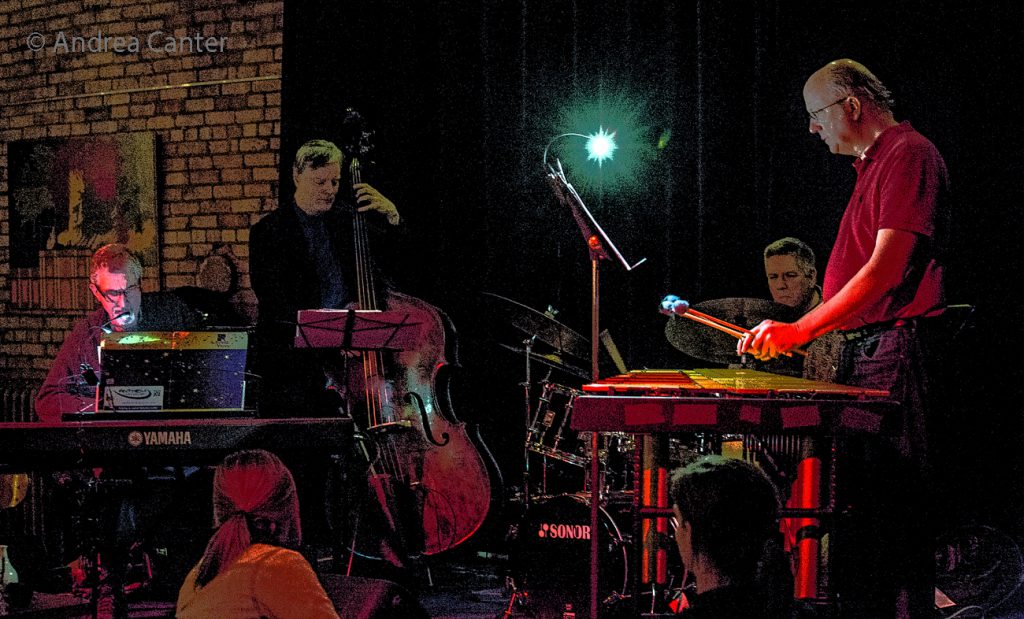 © Andrea Canter
"The PHQ is a true, seasoned ensemble laying down a musical vision with common purpose."—Pat Courtemanche
Twin Cities jazz fans may not always appreciate our great fortune—to live in a community blessed with some of the finest musicians in the country, artists who have played with such legends as Charlie Rouse, Kenny Barron, Benny Golson, Benny Carter, Jay McShann, and Dewey Redman. Count drummer Phil Hey among our local giants! And count his Phil Hey Quartet among our local treasurers, long associated with the Artists Quarter and now finding other venues from which to launch their musical fireworks. And now the PHQ makes its debut on the Illicit Jazz Workshop series at Jazz Central Studios on Friday, January 26 (8 pm).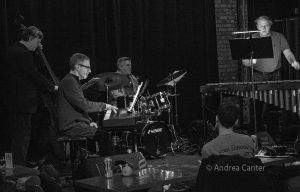 While there are many jazz quartets in town, few have the Modern Jazz Quartet configuration of vibes plus rhythm section. Described by Jazz Police Administrator Don Berryman as a "no-nonsense, uncompromising band of local jazz greats," the PHQ puts the music of Coltrane, Shorter, Coleman and more (music that more often features horns) in the virtuoso hands of Hey, pianist Phil Aaron, bassist Tom Lewis, and vibes man Dave Hagedorn. Together as an ensemble since Artists Quarter owner Kenny Horst asked Hey to lead a band in 2000, leader Hey notes that "this is a real band. Everyone in the group is a bandleader in his own right and we have really come together as an ensemble."  In 2006, the PHQ released Subduction, landing on many area "best of" lists. Said Don Berryman, "The word 'subduction' deals with the movement of tectonic plates that is a slow process that can result in earthquakes and volcanic activity. Likewise, music on this CD builds tension subtly and releases that tension in great rhythmic eruptions." The PHQ was a nearly monthly fixture on the Artists Quarter calendar since its inception and throughout the AQ's run until the club closed at the end of 2013. Among performance since then, the PHQ was featured on the main stage of the Iowa City Jazz Festival in 2016.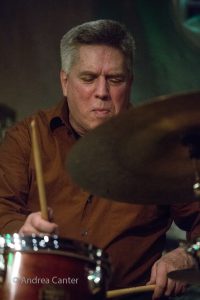 A former student of Ed Blackwell and Marv Dahlgren,  Phil Hey was born in New York City and raised in Philadelphia. One of the busiest drummers in his adopted home in the Twin Cities, Phil toured for 20 years with the late Dewey Redman and is often on the bandstand backing touring artists, local vocalists (Connie Evingson, Lucia Newell), and small ensembles (Chris Lomheim, Laura Caviani, Mary Louise Knutson, Dave Karr).  Phil (along with bassist Gordy Johnson) has toured with British vocalist Stacey Kent, including gigs at Birdland in New York. He also manages percussion duties for the Pete Whitman X-Tet, Benny Weinbeck Trio, Dean Sorenson Sextet and Chris Bates' Good Vibes Trio, and teaches at the U of M and St. Olaf College. Phil's recording credits are legion, including on the Artegra label with the Chris Lomheim Trio (The Bridge), Pete Whitman Quintet (Sound of Water) and X-Tet (Where's When). His more recent recordings include a volcanic duo with trumpeter Kelly Rossum (Conflict), a sublime trio date with Mary Louise Knutson (In the Bubble), and the 2014 debut release of the Good Vibes Trio.  Phil also contributed to Von Freeman's Live at the Dakota, rating four stars from Down Beat. In 2006, City Pages named Phil its Jazz Artist of the Year.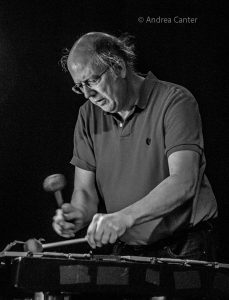 Vibes master Dave Hagedorn directs the award-winning jazz bands and percussion ensemble at St. Olaf College in Northfield, MN.  With degrees from the University of Minnesota, New England Conservatory and Eastman School of Music, and studies with George Russell, his performance schedule includes percussion duties with the St. Paul Chamber Orchestra and Minnesota Opera, and regular jazz gigs with the Phil Hey Quartet, Pete Whitman X-Tet and Good Vibes Trio. He's also appeared in duo with former student/pianist Dan Cavanagh, with whom he released Horizon in 2010. In fall 2012, Hagedorn and Dave Milne launched a new ensemble dedicated to the music of Bobby Hutcherson and Harold Land, dubbed Spiral Visions—with cohorts Aaron, Lewis and Hey. At St. Olaf, Dave has led jazz bands to DownBeat student ensemble awards, and on a tour of Cuba in spring 2016. Dave's acclaimed CD, Solid Liquid, was released on Artegra Records. Notes Don Berryman, Hagedorn "brings an integrated knowledge of complex harmony and rhythm that never fails to swing or to move anyone with ears."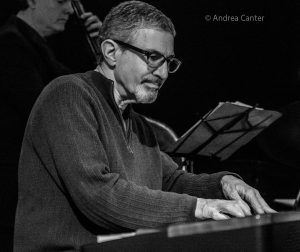 Pianist Phil Aaron is a Chicago native who studied music at the Berklee College of Music and the University of Illinois.  After ten years in LA, he moved to Minneapolis in 1989, becoming fully immersed in the local jazz scene. By day,  Phil works as a composer of film and television scores winning an Emmy in 2007 for his scoring work on the PBS animated series, "Auto-B-Good." As a performing jazz artist, Phil has shared the stage with Lee Konitz, Eric Alexander, Jim Rotondi, Jim Snidero, Byron Stripling, Barbara Morrison and Jackie Allen, among others, and has provided piano accompaniment to many local jazz singers and ensembles. An active recording artist as sideman and on five CDs of his own, Phil plays regularly with his own trio, Lucia Newell and Joyce Lyons, as well as the Phil Hey Quartet. Drawing inspiration from Bill Evans, Cedar Walton, Tommy Flanagan, and Keith Jarrett, he "can swing hard or wax romantic at the keyboard" (Minneapolis Star Tribune).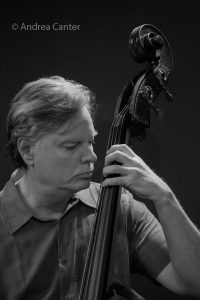 Tom Lewis (bass) is a busy sideman throughout the Twin Cities, a "straight-ahead, hard bop, and bebop bassist and he swings like anything" (Don Berryman). He played in Eddie Berger's last band, The Jazz All-Stars, and has appeared with such touring artists as Benny Golson, Mose Allison, Jim Rotondi, Slide Hampton, Lew Tabackin, and Charles McPherson . He's a veteran of the Phil Aaron Trio, Out to Lunch Quintet, and The Five; a member of the Bottomless Pit ensemble, Dean Sorenson Sextet, and Charmin and Shapira and Friends;  and appears on numerous recordings with area musicians.
The Illicit Jazz Workshop takes place every Friday night at Jazz Central Studios, 407 Central Av SE, Minneapolis. Curated by Steve Kenny, the series presents top jazz ensembles for a suggested donation of $10 to support the series and the nonprofit venue. Series schedule at https://theillicitjazzworkshop.info/schedule; full venue schedule at http://jazzcentralstudos.org