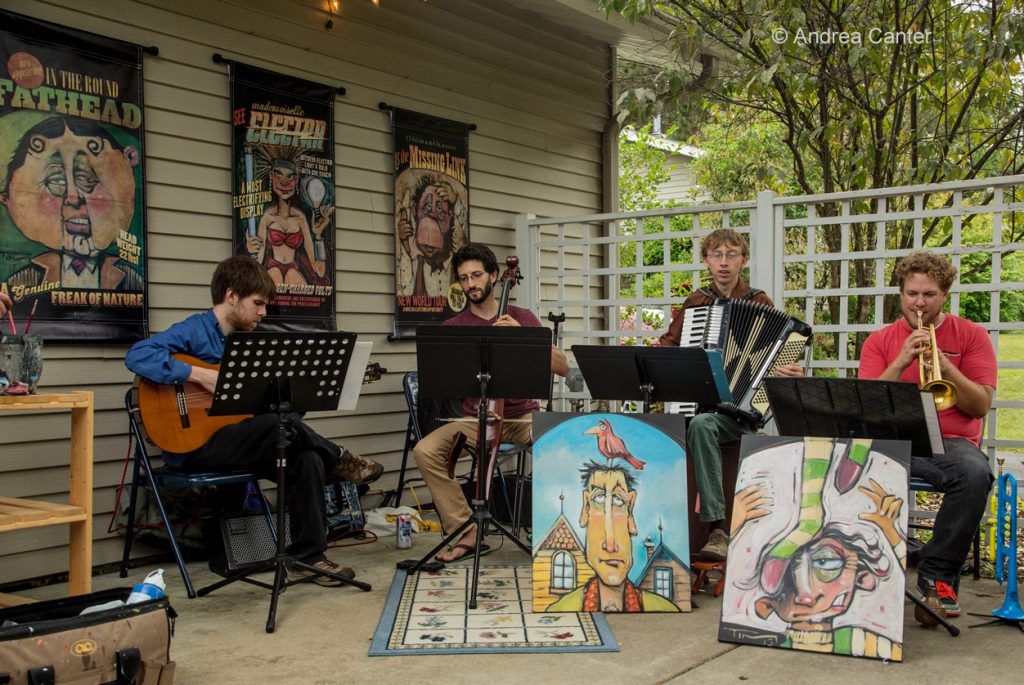 © Andrea Canter
 "…each piece we bring in is a new medium for us to explore the spirit of collaboration that is the raison d'être for the group in the first place." –Lulu's Playground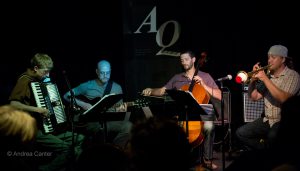 Lulu's Playground is not your typical jazz band:  Just the instrumentation alone signals unique sounds await their audience, with trumpet (Adam Meckler), guitar (Ben Abrahamson), cello (Cory Grossman) and accordion (Steven Hobert). Their debut recording, Shadow Voices, was an intriguing, genre-defying and playful set of music. In summer 2013, the quartet reworked the psychedelic music of Genesis and Trespass. So what next? How about collaborating with graphic artist Tim Nyberg to recreate–visually and musically– the circus sideshows of the 1940s, complete with aurally unique interpretations of the equally singular Nyberg characters projected behind the musicians? Dubbed Sideshow Suite, the collection of 34 brief, multi-media vignettes was performed at the Artists Quarter a few months before the club closed in late 2013. Since then the group has surfaced now and then, performing at Jazz Central in 2016 and now, headlining Saturday Night Jazz at the Black Dog this weekend, February 3, at 8:30 pm. The opening act is no opening act– the Steve Kenny Quartet with Levi Schwartzberg, Ted Olsen and Miguel Hurtado (7 pm).
Steve Kenny Quartet (7 pm)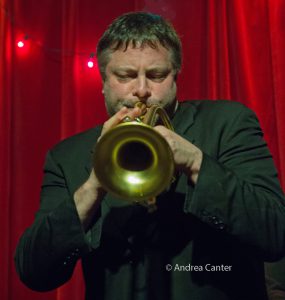 Curator of the Saturday Night at the Black Dog Series, trumpeter Steve Kenny pulls together bands that draw on diverse talents and instrumentation. But this edition of his quartet seems like the keeper, and one that recently recorded at Creation Audio for a release later in 2018. In addition to the leader, who is also featured in the Illicit Sextet, Larry McDonough's tributes to Miles Davis and Chet Baker, and many more ensembles, the quartet include three much younger "veterans" of the local jazz scene. Levin Schwartzberg (vibes) leads his own groups and stars in many others, including Adam Linz' Le Percheron, all while completing studies in physics at the U of M. Ted Olsen (bass) released his first CD as leader last fall (Joy Fire) and is often on stage with Aaron Hedenstrom, Javi Santiago, Steve Kenny and Miguel Hurtado. And Miguel is a busy drummer, leading his own groups and handling the trapset for many more.
Lulu's Playground (8:30 pm)
Lulu's Playground started out as four friends from the Lawrence University Music Conservatory. Together they have played in jazz groups, salsa bands, orchestras, improvisation classes, and hallway jam sessions, and later, based in the Twin Cities, they joined forces to create unique sounds via unique instrumentation – "an amalgamation of sound from various genres and diverse influences, sometimes pretty, sometimes nutty, always pretty nutty," they note on their website. Originating to fulfill a desire to play with some "weird sounds," the band cites Dave Douglas and Tin Hat as significant influences.  The band currently includes Adam Meckler on trumpet, Cory Grossman on cello, Steven Hobert on accordion and relatively new member Ben Abrahamson on guitar, replacing Evan Montgomery who relocated to Los Angeles.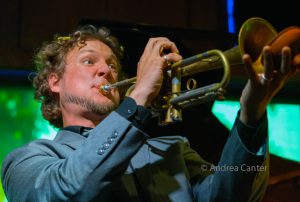 Adam Meckler (trumpet). An increasingly busy presence on the Twin Cities jazz scene, Adam completed his Master's and DM degrees at the University of Minnesota. In addition to Lulu's Playground, Adam leads his quintet and Adam Meckler Orchestra, and plays in the Jana Nyberg Group, Jack Brass Band, Pete Whitman X-Tet, Graydon Peterson Quartet,  the Stan Bann Big Band, Nova Jazz Orchestra, and Brass Barn Polka Band.  Adam taught at McNally Smith and currently teaches at MacPhail Center for Music.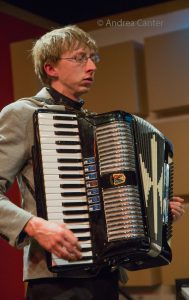 Steven Hobert (accordion). Steven replaced original bandmember Greg Woodsbie when Woodsbie moved to Boston. A graduate of the University of Wisconsin-Eau Claire, Steven's resume include a year touring with the Glenn Miller Orchestra, performances with the Calgary, Detroit, Buffalo and Duluth Symphony Orchestras, conducting and touring with Five By Design, performing with the Adam Meckler Orchestra and Soul Cafe,  performing in duos with Dean Magraw and Issam Rafea, leading his quartet, and freelancing on piano, accordion and woodwinds with jazz and dance ensembles, rock and reggae bands, and church groups. He also keeps busy composing, scoring films, and teaching.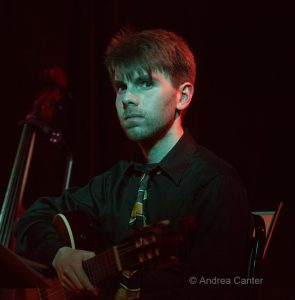 Ben Abrahamson (guitar). Ben received his degree in Music from Macalester College. he has studied flamenco guitar under Juan Ramón Caro at Taller de Músics School of Music in Barcelona and has shared the stage with such mentors as flamenco guitarists Michael Hauser and Pedro Cortés, Jr., jazz educator Joan Griffith, and music iconoclast Gary Lee Joyner. He has performed his own compositions at the Minnesota Guitar Society 2012 Classical Guitarathon and 2009 Flamenco Guitarathons; teaches private guitar lessons and group workshops in the Twin Cities and in Philadelphia; is a faculty member at St. Joseph's School of Music and a guitar instructor at the Linden Hills House of Music and The Podium in Minneapolis.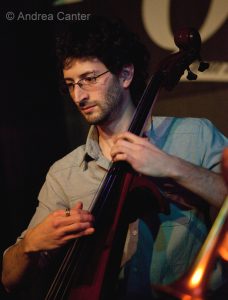 Cory Grossman (cello). Cory earned a degree in classical cello performance at Lawrence, and has been a freelance improvising musician in the Twin Cities since 2009, playing jazz, classical, hip hop, folk and more hard-to-define music. In addition to Lulu, his diverse projects include Out From Inside (hip hop), Jonny James and the Hall of Fame (country and western), Grossman Draper (classical improvisation), and appearances with the Jana Nyberg Group and pianist Todd Harper. He also plays percussion with the Brazilian ensemble, Batacuda do Norte.
Saturday Night Jazz at the Black Dog has presented the best in area jazz every week for the past 3 1/2 years. The Black Dog is located at 308 Prince Street, at the corner of Broadway and E. 4th Street in St Paul's  Lowertown Arts District. See full Black Dog schedule at www.blackdogstpaul.com