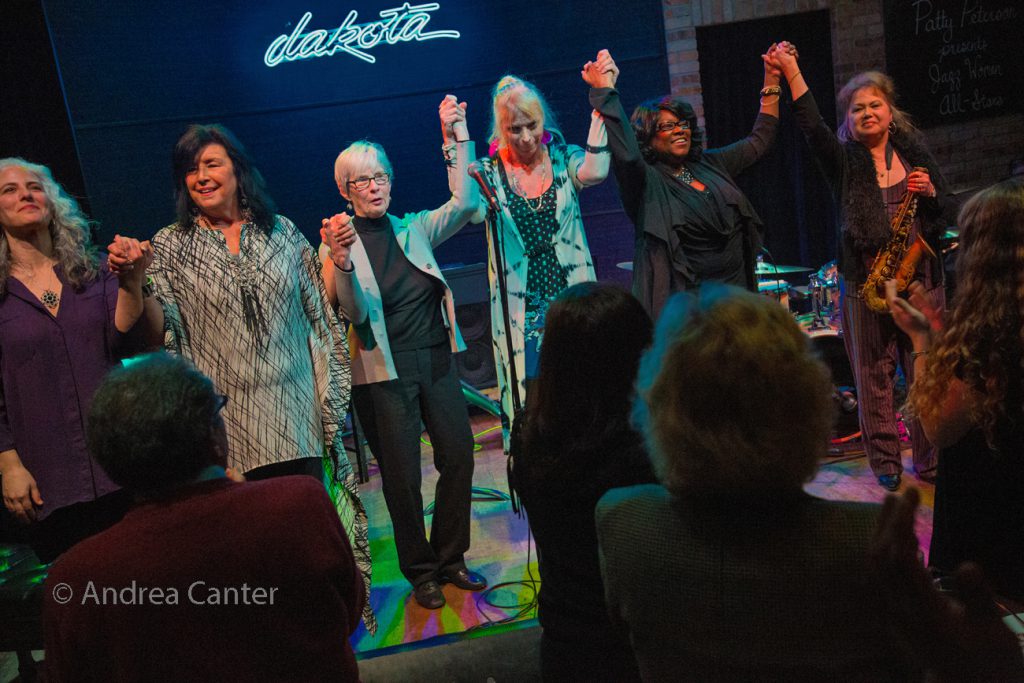 © Andrea Canter
A project initiated and directed by Twin Cities' vocalist Patty Peterson, The Jazz Women All-Stars debuted at the 2016 Twin Cities Jazz Festival, opening music on the AARP Main Stage at Mears Park. With an initial cast of local (or formerly local) jazz women–Mary Louise Knutson on piano, Joan Griffith on bass, Sheila Earley on drums, Mary Petrick on saxes, Linda Peterson on both keys and vocals, and Patty Peterson and Debbie Duncan on vocals, it was a stellar set, reprised at the Dakota in fall 2016 and spring 2017, as well as a headline set at the 2017 Winter Jazz Festival, with Kathy Jensen taking over sax duties, Jendeen Forberg on drums, and Ginger Commodore adding vocals with Patty, Joan and Mary Louise.  Much of the original cast returns this Sunday night (February 11) at Crooners Lounge, with Patty Peterson and Ginger Commodore on vocals, Mary Louise Knutson on piano, Joan Griffith on bass, and Sheila Earley on drums. The band also performs at the Valleywood Golf Course Club House on Saturday night, February 10.
Launching the Jazz Women All Stars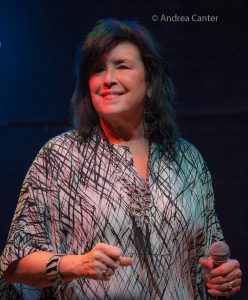 Patty Peterson had been percolating the idea of an all women's ensemble for a couple years.  "if you look at jazz festivals in general," she notes, "whether we're looking at smooth jazz festivals or straight-ahead jazz festivals, really there are virtually no women. There is an appearance by a woman here and there, not necessarily all women on the stage at once. It's important that we take command of the fact that women play such great jazz and they're such great artists that why not just feature them?" Patty sold the idea to festival director Steve Heckler, who put the Jazz Women All Stars on the AARP Main Stage to open activities on Friday. And Patty had no trouble finding "all-star" jazz women currently, or previously living and working in Minnesota.  The set was so well received, Heckler wants to make it an annual part of the festival.
But Patty wasn't going to stop there. Performing once a year at JazzFest isn't enough. "We've got some great instrumentalists. We know we have fabulous singers. We just need the opportunities to pull them together to be able to create, so people can sit in the audience and go, 'oh yeah,' and God forbid, say something like 'she plays just like a man,' like they used to say to my mom, Jeanne Arland Peterson." Patty sees the personnel as somewhat fluid depending on availability and desired instrumentation. Drummer Sheila Earley spends a good part of each year away from the Twin Cities; saxophonist Mary Petrick now resides in Arizona and may not always be able to make the trip back to Minnesota– but then we have Kathy Jensen, a veteran of the Hornheads and JazzMN Orchestra.
Fortunately there are far more women jazz artists in town than we typically see in local clubs. Many teach in high schools and colleges; many also perform in area big bands. Pippi Ardennia, area vocalist, songwriter and educator, has also organized a "Women in Jazz" project that brings together veterans like Faye Washington and Marilyn Parker with student musicians from area high schools and colleges. Women in Jazz also performed during the 2016  and 2017 Twin Cities Jazz Festivals. Another project bringing together area jazz women is the Swing Sisterhood Big Band led by Sarah Schmalenberger, which has performed several times at Jazz Central Studios.
The All Stars at Crooners
Linda Peterson spends her winters in California, but Sheila Earley is making the trip back from Arizona to handle the trapset.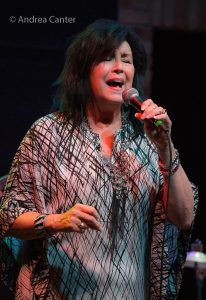 Patty Peterson has been singing in clubs, theaters, and commercials since she was a youngster. Currently she heads the Patty Peterson and Friends ensemble, performing on stages at the Dakota, Bunkers, Crooners Lounge and other venues, as well as appearing in clubs in southern California. She also hosts The Playroom, every Sunday night on KBEM radio. A 7-time winner of a Minnesota Music Award and Midwest Music Hall of Fame inductee, Patty released her fourth solo recording (The Very Thought of You) in 2013. Patty has performed often at the Twin Cities Jazz Festival and recently hosted KBEM's Minnesota Jazz Legends: The Elders.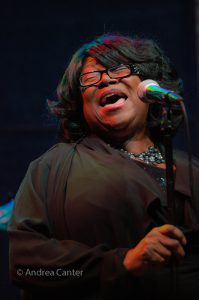 Displaying an elastic voice that seems to fit the blues as well as the ballad or pop cover, Ginger Commodore began her career as a member of the Grammy Award-winning Sounds of Blackness, remaining with the ensemble for many years. She's an original member of Women Who Cook and Moore by Four, and has performed with Yanni, The Minnesota Opera Company, the Twin City Gospel Ensemble, the J.D. Steele Singers, and with local theater productions, including Penumbra Theater, Mixed Blood Theater, Hey City Theater, Children's Theater and Chanhassan Dinner Theater. When not otherwise busy on stage, Ginger performs with her own quartet (GCQ) and with husband Bobby's BWC.
A modern mainstream pianist who honors melody without being confined by it, Lawrence Conservatory graduate Mary Louise Knutson is the pianist for the JazzMN Orchestra, tours with Doc Severinsen, and leads her acclaimed trio in the Twin Cities and beyond. Her highly acclaimed first recording, Call Me When You Get There, landed in the jazz charts "Top 50" in the U.S. and Canada for eight consecutive weeks following its debut, and her second release, In the Bubble (2011), remained on the Top 50 charts for 19 weeks. Mary Louise has won two Billboard awards for original compositions and was one of five finalists in the first Mary Lou Williams Wome in Jazz Piano Competition at Kennedy Center in 2005.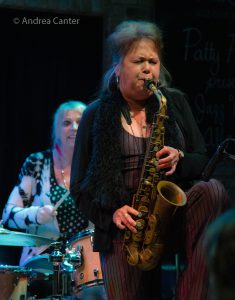 Kathy Jensen is a founding member of the Hornheads (a capella horn ensemble) which recorded nine albums with Prince and the New Power Generation. She's also provided instrumental backing for Moore by Four and is a long-standing member of the sax section of the JazzMN Orchestra (on alto and bari). Kathy can also be found in pit orchestras for touring shows and theater productions, and has performed with Aretha Franklin, James Borwn, Natalie Cole and more.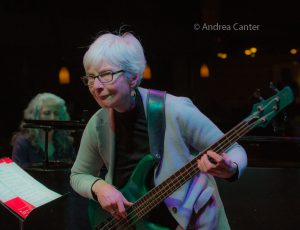 A noted teacher, composer and performer, Joan Griffith has toured and recorded as a classical and jazz guitarist, bassist, and mandolinist. Now head of the Jazz Studies Department at the University of St. Thomas, Joan is also a guitar and bass instructor at St. Catherine's University and director of the MacJazz Workshop at Macalester College. She also appears frequently with the Minnesota Orchestra as a classical mandolinist. Her recent recordings include Sambanova! with Laura Caviani and Circle of the Dance with Clea Galhano and Lucia Newell.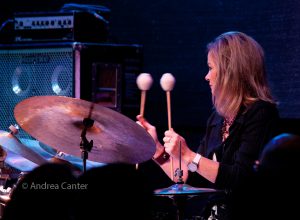 Sheila Earley is a drummer, percussionist, composer, and instructor. She earned a BA in Business Management at Bethel College, and has more than fifteen years experience as an executive recruiter in the New York City area. Sheila has performed with long list of jazz artists, including Tom Harrell, Byron Stripling, Marlena Shaw, Carol Sloane, Norman Simmons, and Virginia Mayhew, and as part of the Duke Ellington Legacy Band. Sheila has taught privately and performed primarily in the NYC area since 1999, recently relocating to Phoenix.
Such an all-star cast just happens to be filled with women, and really, it's the tip of the iceberg in terms of the talents here in the Twin Cities. Hear for yourself just how powerful a band full of jazz women can be!
Originally scheduled as two separate sets, the Jazz Women All Stars will perform two sets on one ticket at Crooners Lounge, starting at 5 pm on February 11. Reservations at www.croonersloungemn.com. Crooners is located at 6161 NE Highway 65 in Fridley, just north of I-694 and about 15 minutes north of downtown Minneapolis.