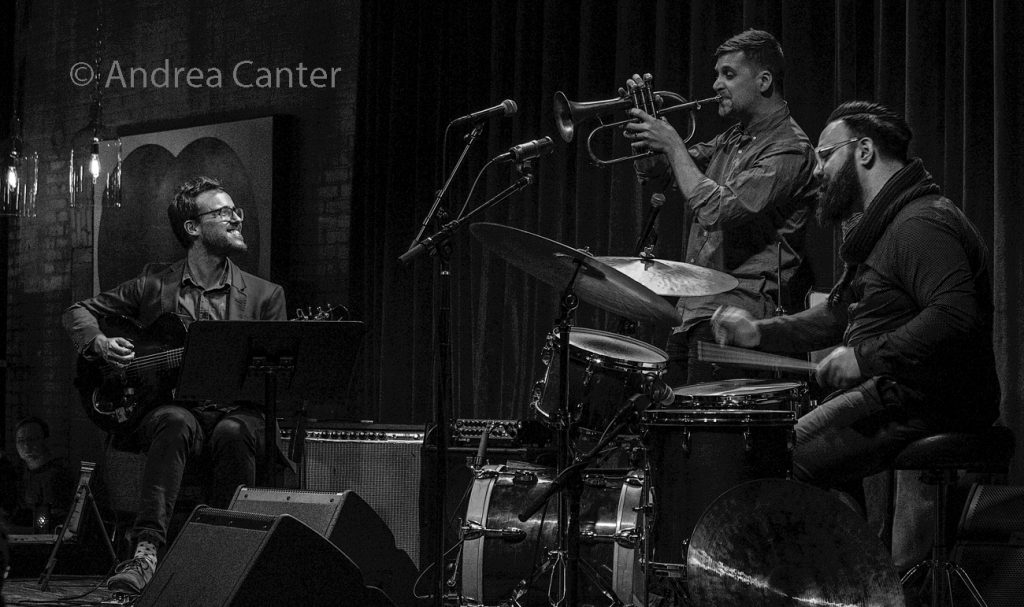 © Andrea Canter
"…there's a sense of sonic evenhandedness reflecting both the instrument's depth of character and the artist's depth of soul." –Dan Bilawsky, All About Jazz
Nearly two years ago, Twin Cities native trumpeter John Raymond was on tour with his Real Feels trio in celebration of their eponymous debut studio album. The music and the partnership (with guitarist Gilad Hekselman and drummer Colin Stranahan) was a success, and in late 2016, the trio was in town at the Icehouse in support of Live Volume 1 (Shifting Paradigms Records). Now the trio returns in support of their new studio release, Joy Ride, with an early evening gig (7:30 pm) at the Icehouse on Monday, February 12.
The Musicians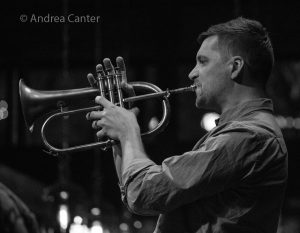 Few young musicians truly find success when they spread their wings in the Big Apple. That John Raymond found plenty of work as a sideman and leader within a few years of his graduation from the University of Wisconsin-Eau Claire is in part testimony to his artistic talent, in part to his tenacity in marketing his music. Both have served him well on the New York scene: In addition to completing his master's degree under Jon Faddis at SUNY-Purchase, Raymond has gigged regularly with his own ensembles throughout the Manhattan club circuit and on national tours; participated in the renowned Festival of New Trumpet; received the 2015 Herb Alpert Young Composer Award; released his debut album Strength and Song, and released a well-received quartet recording on Fresh Sound/New Talent, featuring the great drummer, Billy Hart (Foreign Territory, 2015).  Fortunately for Twin Cities' audiences, John returns "home" often, and on one of those visits in fall 2014, he performed at Studio Z with what he then called his Roots Trio with Hekselman and Stranahan. Shortly thereafter, the trio went into Terrarium Studios in Minneapolis to lay down the tracks that became Real Feels.  A few months later, John received the 2015 Herb Alpert Young Jazz Composers Award from ASCAP. With the first Real Feels live recording behind him and Joy Ride ready for release, Raymond decided it was time to spread his wings wider, taking the trumpet faculty position at Indiana's Jacobs School of Music.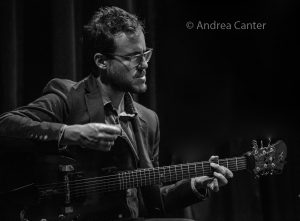 An Israeli native, guitarist Gilad Hekselman has developed a stellar reputation over his first decade in New York, winning the 2005 Gibson Montreux International Guitar Competition, releasing four recordings as leader, and sharing the stage with such notables as Chris Potter, Mark Turner, John Scofield, Anat Cohen, Ari Hoenig, Esperanza Spalding, Gretchen Parlato, Jeff 'Tain' Watts and more.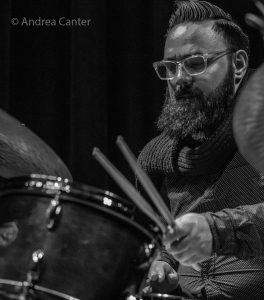 Denver native Colin Stranahan was selected as a Brubeck Fellow after high school graduation and as a participant in Betty Carter's Jazz Ahead program, and in 2012 placed third in the Thelonious Monk International Drum Competition. Notes Raymond, "Colin was someone that I played a handful of sessions with before doing some gigs together. He's got such a natural feeling for the music – amazing instincts and he's always really in-the-moment. He brings a sense of unpredictability to this band – in the best kind of way."
Real Feels
For John, Real Feels is a unique project on several levels. For the first time, John relies solely on the flugelhorn. "I've transitioned to only playing flugelhorn with the trio," he told Bebopified's Pamela Espeland. "I think it sounds great with guitar. That comes out of the Art Farmer/Jim Hall influence. Farmer is one of the only people who's known for playing mainly flugelhorn. I got a new flugelhorn, and there's something about it and just playing flugel in general that has brought out a voice in me that I didn't have playing trumpet."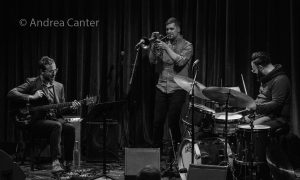 The trio instrumentation is unusual –just flugelhorn, guitar and drums, somewhat akin to the Paul Motian/Joe Lovano/Bill Frisell Trio. "The bass-less vibe is very unique," says Raymond. "Gilad is one of the only people I know that functions so effortlessly in a situation like this. In a sense I've given him all control of the harmony, comping, and different textures, and I feel that he really thrives in this setting."
Also setting this trio apart from many of its contemporaries is the music on both the first studio and live albums. Reflecting the original trio name "Roots," the setlists among the two albums connect Americana folk (Woody Guthrie's "This Land Is Your Land", the Appalachian hymn "Amazing Grace"), traditional English balladry via modern American rock ("Scarborough Fair"), and American gospel (I'll Fly Away") to classic bebop (Charlie Parker's "Donna Lee"), pop (Lennon and McCartney's "Blackbird" and McCartney's "Yesterday"), alternative rock (Thom Yorke's "Atoms for Peace) and modern jazz (Dave Holland's nod to Charles Mingus, "Blues for CM" and fellow Minnesota native Chris Morrissey's "Minor Silverstein"); John provided one original track, the opening "Thaddeus" on the studio album. This might seem to be a step back as Raymond's first two recordings provided more original material. But, he says,  "I thought, let's just scrap the whole originals thing. Let's play songs that people are familiar with, whether that's folk songs or hymns or indie rock tunes, and incorporate some standards in there, too."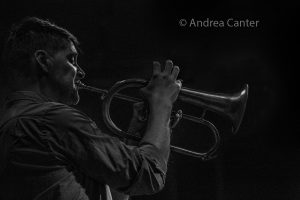 John Raymond is not concerned that much of the setlist comes from places other than jazz, noting that "the nature of the instrumentation, specifically flugelhorn and guitar, will lend a rootsy feel to things, for lack of a better word, so I'm not as concerned about squeezing the jazz out of it." And the familiarity of most of the material has allowed the musicians to make a more direct connection with the audience. "I've really sensed a different connection with audiences when playing this music with this band," says John. "It's coming from such a genuine place for all of us that I think it really connects with people in a profound way. That's precisely why I named the band Real Feels."
Joy Ride (Sunnyside, 2018)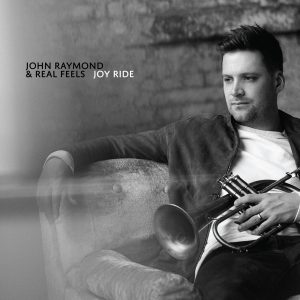 The album offers a few covers, including Paul Simon's "I'd Do It for Your Love," a rearrangement of Bon Iver's "Minnesota, WI," Peter Gabriel's "Solsbury Hill," Bob Dylan's "The Times They Are A-Changin'", and the hymn "Be Still, My Soul." The bulk of the tunes on Joy Ride are original compositions, mostly written during a self-imposed summer retreat in which Raymond spent hours each day composing. He also decided to compose at the piano, an instrument on which he is less in command, creating a natural handicap to insure the pieces would be more natural.
Real Feels is on a "joy ride" through the Midwest, and should feel right at home at the Icehouse on Monday, February 12.
The Icehouse is located at 2528 Nicollet Av South in Minneapolis; show at 7:30 pm followed by JT's Jazz Implosion at 9:30 pm. www.icehousempls.com Follow John Raymond at www.johnraymondmusic.net