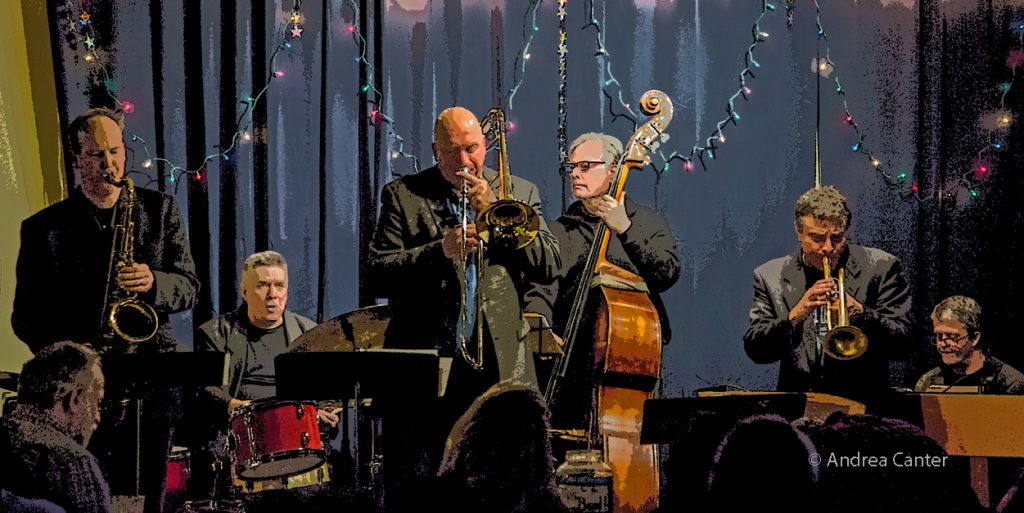 © Andrea Canter
Ed. note: The Lead Sheet is published monthly with weekly updates. The final Lead Sheet will be published around May 1. Stay tuned for announcement of a new "calendar" feature.  Updated 4/25/2018.
 We may have a slow start to spring in the Twin Cities but fortunately the warmth of jazz, from local stars like Peter Schimke, Jana Nyberg and the JazzMN Orchestra, and national/international heroes like Emmet Cohen, Tootie Heath, Francois Moutin and Abdullah Ibrahim, as well as former residents like Bruce Henry and Brian Courage, help us believe in spring. And following the numerous cancellations and reschedules brought by our April 14th blizzard, we seem to be ending the month on much warmer notes.
Big Gigs This Month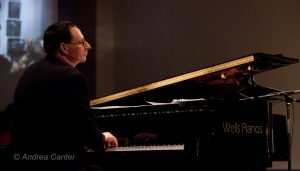 Monday, April 2. A star pianist we don't hear enough, Peter Schimke brings a stellar trio to Jazz Central–Billy Peterson on bass and Mac Santiago on drums. Tonight's installment of JT's Jazz Implosion at the Icehouse features Le Voyage, a cross-generational ensemble performing music "composed in the moment, with stories expressed through sound, spinning threads that become whole cloth…diving directly into the molten core of our humanity, aiming to break apart the thick husks that separate us from ourselves and each other." With young Matt Trice joining Donald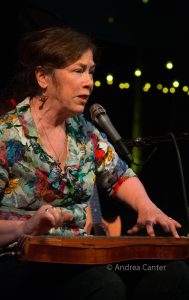 Washington on saxes, Dick Studer on bass, and Steve Hirsh on drums.
Tuesday, April 3. Hot guitars around town tonight: Sam Miltich joins Briand Morrison in duo at the Icehouse; Dean Magraw mixes it up with percussion giant Davu Seru in their monthly First Tuesday at the Black Dog. And a relatively new duo, pianist Chris Lomheim and guitarist Joel Shapira take the prime time slot at Vieux Carre'.
Wednesday, April 4. Vocalist, songwriter and storyteller Claudia Schmidt returns to the Dunsmore Room with pal, pianist Laura Caviani.  At the Dakota, a too-rare evening with vocalist Dennis Spears. And at Jazz Central, New Music night features trumpeter Noah Ophoven-Baldwin and frequent cohort, cellist Michelle Kinney.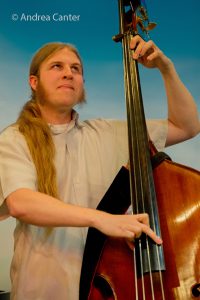 April 4-8. Bassist Brian Courage is back in town briefly and has already lined up four gigs: a quartet on 4/4 at Vieux Carre' (with Chris Thomson, Park Evans and Jay Epstein); a solo opening set before joining Pool Party at Khyber Pass on 4/5; a reunion of Courageous Endeavors (with Nelson Devereaux, Joe Strachan and Miguel Hurtado) at the Black Dog on 4/7; and a reunion of the original Mountain King bass trio with Graydon Peterson and Jeremy BoettchPicture This.er at Jazz Central on 4/8.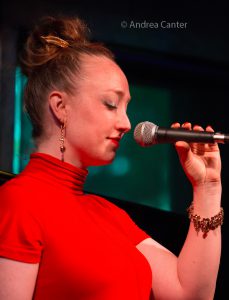 Thursday, April 5. Back in circulation after the birth of her second son, vocalist Jana Nyberg stars on Vocal Jazz Night at Jazz Central with pianist Sean Turner.
Friday, April 6. Saxophonist Donnie Norton brings his quartet to the Illicit Jazz Workshop at Jazz Central, with Zacc Harris on guitar, Chris Bates on bass and Miguel Hurtado on drums.
At his "home" base at the 318 Cafe in Excelsior, guitarist/composer Reynold Philipsek celebrates another new recording, Picture This. One of the region's most prolific musicians, Reynold is joined by usual cohorts Matt Senjem on bass and Michael Bissonnette on percussion. Free CD to the first 40 attendees. That should be all or most!
Saturday, April 7. In their season-closing concert at Hopkins High School Auditorium, JazzMN Orchestra features special guest, saxophonist Bill Evans, with local vocal royal Charmin Michelle singing a few tunes with the band.
At the Black Dog, in addition to Brian Courage and Courageous Endeavors in the headline slot, young drummer Carter Pearson starts the evening with a quartet. Carter is still in high school but his talents put him in the leader seat with fellow high school senior Bruce Acosta on guitar and the "much" older Abebi Stafford on piano and Graydon Peterson on bass.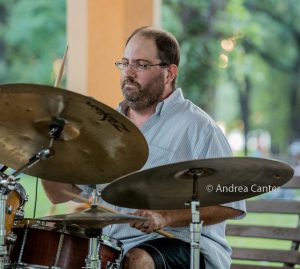 Music at the Lexington continues somewhat underground. In the Williamsburg Room tonight, catch Peter Schimke, Chris Bates and Kenny Horst! And at Boom Island Brewing, Jesse Simon's Minnesota Hard Bop Collective offers an evening of the music of Clifford Brown and Max Roach, with Dave Brattain, Jeff Rinear, Omar AbdulKarim, Ted Godbout, and Ted Olsen joining the drummer/leader.
Sunday, April 8. Feels like New York pianist Emmet Cohen is making the Twin Cities a second home! Emmet returns to town for a night in the Dunsmore Room with legendary drummer Tootie Heath and usual bass partner Russell Hall. Emmet's new release features bass titan Ron Carter, and earned a 4 1/2 star review from the May issue of Downbeat.
Monday, April 9. Trombone master Ben Link gets a night in the spotlight at Jazz Central, with fellow Young Lions Joe Strachan, Ted Olsen and Miguel Hurtado.
Tuesday, April 10. Downbeat's Best Graduate Vocalist of 2012 is now touring with the amazing bassist Francois Moutin. Kavita Shah brings her linguistic dexterity and cross-cultural repertoire to Vieux Carre', in duo with Moutin. Pianist Chris Lomheim opens the evening solol
Wednesday, April 11. Chris Bates' Red 3? The inventive bassist pares down his Red 5 ensemble to guitar (Thomas Nordlund), bass (Bates) and drums (Pete James Johnson) for "new music" night at Jazz Central, but expect the same high energy and group improv that marks the larger ensemble.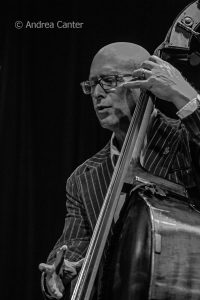 Thursday, April 12. Sublime x 2. Chris Lomheim and Gordy Johnson pair up in the Williamsburg Room at The Lexington. The Kronick Quintet renames itself the Chronic Quintet but otherwise the cast and the music remain the same, and that's funky fun. Tonight they're in the spotlight of the Mudd Room at Lucky's 13. And some fine vocal jazz is on the schedule at Jazz Central, with Sheridan Zuther on stage.
Friday, April 13. Ex-MN vocalist Bruce Henry is back, this time featured on the final Jazz in the Target Atrium (Orchestra Hall) of the season. At Jazz Central, the Illicit Jazz Workshop presents Chris Bates' Good Vibes Trio, with Dave Hagedorn providing the vibes, Phil Hey the good rhythms, and of course Bates himself in the driver's seat.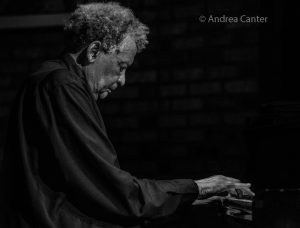 Monday, April 16. South African pianist Abdullah Ibrahim returns to the Dakota with his long-standing ensemble, Ekaya, this time paying tribute to one of his original Jazz Epistles, the late Hugh Masekela. Over at the Icehouse, Andrew Green is in town to celebrate a CD release with his Notet, Friday, April 20.followed by talented Twin Cities native drummer Emerson Hunton, visiting from Chicago with his trio. And in their first of two gigs this week, Red Planet makes their monthly appearance at the Black Dog.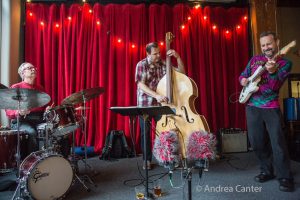 Tuesday, April 17. Red Planet has been getting out more often in the past year, with a monthly gig at the Black Dog. Tonight they take their special brand of mayhem to Vieux Carre', following some spiffy solo piano from Chris Lomheim.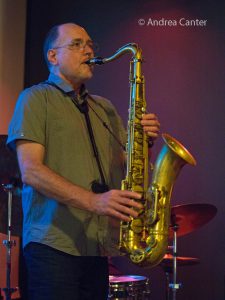 Wednesday, April 18. Pete Whitman curates "new music" monthly, and tonight he has put together a sextet with Omar AbdulKareem on trumpet, Zacc Harris on guitar, Peter Schimke on piano,  Graydon Peterson on bass and Jay Epstein on drums. Meanwhile another Louis Armstrong night with Southside Aces ups the energy at Vieux Carre'.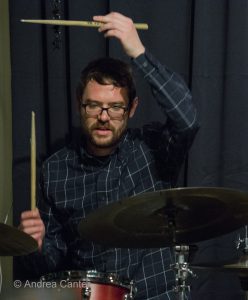 Thursday, April 19. Midwest native, New York-based saxophonist Adam Larson performs on a special instrumental Thursday night at Jazz Central with special guest, bassist Bob Bowman.
Friday, April 20. The weekly Illicit Jazz Workshop presents Cory Healey's Beautiful Sunshine Band. Maybe that will convince Spring to stick around.
Friday-Sunday, April 20-22. Who better to assemble a show highlighting the songs of Bing Crosby than our own Bing-o-phile Arne Fogel? And Arne brings along two long-time vocal partners, Maud Hixson and Jennifer Eckes, in the Black Box Theater at the Bloomington Center for the Arts.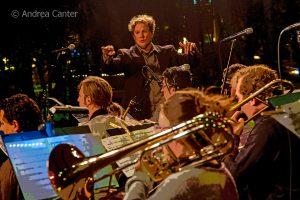 Saturday, April 21. There's a long wait between gigs but it is always worth it– the Adam Meckler Orchestra returns to Vieux Carre'.
At the Black Dog, it's all in the numbers as Amethyst Three opens for Chris Bates' Red 5, which has grown to seven. And at Boom Island Brewing, Jesse Simon's Minnesota Hard Bop Collective salutes the music of Gigi Gryce. The band includes Clay Pufahl, alto; Jeff Rinnear, trombone; Ted Godbout, piano; Tom Lewis, bass; and Simon on drums.
Saturday-Sunday, April 21-22. The Capri's Legends series closes its 10th season with the same cast that opened the series back in 2007–Artistic Director Dennis Spears, Debbie Duncan and Charmin Michelle, offering jazz, bossas, blues and ballads, with the backing of Adi Yeshaya, Tony Axtell, Daryl Boudreaux, and Kevin Washington. (Saturday night and Sunday matinee.)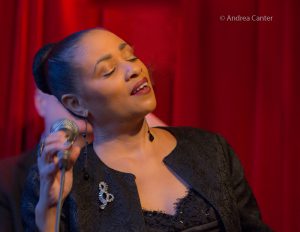 This weekend marks the 52nd annual Eau Claire Jazz Festival, with headliners Bob Mintzer and Bobby Sanabria, and a duo of New York saxophonists, Lauren Sevian and Alexa Tarantino.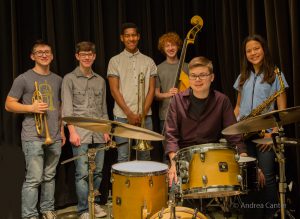 Sunday, April 22. Last Saturday, the Black Dog and most other venues were shuttered by the "spring" blizzard. Both bands are rescheduled for a rare Saturday Night Jazz at the Black Dog on Sunday! Start out the evening with the young jazz energy of the Dakota Combo, directed by Adam Linz, followed by a CD release celebration for Firebell (Park Evans, Graydon Peterson, Jay Epstein.) Note start times– 4 pm and 5:30 pm.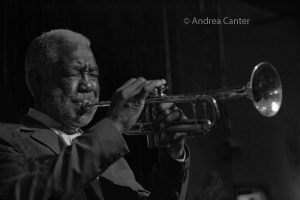 At the Minnesota History Center, KBEM presents a new installment of Minnesota Jazz Legends, hosted by Patty Peterson.  Via music and interviews, Patty celebrates a new crop of elders–Ahmed AbdulKarim (Trumpet), Reuben Ristrom (Guitar), Bob Gilbertson (Drums), and a special tribute to the late  Jimmy Bowman (Organist). These Jazz Legends will be accompanied by the Phil Aaron Trio, featuring Phil Aaron (Piano), Graydon Peterson (Bass) and Phil Hey (Drums). The performance will be recorded for later broadcast, and will be archived for on demand listening at www.jazz88.fm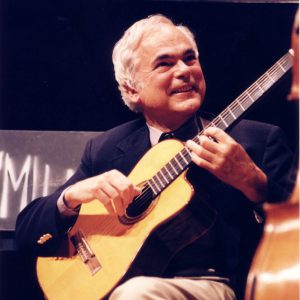 A special afternoon delight in the Dunsmore Room– guitarist Gene Bertoncini  ("the Segovia of Jazz") performs solo and in duo with our local bass hero, Gordy Johnson. Gordy has this to say:  "Gene is widely considered one of the greatest guitarists of all time.  He has a way of mixing classical guitar & jazz guitar in an amazing mix for his brilliant arrangements… Gene was in the early Tonight Show band when it was coming from NYC.  He has also performed and recorded with numerous jazz greats such as Benny Goodman, Buddy Rich, Wayne Shorter, Hubert Laws, plus vocalists Tony Bennett, Lena Horne, Nancy Wilson, well… the list goes on.  He is truly one of a kind, and this is a rare opportunity for folks in the Twin Cities to see and hear this astonishing artist!"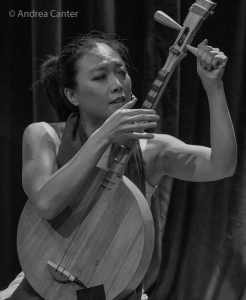 Monday, April 23. Multi-instrumentalist/vocalist/composer Jen Shyu returns for a solo show at the Icehouse, followed by some mischief from JT Bates.
In Lowertown, the space formerly known as Bedlam is now Hygga, site for another Jazz Fest Bingo night, raising funds for the Twin Cities Jazz Festival.
And at Jazz Central, cellist/bassist Greg Byers returns with his Byerself project, launching a Midwest tour tonight with Javi Santiago on keys and LA Buckner on drums. His new music ranges from jazz fusion to singer-songwriter.
Tuesday, April 24. One of the hottest ensembles in jazz today, the John Scofield-Joe Lovano Quartet performs at the Hopkins Center for the Arts, featuring bassist Ben Street and drummer Bill Stewart.
Wednesday, April 25. Holding the piano chair for Christian McBride's Trio, Christian Sands strikes out on his own, stopping at Vieux Carre' for one night.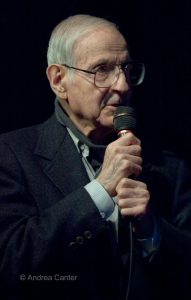 The Black Dog hosts a fundraiser for the Leigh Kamman Legacy Project–preserving the recordings of The Jazz Image as well as other interviews and educational materials.  Locally Damaging Winds, featuring Pete Enblom, Dave Graf, Brad Bellows and Wade Clark with rhythm section, will be re-uniting for  a set after the opening act by the Larry McDonough Quartet featuring the music of Bill Evans.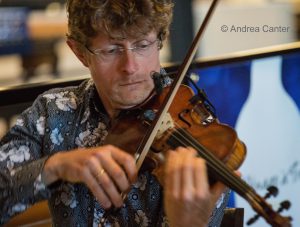 Thursday, April 26. Gypsy jazz/classical violinist Tim Kliphuis was heard at the Twin Cities Jazz Festival a couple years back, in duo with Sam Miltich. Tonight he joins forces with Chicago guitar guru, Alfonso Ponticelli at Vieux Carre'.
At Jazz Central, vocalist Vicky Mountain brings friends David Martin (guitar) and Jim Chenoweth (bass) to the weekly Vocal Jazz session at Jazz Central.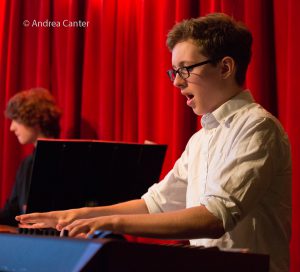 Friday, April 27. There's No Room For Squares at Jazz Central tonight as the Illicit Jazz Workshop presents this ensemble of veterans–Bill Steiger on drums, Omar AbdulKareem on trumpet, Jimmie Wallace on sax, Adam Tucker on bass, and Dale Alexander on keys. Then stick around for the Emerging Masters' series and a band of the best in Twin Cities youth jazz– the August McKinney Quintet–16-year-old August on piano with teen cohorts Sophia Kickhofel on alto, Bruce Acosta on guitar, Jorgen Linne on bass, and Carter Pearson on drums.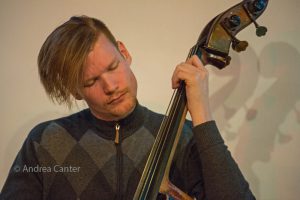 Saturday, April 28. Chronic Icecream? Might win band name of the year! Opening on the Saturday Night Jazz at the Black Dog series, this relatively new ensemble includes current and former collegian stars making their way on the Twin Cities jazz scene. In the headline slot, the Graydon Peterson Quartet takes over, featuring the bassist/leader with pals Adam Meckler on trumpet, Joe Strachan on piano, and Adrian Suarez on drums.
At Jazz Central, the "Jazz From the Americas and Beyond" series features Brazilian music specialist Robert Everest and his Expedition, certainly qualifying as "from the Americas and Beyond."
Sunday, April 29. Andrew Walesch celebrates 100 years of Sinatra as well as his own 30 years with his big band in the newly expanded lounge at Crooners. And it's the semi-annual intsallment of Soul Cafe' at the Hennepin Avenue United Methodist Church where Steve Blons and company pair jazz and poetry.
Monday, April 30. Two young lions were barely cubs when they started playing around the Twin Cities a more than a decade ago. Now pianist Javi Santiago and guitarist Chris Graham join forces at Jazz Central. On the Jazz Implosion series at the Icehouse, multiple bands come together to support one of the most talented artists displaced by the closing of McNally Smith, bassist Jax Ravel.  It's also Jax's birthday. In addition to Jax's own "Gang", we'll hear from the Graydon Peterson Quartet, Yohannes Tona Band, and Steven Hobert Group.
Coming Soon!
. April 26, Le Voyage at Khyber Pass
. April 26, Vicky Mountain and Friends at Jazz Central
. April 27, No Room for Squares/August McKinney at Jazz Central
. Apri 27-28, Pete Snell Trio at Cov-Edina
. April 28, Chronic Icecream/Graydon Peterson Quartet at the Black Dog
. April 28, Jazz From the Americas and Beyond featuring the Robert Everest Expedition at Jazz Central
. April 29, Nick Syman's Northing at Cadenza Music Studio 20
. April 29, Andrew Walesch Big Band, 100 Years of Sinatra at Crooners Lounge
. April 29, Soul Cafe' in the Gallery, Hennepin Avenue Methodist Church
. April 30, Pops and Jazz Ensembles Concert (directed by Pete Hennig), Mairs Concert Hall, Janet Wallace Fine Arts Center, Macalester College
. April 30, Chris Graham and Javi Santiago at Jazz Central
. April 30, David Lindley at the Dakota
. April 30, Friends of Jax Ravel (fundraiser) at the Icehouse
. May 1, Ted Godbout/Katia Cardenas at Vieux Carre'
. May 1, Dean Magraw and Davu Seru at the Black Dog
. May 1, Bill Simenson Orchestra at Jazz Central
. May 2, Corky Siegel and Howard Levy at the Dakota
. May 2, Jon Snell and Commons Collective at Jazz Central
. May 2, Connie Evingson with Mary Louise Knutson and Dave Karr, Jazz in the Lounge at Minneapolis Woman's Club
. May 2, Zacc Harris' American Reverie at Vieux Carre'
. May 3, Keiko Matsui at the Dakota
. May 4, Dean Sorenson Sextet at Jazz Central
. May 4, Tim Sparks and James Buckley at the Icehouse
. May 4, Paul Renz at Vieux Carre'
. May 4, Louise Barranger at the Black Dog
. May 4-5, Pete Snell Trio, Cov-Edina
. May 5, Dean Granros at the Icehouse
. May 5, Trio Carol/Peter Kogan Quintet at the Black Dog
. May 5, Jon Batiste Solo at the Varsity Theater
. May 6, Larry McDonough Quartet (Bill Evans Live at the Village Vanguard) at the Aster Cafe'
. May 6-7, Nellie McKay at the Dakota
. May 7, Thomas Nordlund Quartet CD Release at the Icehouse
. May 8, Chris Olson Project at the Black Dog
. May 8, Jonathan Kreisberg in the Dunsmore Room at Crooners Lounge
. May 8, Chris Lomheim/Travis Anderson Trio at Vieux Carre'
. May 11, Nathan Hanson's Five Times Golden at Jazz Central
. May 11. Bryan Nichols and James Buckley at the Icehouse
. May 12, Walker West Music Academy Anniversary and Exterior Redesign Celebration at Walker West
. May 12, Minnesota Hard Bop Collective, Piano Month: Phil Aaron and Graydon Peterson at Boom Island Brewing
. May 12, Paul Harper Chordless Quartet/ Atlantis Quartet at the Black Dog
. May 12, Dave Hagedorn at the Icehouse
. May 13, Schmid/Wagner/Epstein at the Black Dog
. May 13, Charanga Tropical at the Icehouse (3 pm)
. May 14, Arturo Sandoval at the Dakota
. May 15, Lynne Arriale Trio in the Dunsmore Room at Crooners Lounge
. May 15-16, Terence Blanchard E-Collective at the Dakota
. May 16, John Raymond's Real Feels at Vieux Carre'
. May 18, Jason Moran and Bandwagon at the Walker Art Center
. May 18, Triocracy at Jazz Central
. May 19, Constellation Band/No Territory Band at the Black Dog
. May 19-20, Freddy Cole in the Dunsmore Room at Crooners Lounge
. May 21, Billy Martin/Billy Martin + Martin Dosh at the Icehouse
. May 22, Maud Hixson and the Wolverines in the Dunsmore Room at Crooners Lounge
. May 25, AMP Trio at Jazz Central
. May 25, Tim Sparks and James Buckley at the Icehouse
. May 26, Minnesota Hard Bop Collective, Piano Month: Jordan Anderson and Tom Lewis at Boom Island Brewing
. May 26, Bruce Acosta Quartet/Inatnas Orchestra at the Black Dog
. May 26, Neighborhood Trio at the Icehouse
. May 27, David Roos at the Icehouse
. May 31-June 1, Vijay Iyer and Teju Cole at the Walker Art Center
. June 12, Diana Krall at Ordway
. June 12, Go-Go Penguin at the Dakota
. June 13-16, Bobby McFerrin at the Dakota
. June 18, Broken Shadows (Tim Berne, Reid Anderson, Dave King) at the Icehouse
. June 22-23, Twin Cities Jazz Festival (Dee Dee Bridgewater, Houston Person, Tia Fuller, more!) at Mears Park
. June 28, Vinicius Cantauria at the Dakota
. June 29-July 1, Iowa City Jazz Festival (Joshua Redman, Matt Wilson, Jane Ira Bloom, Steve Kenny's Group 47, more) at the Pentacrest, Iowa City
. July 24, John Pizzarelli at the Dakota
. October 24, Karrin Allyson at the Dakota