Two of the most popular performers in jazz today, Grammy-winning vocalist Dee Dee Bridgewater and acclaimed trumpeter and former Artistic Director for Jazz at Minnesota Orchestra Hall, Irvin Mayfield, teamed up on the album Dee Dee's Feathers in 2015. This salute to New Orleans is the centerpiece of their current tour, which arrives at the Dakota in downtown Minneapolis on March 13-14, with the New Orleans 7. Both artists have performed multiple times in the Twin Cities in the past decade, at the Dakota and Orchestra Hall.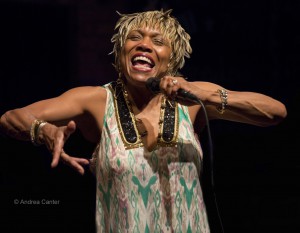 Dee Dee Bridgewater
Winner of Broadway's Tony Award, France's Victoire de la Musiqe, three Grammy Awards, and a nomination for London's coveted Laurence Olivier Award, as well as host of the award-winning NPR series, Jazz Set, vocalist Dee Dee Bridgewater defines the word "entertainer." Born Denise "Dee Dee" Garrett in Memphis, she moved to Flint, Michigan as a young child.  Surrounded by music, her first source of inspiration was the voice of Ella Fitzgerald, which she heard on her mother's recordings. Her father was a trumpeter and teacher who counted Booker Little, Charles Lloyd, and George Coleman among his students. Dee Dee was singing in a rock and R&B trio as a teenager, and toured the Soviet Union with the University of Illinois Big Band in 1969.  In New York a year later with then-husband, trumpeter Cecil Bridgewater, she debuted with the Mel Lewis/Thad Jones Orchestra. Soon she was performing and/or recording with such luminaries as Sonny Rollins, Dizzy Gillespie, Dexter Gordon, Max Roach, Roland Kirk, Stanley Clarke, and Frank Foster's "Loud Minority."
Despite her success, Dee Dee sought new opportunities to expand her artistry, and in the mid 70s brought her voice to the Broadway stage, winning the Tony Award for her role as Glinda the Good Witch in The Wiz. From Broadway she went on to Tokyo, Los Angeles, Paris, and London, where she won the coveted Laurence Olivier Award nomination as Best Actress for her role as Billie Holiday in Stephen Stahl's Lady Day.  She subsequently performed in stagings of Sophisticated Ladies, Cosmopolitan Greetings, Black Ballad, and Carmen Jones, and was the first African American to portray Sally Bowles in the Paris production of Cabaret.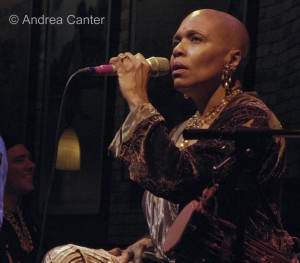 Bridgewater turned to pop for a while in the 80s, but after moving to Paris, found herself pulled back into jazz. As a performer and producer for Verve, she released a series of acclaimed recordings, beginning with Keeping Tradition in 1993 and a tribute to Horace Silver, Love and Peace (1994). Most of her albums have received Grammy nominations, including her much heralded 1997 double Grammy-winning tribute to her early muse, Dear Ella. In 2003, she released a critically acclaimed tribute to Kurt Weill, This is New. In 2005, Dee Dee released her 16th recording, the Grammy-nominated J'ai Deux Amours, a passionate cycle of French love songs. A visit to her ancestors' homeland in Mali lead to her 2007 project and international tour, Red Earth, featuring Bridgewater's outstanding trio–pianist Edsel Gomez, bassist Ira Coleman and drummer Manino Garay, with seven amazing musicians from Mali singing and/or playing traditional Malian instruments; again, she received a Grammy nomination for Best Jazz Vocal Album. Wrote John Walters in The Guardian, "Red Earth is neither fusion nor compromise but a happy meeting of African musicianship and Afro-American romanticism."
Dee Dee released her third Grammy winner, Eleanora Fagan: To Billie With Love, in 2010, supported by a dream band of Edsel Gomez, Christian McBride, Lewis Nash and fellow Detroit native James Carter. By 2011, it was time for a retrospective, Midnight Sun, a collection of the love songs Dee Dee had recorded throughout her career. Her latest release, Dee Dee's Feathers (Okeh, 2015), pairs her with Irvin Mayfield and his New Orleans Jazz Orchestra, for what critic Dan Bilawsky (All About Jazz) describes as "a fine-tuned program that travels from swanky supper club environs to swampy down-home dives to the rhythmic heart of the city—Congo Square. And in the act of balancing all of that out, Bridgewater and Mayfield manage to bring out the best qualities in this music—spunk, soul, polish, passion, and joie de vivre… Dee Dee's Feather's is simply delightful, capable of tickling a listener's fancy as only music from The Big Easy can do. "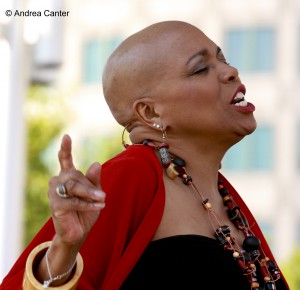 Beyond her roles as performer and producer, Dee Dee Bridgewater has taken on other challenges. Since 1999, she has served as Ambassador to the United Nation's Food and Agriculture Organization (FAO) as part of the battle against world hunger. Her efforts as Ambassador were recognized when she became the first American member of the "Haut Conseil de la Francophonie," an organization which recognizes individuals on a global level who have made significant contributions to French culture and society.  As a "jazz ambassador," Dee Dee took over as host of NPR's award-winning Jazz Set in 2001, replacing Branford Marsalis, and continues in this role today, introducing listeners to the best jazz artists in live performances around the world.
With a voice shaded by Nancy Wilson, Nina Simone, and Tina Turner, as well as Ella, Dee Dee Bridgewater is the penultimate jazz singer, whether scatting or singing it straight on. "Jazz is my soul, my roots—it's me."
Irvin Mayfield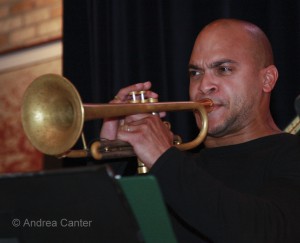 Irvin Mayfield was born and raised in New Orleans, where he had his first opportunities to play jazz with the Algiers Brass Band. At about age 14, he started to get serious about music, playing with school bands that took him around the world on tours. In addition to formal music education in school, much of his growth was due to his interactions with older musicians on the city scene and listening to the great trumpeters, from Louis Armstrong and Miles Davis, to Clifford Brown, Freddie Hubbard, Dizzy Gillespie, and Booker Little. He also cites the influences of Charles Mingus and Phineas Newborn, and contemporary masters, mentor Wynton Marsalis, Terrence Blanchard, Nicholas Payton, and Brad Mehldau.
For many years, Mayfield was the driving force behind Los Hombres Calientes, an ensemble he co-founded with percussionist Bill Summers in 1998. Along with drummer Jason Marsalis, Los Hombres sought to bring to life their vision of a New Orleans-based, Latin jazz ensemble, a band that would play "caliente" (hot), exploring African and Afro-based rhythms (what Summers calls "African classical music"), fused with acoustic modern jazz.  From the heart of New Orleans, Los Hombres meshed the street rhythms of Congo Square with montuno and clavé. They received Billboard's Latin Music Award for Contemporary Latin Jazz Album of the Year in 2000, and were named by Down Beat as "Talent Deserving Wider Recognition." A reconstituted band, Los Hombres C, continues today under Summers' leadership.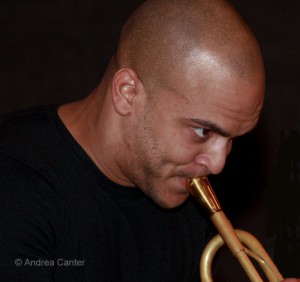 Mayfield was named the International Cultural Ambassador for the city of New Orleans and the state of Louisiana to promote cultural exchange with communities around the world. One of his special projects was the recording of his first commission, the Half Past Autumn Suite with St. Paul native Gordon Parks, a pianist better known as a photographer and filmmaker, whose images inspired Mayfield's compositions. "During my collaboration with Gordon Parks, I learned to love St. Paul even more through his eyes." During his tenure as Artistic Director for Jazz at Orchestra Hall (2009-15), the Minnesota Orchestra commissioned and/or premiered several of Mayfield's original works. Mayfield has released over 25 albums. In addition to Dee Dee's Feathers, recent releases include A Love Letter to New Orleans (2011), Creole Christmas (2014), and New Orleans Jazz Playhouse (2015).
Despite his heavy performance schedule with his quintet and his New Orleans Jazz Orchestra, Irvin Mayfield serves as the Executive Director and founder of Dillard University's Institute of Jazz Culture and owner of the New Orleans club, Irvin Mayfield's Jazz Playhouse. He served on the National Council of the Arts (2010-2014) and is currently Artistic Director for New York's Apollo Theater.
The Dakota is located at 1010 Nicollet Mall in downtown Minneapolis; www.dakotacooks.com. Shows at 7 and 9 pm, March 13 and 14; reservations strongly recommended online or at 612-332-5299