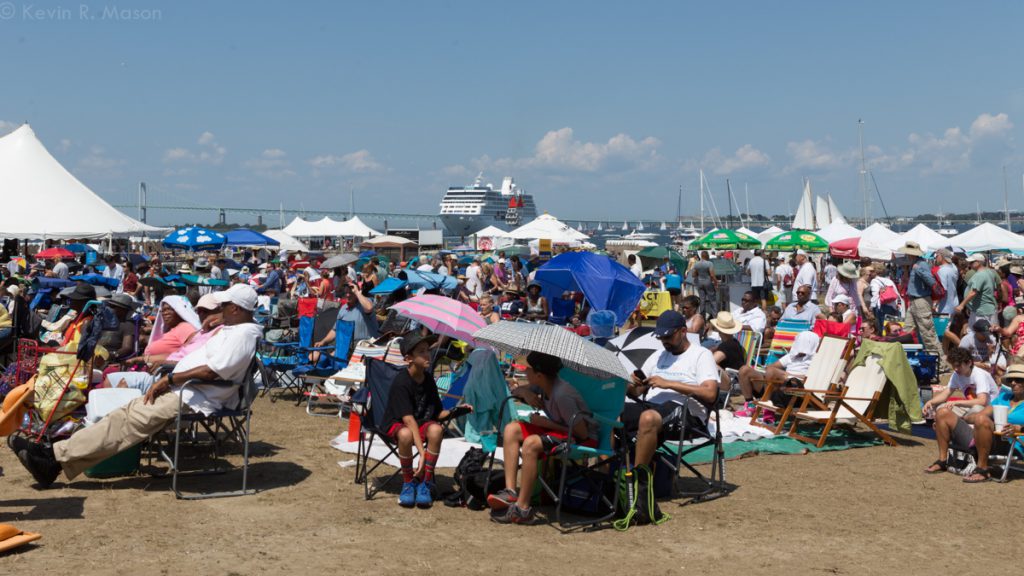 Although summer is becoming a memory, some of the best memories of the season came from the 2018 Newport Jazz Festival, Presented by Natixis Investment Managers. Established in 1954 by jazz impresario George Wein (along with by socialites Elaine and Louis Lorillard), Newport Jazz Festival (NJF) has been the site of many iconic recordings, as well as the subject of the 1960 documentary film, Jazz on a Summer's Day. Over the years, a veritable Who's Who of top jazz performers have appeared at the Festival, as well as many rising stars. This year was no exception, with a stellar line-up of established stars and up-and-coming musicians. The 2018 NJF took place August 3-5 at Fort Adams State Park and the International Tennis Hall of Fame.
Friday, August 3
Berklee Global Jazz Workshop Ensembles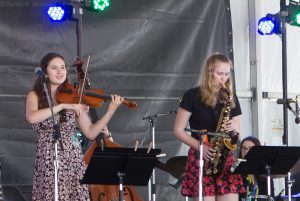 Forty-five students from across the world received full scholarships provided by The Newport Festivals Foundation and the Joyce and George Wein Foundation. Additional support came from the Mary Hailer Scholarship Fund established by John and Maureen Hailer. The scholarship recipients were mentored this summer at The Berklee Global Jazz Institute Workshop at the Newport Jazz Festival, which gave young vocalists and instrumentalists a five-day intensive jazz program taught by a world-renowned faculty under the artistic direction of Grammy Award-winning pianist and composer Danilo Pérez and Managing Director Marco Pignataro. The program was held at Salve Regina University, which featured master classes in improvisation, theory, performance, harmonic analysis, and instrumental instruction. Ensembles rehearsed in the afternoons, while evening jam sessions and open mics gave students opportunities to collaborate and put new skills into practice. The culmination of this week was the opportunity to perform on the Newport Jazz Festival stage. Several combos with color-themed names played, including the Green Ensemble, who played a beautiful, "I'll Be Seeing You." The Purple Ensemble did a wonderful Wayne Shorter medley that included "Juju," and the Blue Ensemble played "Salt Peanuts." These young musicians were very talented and accomplished, and they really showed off the lessons they learned at The Berklee Global Jazz Workshop. The concert was a great beginning to the 2018 NJF.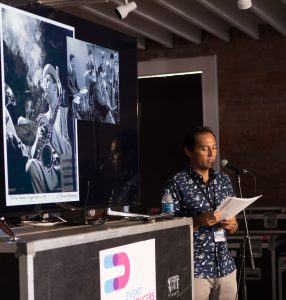 Lensing the Newport Mob: On Jazz on a Summer's Day – A Talk by Nate Chinen
At the Storyville venue, noted jazz critic Nate Chinen gave a lecture about the film, Jazz on a Summer's Day, which was filmed at the 1958 NJF by directors Bert Stern and Aram Avakian, and released in 1960. Nate discussed the reception of the film, the filmmakers' processes, which artists were included, and which were not, possibly due to artist management, permission, and clearance issues. Chinen also discussed the social and racial conditions of the time. George Wein attended the talk, and he said that the film did a lot for the Festival. Wein praised Nate for all the work he puts into his projects and for collaborating with him on his own autobiography Myself Among Others: A Life in Music.  Nate Chinen talked about his new book, Playing Changes, Jazz for the New Century. It was an informative and illuminating talk.
The Diva Jazz Orchestra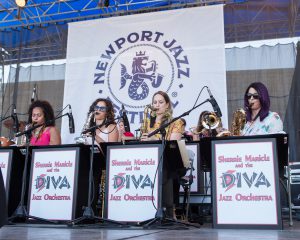 In this, their 25th year of existence, the Diva Jazz Orchestra made their debut at the NJF. This all-female group has a wonderfully rich big-band sound, and they played several original compositions, including "Jami's Tune," which was inspired by their tour manager. The set also included "Seesaw," "East Coast Andy," "Quarter Past the Last Minute," and "The Rhythm Change." Headed by drummer Sherrie Maricle, the Diva Jazz Orchestra has backed singer/tap dancer Maurice Hines in the hit show Tappin Thru Life, and the group has performed all over the world. They were a big hit with the audience at NJF.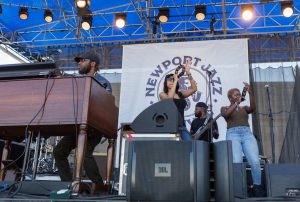 Cory Henry & The Funk Apostles
Cory Henry & The Funk Apostles really lived up to their name with a funk-infused jazz set that had people at the crowded Fort Stage on their feet. This high-energy show, and the enthusiasm that Cory Henry and his group displayed on stage, were a winning combination. The set included "Stayin' Alive," "Love Will Find the Way," "Somebody Help Me Please," "In the Water," and "Trade it All."
BadBadNotGood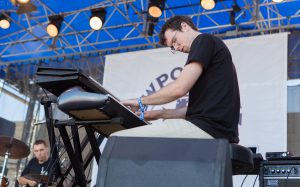 Ever since the talented Toronto quartet of keyboardist Matthew Tavares, bassist Chester Hansen, drummer Alex Sowinski, and saxophonist Leland Whitty met at Humber College's Music Performance Program in 2011, the group BadBadNotGood has been on a critically acclaimed musical journey. Their NJF set went from introspective ballads, to bluesy, to surreal, to up-tempo, in a genre-bending high-quality show. Their songs included "Speaking Gently," "Triangle," "Lavender," and "Cashmere."
Still Dreaming with Joshua Redman, Ron Miles, Scott Colley, and Brian Blade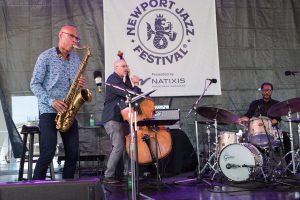 Still Dreaming had saxophonist Joshua Redman, trumpeter/cornetist Ron Miles, bassist Scott Colley, and drummer Brian Blade sharing the stage. Joshua welcomed the audience and called NJF "One of the greatest jazz festivals in the world." Their first-rate, powerful set was filled with fabulous solos as well as great group collaborations, the solemn and the joyful. They started with "The Rest" and "New Year." Redman got a big laugh from the crowd when he said this gig at 5:05 pm was early, because he had been touring in Europe, where most of the gigs started around 11:00 pm. So, he thanked everyone for coming to this "brunch" show, "Even though I feel like I'm just waking up!" They played "Walls-Bridges" by Joshua's father, saxophonist Dewey Redman. Joshua said, "It seems to me that these days, we have a choice between building more walls, and building more bridges. I'll opt for more bridges any day," which earned him a big cheer from the audience. The show continued with "Haze and Aspirations" and "Unanimity." On the final song of the set, Redman did an extended solo that was just sublime! The group really came to play, and play they did, garnering a much-deserved standing ovation at the end.
Pat Metheny with Antonio Sánchez, Linda May Han Oh, & Gwilym Simcock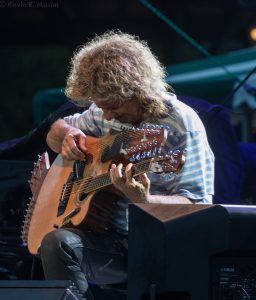 Is there anything better than great music outdoors on a perfect summer evening? Not much comes to mind, and on Friday evening at the International Tennis Hall of Fame, the music continued in a big way with famed guitarist Pat Metheny. Pat started the show with some really stunning solo Pikasso Guitar work, then he was joined by an international group of talented musicians: Mexican-American drummer Antonio Sánchez, Australian bassist Linda May Han Oh, and British pianist Gwilym Simcock. Metheny didn't talk much during the show, instead delighting fans with the group's virtuosic jazz infused improvisations, letting the music speak volumes.  He did take time to introduce the band, and quipped that they would play until they were told to stop, since some of their gigs have lasted for as long as four hours!  For an encore after a lengthy standing ovation, Metheny did an exquisite extended solo. This set was filled with musical magic for the enthralled audience.
Lean on Me: José James Celebrates Bill Withers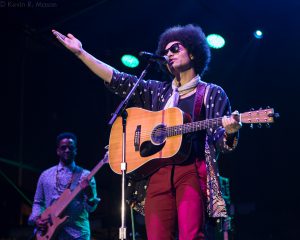 For the second half of the show, singer José James did a concert in tribute to the legendary Bill Withers. With keyboardist Takeshi Ohbayashi, Brad Allen Williams on guitar, Nate Smith on drums, and Ben Williams on bass, Jose began with "Ain't No Sunshine." José told the audience that he was so honored to have shared the same stage as Pat Metheny, and he also appreciated the chance to play with this band. The set included Withers' fabled hits "Grandma's Hands," "Who Is He (And What Is He to You)," "Lean On Me," and "Just the Two of Us." José really put his own stamp on the songs, and truly did Bill Withers justice. James gave a shout-out to Mr. Withers, who is 80 years old this year. A beautiful rendition of "A Lovely Day" was an appropriate closing song, because it was a lovely set.
Saturday, August 4
Roy Hargrove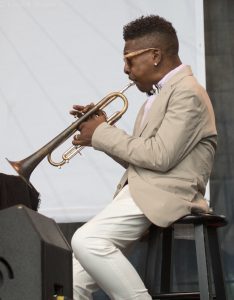 Christian McBride introduced trumpeter Roy Hargrove with high praise, adding that the two of them go way back together, all the way to when they were in high school. In addition to killing it on his smooth trumpet, Roy also sang quite well, in a mellow voice, on "The Top of My Head." The set included "You're My Everything," Divine Spirit," and "The Poet." In spite of the fact that the weather took a big turn for the worst, the music was on point, with superb solos. People really enjoyed this show, regardless of the rain, at the start of the second day of NJF.
Grace Kelly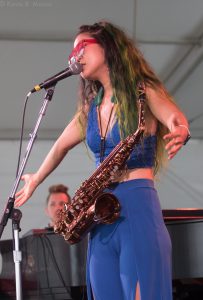 Saxophonist/singer/composer Grace Kelly started her set with "Unchain My Heart," and encouraged people to come into the Quad Stage tent to get out of the rain. She paid tribute to Duke Ellington with "It Don't Mean a Thing (If It Ain't Got That Swing)." She not only played some hot saxophone licks, but she also sang in a voice that soared. At the end of the song, she gave a shout-out to several people who have "that swing," including George Wein, Christian McBride, José James, and Robert Glasper. Kelly also said, "I'm so inspired by female artists," and wrote a song called "Wonder Woman" in honor of all the women musicians who she admired. "Trying to Figure It Out" was an emotional, bluesy number, followed by a revved-up rendition of the Rolling Stones' song "Miss You." Kelly said that although she loves happy music, when she was writing music for her CD Trying to Figure It Out, it was also important to her to write some songs about sadness. She pictured a man steeped in sorrow, standing by the grave of someone he had deeply loved, and she composed "By the Grave." It was a moving, mournful song. In a complete change of pace, "Feels Like Home" was written about her boyfriend, when they first met, and all the joyous emotions she feels about him. "Lemonade" was a song in tribute to Jon Batiste, and she thinks it embodies all of Jon's joie de vivre. During the song, Grace came out into the audience and played, while several people with blow-up balloon saxophones marched with her. It was a fitting honor to Batiste, who often goes out into the audience during his own concerts. The show ended with a super-jazzy version of Michael Jackson's "Billie Jean." Some technical glitches that sounded like thunder added to the excitement of Grace Kelly's incendiary performance.
 Jon Batiste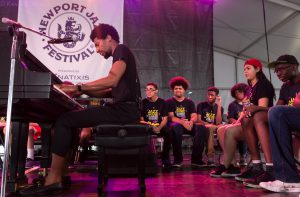 Pianist/bandleader Jon Batiste started his piano solo set with a glorious interpretation of "Amen" with a lot of audience participation. Jon was surrounded on stage by dozens of Jazz House Kids he has mentored, and the students got to enjoy the concert as close as possible. Batiste next performed a lovely version of "The Star Spangled Banner" that sent chills and ended in a ragtime coda! He said he was going to take the crowd on a musical journey through his life, and he talked about working on music with T Bone Burnett. He did a singularly breathtaking bit of impromptu Chopin, with some blues accents, and he said, "Where it goes, nobody knows." On "St. James Infirmary," he put so much soul and passion into the song that someone called out from the crowd, "That's all right, now!" "Kenner Boogie" was in homage to Batiste's hometown, New Orleans, and all the great boogie-woogie players who came from there. On "What a Wonderful World," Jon encouraged the audience to close their eyes, because when he recorded it, it was like a meditation. "'Round Midnight" was a reminder of how powerful a single instrument can be, and he talked about when he discovered Thelonious Monk, and became obsessed with his music. He also discussed jazz in general, saying, "Everybody is valid. Everyone has something unique to say, and that's what's beautiful about jazz." He praised George Wein, emphasizing how much Wein has always encouraged him. The show finished with "Don't Stop," a minor-key song that had Batiste singing and playing his heart out!
Andra Day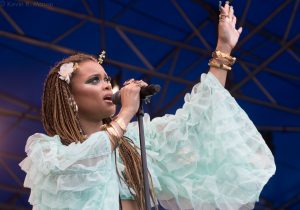 Vocalist Andra Day thanked the crowd for hanging out through the rain. Her band included vocalist Kyra Dacosta, guitarist Dave Wood, bassist Nando Raio, and keyboardist/vocalist Charles Jones. Andra discussed Nina Simone, and having the privilege of singing in the documentary, "What Happened Miss Simone?" Day's impassioned rendition of "Mississippi Goddam" showed the song to be just as relevant today as it was when Nina first wrote it in 1964, in protest after the Alabama church bombing that killed four little girls. Introducing "Rearview," Andra said that she often writes about life lessons she has learned. Day stepped back from the spotlight to allow singer/pianist Charles Jones to sing lead on one of his own compositions, "Where Would I Be Without You." It was an up-tempo pleasure where Jones more than lived up to the praise Andra heaped on him. Day returned to the mic and expressed appreciation for the audience, and sang "Rise Up," to encourage everyone who might be feeling downhearted. Movingly, while she was singing this song, the sun came out for the first time that day! She spoke about Bryan Stevenson, a civil rights attorney with whom she has collaborated on some projects. Billie Holiday's "Strange Fruit" was a part of one of those projects, and Andra's performance of the song at NJF was heart wrenching. The last song of the set was "I Want It All," which she delivered with conviction. Day's show was a potent mixture of personal songs and protest numbers, and it was very powerful. Although she had to cancel her appearance at NJF in 2017 due to illness, she was in top form this year, and it was worth the wait!
Festival Gala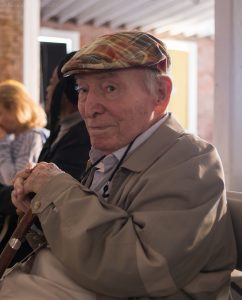 More than 360 jazz fans from around the world turned out to celebrate at Newport Festivals Foundation's Eighth Annual Gala, which was held at "The Elms" mansion on Saturday evening. The elegant dinner event raised more than $660,000. There were special musical performances by pianist Jon Batiste, vocalist Jazzmeia Horn and a special duo by guitarist Pat Metheny and Jazz Festival Artistic Director and bassist Christian McBride.
"Thanks to a committed board of directors who love and respect the Newport Jazz and Folk festivals as much as I do, I am confident that my legacy will live on," said George Wein, co-founder of the Festivals and Chairman of the Board of Newport Festivals Foundation, which Wein established as a non-profit in 2010.  "Under the direction of Executive Producer Jay Sweet and Jazz Artistic Director Christian McBride, our dedicated team puts together two festivals that remain at the forefront of live music events."
The expenses of the Gala were totally underwritten by Newport Festivals Foundation's Board of Directors, making it possible for every dollar contributed to go directly to support the mission of the Foundation. That mission includes continuing the legacy of the iconic festivals and supporting the Foundation's music education initiatives, which include traveling ensemble performances, scholarships, instrument donations, and after-school programs. The Foundation also provides student bands with invaluable opportunities to perform at the Festivals.
Foundation Board Member Bill Vareika, and his wife Alison, owners of William Vareika Fine Arts, Ltd. in Newport, headed up the Gala Committee. The honorary committee included Governor Gina Raimondo; Jane Gerety, RSM; Senator Jack Reed; Senator Sheldon Whitehouse; Congressman Jim Langevin; and Congressman David Cicilline.
"Alison and I are honored to have led the Gala Committee as co-chairs, and we are grateful that so many area residents turned out to support the Foundation and these world-renowned festivals," said Bill Vareika. "More than one third of the tables were purchased by Newport residents, and it gives us great joy that our neighbors have claimed a stake in these great historic hometown events."
Sunday, August 5
Helen Sung on Tap with Michela Marino Lerman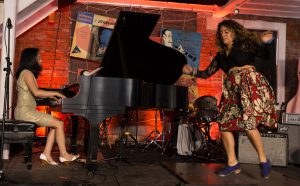 Pianist Helen Sung began her Storyville set with a charming piano solo version of "Sweet and Lovely." Then, she brought out tap dancer Michela Marino Lerman. Michela did an outstanding dance to Jelly Roll Morton's "The Crave" that was very well-received. Lerman's tapping on the various songs was almost like a percussion instrument. In celebration of Thelonious Monk's work, Sung did a few of his songs, including "Reflections." She also played Chick Corea's "Armando's Rhumba" with classical touches and tapping punctuation by Michela. This pairing was a great collaboration, the likes of which you don't see every day. The final song was a marvelous mash-up of "Please Send Me Someone to Love" and "Carolina Shout."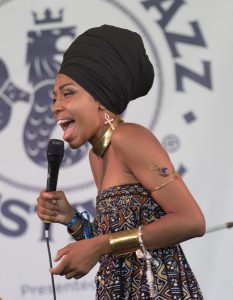 Jazzmeia Horn
Vocalist Jazzmeia Horn, winner of both the Sarah Vaughan International Jazz Vocal Competition and the Thelonious Monk Institute International Jazz Vocals Competition, did a set at the packed Quad Stage. Dressed in a striking African ensemble with lots of statement jewelry, she was joined by bassist Barry Stephenson, pianist Victor Gould, and drummer Henry Conerway III. The concert included Betty Carter's "Tight," "Have You Met Miss Jones," and an energy-filled "Night and Day" that had the audience participating with gusto. Jazzmeia did some fantastic scatting on "Willow Weep for Me." She closed with a stirring "Lift Every Voice and Sing," and at the end of the song she said, "I dreamed of this day, and you made my dream come true, Newport!" This young diva is a musical force to be reckoned with, and it is clear why she is already so awarded.
Artemis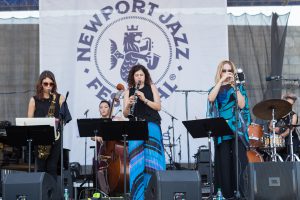 Artemis is a female supergoup featuring vocalist Cécile McLorin Salvant, pianist Renee Rosnes, clarinetist/saxophonist Anat Cohen, saxophonist Melissa Aldana, trumpeter Ingrid Jensen, bassist Noriko Ueda and drummer Allison Miller. They played their hearts out, both as soloists and as a tight-knit group, and one of the highlights of the set was Stevie Wonder's "If It's Magic," with vocals by Cécile McLorin Salvant. Even if you only caught part of this set, it was worth every minute to experience these supremely talented artists performing together.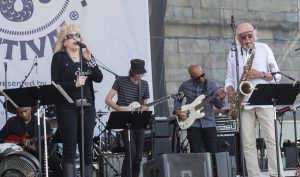 Charles Lloyd & Friends, Featuring Lucinda Williams
In the third of three sets on three consecutive days at NJF, in celebration of his 80th birthday, NEA Jazz Master, saxophonist/flutist Charles Lloyd was introduced by George Wein. George joked that even at 80, he was still young compared to him, and it's good to be around young people, especially when they play as well as Charles Lloyd. The outstanding band included pianist Jason Moran, bassist Reuben Rogers, and guitarist Marvin Sewell. Vocalist Lucinda Williams came out and sang a bluesy "Nobody's Fault But Mine" with fervor and feeling. The set also included "Dust" and "We've Come Too Far to Turn Around." Lucinda said it was an honor to be there with Charles Lloyd and the band, as well as to play for the crowd. This was another splendid concert in a weekend filled with them.
Gregory Porter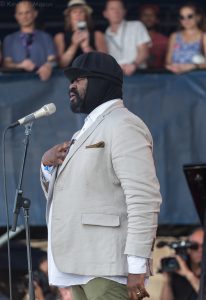 Golden-throated singer Gregory Porter hit the stage running with a beautiful 'Someday We'll All Be Free." The show continued with "On My Way to Harlem" and "Take Me to the Alley." Looking dapper in a crisp white shirt and beige jacket, along with his signature headgear, he reminisced about how often his mother preached about the healing and renewing power of water, as an introduction to "Liquid Spirit." The show continued with an explosive "Papa Was a Rolling Stone," "Musical Genocide," and "No Love Dying Here." After three days of wonderful music, Porter's show was another glorious experience on the closing day of the 2018 NJF.
In Conclusion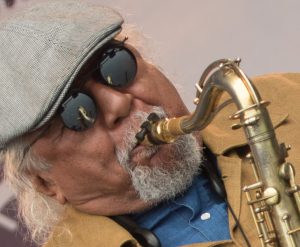 Salt-water breezes from Narragansett Bay. Seagulls making graceful circles in the sky. Fabulous vibes. Exceptional music. Devoted fans through torrential rain. These are just some of the things that made the 2018 Newport Jazz Festival, Presented by Natixis Investment Managers, such a huge success! Over 24,000 people attended this iconic event. Next year, the Festival will be held from August 2-4, 2019. For more information, go to: www.newportjazzfest.org.