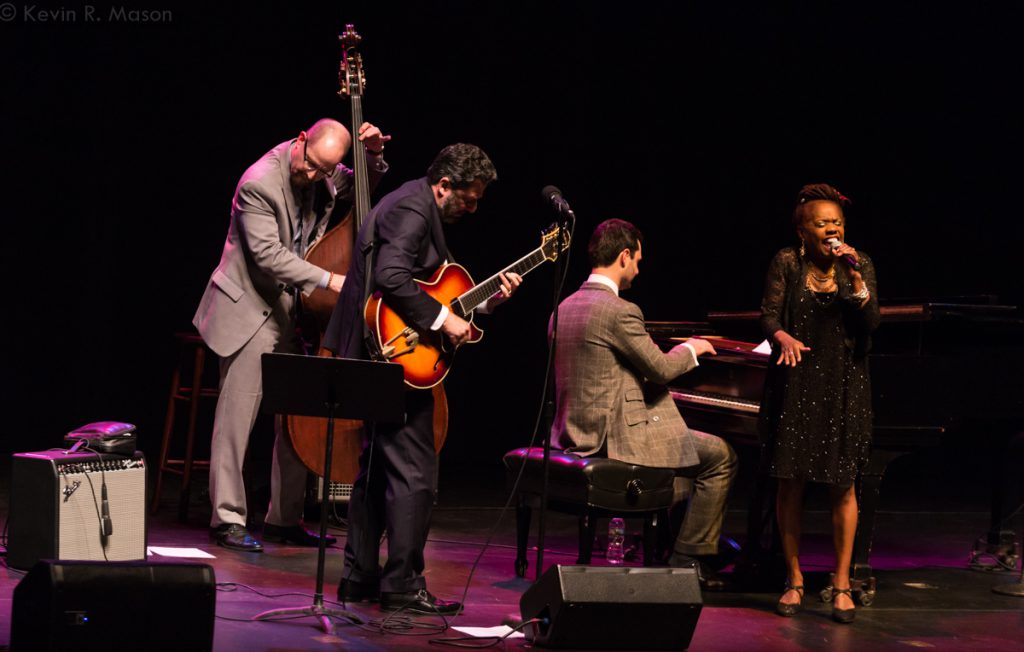 On Friday, October 12, 2018, Brooklyn's Kingsborough Community College presented another stellar event from the On Stage at Kingsborough series. Billie and Blue Eyes! was a tribute to the music of the legendary icons Billie Holiday and "Old Blue Eyes" Frank Sinatra, starring vocalist Catherine Russell and singer/guitarist John Pizzarelli.
Anna Becker, Executive Director of On Stage at Kingsborough, welcomed the audience and gave an overview of their exciting 2018-2019 season. Upcoming events include Long Live the King: Allan Harris Sings Nat King Cole in February, and Jazz Goes to the Movies in March. Then Ms. Becker introduced the evening's show, which started with a lively "How About You" by John Pizzarelli with wonderful support from pianist Konrad Paszkudzki and bassist Mike Karn. Pizzarelli said that he was starting the show with the Sinatra portion, and quipped that once Catherine Russell came out for the second part, you'd understand why he went first. However, with talents like this, it really didn't matter which order they performed in; they were both golden!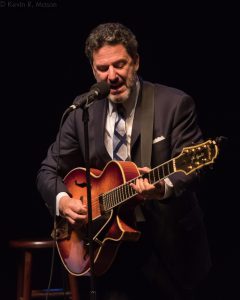 Pizzarelli told the story of how Bob Hilliard and Dave Mann wrote a song after a poker game, and the next day Hilliard ran into Frank Sinatra and Nelson Riddle in front of Capitol Records. Hilliard went in to Capitol with the two of them, and played the song, which turned out to be "In the Wee Small Hours of the Morning." Of course, Sinatra recorded it, and the rest is history. The Pizzarelli trio then put their own effective spin on the song. Pizzarelli introduced "Witchcraft" by Cy Coleman, with an anecdote about how a nervous Coleman dithered about what to play for Sinatra. So, Sinatra just told him to start at the top of the pile.
Part of Pizzarelli's greatest charm is how relaxed and at ease he is on stage. He could easily be talking in his living room, and he is a natural raconteur. Next, they played "Ring-a-Ding, which was written by Jimmy Van Heusen and Sammy Cahn, based on a saying that Sinatra often invoked. The show continued with "Baubles, Bangles & Beads," which was performed as a romantic samba-infused number. Pizzarelli interspersed stories of the collaboration between Sinatra and Antônio Carlos Jobim, and the group played a dreamy adaptation of "The Girl From Ipanema." John also talked about the time he and his father, renowned guitarist Bucky Pizzarelli, opened for Sinatra. His stories were as entertaining as his music was winning. He has a real gift for storytelling. He discussed his 7-string guitar and played a charming solo rendition of "The Way You Look Tonight." He ended the set with a rapid-fire "Goody Goody" with some fine scatting, and great solos by Konrad Paszkudzki and Mike Karn.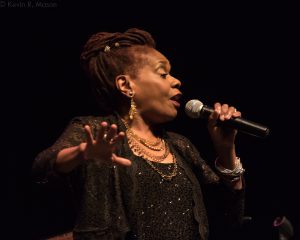 After a short intermission, the trio returned, joined by Catherine Russell, who started her tribute to Billie Holiday with "All of Me." It was a mellow version, and John joined in and turned it into a sweet duet. Ms. Russell is just at ease on stage as Pizzarelli, making them a great musical pairing of seasoned and experienced performers. Catherine continued with the gorgeous ballad, "You Go to My Head." Russell's interpretation of "Love Me or Leave Me" somehow managed to be swinging and laid-back at the same time. Next came the hauntingly lovely "Ghost of Yesterday," followed by "Them There Eyes." Catherine and John collaborated on a medley of songs by both Frank Sinatra and Billie Holiday that included "If I Had You," "Everything I Have is Yours," "Polka Dots and Moonbeams," "Darn That Dream," "Moonlight Becomes You," and "What a Little Moonlight Can Do." Catherine performed "God Bless the Child" with a great depth of feeling. The finale had Catherine singing an exciting "With Thee I Swing." Then, after a lengthy standing ovation, there was an encore, a charming pairing of Catherine and John on "I Took a Trip on a Train." It made for a fine closing to an enchanting night of music.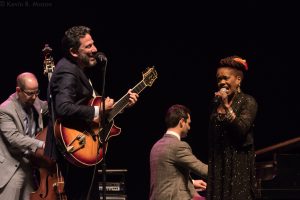 The motto of On Stage at Kingsborough is "Bringing World-Class Performances Home," and they certainly live up to that motto. On their website, it says the following: "On Stage at Kingsborough's mission is to bring artistically and culturally diverse, multi-disciplinary performances from masters of the form to the varied communities in and around the college. We strive to create an environment where the arts are an accessible and integral part of life, and a community gathering place for inspiration, conversation, and breathtaking performances. 
We present world-class dance, cabaret, theatre, music, and family performances in the Leon M. Goldstein Performing Arts Center and Kingsborough's Lighthouse from September to May, and our Hot Summer Nights! free outdoor concert series at Kingsborough's Lighthouse Bandshell every July." 
For more information, go to www.onstageatkingsborough.org.