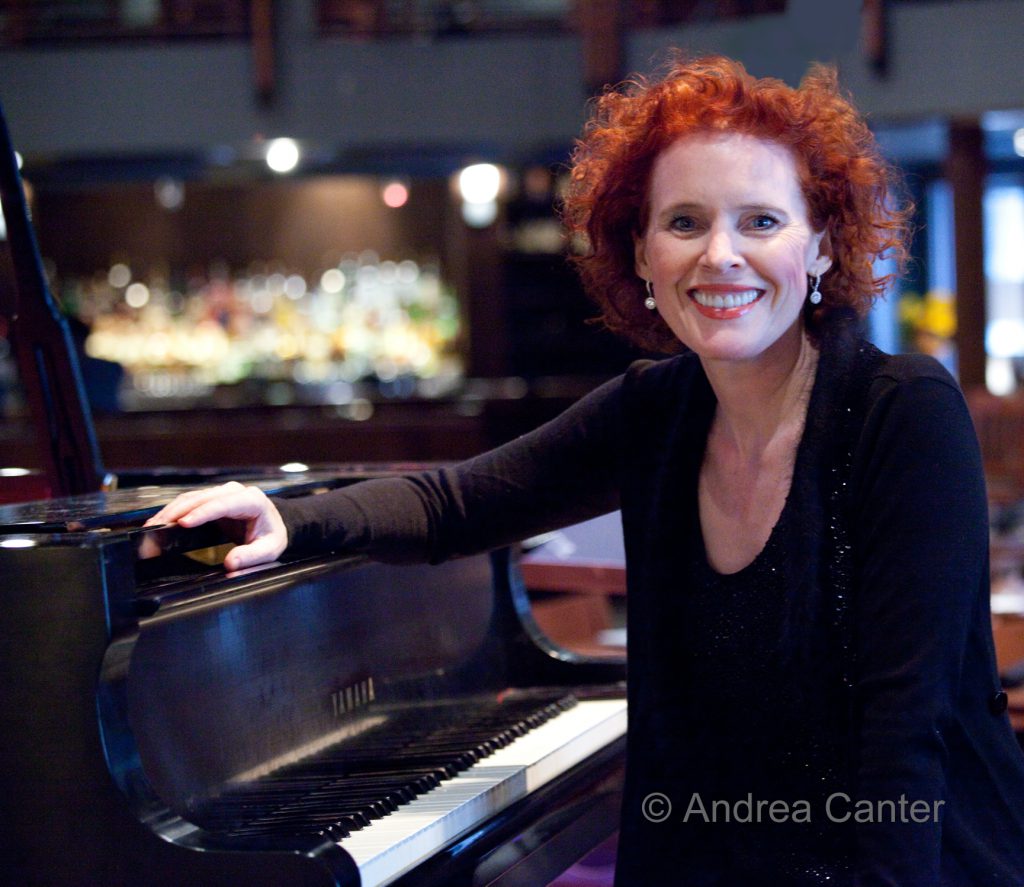 © Andrea Canter, Senior Editor Emeritus
"The melody is what creates a particular energy and feeling in the listener and it sets the tone…  I take an idea, develop it, turn it inside out and come back to it at the end.  That resonates with people.  Ultimately people remember melodies, not harmonic progressions." –Lynne Arriale
For more than a decade with a singular focus on the piano trio, Lynne Arriale's discography and acclaimed live performances documented her evolution as a composer of hauntingly lyrical melodies and a "decomposer" of familiar standards and traditional tunes, a pianist with "flawless touch, an impeccable sense of complex rhythms and a harmonic curiosity" (Jazz Times). And with long-time partners Jay Anderson on bass and Steve Davis on drums, each outing of the Lynne Arriale Trio was a master class in musical collaboration. Fast forward a few more years, to her appointment to the music faculty of the University of North Florida, new musical partners, and a new compositional focus incorporating horns.  Nuance: The Bennett Studio Sessions (2009) and  Convergence (2011) further showcased Arriale's ability to harness creative disparities with a transcendent sense of purpose. Her 2012 release, Solo, further confirmed Lynne's versatility and virtuosity as a composer, arranger, and solo performer.
With the release of Give Us These Days (Challenge Records, 2018), Arriale returned to the piano trio format, her CD release tour bringing her to the Dunsmore Room at Crooners Lounge in the company of local heroes, bassist Chris Bates and drummer Cory Healey. Now Arriale will be back in town, as guest clinician for the Dakota Foundation for Jazz Education/Schubert Club annual "jazz piano workshop" and for another night of jazz piano trio magic, this time with Chris and JT Bates.
Lynne Arriale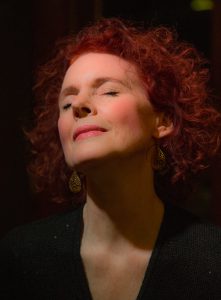 The consummate storyteller, pianist/composer Lynne Arriale immediately connects with her audience through emotionally-charged performances. Her compelling compositions, refreshing melodies and reinterpretations of pop and rock classics not only bring accolades from critics but help create new audiences previously unfamiliar with jazz. "She achieves a special, deep connection with her audience, and the energy flows both ways. Arriale's emotional authenticity allows her audience to feel and think along with her"(Jazz Times).  With a style that is deceptively accessible and intimate, Lynne's music emanates a complexity created not by multiple layers of notes, but by multiple layers of emotion.  "There may be no jazz artist working today who brings a broader spectrum of musical ideas to the connection of mind and heart" (Jazz Police).
Adopted as an infant, Lynne Arriale grew up in Milwaukee. She discovered the keyboard at age 3 when given a plastic toy piano, and "never stopped." Earning a masters' degree in classical music from the Wisconsin Conservatory of Music, she was well into her 20s before turning to jazz. Later she learned that her biological mother was a jazz vocalist—and perhaps there is something to heredity here as Arriale is as songful a pianist as one could imagine. Selected to tour Japan with the acclaimed 100 Golden Fingers ensemble in 1991, Lynne performed with jazz legends including Hank Jones, Tommy Flanagan, Kenny Barron, and Cedar Walton, later winning the 1993 Great American Piano Competition. Soon she launched what would be a 15-year touring and recording collaboration with bassist Jay Anderson and drummer Steve Davis.
With two acclaimed quartet releases, Nuance (2009) and Convergence (2011), as well as the solo album (Solo, 2012) combining Middle-Eastern, Celtic, Americana, and pop and rock influences on original compositions and reimagined covers, Lynne has continued her star trajectory with a singular musical vision. "I really can't compare her to anyone," said recent collaborator and multi-Grammy winner Randy Brecker. "Her music transcends the word 'jazz' – it is just pure music." And "transcendent" is just one apt descriptor for the latest release, Give Us These Days, marking Lynne's triumphant return to the piano trio format and a new partnership with Dutch artists Jasper Somsen and Jasper Van Hulten. (See below)
Arriale has appeared at  major international festivals including  Montreux, Montreal, Monterey, North Sea, and Ottawa Jazz Festivals and recently in South Africa with full symphony orchestra. Her recordings have topped the National jazz radio charts and numerous "Best Of" lists; she has been featured on the PBS and multiple NPR programs, in Billboard, Downbeat, JazzTimes (May 2011 feature) as well as cover stories for JazzEd, One Way and M Magazines; and in other national and international media outlets.
In addition to her active performing and recording career, Lynne is currently Professor of Jazz Studies and Director of Small Ensembles at The University of North Florida in Jacksonville. She has served as a faculty member of the Jamey Aebersold Summer Jazz Workshops, the Centrum Port Townsend Jazz Workshop, the Thelonious Monk Institute in Aspen and numerous clinics and workshops worldwide, and has adjudicated the Montreux Jazz Competition, American Pianists Association Fellowship Awards, The Kennedy Center's Mary Lou Williams Competition, and the Jacksonville Piano Competition.
Lynne was most recently in the Twin Cities in May 2018 in the Dunsmore Room, and has appeared in the area multiple times, conducting workshops and performing at the Dakota and Artists Quarter. When not teaching, she currently tours the U.S. and Europe, primarily with her trio as well as solo performances.
Give Us These Days (Challenge Records, 2018)
I am not an unbiased reviewer, having been a fan of Lynne Arriale since her first trio releases. A consistent characteristic of every release has been Lynne's unfaltering emphasis on melody, be it her creative re-arrangements of standards or popular covers or her original compositions for solo, trio or larger ensembles. Her more recent work, however, has displayed an increasingly relaxed approach to improvisation with wider-ranging emotional power. Horns certainly contributed to this transition with the two quartet albums (Nuance and particularly Convergence). With Give Us These Days, the format is familiar (trio), the six originals and 3 covers (of Joni Mitchell, Lennon/McCartney, and Tom Waits) expectedly ripe with fresh melodies and arrangements, but there's an overarching feel of freedom and joy that surpasses all that came before.  Majestic themes typically build intensity over the track while allowing Lynne's bandmates plenty of room to shine; foot-tapping rhythms twist throughout the aptly titled "Slightly Off-Center"; and "Over and Out" has a folksy-bluesy theme that bursts open with some quirky rhythms and harmonies riding on a wave of frenetic energy.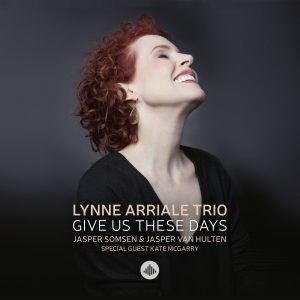 That is not to say that there are no quiet, reflective, delicate moments that have been part of Lynne's signature since the beginning. Yet, even the more sedate "Another Sky", "Finding Home," and her almost solemn arrangement of "Let It Be" swell to more majestic conclusions. The most delicate of all closes the album, a simple piano-voice duo arrangement of the Brennant/Waits ballad, "Take it With Me," with special guest Kate McGarry. It's a sweet sentimental song, here caressed with hope.
(Hear the entire album at  http://www.lynnearriale.com/booking/ or on Youtube at https://www.youtube.com/user/lynnearriale)
In the Dunsmore Room
On February 1 at 6 pm, Lynne Arriale will perform one set in the Dunsmore Room at Crooners Lounge, with the Bates brothers (Chris on bass, JT on drums).
"I'm very happy to be returning to the Dunsmore Room, which is a special listening room with a gorgeous piano," said Lynne. "I'm looking forward to playing with Chris Bates and J.T. Bates; I had the great pleasure of playing with Chris the last time I was in Minneapolis, and I know it will be awesome playing with J.T.  The audience in the Twin Cities is so supportive; it's very inspiring to experience such a great music scene with a wealth of superb players."
On this gig, Lynne and the trio will perform music from Give Us These Days as well as from her earlier recordings, including "Woodstock," "Let it Be," "Here Comes the Sun," originals such as "Appassionata" and "Finding Home," and original arrangements of standards.
Crooners Lounge is located at 6161 Highway 65 NE in Fridley, just north of I-694 and about 15 minutes north of downtown Minneapolis. Reservations recommended at www.croonersloungemn.com or 763-760-0062. Full bar and dining service available.