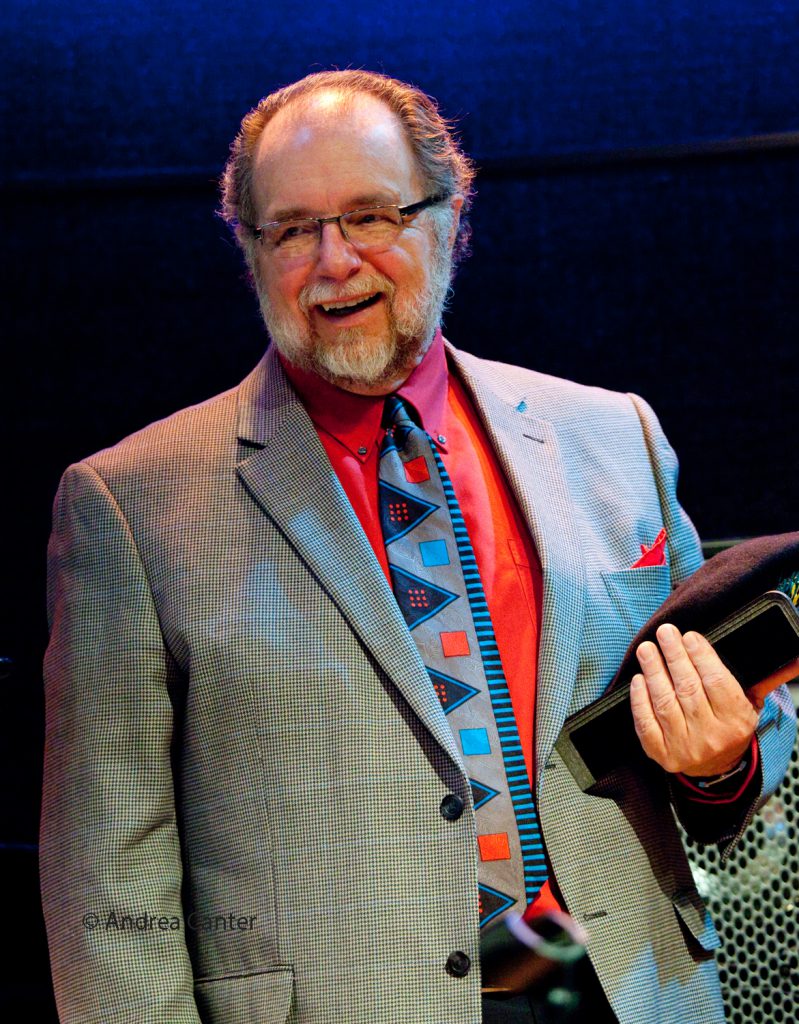 [Note: Portions of this article are drawn from Janis Ewart's nomination letter for Larry's designation as Jazz Hero by the Jazz Journalists Association, and from Larry's own self-penned obit, released on February 4.]
The Twin Cities lost one of its true "jazz heroes" with the passing of Larry Englund, who died of cancer on February 2 at age 73. Larry wore many hats (literally!) over his years as a social worker, tech writer, journalist, deejay, broadcaster, blogger, jazz organization board member, festival emcee, and more.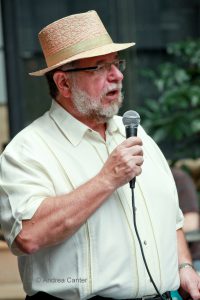 Larry grew up in The Bronx "the only son of Carl, a carpenter, and Edna, a housewife and excellent cook of comfort food. As a child, I was coddled by my three sisters." Larry remembers listening to his "little turntable and Golden records. My sister Lorraine turned me on to the music of Big Joe Turner and Fats Domino when I was about ten, and a few years later I became a teenage deejay, using one of those 45-only turntables for Friday Night dances at a church basement in the Bronx." But music was only part of Larry's history and lifelong "explorations." He noted that "looking back, I realize that I've been an explorer of sorts, open to new experiences and adventures. My work life has been… varied. I stopped counting after 28 jobs, but can say I learned something from each job. Eventually, I got into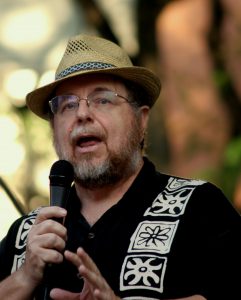 tech writing and then marketing for hi-tech and medical companies. When I retired in 2007, I was working for Public Art Saint Paul."
Among Larry's "explorations" were a number of global adventures, including " biking from Minneapolis to New Orleans; traveling with a band on tour in Peru, during which I spent a day at Machu Picchu and took part in a cleansing ceremony led by Incan shamans. I've visited pyramids in Mexico and Guatemala; hitchhiked cross-country a number of times; played tambourine and sang back-up in front of thousands of Luther Leaguers. [Wife] Liz and I saw the Wrapped Reichstag in Berlin; visited the hamlet where my father lived in Finland; lived in the Netherlands for three years; visited Havana twice; built homes in Costa Rica; and, along with my wife Liz, were the only Americans on a bus traversing the Finland/Russia border."
And always, there was music. Over the years, he turned to blues, R&B, roots music, world beat, and jazz. His introduction to jazz came via a recording of Ahmad Jamal's "Poinciana," and from there he found Cannonball Adderley's Things are Getting Better, Milt Jackson's Big Bags, Stan Getz's Focus, and Cal Tjader's Saturday Night/Sunday Night at the Blackhawk.
Larry ultimately landed in the Twin Cities, hosting Shake Up Southside and later Streetlight Serenade on KFAI and freelancing as a music writer for City Pages in the 80s. Among his interviews were James Brown, Bobby "Blue" Bland, Claudia Schmitt and Nanci Griffith, while he also reviewed albums and gigs from Sonny Rollins to Dr. John, and wrote about local musicians for the neighborhood paper, The Villager. Even after returning to school (earning an MBA at the University of St Thomas), Larry continued serving the music community, hosting Rhythm and Grooves on KFAI with live interviews (George Duke, Maceo Parker, David Sanborn, Esperanza Spalding, as well as local and regional artists) and creative programming that introduced Twin Cities audiences to everything from Fats Waller and Louis Armstrong to Joe Lovano and Charles Lloyd. Larry retired from KFAI at the end of 2017, but continued his weekly "Rhythm and Grooves" blog/email through January 2019 (after 9 years), citing the best of the week's upcoming gigs in jazz and blues. He occasionally wrote articles or interviews for Jazz Police.com, mostly recently an interview with pianist Emmet Cohen. He also continued spinning vinyl (mostly classic soul and funk) for Sunday brunch at the Nightingale in Minneapolis and for special occasions at other venues.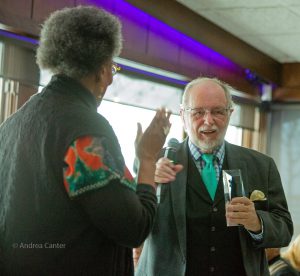 Larry's commitment to the local music scene was not limited to print and radio — he also served on the Boards of the Twin Cities Jazz Festival and Dakota Foundation for Jazz Education, including six years as Board Chair of DFJE. He was often on stage as emcee for the annual DFJE Youth Stage at the Twin Cities Jazz Festival. He also produced a couple outdoor festivals, as well as a show called Saint Paul Live! for KBEM. Larry was also an active consumer of live music, sometimes seen at three different venues on a given night. In early 2018, Larry was named a Jazz Hero by the Jazz Journalists Association, following his nomination by Janis Lane Ewart. The award was presented on April 8, 2018, at Crooners Lounge.
Larry never lost his sense of humor and generally upbeat view of life, concluding his own obit notice with "a few things I have learned, in no particular order:
When working road construction, never, ever leave your lunch bucket where it can get run over by a truck
When the computer asks, "Delete file?" Always take a moment, and a deep breath, before hitting the key
Even if it's after midnight and you're dead tired from working 14 hours, always take a shower after spending an evening cleaning a turkey processing plant
Having the Pope in town is no guarantee for success in selling Pope T-shirts
Always be open to exploration — even if it's just trying some new food
The more you travel, the more you understand that the traits that tie us together are stronger than the traits that separate us
Having a partner that can use humor to point out foibles and miscommunications helps keep a relationship on an even, happy keel"
Larry is survived by his wife Liz, two sisters, and the Twin Cities music community. He promised that "a memorial / celebration service featuring some of the area bands that I have been so fond of will be held …at the Hook and Ladder in Minneapolis."  The date has been set for 2 pm on April 7.
Read in full Larry's own obit at https://rhythmandgrooves.net/