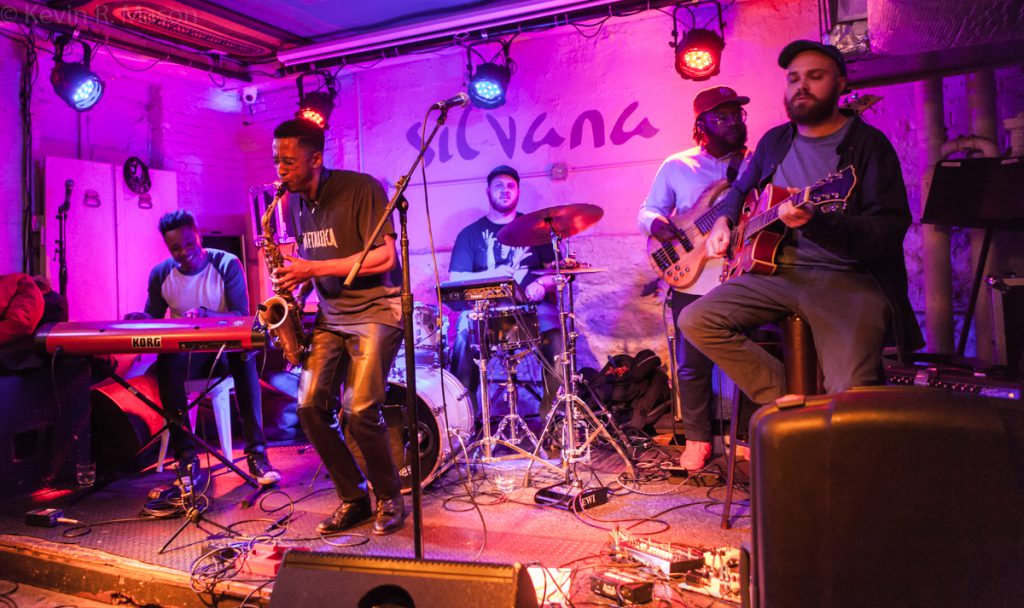 On Friday, December 14, 2018, at Harlem's Silvana Restaurant, Monique Martin, Director of Programming for the Harlem Stage program, welcomed the crowd to the Jazzy December Pop-up Show. She began the evening by discussing the schedule and various activities produced by Harlem Stage, whose motto is: Diverse Artists. Transformative Art.
Multi-instrumentalist/composer/producer Christian Scott aTunde Adjuah was the host of the evening. He talked about his and Harlem Stage's concept of "Stretch Music" which incorporates a jazz core nuanced through other styles of music and cultures at events that fall under the auspices of this concept. Scott introduced this idea in a studio LP called Stretch Music (2015). Then Scott discussed alto saxophonist/songwriter/vocalist Braxton Cook's many talents. On the rising jazz star's website, it says the following: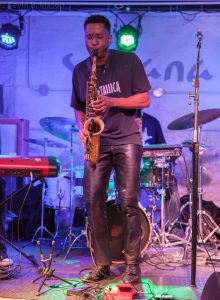 "Maryland raised saxophonist, vocalist, multi-instrumentalist, Braxton Cook is a status-quo challenging [artist] who first broke out in 2017 on the scene with the release of his solo debut album Somewhere in Between. Heavily influenced by John Coltrane, Charlie Parker, D'Angelo and Frank Ocean, Braxton mixes the improvisatory elements of jazz and the soulful melodies of R&B into a fresh sound all his own. His music pulls from his experience as a Black jazz musician in America and his music aims to speak to the margins in society. While still a student at The Juilliard School, Braxton began his career touring the world with trumpeter Christian Scott. During this time Braxton recorded and released his first EP called Sketch (2014), quickly followed by Braxton Cook Meets Butcher Brown (2015). Following the release of Somewhere in Between (2017), Braxton toured the album internationally performing in London, Japan and across the United States. The album had 4 tracks that landed on Spotify's Top 50 Viral in the U.S. playlist. Shortly thereafter, multiple tracks from the album were listed on State of Jazz and Alternative R&B playlists and Braxton was even placed on the cover of The Butter Playlist."
Cook also works with many other artists, and his stellar skills were recently showcased as a member of trumpeter Marquis Hill's Blacktet project.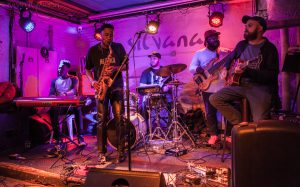 Christian Scott aTunde Adjuah introduced Braxton Cook's quintet to the audience at Silvana's packed performance space. Braxton was joined by drummer Curtis Nowosad, keyboardist Taber Gable, bassist Henoc "Henny" Montes, and guitarist Andrew Renfroe. The set started with "When You Hold Me," on which Braxton did double duty, adding impressive and moving vocals. The group was really tight, and at several points, the music managed to transport the crowd to different places. The show continued with "Millennial Music," "No Doubt," and "Never Thought."
Next came "Pariah," which was written about Braxton's troubled transition from Georgetown University to The Julliard School. He initially had a hard time adjusting to Julliard, and the song explored his search for those pockets where you fit in comfortably. "Somewhere in Between" was an intense, stirring song where all the musicians really hit some high points on individual solos, as well as their work as a group.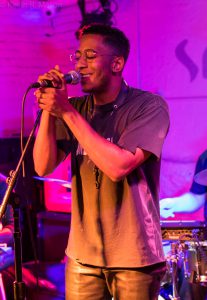 The group just returned from a European tour. Braxton said it was easily one of the best experiences he'd had, "to go on tour with your best friends." The next song was "We Major," an up-tempo, joyful number. Then, Cook went into more detail about the difficulties he faced at Julliard. He had trouble finding his own voice there, because he felt that the school had a mold you had to fill. He was often demoralized by what he saw as the adverse effects of the institutionalizing of jazz. The band played Cook's composition "FJYD" about getting through his four years at Julliard. The piece was driving and percussive, but it also had some moments of quiet beauty.
On a much more positive note, Braxton recently got engaged, and he composed "For More" about the time that led up to the proposal. When it came time to propose, he got nervous and tongue-tied, and all he could get out is, "Will you marry me?" However, when it came time to write the song, he managed to communicate a lot more, and it was beautifully romantic.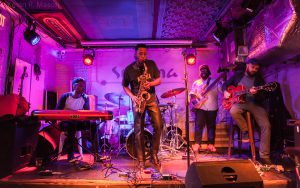 "Hymn" was written by Cook for Trayvon Martin, whose life was tragically cut short in 2012. The song is a reminder that far too many people are still being lost to violence, and a hope that people will treat each other with more love, the way everyone should be treated. This was a stunning call for peace, as well as a lament for those whose lives have been taken. It was a powerful finale to an outstanding concert.
Some of the upcoming events on the Harlem Stage schedule include: UPTOWN NIGHTS: Guthrie Ramsey's MusiQology presents Hide/Melt/Ghost; UPTOWN NIGHTS: Wepa! Movement, Culture, and Music: The Curtis Brothers and Circa '95; UPTOWN NIGHTS: Manhattan Sings!; Stretch Music Intensive: Christian Scott aTunde Adjuah; STRETCH MUSIC & JAZZ, THEN AND NOW: Steve Turre Quintet; and UPTOWN NIGHTS & Carnegie Hall City Wide: Tia Fuller. For more information about Harlem Stage, go to: www.harlemstage.org.