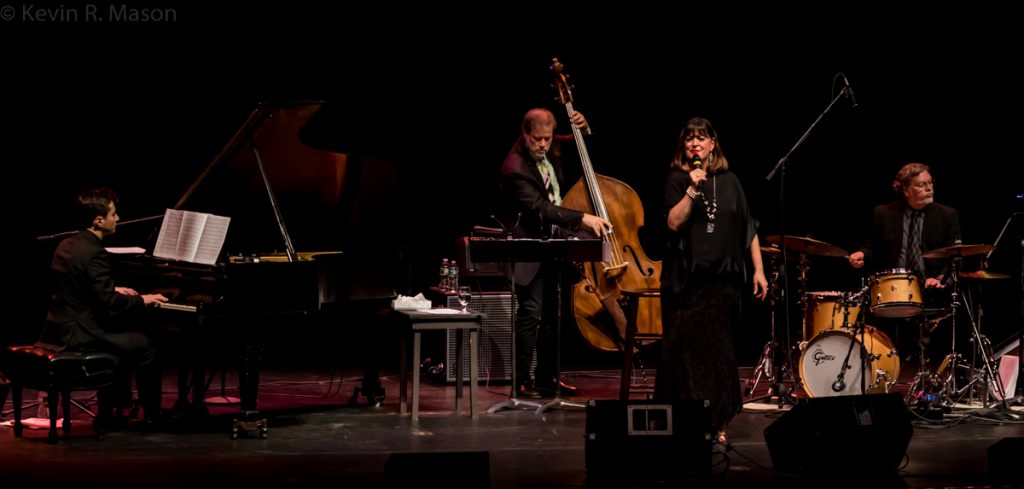 On Saturday, March 30, 2019, On Stage at Kingsborough presented the show "Jazz Goes to the Movies" starring Ann Hampton Callaway at Brooklyn's Kingsborough College's Leon M. Goldstein Performing Arts Center.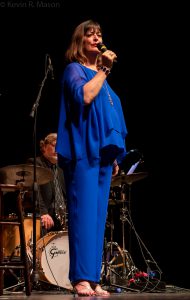 Anna Becker, Executive Director of On Stage at Kingsborough, welcomed the crowd, and got things started with an overview of upcoming events. Then she introduced the talented singer/composer/actress Ann Hampton Calloway, who is one of the foremost proponents of the Great American Songbook. She deftly blends jazz, pop, show tunes and more, making her a mainstay of theaters, concert halls, and jazz clubs. She also has done quite a variety of work in TV, films, and the recording studio. Her compositions have been featured on several of Barbra Streisand's CDs, and she has also written music with Carole King, Rolf Løvland, and Barbara Carroll, among others. She has been the guest of Keith Lockhart and the Boston Pops, and Wynton Marsalis and the Jazz at Lincoln Center Orchestra. These are just a few of her many accomplishments, which also include composing and singing the theme song from the TV show, The Nanny. Her awards are almost too many to list, but they include MAC Awards, Backstage Bistro Awards, Theater World Awards, the Johnny Mercer Songwriting Award, and a Tony Award nomination. Ann is also a champion of philanthropic causes, performing at numerous benefits, and composing songs for various worthy fundraisers.
Callaway began her show with a sprightly, swinging "As Time Goes By" from the film, Casablanca.  She was joined on stage by pianist Matt Baker, who also served as her Musical Director, bassist Gene Johnson, and drummer Tim Horner. Ann talked about how many tunes from the Great American Songbook, including jazz, have been featured in movies over the years. She sang the lovely "How Little We Know" by Hoagy Carmichael and Johnny Mercer, which was used in To Have and Have Not. Then Calloway and the group performed an especially beautiful rendition of "The Nearness of You," which was performed in the Queen Latifah film, Last Holiday. Her wide range allowed her to scale octaves with ease, and the richness of her voice enchanted the audience throughout the concert.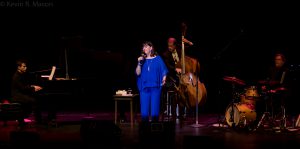 She sang the praises of Fred Astaire and called him one of her all-time favorites. She joked, as a play on his name, that "he had so much savoir, it wasn't fair!" She performed two songs Astaire made memorable in films, Irving Berlin's "Let's Face the Music and Dance" from Follow the Fleet, and Dorothy Fields and Jerome Kern's "The Way You Look Tonight" from Swing Time. Both songs were sublimely rendered.
She reminisced about being stranded in a snowstorm in Chicago when she was first starting out as a singer. It was New Year's Eve, and the show she was supposed to perform was cancelled. She wondered what to do, until she learned that there was a four-movie marathon of Fred Astaire films on TV, and she  said it turned out to be one of her favorite New Year's Eves ever.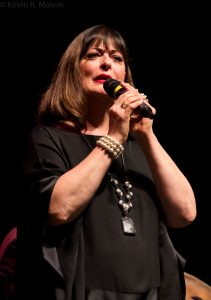 The next song was a dreamy version of Harold Arlen and Johnny Mercer's "This Time the Dream's on Me" from the movie Blues in the Night. Rogers and Hart were seduced by Hollywood from Broadway, and one of their many songs that were used in films is "This Can't Be Love," featured in the movie, The Boys From Syracuse (based on the Broadway musical of the same name). Ann displayed her outstanding scatting ability on this tune.
Jerome Kern and Oscar Hammerstein's "The Folks who Live on the Hill" was first sung in the film High, Wide, and Handsome by Irene Dunne, but Callaway said that it was Peggy Lee's version that imbued the song with so much sadness and feeling. Ann's rendition was quite emotional and heartfelt, too. Cole Porter's "From This Moment On" was included in the movie Kiss Me Kate, and Ann sang the song with a lot of verve and assurance.
After a 15-minute intermission, the group returned to the stage and started the second half of the show with "'S Wonderful," which was featured in two films: Funny Face and An American in Paris. After a performance that really lived up to the name of the song, Callaway briefly discussed the movie Funny Face, and mentioned how much she loves Paris. On the spur of the moment, she sang a stunning a cappella "La Vie En Rose."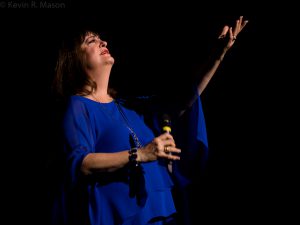 In the Robert De Niro-directed film, The Good Shepherd, she sang "Come Rain or Come Shine" and regaled the audience with stories about recording several takes of the song. Robert De Niro gave her notes and direction after every take, and they bonded so well, that the next day, De Niro had someone call her to ask if she could play a small role in the movie. She said the experience was a thrill, working with the famed actor/director, and meeting Matt Damon and Angelina Jolie, who starred in the film.
Ann mentioned that the song "Two For the Road," from the movie of the same name, was Henry Mancini's favorite of all his compositions.  She followed with a sultry version of Rogers and Hammerstein's "A Cockeyed Optimist" from South Pacific.
Callaway said that the first movie song she ever fell in love with was "Over the Rainbow" from The Wizard of Oz. She said that the reason this song resonates with so many people is that speaks to the dreamer in all of us. She started a capella, singing the seldom-heard but quite beautiful introduction, and it was very heartfelt.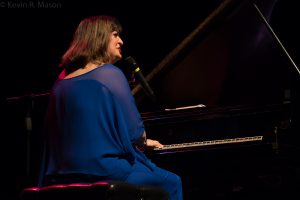 Cole Porter's "It Was Just One of Those Things" has appeared in nine films, and Ann's sparkling performance really lit up the stage. Then, she asked the audience to call out ideas for a song that she said could be the next big thing for Lady Gaga, who she noted is becoming quite a movie star after the recent remake of A Star is Born. After she collected enough ideas, she composed a surprisingly good song on the spot. It was very melodic, and she effectively used all the ideas with humor, romance and pathos. It was a very impressive feat that not many people could do, especially in such a short time.
The final song of the evening was Irving Berlin's "Blue Skies" from the first of the "talkies," The Jazz Singer. Ann movingly talked about writing arrangements for the recording while visiting her mother in the hospital at the end of her mother's life. Despite her illness, Ann's mother Shirley, who had been a singer and pianist, as well as a much-in-demand vocal coach, would give her feedback to her ideas, which Ann found so helpful. She added that while it was heartbreaking to see her mother slipping away, she cherishes the memory of that experience. She said that everyone should hold their loved ones dear, because every day is precious.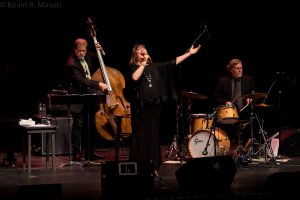 It was a memorable evening of music, with one exquisite rendition after the other, and the crowd was delighted. It was also a great history lesson on music in the movies, with lots of detail. Ann is currently in the middle of a tour, and for information on upcoming shows, go to: www.annhamptoncallaway.com.
Upcoming events at Onstage at Kingsborough include vocalist Lorna Luft singing songs from the Great American Songbook on May 10, and the jazz group The Oleg Butman and Natalia Smirnova Trio from Russia on May 17. For more information, go to: www.onstageatkingsborough.org.