Wednesday nights at Jazz Central are "new music" nights, featuring musicians playing new and improvised works, often in new configurations. On March 23 (8:30 pm), saxophonist Nathan Hanson leads a trio of composers/improvisers, including pianist/accordionist Steven Hobert and tabla player Pratik Singh.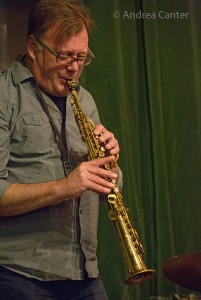 Composer/performer Nathan Hanson (tenor and soprano saxophones) has been described as "unexpectedly tasteful and dignified" by ImproJazz-France. Over his career, he has performed with such legends as Dizzy Gillespie, Cecil Taylor, Mark Dresser, Carei Thomas and Douglas Ewart, as well as with current stars Chris Potter, Tony Malaby, Liberty Ellman, Elliot Humberto Kavee and Federico Ughi.  A graduate of Newberry College and the University of South Carolina, Hanson worked on the East Coast for many years before returning to his hometown of Minneapolis. A member of the Fantastic Merlins, Nathan has maintained a longstanding duo with bassist Doan Brian Roessler and has collaborated with local luminaries George Cartwright, Viv Corringham,  and Pat Moriarty. Awards include grants and commissions from New Music USA, The American Composers Forum, Meet the Composer, City of St. Paul Cultural STAR, The Cedar Cultural Center, MN State Arts Board, The Jerome Foundation, The Southern Theater, and the National Performing Arts Convention.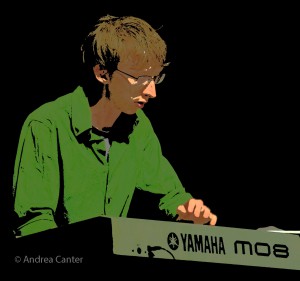 Originally from Hartland, Wisconsin, Steven Hobert recalls that he "would noodle around on the piano and just make things up, maybe even as young as middle school." The music of Keith Jarrett, particularly his solo improvisation concerts, influenced Steven's decision to pursue piano improvisation at the University of Wisconsin Eau Claire, as it allowed him to express himself through uninhibited creativity. After graduation, Hobert performed with symphony orchestras from Calgary to Buffalo, played on cruise ships, and spent a year touring Japan, Canada and the U.S. with the Glenn Miller Orchestra. He also served as music director for vocal ensemble Five By Design. Currently Steven leads FireFly Forest, plays accordion in Lulu's Playground and piano with the Adam Meckler Orchestra, works in duo with saxophonist/flautist James Kellerman and guitarist Dean Magraw, and generally works as a freelance musician and teacher of piano, accordion and woodwinds.
Tabla player Pratik Singh has studied with S.U. Tuladhar, a discipple of Ustad Rabin Lal Shrestha. He performs in duo with Bryan  Sonday as SitarTabla, and with guitarist Eric Carranza as YetiSteady, and has appeared at the Varsity Theater, Capri Theater, Black Dog, and more.
Jazz Central Studios is located at 407 Central Av SE in Minneapolis. The nonprofit organization requests donations ($10 suggested; $5 for students with ID) to support the musicians and the venue. Music five nights per week, http://jazzcentralstudios.org