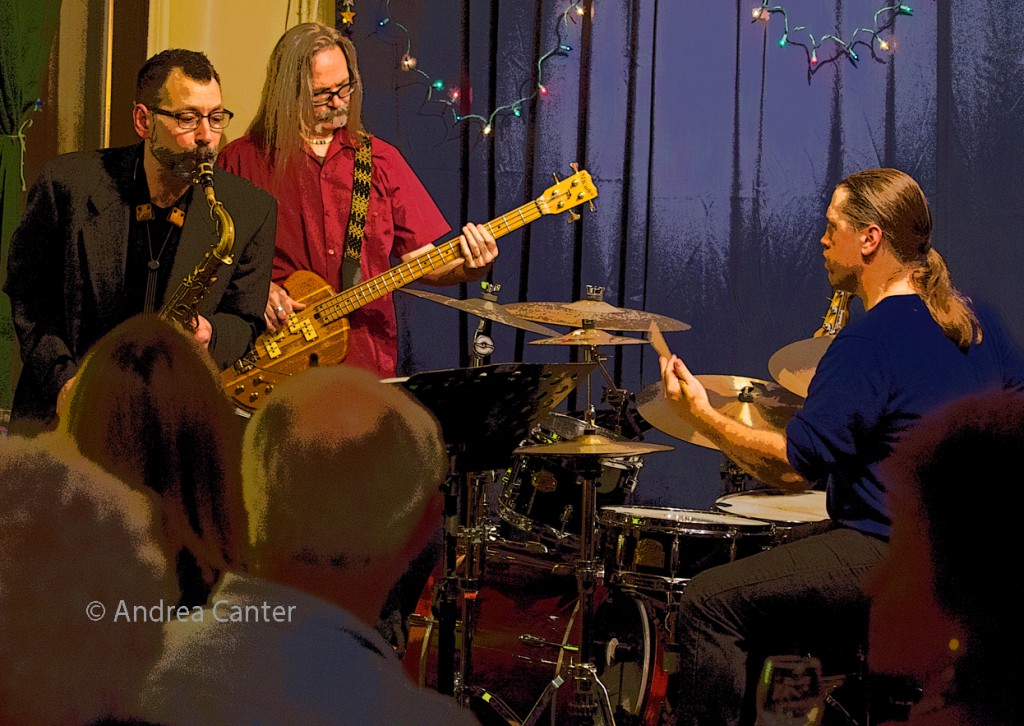 Saxophonist Jeff King, bassist Charles Fletcher and drummer Eron Woods (King, Fletcher, Woods) form "one of the most dynamic and crowd-pleasing jazz power trios on the scene today," said curator and trumpeter Steve Kenny before the trio's CD release (Joker) in December. Launching about a year ago, King Fletcher Woods has performed at the Black Dog and Jazz Central, and now makes their debut at Reverie (formerly The Nicollet) and Kenny's Friday Night Jazz series, March 25 at 9 pm.
Each member of King Fletcher Woods is an accomplished jazz artist based in the Twin Cities: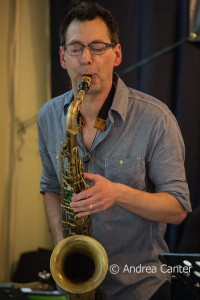 Jeff King's main gigs have been the Kurt Jorgensen Band (Americana blues/rock) and Metro Jam. He's also been featured in the Minnesota Dance Theater production of Rumblings and has been heard with The Buzz, Casablanca Orchestra, R-Factor, and Straighten Up and Fly Right (Maurice Jacox). Jeff teaches at Cadenza Music and Minneapolis Community and Technical College, and has released the jazz CD, As the Sun, as well as Joker with King Fletcher Woods.
Charles Fletcher has over four decades of experience as an eclectic bassist. He's performed with the Jimmy Valentine Quintet, Lamont Cranston Band, Eric Gales, Willie Murphy, Sevilles, Raising The Bar, Moses Oakland, Mick Stirling, Whole Lotta Zep, Northcoast, Glen Helgeson, and John Penny, and has appeared with Chris Bates' Bass Summits at Jazz Central Studios. Charles also teaches at McNally Smith College of Music.
Drummer Eron Woods started his career with a traveling circus! A graduate of the University of Miami, he has performed with Clint Holmes, Carol Lawrence, Jukes of Hazzard, The Spinners, the Drifters, the Coasters, David Roos, Headspace, Haas/Susag/Woods Trio, Overtones Trio, and more. Eron teaches at Cadenza Music and the MacPhail Center for Music.
Reverie Bar and Cafe is located at 1931 Nicollet Av South in Minneapolis, just south of downtown. No cover but donations ($10 suggested) appreciated to support the musicians and this jazz series. In "exile" for the month of April, this series becomes Thursday Night Jazz at Reverie in May. For upcoming dates and venues, visit the series website.