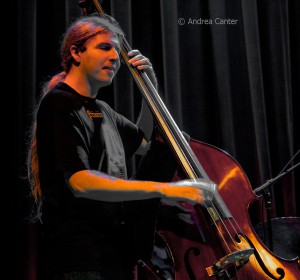 For four seasons, Jazz at Studio Z presents a monthly (September-June) series of Saturday night concerts and master classes under the leadership of curator Zacc Harris, held in the Studio Z performance space in Lowertown St. Paul. On March 26, the series welcomes a visit from bassist Brian Courage, former area resident now living and performing in New York City. Courage will lead a quartet of old pals, with Brandon Wozniak on saxophone, Bryan Nichols on piano, and Matt Buckner on drums, tackling the challenging music of Ornette Coleman as well as Paul Motian and beyond. The concert starts at 7 pm, following a 6 pm master class about the pioneering music of Coleman.
Brian Courage is a bassist and composer originally from Long Island, NY. Courage moved to Minneapolis in 2012 after finishing his studies at the Lawrence University Conservatory of Music in Appleton, WI. In the Twin Cities, Brian became more than a first-call sideman, joining forces with other (mostly) young artists to lead or co-lead some of the most exciting ensembles in town. In addition to his Courageous Endeavors and Mountain King (three-bass) ensembles, Brian performed with the No Coast Quintet, Dave Karr Quartet, a trio with Pat Moriarty and Ellen Lease, the Pete Whitman X-Tet, Gypsy Mania, the John Raymond Quartet and Peter Kogan Group, as well as with many area vocalists and such visiting artists as Lew Tabackin, David Hazeltine, J.D. Allen, and Walter Smith III. Since his return to New York City in fall 2014, Brian has performed at several venues around Brooklyn and Manhattan as a member of the Chris Misch-Bloxdorf Dectet. This spring, in addition to stops in the Twin Cities, Brian will perform in Milwaukee and Chicago.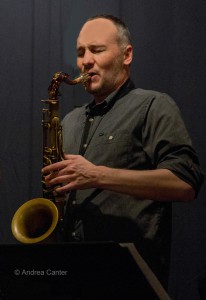 Saxman Brandon Wozniak previously lived and worked in New York City, toured with the Tommy Dorsey Orchestra, and earned his BA from Indiana University under the tutelage of David Baker. Since arriving in the Twin Cities in 2006, he has performed with local bands including the Atlantis Quartet, Red Five, Dave King Trucking Company, Adam Meckler Quintet, Bryan Nichols Quintet, Zacc Harris Quartet, Jeremy Walker's 7 Psalms project, and in varying combinations with Adam Linz, Billy Peterson, Dean Magraw, Kenny Horst, Zacc Harris, Steve Kenny, and more. He's also part of the Atrium Jazz Ensemble directed by Jeremy Walker, performing in a series of concerts in the Target Atrium of Orchestra Hall.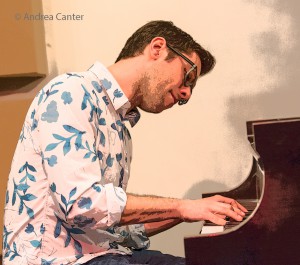 Pianist Bryan Nichols returned to his native Minnesota after studies at Iowa State and gigging in Chicago. A member of the 2004 edition of Betty Carter's Jazz Ahead ("Jazz Stars of Tomorrow"), he performed at Kennedy Center in Washington, DC. He's played with Ari Brown, Maurice Brown, Von Freeman, and more, and has taught at the MacPhail Center for Music and University of Wisconsin-Eau Claire. Locally Bryan is heard with his own trios, quintet and large ensemble, We Are Many; and has performed with the Zacc Harris Group, Bates/Nichols/Bates, vocalist Nancy Harms, drummer Dave King, Todd Clouser's Love Electric, and other cutting-edge artists. He's a frequent duo performer on weekends at the Icehouse. Bryan was a 2010 recipient of a McKnight grant and released Bright Places in 2011. A new solo recording is due for release this summer.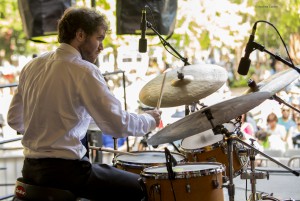 Drummer Matt Buckner grew up in a musical family in Minnetonka, heavily influenced by the uniquely diverse music scene in the Twin Cities. In 2011, he graduated from the Interlochen Arts Academy and continued his studies with a full scholarship to the University of Miami Frost School of Music. During his college days in Miami, he performed all around the South Florida area, and particularly was the drummer for the Ariel Pocock Group, appearing at several international festivals, including the Twin Cities Jazz Fest (2013), Elkhart Jazz Fest (2013), Quebec City Jazz Festival (2014), and the Jazz Cruise (2014). Matt graduated in May 2015 with a Bachelors in Music and has returned to the Twin Cities, where he has performed with a number of area artists including Chris Bates, Ted Olsen, Jake Baldwin, Joe Strachan and more. He was the featured performer at Jazz Central in August 2015.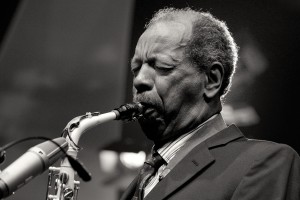 Master Class (6 pm)
In this master class, Brian will discuss the ways in which Ornette Coleman sought musical "freedom" in many senses of the word. By liberating himself from the commonly accepted constraints of his swing and bebop era predecessors, Ornette became a pioneer of the "free jazz" movement. In so doing, he gave the next generations of improvisers the tools to synthesize new ideas together on their own terms. Brian will also touch upon Ornette's "Harmolodic" system as well as his influence on a few of his contemporaries, including Keith Jarrett and Paul Motian.
Coming Soon to JASZ
Remaining shows this season include:
April 9 – Zacc Harris' American Reverie
May 7 – Philip Greenlief, Nathan Hanson, Chris Bates, and Davu Seru
Concerts on the Jazz at Studio Z series are $10 in advance (or at the master class), $15 at the door. More information and tickets at http://www.jazzatstudioz.org/  Studio Z is located at 275 E. 4th Street, near Union Depot in St. Paul's Lowertown arts district. Brian Courage appears on several gigs during his Twin Cities visit — at Public Kitchen with Park Evans and Greg Schulte (March 25), in duo with Erik Fratzke at Bryant Lake Bowl (March 29), with the original Courageous Endeavors (with Nelson Devereaux, Joe Strachan, and Miguel Hurtado) at the Black Dog (April 2).