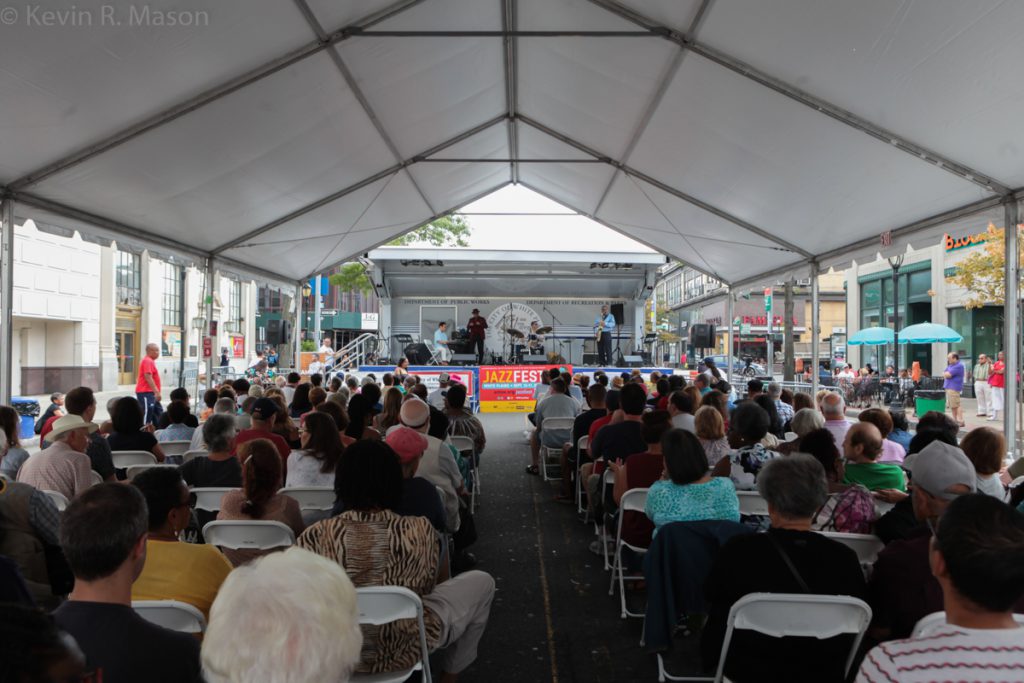 In its eighth year, JazzFest White Plains will be held from Wednesday, September 11 to Sunday, September 15. This festival is a signature event in White Plains, New York, which is in Westchester County, about 45 minutes north of New York City.  The JazzFest attracts jazz enthusiasts from all over the New York tri-state area. It offers free and affordable jazz performances, and it has become a real end-of-summer destination!
The JazzFest will feature a jazz stroll, several indoor and outdoor concerts, and the festivities will culminate in a FREE outdoor food and jazz celebration on Sunday. The schedule is as follows:
Wednesday, September 11, Jazz Music in the Afternoon
12:00 Noon: Nanny Assis, Downtown Music at Grace Church, 33 Church Street – Free
Bahia native Nanny Assis is a singer, drummer, percussionist, and songwriter. The gifted Brazilian artist has the ability to translate rhythms and notes into pure essence, energizing audiences.
12:30 pm: Kristina Koller, Court Street Farmer's Market, 59 Court Street
Kristina Koller is a vocalist, arranger, and composer. Her music blends different genres with traditional jazz standards, making music that is both timeless and contemporary at the same time.
Wednesday, September 11, Downtown White Plains Jazz Stroll
5:30 pm: Mediterraneo White Plains, 189 Main Street: Albert Rivera Quartet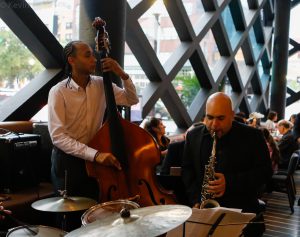 Saxophonist Albert Rivera has toured North America, playing venues that include Dizzy's Coca Cola at Lincoln Center and Harlem's River Room. He is part of the faculty at Litchfield Jazz Camp, and he was the recipient of the ASCAP Young Jazz Composer Award in 2009.
6:30 pm: Morton's The Steakhouse, 5 Mamaroneck Avenue: Pablo Mayor's Folklore Urbano NYC Trio
Pianist/composer Pablo Mayor is one of the major voices in Columbian music. His trio combines the rhythms of Columbia with jazz, salsa, and Cuban Charanga. The Folklore Urbano NYC Trio has performed at renowned venues in New York City, Canada, and Columbia.
7:30 pm: The Ritz-Carlton, Westchester, 3 Renaissance Square: The Brian Carter Quartet 
Busy drummer Brian Carter has worked with many musicians, including Bob Baldwin, Gil Parris, Bernie Williams, Eddie Henderson, Wali Ali, Nico Morelli, and the late Didier Lockwood.
8:30 pm: Sunset Restaurant Bar, 49 Mamaroneck Avenue: Gilberto Colón Jr. & Ensalada De Pulpo
Gilberto "Pulpo" Colón Jr. is a pianist, composer, arranger, producer, and bandleader. He is noted as Musical Director for salsa superstar Héctor Lavoe, and for working with Latin-music giants Tito Puente, Tito Rodriguez, and many more.
Thursday, September 12, Jazz Music in the Afternoon
12:00 Noon: Jazz at Noon: Eunha So Quartet, White Plains Public Library Plaza, 100 Martine Avenue – Free
Pianist and composer Eunha So performs many genres, from classical to jazz. She is an active performer in the Denver music scene, and works as a mentor with the Colorado Conservatory for the Jazz Arts.
6:30 pm: Keyon Harrold, The Courtyard at City Center – Free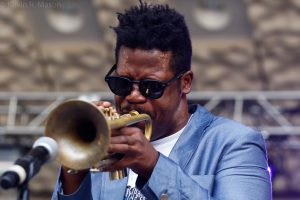 Trumpeter Keyon Harrold has been featured on more than 100 jazz, R&B, hip-hop, gospel, and blues CDs, and the biopic about Miles Davis, Miles Ahead. He has performed with Gregory Porter, Prince, Mary J. Blige, Jay-Z, Beyoncé, and many others.
Thursday, September 12, Jazz Night Out at ArtsWestchester, 31 Mamaroneck Avenue
8:00 pm: Pete Malinverni's Jazz-Chester, Featuring Ralph Lalama, Mikey Migliore, and Aaron Seeber – $25
Pianist Pete Malinverni is the Head of Jazz Studies at the Conservatory of music at Purchase College, and has been a fixture on the New York City jazz scene since the 1980s. He has recorded and performed with Joe Lovano, Mel Lewis, Jon Faddis, Karrin Allyson, and many others.
10:00 pm: Jazz Jam – $10
Musicians can sign up for a jazz jam led by Jake Robinson of the Music Conservatory of Westchester, Ed Palermo of Hoff-Barthelson Music School, Bob Gingery from Concordia Conservatory, and Pete Malinverni from SUNY Purchase College.
Friday, September 13, Jazz Music in the Afternoon
12:00 Noon: The Marcio Garcia Trio, White Plains Public Library Plaza, 100 Martine Avenue – Free
Dominican pianist, composer, and educator Marcio Garcia has performed at the Monterey Next Generation Jazz Festival, Five Points Jazz Festival, Carnegie Hall, The Blue Note, Birdland, and Dizzy's Coca Cola Club.
5:00 pm: Kotoko Brass – White Plains Plaza, 1 North Broadway, Free
Kotoko Brass blends the traditional drum rhythms of Ghana, the sturdy brass and keyboards of the Caribbean, and the joyous horns of New Orleans! The band has shared the stage with Femi Kuti, Take 6, the Boston Pops, and many more.
Friday, September 13, Jazz Night Out at ArtsWestchester, 31 Mamaroneck Avenue
7:30 pm: | Joel Ross "Good Vibes" ($20 for one set | $35 for both 7:30 & 9 pm)

Chicago native, vibraphonist, composer, and pianist Joel Ross has been twice selected as a Thelonious Monk Institute National All-Star, and has performed with Herbie Hancock, Christian McBride, Gerald Clayton, Jon Batiste, and more.
9:00 pm: Joel Ross "Good Vibes" Featuring Melissa Aldana
Chilean saxophonist and composer Melissa Aldana started as a six-year-old sax prodigy, and went on to become the first South American to win the Thelonious Monk Competition.
Saturday, September 14, Jazz All Day
2:00 pm: Jazz at the Galleria Youth Showcase, Galleria White Plains, 100 Main Street – Free
Enjoy a musical showcase featuring Westchester top young musicians. Groups include the Sleepy Hollow Jazz Combo with Austin Day, the Hoff-Barthelson Jazz Ensemble with Ed Palermo, and the Tim Veeder Quartet with students from the White Plains High School.
 2:00 pm: Hands-On Jazz for Families, White Plains Library Plaza, 100 Martine Avenue – Free
Join the faculty from The Music Conservatory of Westchester for a participatory music event for people of all ages.
Saturday, September 14, Jazz Night Out at White Plains Performing Arts Center, 11 City Place
8:00 pm: Emmet Cohen Quartet Featuring George Coleman & Jimmy Cobb – $29 to $44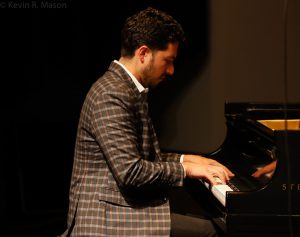 Jazz pianist and composer Emmet Cohen has emerged as one of the most pivotal figures of his generation, and he is the winner of the American Pianists Association's prestigious 2019 Cole Porter Fellowship. Cohen will be joined by two of jazz' greatest figures,  NEA Jazz Masters, saxophonist George Coleman and drummer Jimmy Cobb, who made his name as the drummer for Cannonball Adderley, Miles Davis, Wes Montgomery, Sarah Vaughan, to name a few.
Sunday, September 15 
12:00 Noon to 5:30 pm: White Plains Jazz and Food Festival, Mamaroneck Avenue and Main Street – Free
Lagond Music All-Stars
Lagond Music School presents a lineup of some of Westchester County's finest young musicians.  The ensemble performs a range of music from Latin jazz to danceable funk.
Art Bennett and The Organic Ensemble         
Saxophonist Art Bennett was born and raised in White Plains, where he first began studying jazz. Active in the "Loft Jazz" movement of the 1970s in New York City, he has performed with greats Lonnie Smith, Rashied Ali, Roy Brooks, William Parker and many others.
Mwenso & The Shakes
Taking from the stylings of Fats Waller, Muddy Waters, James Brown and other American musical legends, Mwenso & The Shakes put on an electrifying show, combining soul-stirring music and dance routines. Immigrating from Sierra Leone, London, South Africa, Greenwich Village, Madagascar, France, Jamaica, and Hawaii, the Shakes now call Harlem their home.
Camille Thurman with The Darrell Green Trio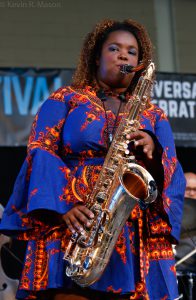 Camille Thurman is a "rising star" (Downbeat Magazine) and a Sarah Vaughan International Jazz Vocal Competition finalist, who excels in both saxophone – from which energy soars, and vocals – from which she embraces a soulful dynamism and spirited "Fitzgerald-esque" (All About Jazz) scat. She has performed for audiences throughout the world.
Alphonso Horne and The Gotham Kings
Two-time Grammy Award-nominated trumpeter Alphonso Horne has put together a band that weaves the sound of New Orleans into a rich musical fabric that demonstrates the history of the trumpet and the story of jazz. Inspired by the music of King Oliver Creole Jazz Band, The Gotham Kings use the virtuosity of the young Louis Armstrong and innovative genius of King Oliver to take you on a journey of sound that encompasses rags, stomps, shouts, and funk.
In addition to all the great music, the White Plains Jazz and Food Festival will feature local restaurant vendors.
Sponsors
Sponsors are important to all jazz festivals. Bank of America is the presenting sponsor for JazzFest White Plains. Other sponsors include: Apple Bank, AARP, Peckham Industries, Inc., Ivy Realty, Galleria White Plains, Journal News Media Group, News 12 Westchester, Cambria Hotels & Suites, BMW of Westchester, Macy's, Westchester Business Center, White Plains Hospital, Empire City Casino, Famous Famiglia Pizzeria, and more.
For more information on JazzFest White Plains, go to: https://artswestchester.org/programs/jazz-fest-2/