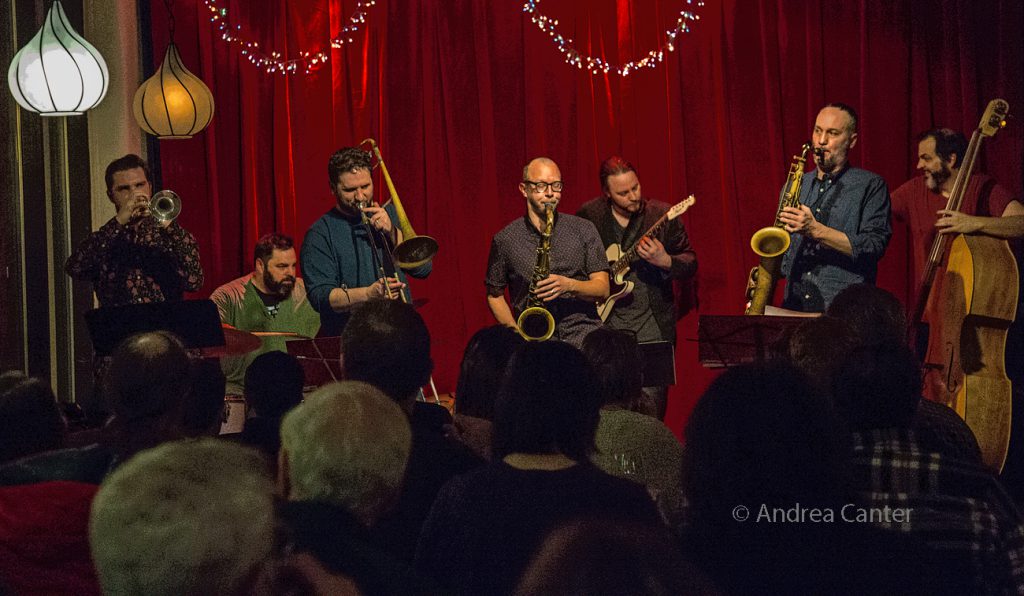 Review © Sam Worthington
I had the pleasure of listening to Chris Bates' Red 5 tonight (October 3) at Studio Z. The show was part of The "All Originals" Jazz Series, thanks to the musician-impresario Steve Kenny. Chris Bates led the group on double bass and electric bass. The rest of the band featured JT Bates on drums, Thomas Nordlund on guitar, Brandon Wozniak on tenor and alto saxophone, Pete Whitman on tenor and soprano saxophone, Jake Baldwin on trumpet and flugelhorn, and JC Sanford on trombone.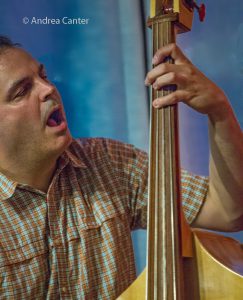 Chris Bates appeared tonight as composer, bandleader, and player. It looked good on him. The show was a little over 90 minutes in length, no intermission, featuring nine of Bates' original compositions. At least two compositions were debuted. Bates is a worldly composer. Influences behind his music come from such diverse places as Mali, Afghanistan, (a blues that came to him in) Israel, and wherever the Higgs Boson is located. Bates' music is never boring, often beautiful, and very rhythmically stimulating. Not unlike his bass playing, his compositions elicited pleasure from the audience and put his bandmates in a position to succeed. Particularly on the tune "Crop Circles," a 6/8 charmer, the leader displayed his ability to weave bass lines with beauty and velocity.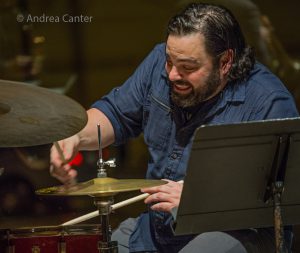 The premier of a tune called "Blues Ideals" began softly. JT Bates established the time, a creepily familiar 60 BPM, with quarternote touches on the ride cymbal. Easy enough? Yet what struck me was how JT showed his mastery, once again, not through the intensity of complexity but through the power of simplicity. At that moment, everyone in the room was oriented by his gentle touch.
This was the first time I've ever heard Thomas Nordlund. He's got hands that are built like a bassist's, yet he possesses more touch and precision than most guitarists I've heard. A real pleasure to listen to.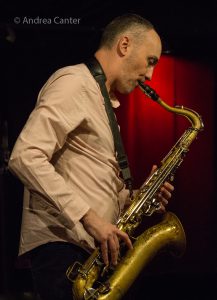 Brandon Wozniak took a number of solos during the night, one of them was on alto. He was featured on the tunes "Blues Ideals" and the night's closer "We're Going In." Brandon subtly shakes his head from side-to-side sometimes during his solos. It's the body language of steadfast refusal, and it produces a gorgeous vibrato-like effect in his tone. The visual is interesting. It's almost as if Brandon is refusing to accept just how good of an improviser he is, simultaneous to that goodness being expressed. Maybe it's the world, rather, that is in denial.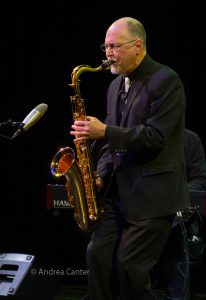 Pete Whitman had an inspiring night, but what else can you expect from a professional badass such as Pete Whitman? His solo work on the opening tunes "Maliapolis" and "Dark Matter" were exactly what everyone wanted, whether they knew it or not. Whitman is one of those rare saxophonists who has a sense of time that is comparable to any rhythm section player. The effect was evident tonight. Whitman's time was so good that he turned the Bates Brothers into soloists during his own solos!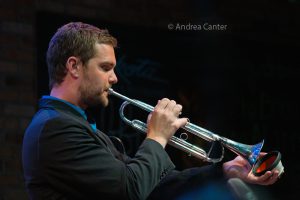 Jake Baldwin had an all-star night, especially on the tune "Crop Circles". Just when you think Baldwin is going to melt you with sweet long tones, he stuns you with rapid 16th note lines, and vice versa. Unpredictability, in the best sense of the word, is one of Baldwin's major soloistic assets. Also, he has synthesized tone and technique in a very impressive and balanced way. In a town that has always had a shortage of great trumpeters (from what I hear), Baldwin is a prize fighter.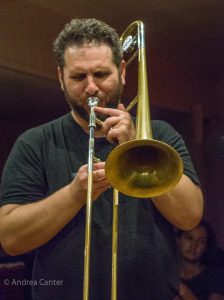 On a tune called "Higgs Boson," JC Sanford stepped up to the plate and hit the ball so far out of the park that people are still searching for it. I don't where he learned to do what he does. I'd like to find out, I'm slightly afraid to ask. Sanford's vocabulary is so unique, his phrasing so original, that he seems to have blessed himself with endless options for entering and exiting the harmonic foreground. And this ain't a pattern-based tuition-dollar blow-off I'm talking about. Bottom line is Sanford can play what he hears and he seems to hear some pretty interesting stuff.
Overall, it was a really good set of music. I walked out of Studio Z and instinctively headed to Black Dog across the block. But there was no music there. It's OK. It just goes to show that good music makes me want more good music, and I can never have too much of this good thing.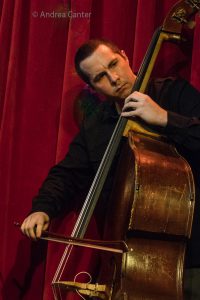 Sam Worthington is an acoustic bassist in the Twin Cities often heard at the Black Dog, Jazz Central and other hot jazz venues, finishing up studies at the University of Minnesota. And a frequent Facebook commentator on life and jazz. Thanks to Sam for allowing us to reprint this recent FB post.