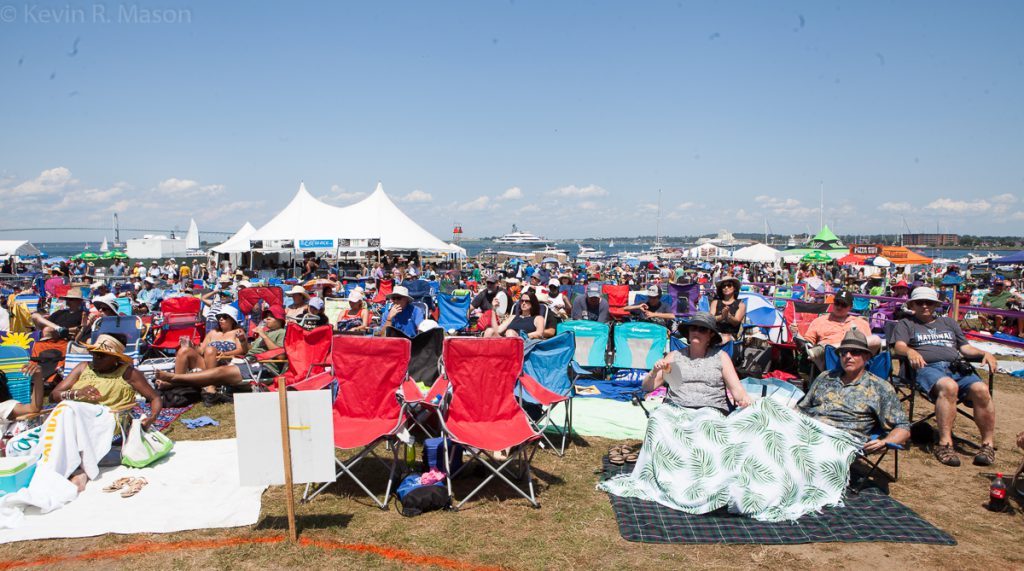 The 2019 Newport Jazz Festival, Presented by Natixis Investment Managers, took place from Thursday August 1 to Sunday August 4. This was the 65th anniversary of the Festival, and it occurred on one of the most beautiful weekends of the summer. Now that the temperatures are turning colder, it is nice to look back at that glorious weekend, both the weather and especially the music.
Thursday, August 1
One More Once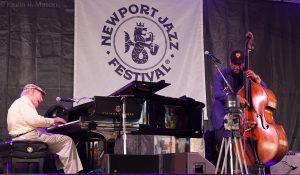 On August 1, the evening before the official start of the Newport Jazz Festival, there was a special concert called One More Once. It was part of Bridgefest, the mini-festival that was held during the week between the Newport Folk Festival and the Newport Jazz Festival (NJF). The concert was the brainchild of NJF founder and jazz pianist George Wein, who considered the show a celebration of his life and a love letter to the city of Newport, Rhode Island. Wein said he borrowed the name of the concert from the late Count Basie, who used to say the phrase whenever a fan would request an encore of "April in Paris." Approaching 94 years old, Wein thought it was a good time to play this free concert as kind of a farewell to public performances, and a thank-you to the devoted fans of NJF. Deborah Ross, Director of Education for the Newport Festivals Foundation, welcomed the crowd and discussed the Newport Jazz Assembly Band, and all their work in schools. Then, she introduced the band members: pianist Keith Brown, bassist Alex Tremblay, guitarist Tony Davis, Ben Marcoux on tenor sax and clarinet, Josh Bruneau on trumpet, Mike Camacho on drums, and Jimmy O'Connell on trombone. The band was really swinging on "Carnival" and "If I Were a Bell" from Guys and Dolls. Then Christian McBride, esteemed bassist and the Artistic Director of NJF, joined the group, and they each tore it up on their solos. The weather was gorgeous that evening, and so was the music. Christian said, "It's such an honor to be here." He talked about how this was supposedly Wein's final public concert, but he isn't so sure about that. McBride said that he wouldn't be surprised if George was back next year with another One More Once concert. Then Christian introduced Wein as a man who is "bigger than life!" Wein started with "Sophisticated Lady" accompanied by Christian on bass and Mike Camacho on drums.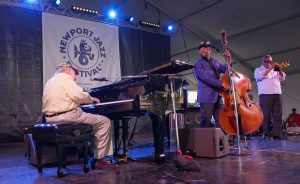 George might be getting on in years, but you'd never know it from his playing. He said, "We've been here for 65 years, and I'm proud of what we've accomplished, but you can't hold onto it forever. You have to pass it on. So, I want to dedicate this to the last generation, some of whom are still with us, and to the next generation who will keep this going for many years to come." He had high praises for Christian McBride, and he said that McBride has already put his own stamp on NJF in only three years. Wein also said it was an honor to perform with him and called him "the greatest bass player in the world!" After "What is This Thing Called Love," George joked, "Did you hear all the wrong notes I played?" The audience laughed and called out encouragement to show that they did not agree. The set continued with "The Day in the Life of a Fool" and Thelonious Monk's "Round Midnight." Wein said that he had never played Monk's song in public before, because it's too hard, but he certainly did justice to the jazz classic. Then came a Duke Ellington medley that included "Satin Doll" and Take the 'A' Train." Trumpeter Jon Faddis came out and surprised the crowd, and he really blew the roof off the tent! George said, "We not only have the greatest bass player in the world, we have the greatest trumpeter." Then Wein asked Jon and Christian to play Miles Davis' "Kind of Blue," and they were joined by drummer Mike Camacho. Wein said, "I'll just listen to this."  Faddis really lived up to the praise George had heaped on him, playing some piercingly lovely solos. The One More Once concert by George Wein and friends was a perfect beginning to the 2019 NJF.
Friday, August 2
On an absolutely picture-perfect morning, a day filled with great music began at Fort Adams State Park.
Mwenso & The Shakes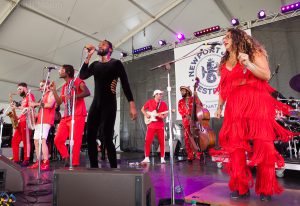 The group got things started with a funky set at the Quad Stage. With fine musicians, singers, and dancers, they gave quite a spectacular performance. It was mostly high energy, but they slowed it down for some emotionally uplifting balladry. The group was composed of singer/bandleader Mwenso, vocalist/dancer Vuyo Sotashe, dancer Michela Marino Lerman, Bassist Russell Hall, saxophonists Ruben Fox and Julian Lee, drummer Kyle Poole, pianist Mathis Picard, and guitarist Gabe Schnider. The group played a sinuous, jazzy rendition of "Hey Big Spender," which was strikingly different from the version in the film, Sweet Charity, in a surprising and fun way. Michela Marino Lerman did a really stand-out tap-dance solo accentuated by her red fringed outfit, where the fringes vibrated with every move she made. The set included "Space Truckin," "Resolute." "No Regrets," "Know the God in You," and "Echoes of Spring" by stride piano master Willie "The Lion" Smith. Mwenso has boatloads of charisma and stage presence to go along with his talent. It was a great, eclectic show, and a fine way to start off the day. Mwenso ended the set by saying, "We like to bring love and joy to you."
Kandace Springs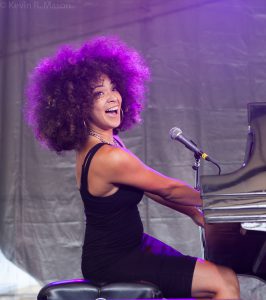 Christian McBride introduced singer/pianist Kandace Springs. He said one of the joys of being Artistic Director is the fact that he can bring both legends and newcomers to Newport. He added that he feels that this will be the first of many Newport appearances for Kandace. She was joined on stage by Elena Pinderhughes on flute, bassist Chris Gaskell, and drummer Connor Parks. Kandace has a warm, insinuating voice, and she accompanies herself on piano most excellently. She started with "Devil May Care," and continued with "The Gentle Rain," "Chicago Blues," and "In My Solitude." She performed heartfelt versions of "Killing Me Softly" and "The First Time Ever I Saw Your Face." The group followed with "The World is a Ghetto," and "What Are You Doing the Rest of Your Life." Her performance of "I Put a Spell on You" was filled with classical music riffs that were beautifully blended into the song. It's a pretty good bet that Christian McBride is right; this won't be Kandace Springs' last time at Newport. After the way she illuminated the Quad Stage, she is definitely one to watch.
Corinne Bailey Rae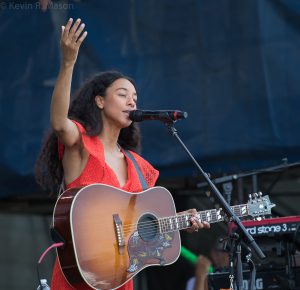 Christian McBride said that they have been trying to get Corinne Bailey Rae to Newport for several years, and it finally happened. Corinne, a very accomplished singer/songwriter/guitarist, said that she was so happy to be here "at this amazing Festival, with this amazing crowd." She started with one of her favorite Bob Marley songs, "Is This Love."  When introducing "I'd Do it All Again," she said the song was about falling in love when it is difficult, and making hard decisions. On "Don't Say I'm Falling in Love," she solicited audience participation, and the crowd was really into it, clapping and singing along. She continued with "Paris Nights/New York Mornings." She alternated between having fun and showing her cheeky brand of British humor and breaking hearts with her musical stories of love gone wrong. The crowd packed the area in front of the stage, standing for the entire set, grooving to this talented artist. Corinne said, "Thank you for bringing your vibe, your energy. It's such a diverse crowd, and I am so happy to be here. It's beautiful looking out at you." She finished her fine concert with her hit composition, "Put Your Records On."
Thundercat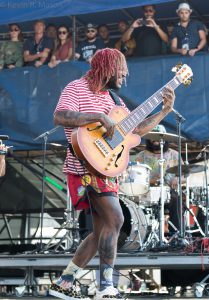 Christian McBride joked that whenever he hears Thundercat play bass, he just wants to hurt him, because he plays so well! All jokes aside, Christian said that Thundercat is one of the most talented musicians out there, and one of the nicest cats, too. Thundercat had the audience enthralled with his singing and his genre-defying music. He didn't talk much, but after some particularly enthusiastic applause, he quipped, "Great. I'll keep singing songs about my cat." But of course, he did far more than that, and the crowd really appreciated his performance. He dedicated one song to the late Nipsey Hussle, wishing that he will rest in peace.
The Bad Plus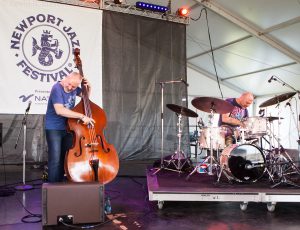 Nate Chinen, author, journalist, and Director of Editorial Content at WBGO Radio, talked about the WBGO show, Jazz Night in America, which is hosted by Christian McBride. Chinen noted that the show had recently done an episode of the show about The Bad Plus in their most recent incarnation: bassist Reid Anderson, pianist Orrin Evans, and drummer Dave King. Then Nate brought them to the stage, and they started out with a beautiful, introspective ballad that morphed into a driving beat with a wonderful piano solo by Orrin Evans. These guys got right down to it, without a lot of chatter, but their music certainly spoke for them. The set included "Commitment" and "Undersea Reflection," which is from their latest CD, Activate Infinity. Throughout the set, the artists would often smile at each other, and they looked like they were having a wonderful time. These musicians are at the top of their game, and the concert was a joy. The packed audience at the Quad Stage just loved them!
Herbie Hancock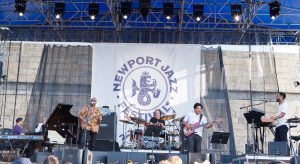 Christian McBride said, "All of us are following a path that this man made…When you get to the point where you are recognized by one name, you've made it. In our world, when you say Herbie, everyone knows who you mean." Hancock came out on stage and said, "Newport are you ready? Well, let's go!" Herbie praised the stellar musicians who backed him: James Genus on bass, Lionel Loueke on guitar, Vinnie Colaiuta on drums, and Terrace Martin on piano and saxophone. The set included "Actual Proof," and after the group played their hearts out on several songs, Hancock said, "I think we're warmed up now. I love a surprise, and I have one for you. I want to bring out a young lady. She sings, plays a killer flute, and is a happy, diligent, hard-working person who loves people – Elena Pinderhughes!" Elena, who performed with Kandace Springs earlier in the day, really showed off her skills. She sang in a lovely soprano voice and played a great flute solo. Herbie Hancock is not only still one of the best artists in jazz, but he's also a great mentor for young artists. Sometimes being considered a legend is partly hype, but that isn't the case with Hancock. He's the real deal, the genuine article. By the end of the concert, each of the musicians proved that they were very well-deserving of all the accolades Herbie Hancock had heaped on them, and of course, he certainly lived up to his long-established reputation for the highest standard of excellence. He seems to just get better with age, like fine wine.
Jon Batiste & Friends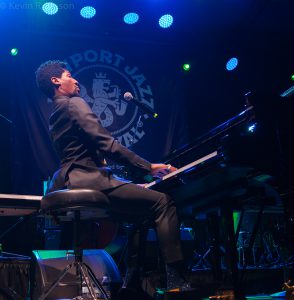 On Friday evening, at the International Tennis Hall of Fame in Downtown Newport, pianist extraordinaire Jon Batiste gave a concert. Jay Sweet, Executive Producer of Newport Festivals Foundation, thanked the audience for coming, briefly discussed the work of the Foundation, and introduced Christian McBride. Christian acknowledged George Wein in the audience, then introduced Jon Batiste with much praise. Batiste took the stage alone and performed a delightful solo of "The Star Spangled Banner," with lots of flourishes and a charming ragtime ending. Then he invited his band, Stay Human, on stage: drummer Joe Saylor, bassist Philip Kuehn, percussionist Nêgah Santos, and saxophonist Patrick Bartley. The group started with "Kindergarten" and "Sweet Georgia Brown." Jon Batiste often sang and played with a good deal of whimsy, but he's also a consummate professional. He performed a powerfully moving "St. James Infirmary" as a piano solo. Jon said he loves coming to the NJF. He appreciates George Wein giving him the opportunity, and he loves the vibe and energy at Newport. Bassist Philip Kuehn and drummer Joe Saylor returned to the stage to play "Take the 'A' Train." Pianist Ethan Iverson, formerly of the group The Bad Plus, came out and played a solo piano    number. His composition "Showdown" was a poignant piece about adversaries who recognize the connections they have. Then the group performed "Creative" from Batiste's CD Anatomy of Angels – Live at the Village Vanguard, followed by Dizzy Gillespie's "Woody 'N' You." Batiste talked about the joy of Dizzy's music, and how it puts him in a good place when he listens. It's understandable that Jon is attracted to the joy of Dizzy's music, because he has such a sense of joyfulness himself on stage. He has a smile that can light up any venue, and he is the picture of happiness when he is performing.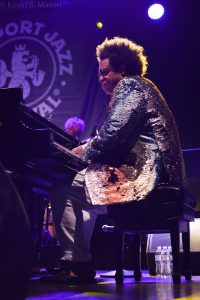 ELEW, a pianist Jon couldn't praise highly enough, joined Batiste for an excellent piano duet. Then ELEW did an impressive solo that included snippets of several songs, including "Who Could Ask For Anything More" and Darth Vader's theme from Star Wars. Jon rejoined ELEW, and they played an extended medley of songs. At one point, ELEW stood up and played for a while, he was so into it, and it's a style he has become known for.
After a 15-minute intermission, Jon and Stay Human returned to play "Anatomy of Angels," the title track from his latest CD that was released that very day. Batiste acknowledged that they had lost some great New Orleans musicians recently, like Dr. John and Art Neville. Yet he is still optimistic that the future of jazz is very bright. He introduced singer/pianist PJ Morton, who performed "Blueberry Hill" and almost immediately segued into "Fly Me to the Moon." He once again segued into one of his own compositions from his CD, Gumbo, and it was a bravura performance. Batiste said, "I love music, because we all bring something different to it, and we share it with you, and together, we create something that lets us forget our problems for a while." Then Jon introduced his last guest of the evening, Corinne Bailey Rae, who beautifully performed, "The Very Thought of You." She followed with "People Make the World Go Round" as a duet with PJ Morton, and they performed Stevie Wonder's "If It's Magic," with a gorgeous solo by Batiste on the melodica. Corinne then did a rendition of "Moon River" that was so unusual that it was almost  unrecognizable at first, but it was outstanding in its own right.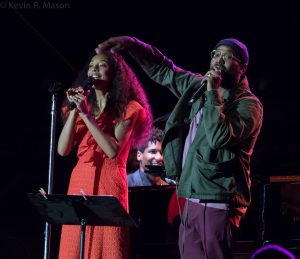 At the end, Batiste brought all the artists back on stage for a finale. They played a lovely mash-up of "When You Wish Upon a Star" and "Smile." The gifted Jon Batiste was very generous in sharing the stage, and he has great taste in musical cohorts. This fine evening of music was definitely one of the highlights of the NJF!
Saturday, August 3
The Royal Bopsters Featuring Sheila Jordan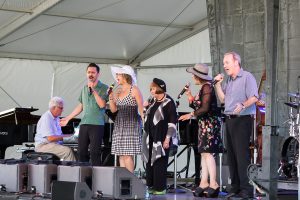 Sheila Anderson of WBGO Radio introduced the show, praising the Festival and stating how much she loved being there. She introduced the vocal group The Royal Bopsters and Sheila Jordan with high praise. The Royal Bopsters, Amy London, Holli Ross, Pete McGuiness, and Dylan Pramuk, began with a lively vocalese rendition of "But Not For Me," with tight four-part harmony and great scatting. They were backed by pianist Steve Schmidt, bassist Cameron Brown, and drummer Tony Tedesco on "Why'd You Do Me Like You Did," which showed the group's impeccable timing. Holli Ross introduced esteemed vocalist and NEA Jazz Master Sheila Jordan, complimenting her effusively, and Holli mentioned that Sheila had been at Newport 60 years ago. Ms. Jordan joked, "I'm old, but I'm not dead yet!" On "I'm Lucky to Be Me," Sheila scatted with style and ease. Sheila is also featured on The Royal Bopsters latest CD, Party of Four, along with Christian McBride, and the late, lamented singer Bob Dorough. With the help of bassist Cameron Brown, Sheila did a delightful duet of "Dat Dere," which she recorded in 1963. Jordan still has stage presence in abundance, as well as wit and style in her singing.
Holli Ross got special permission from Tito Puente to translate his song, "Cuando Te Vea" into English, with one stipulation, that she not use the word "olé!" On this song, Pete McGuiness brilliantly mimicked a trombone, to the delight of the audience. "Rusty Dusty Blues" is a really funny song that was sung with a lot of verve and energy by the group, and they put everything they had into "My Shining Hour." Sheila Jordan, who rejoined the group, sang the swinging encore, "Jazz Jump." As the first performance of the day, The Royal Bopsters and Sheila Jordan got things off to a royally great start!
Sophisticated Giant: The Life and Legacy of Dexter Gordon by Maxine Gordon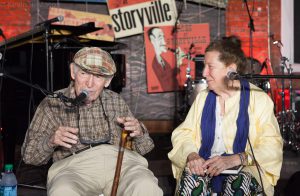 Dexter Gordon's widow, Maxine Gordon, recounted, in a discussion with George Wein, how she ended up writing her book Sophisticated Giant: The Life and Legacy of Dexter Gordon. While living in Mexico, Dexter Gordon started writing his memoir. One day, he stopped and asked Maxine to promise to finish his book, if he should die before completing it, and she complied. She said, "Be careful what you promise." Little did she know, it would require her to go back to college and all the way through graduate school to prepare herself for the undertaking of the book. George Wein said that he couldn't imagine how a contemporary player like Dexter Gordon could join Louis Armstrong's Band at that time. It turns out that Armstrong enjoyed smoking pot, and so did Gordon. Wein quipped that because Dexter's weed was better, it meant he could stay with Armstrong's band as long as he wanted. Wein then said to Maxine, "That's what I learned about in your book." Wein also said, "Dexter understood that Louie created the language of jazz, the concept of phrasing that he brought out in his Hot Five and Hot Seven groups that affected everything that followed. Dexter understood that, and that's why he loved Louis Armstrong…Pops was the major figure in the history of jazz. You had to play like him." Maxine talked about Dexter Gordon getting a Best Leading Actor Oscar nomination for the film Round Midnight. She said, "Of course he thought he would win. Paul Newman did win, but he prepared a speech. In the speech he said, 'I have one person to thank, and that's Louis Armstrong.' Then he was going to sing "What A Wonderful World" which we were spared." Maxine said that Dexter would always defend Armstrong against any negative criticisms. George Wein says a part of Dexter Gordon's importance as a saxophonist was his connection to Lester Young. Wein stated, "Dexter worshipped Lester Young. That was the root of all his playing. But then he heard Charlie Parker. He took Charlie Parker and put him together with Lester Young, and came up with this individual style. This made him, in his day, the number one tenor saxophonist. He was the best."
Brandon Goldberg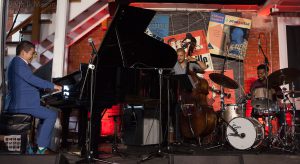 At the Storyville Stage, 13-year-old piano prodigy Brandon Goldberg was joined by bassist Luques Curtis and drummer Mark Whitfield, Jr.  Brandon's talent and musicality are astonishing in one so young. From the beginning of the set, the gifted trio were just killing it for the standing-room-only crowd. Brandon told the audience, "Thank you all for coming out to see us. It is an honor and a pleasure to appear at this legendary festival, and a dream come true!" The set included "McCoy," composed by Goldberg for the great McCoy Tyner," followed by "Blackbird." Brandon not only plays beautifully, but he also has a demeanor of great joy on stage. With his megawatt smile and boyish enthusiasm, he looks like he's having the time of his life.  Each of the young musicians got a chance to shine, on excellent solos. If you closed your eyes, you could easily imagine a group of men who had been playing together for decades. Sometimes, you hear people express concern for the future of jazz, but when you hear the talents of Brandon, Luques, and Mark, you know that jazz's future is in excellent hands. The show continued with "Toys" by Herbie Hancock, whom Brandon called his hero and inspiration. He said he was lucky enough to meet Herbie a few years ago, and they talked about music. Goldberg said he wouldn't be the piano player he is today without Hancock's influence, and he hopes he has made Herbie proud. Next, the group performed Brandon's own arrangement of Thelonious Monk's "Round Midnight" as a solo, and it was full of drama and beauty. For the finale, they played Herbie Hancock's "One Finger Snap," thrilling the crowd with their energy and style.
Dianne Reeves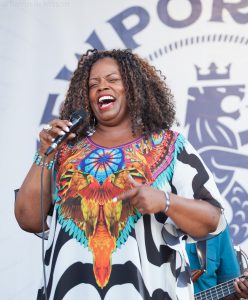 Dianne Reeves' band, pianist Peter Martin, guitarist Romero Lubambo, bassist Reginald Veal, and drummer Terreon Gully, started with a sinuous, Latin-infused song. Then Dianne came on stage clad in a strikingly colorful dress and sang a gorgeous rendition of "When You Know."  Then she sang about getting to Newport just in time to catch Dee Dee Bridgewater's set and exchange hugs with her. She also got to listen to vocalist Buika and said, "The ladies are bringing the heat, so I have to bring the heat, too!"  Next came a song Reeves composed in tribute to Buika. Twenty years ago, she recorded a CD titled Bridges, which was originally dedicated to her father, who she lost at a very early age. Since then, she has lost several other people, including her cousin, singer/composer/arranger George Duke, so now she dedicates the title song to all her loved ones who have passed away. She said Wayne Shorter's "Native Dancer" with vocals by Milton Nascimento's "messed her up," because of Wayne's beautiful playing and Milton's wonderful singing, which she described as "honey on my soul." She said she listened to that song over and over, and she sang a moving version at NJF. Dianne continued with "The Sea, the Sky, the You and I," and for a finale, she performed "Better Days" with such love and feeling, that it was enough to bring a tear to your eye. It has become a trademark of Dianne's to sing the introduction of her band. No matter how many times you might have seen her do this, it never gets old, especially since she always adds something new. This time, in addition to her loving introduction of the band members, she also sang a plea to love each other more and make the world a better place. Such is the power of Dianne Reeves' music and her personal charisma, that she makes you believe that the world can indeed become a better place.
Kamasi Washington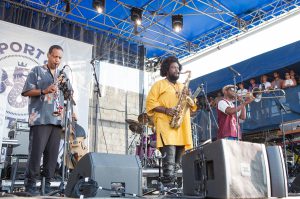 Nate Chinen from WBGO Radio introduced saxophonist Kamasi Washington with a short bio of his musical accomplishments. Kamasi entered the stage dressed in a bright yellow and orange caftan and said, "It feels so special to be up here to play for you. Are you ready to have fun? Let's have some fun!" Kamasi's father, soprano saxophonist and flutist Ricky Washington came out as a special guest, and Kamasi said that his dad taught him everything he knows. Accompanied by drummer Ronald Bruner, Jr., drummer Tony Austin, vocalist Patrice Quinn, bassist Miles Mosley, trombonist Ryan Porter, and keyboardist Brandon Coleman, Washington played "Abraham" and Harmony of Difference," which was all about unity and love. Kamasi said, "Diversity is not something to be tolerated; it is something to be celebrated." Washington noted, "You may have noticed that I like drums," and noted the two drummers Ronald Bruner, Jr. and Tony Austin. Kamasi said that the song "Truth" is all about how beautiful different harmonies can be when played together – a metaphor for people. He added, "I don't have to be the same color as you, or even speak the same language as you, to love you!" "The Space Travelers Lullaby" was composed for a group of people who Washington said was misunderstood like him, "space cadets who get easily distracted." The finale, the high-energy "Fists of Fury," was an excellent end to the fine set that finished Saturday's outstanding musical line-up.
Sunday, August 4
For the final day of NJF, the beautiful weather held, and it was clear, warm, summer day, with salt-water breezes coming from Narragansett Bay.
Christian Sands 3 Piano Erroll Garner Tribute Featuring Helen Sung and Tadataka Unno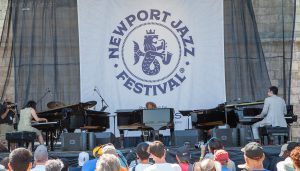 At the main Fort Stage, Christian McBride welcomed the crowd and introduced Peter Lockhart of the Erroll Garner Jazz Project, who said it had been 60 years since Erroll Garner last played at Newport, and he was excited to be back here for this tribute concert. Lockhart then brought the band to the stage: drummer Savannah Harris, bassist Luques Curtis, and the three pianists, Christian Sands, Helen Sung, and Tadataka Unno. The set included "Erroll's Bounce" and "Erroll's Theme." They continued with "Chase Me" and "Play, Piano, Play." All the musicians brought their "A" game. The final song of the set, "Gemini," was not only in remembrance of Erroll Garner, but also of the late pianist Geri Allen.  Christian said that Geri was the one who introduced him to this project, and they once played the song   together. At the end, all three pianist got together at one piano, and their collaboration was joyful for both the audience and the musicians themselves. From the beaming smiles on their faces, they were having a time! At one point, the trio was playing so hard that Helen almost fell, but the group barely missed a beat! In this performance, the power of the piano was on full display, and the group really did full justice to the memory and legacy of Erroll Garner.
Dafnis Prieto Big Band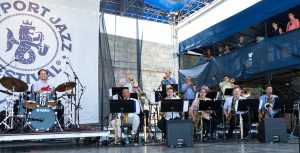 Dafnis Prieto is a Cuban-born drummer, composer, and bandleader. His newest CD, Back to the Sunset, just received The Grammy Award for "Best Latin Jazz Album." This concert at NJF included several songs from this award-winning album: "The Sooner the Better," "Out of the Bone," and the title cut, "Back to the Sunset." This Latin jazz big band was tight, with great interplay and fabulous solos. They had the audience enthralled throughout their set with their rhythmic, danceable music.
PJ Morton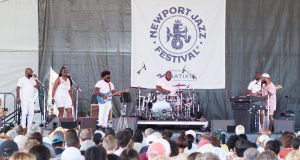 Singer, songwriter, and record producer PJ Morton welcomed the crowd and said, "Not too long ago, people were telling me what my music should sound like, and what I should look like. However, I realized that the best thing I could do is be myself." Well, 'himself' turns out to be a very talented guy. His set started with "Have You Seen Her." Morton had great backing musicians, and wonderful harmony with his back-up singers. The music is not easily categorized; it's a hybrid of funk, soul, and jazz, and his newest CD is titled Paul. From his Grammy-nominated CD, Gumbo, he performed "Go Thru Your Phone," "Sticking to My Guns," and an emotionally powerful "First Began." He continued with a reggae song, "Love You More," and a song he got to perform with his hero, Stevie Wonder, "Only One."  PJ got the audience to sing along, and said the crowd were his background singers, but joked, "I'm not paying you!"  After 10 tries, Morton finally won a Grammy this year for his remake of the Bee Gees song, "How Deep Is Your Love." He said it was one of his favorite songs, and his version was so rich, soulful, and heartfelt, that it was easy to see why he won that Grammy. The rousing finale, once again from the CD Gumbo, was "Everything's Gonna Be Alright," and the crowd got up and danced. This was one beautifully interactive concert.
Cécile McLorin Salvant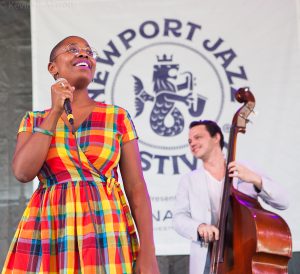 Bonnie Johnson of WICM Public Radio called Cécile McLorin Salvant "a Renaissance woman!" Cécile came out in a fantastically bright, multi-colored checked dress, and launched into a gorgeous ballad that segued into the up-tempo "A Brighter Day." In addition to her wonderful voice, Salvant has a real way with words, and impeccable timing. She is an outstanding storyteller. She was backed by pianist Aaron Diehl, bassist Paul Sikivie, and drummer Kyle Poole. On "A Stepsister's Lament" from the musical Cinderella, Cécile gave the wittiest, most hilarious performance imaginable of this song, and the audience went wild! She continued with sparkling renditions of "Devil May Care," "Come Back to Me," "Ghost of Our Love," and "Raggle Taggle Gypsy." At one point, she poignantly said, "This concert is dedicated to Lawrence Leathers. We worked on this arrangement for hours in a room in the Catskills." Lawrence Leathers had been the drummer for the group, until he was recently tragically murdered. The song in question was "Something's Coming" from West Side Story, and the stunning arrangement was a loving and lovely tribute to a talented artist who was taken from the world much too soon.  Throughout the set, Cécile's voice swooped and soared, as she leaped octaves with ease, keeping the audience in the palm of her hand until the final note.
Common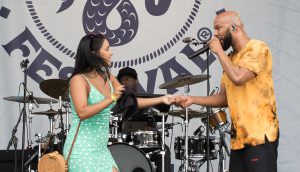 At Newport, the last Festival act on the Fort Stage is generally a well-known performer who will ideally leave music lovers wanting more and looking forward to next year. Academy Award winning rapper, actor, writer, and activist, Common, brought the closing heat, in a performance that covered his life in music and activism in a clever storytelling fashion. He started his set sitting in a living room chair prop, and returned to that chair periodically while recounting various chapters in his life, from his early poetic experiments through his hits and present activism. He seamlessly moved from the music of his debut 1992 album Can I Borrow a Dollar? to his latest 2019 release Let Love. His musicians and vocalists were stellar, and the crowd was fully engaged, with hand waves and echoing familiar lines from his insightful rhymes. Common's dramatic presentation used the entire stage, and the show included him serenading a female fan. Common was a worthy Festival-closer, and he gave NJF fans a great show.
Conclusion
Weather is one thing that no jazz festival can control. Sometimes you get lovely weather; other times, not so much. Usually, no matter how poor the weather gets, the music makes up for it. But this year at Newport, there was no need for that. The 2019 NJF was blessed with the most perfect summer weather. In addition to the weather, there was a fabulous line-up of artists that made for some tough choices when two great musicians were playing at the same time. However, there was so much talent on display, that you really couldn't go wrong, no matter who you chose to see. Next year's Festival will take place from August 7 to 9, 2020. For more information, go to: www.newportjazz.org.