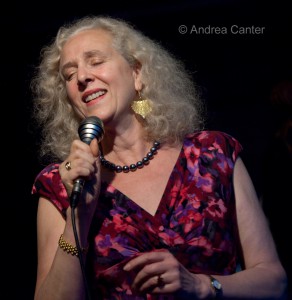 Described by Minnesota Monthly as "one of the most powerful vocalists on the Twin Cities scene," Lucia Newell has spun Brazilian samba, French ballads and bop melodies, and rendered lyrics in three languages. A popular performer at the Artists Quarter until the club closed nearly three years ago, Lucia has been heard less often, a situation that will hopefully be reversed with her performance "In the Crook" with pianist Phil Aaron on Sunday, April 24 (7 pm) in the Dunsmore Room of Crooners Lounge in suburban Minneapolis.
A Minneapolis native, Lucia Newell spent her early career performing and studying in Los Angeles, Brazil (singing for two years at Clube 21 in Rio), Mexico (six months at El Señorial in Mexico City), returning to the Twin Cities as a studio backup vocalist for Jimmy Jam Harris, Terry Lewis and Monte Moir of Flyte Time. Over the past two decades, Lucia has been engaged in voice-over work, performing, teaching, composing, and pursuing her life-long study of music. She has sung with the great Billy Eckstein, the Rio Jazz Orchestra, Oscar Castro Neves, Ben Sidran, and Nilson Matta; paid tribute to Anita O'Day and Betty Carter, A linguist as well as vocalist, Lucia writes lyrics in English, Spanish and Portuguese, and has translated many of her favorite Brazilian songs. In addition to her appearances with her quartet, Lucia performed often with Soul Café, a jazz trio (Laura Caviani, Steve Blons, and Brad Holden) combining poetry and music, and appearing on their 2006 release (Jazz and Poetry) reading the poems of Pablo Neruda and singing the songs of Rogers and Hart. In recent years, Lucia paid tribute to singers she describes as her "music mentors," the late Betty Carter and Anita O'Day.
Lucia spent years singing background vocals on recordings for Windham Hill, CBS, Warner Bros., MCA, GIA, Atlantic, A&M and Virgin Records, recording with Ben Sidran, Thelma Houston, Paula Abdul, Patty Austin, and others in London, New York, Los Angeles, Rio, and at home in Minneapolis. She was featured on Laura Caviani's jazzy Christmas CD, Angels We Haven't Heard. Her own first recording, Enter You, Enter Love, with guitarist Joan Griffith, was hailed as a "wonderfully surprising collection of love songs…that brings to mind steamy, moonlit tropical nights" (Sun Current). Lucia's work with Pete Whitman, along with her love of Billy Strayhorn, led to her 2005 release, Steeped in Strayhorn, described by Alan Bargebuhr in Cadence as "alive with authentic jazz affirmation." Collaborating again with Joan Griffith, Lucia appeared as guest vocalist on Sambanova (2008) and as part of Alma Brasiliera's Circle of the Dance (2010), with Griffith and Clea Galhano on recorder.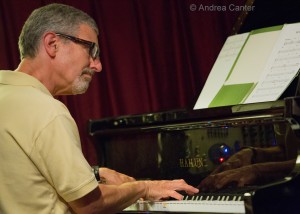 Pianist Phil Aaron is a Chicago native who studied music at the Berklee College of Music and the University of Illinois.  After ten years in LA, he moved to Minneapolis in 1989, becoming fully immersed in the local jazz scene, and hosting a long-running trio gig at the Hotel Sofitel. By day,  Phil works as a composer of film and television scores winning an Emmy in 2007 for his scoring work on the PBS animated series, "Auto-B-Good." As a performing jazz artist, Phil has shared the stage with Lee Konitz, Eric Alexander, Jim Rotondi, Jim Snidero, Byron Stripling, Barbara Morrison and Jackie Allen, among others, and has provided piano accompaniment to many local jazz singers and ensembles. An active recording artist as sideman and on five CDs of his own, Phil plays regularly with his own trio, Lucia Newell, the Phil Hey Quartet, Babatunde Lea, Joyce Lyons and more. Drawing inspiration from Bill Evans, Cedar Walton, Tommy Flanagan, and Keith Jarrett, he "can swing hard or wax romantic at the keyboard" (Minneapolis Star Tribune).
With Phil on the Bösendorfer and Lucia "in the crook," expect some brand new material along with Brazilian and American jazz favorites and, of course, songs of spring.
The Dunsmore Room in Crooners Lounge is located at 6161 Highway 65 NE, just north of I-694 and about 20 minutes northeast of downtown Minneapolis. Reservations recommended (tickets $8, with dinner $35) at www.croonersloungemn.com