By Dan Emerson.
.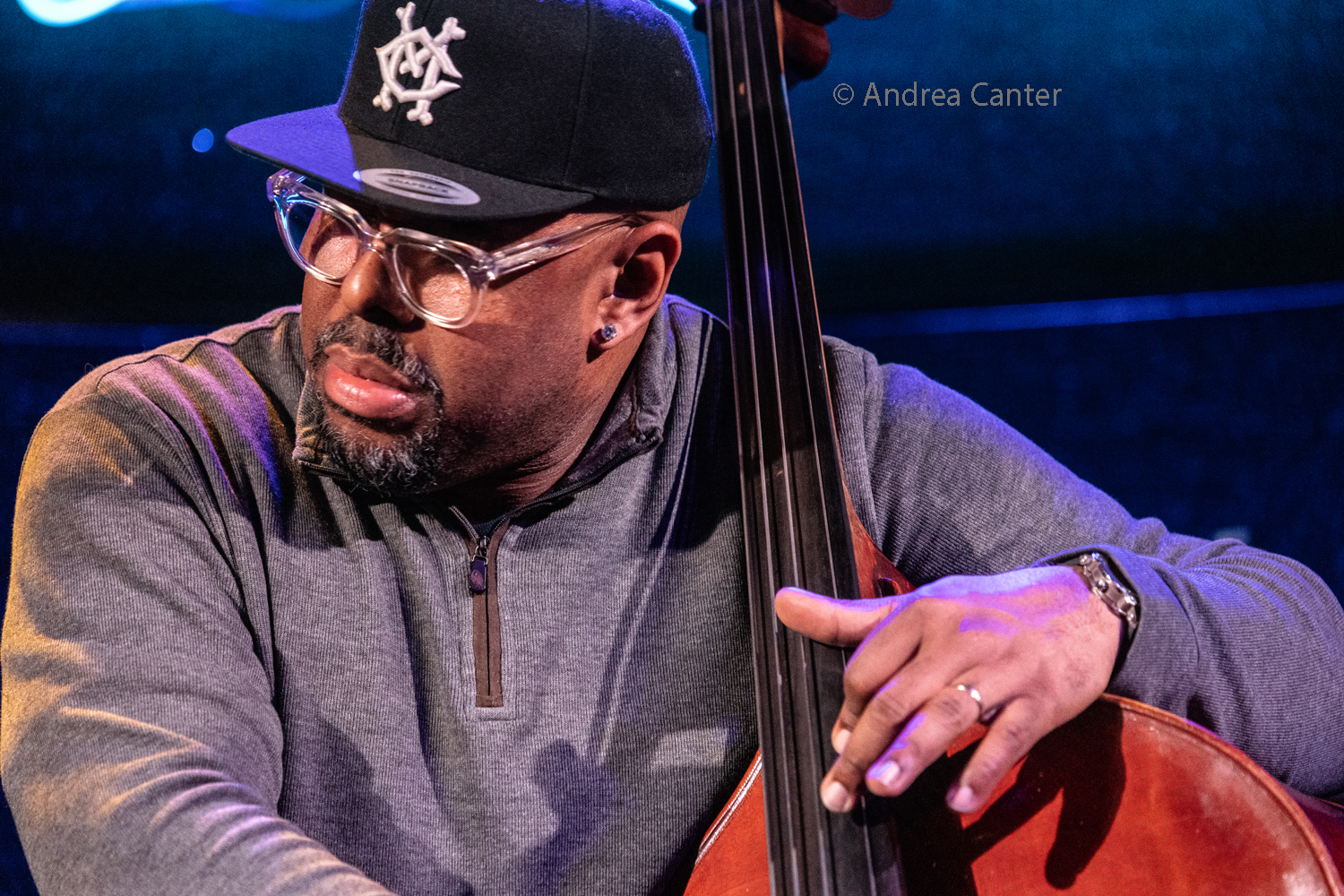 Describing all the "jobs" Christian McBride holds would completely fill up a business card: bassist, composer, bandleader, radio host, educator, historian, festival artistic director….and, considering the powerhouse band he brought to the Dakota jazz club on March 21-22, you could add to that "talent scout."
McBride's New Jawn quartet – one of five groups McBride leads – includes three players who may be marquee "names" but are thoroughly appreciated by their fellow musicians: trumpeter Josh Evans, saxophonist and bass clarinetist Marcus Strickland, and drummer Nasheet Waits. Through nearly eight years of playing together, they've developed thoroughly collaborative group interplay style that combines crisply played elements of swing, post bop and free blowing.
In Tuesday night's late show, the group played tunes from their new album "Prime," which is a follow-up to their pre-pandemic, Grammy-nominated debut release. It's clear from the recording and the Dakota show that M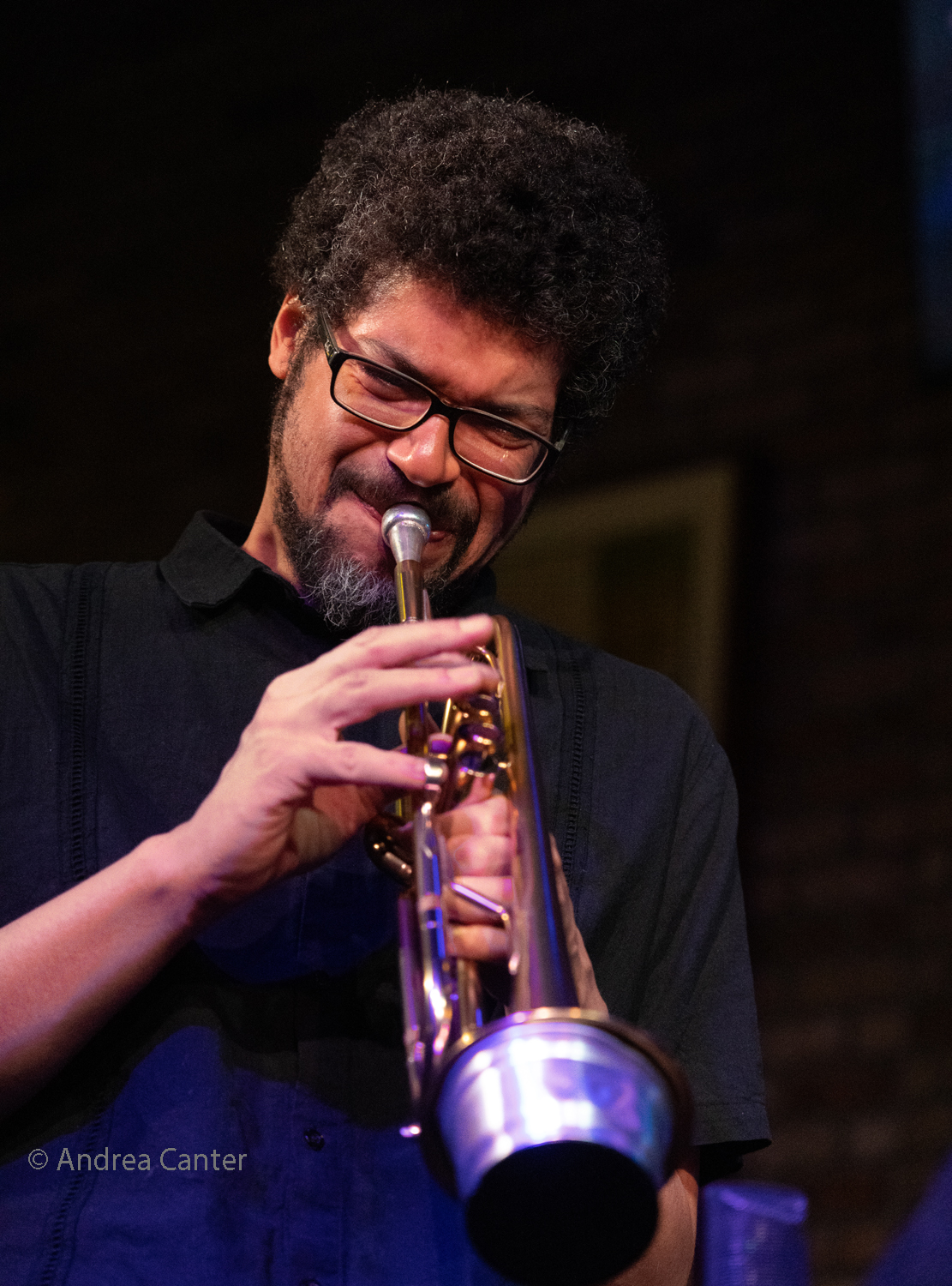 cBride believes in giving his younger band members plenty of room to express themselves, take musical chances and surprise audiences. In that sense he's in the tradition of great laissez faire jazz bandleaders of the past, such as John Coltrane, Miles Davis and many more, who knew how to let their underlings learn to "fly".
The group's instrumentation reinforces that ideal – there's no chordal instrument spelling out the changes, which can help bring out the adventurous side of top-shelf musicians who have plenty of musical ideas and the chops to carry them through – which certainly describes this band. Between tunes, McBride mentioned that the group is approaching its eighth anniversary of playing together, which they seem to have used to build an ESP-like level of musical rapport and interplay.
The set kicked off with a free-jazz-style burst of screeching cacophony – Evans and Strickland blowing atonal horn riffs, Waits thundering on the drums and McBride furiously plucking his upright bass strings. After a few bars McBride launched into an eight note bass ostinato and the band joined him for a finger-popping funk groove.
It was "Head Bedlam," an impressionistic slice which the composer, McBride, described as "that noise in your heads as you were looking at Twitter during the pandemic."
Strickland echoed McBride's bass riffs on his bass clarinet, which gave the piece a unique timbre.
Throughout the set Strickland provided a steady flow of improvisations on both bass clarinet – an instrument that might be considered somewhat under-utilized in jazz – and tenor sax. Earlier in his career he won "Rising Star" polls, including one for his soprano playing. He's released 10 albums as a leader, and since joining McBride's group nearly a decade ago, has been a testimony to McBride's knack for finding and enlis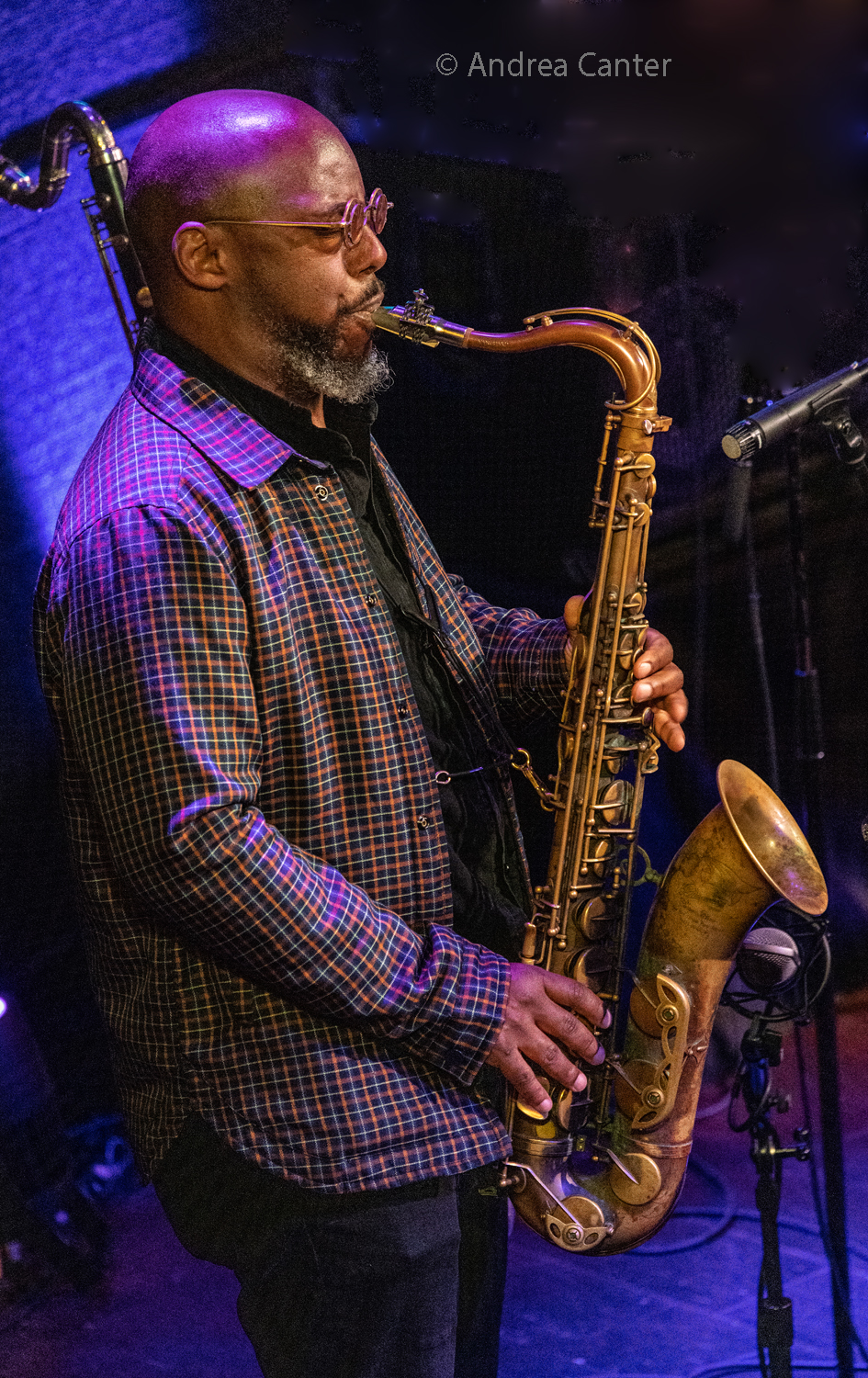 ting promising, (relatively) young talents for his combos.
Evans, the youngest member of the group, is a fine trumpeter and composer. His composition "Dolphy Dust," was a hard charging piece driven by Waits' fiery, inventive drumming and a trick, stop time melody line played in unison by the two horns and McBride.
third was "Kush" , a mellow ballad composed by Waits. Drummers aren't typically known for composing ballads, but McBride noted that Waits composed "two of the most tender ballads we play." The moody, quietly restrained piece provided a nice contrast to the fiery, high energy playing which comprised most of the set. McBride weaved his improvised bass lines around the horn players solo riffs, and Strickland contributed a gorgeous bass clarinet solo that fit the mood perfectly. It was the highlight of the set.
Throughout the set McBride provided a solid yet often surprising bass undercurrent for the horn players while giving them plenty of room to explore and develop their ideas. The absence of a chordal instrument also provided a measure of harmonic freedom, which the soloists too full advantage of.
One of the most enjoyable aspects of the set was seeing the way McBride meshed his always-creative bass riffs with the beats laid down by Waits. Or maybe it was the other way around. Either way, they seem to have an ESP-like synchronicity.
There probably isn't a better upright bassist in jazz. McBride, whose father was a professional double-bassist, has said in interviews that he started out as a pre-teen playing electric bass, before switching to the upright, which he approached as just a bigger version of the electric bass. He transferred much the same techniques he had employed on the electric to the larger instrument – which helped him develop his unmatched plucking articulation and s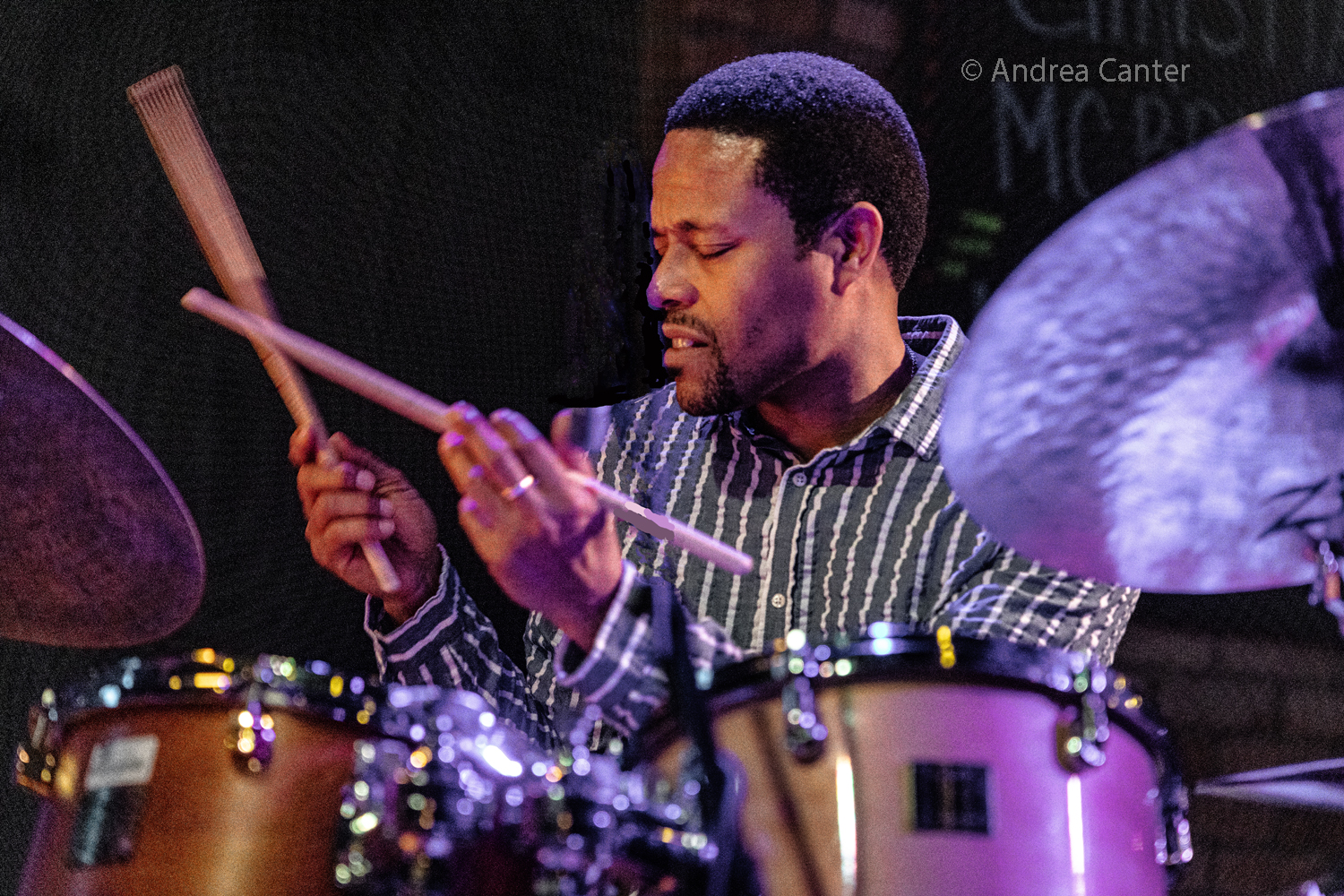 peed, and resonant tone.
Late in the set, the combo paid tribute to the recently departed jazz titan Wayne Shorter, with a rendition of a less familiar Shorter composition: "Sight Seeing," which he recorded during his tenure in the ground-breaking fusion group Weather Report.
The encore that closed out the set was McBride's antic composition "Walkin' Funny," which he said was inspired by the characteristic gait of the late night liquid revelers who dwell in bars and nightclubs Appropriately it featured a somewhat off-kilter bass line and beat and a subtly mocking "wah wah" horn riff embedded in the melody.
McBride will be back in the Twin Cities (leading a different band) to play at the Twin Cities jazz Festival in Mears Park, Saturday, June 24, 8:30 p.m.
Dan Emerson is a freelance writer and musician.