"Probably the best small jazz festival in the country, if not the world."—San Francisco Chronicle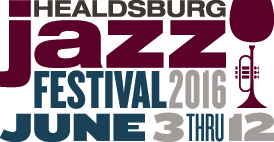 It's no longer a well-kept secret that the northern California town of Healdsburg holds one of the finest small jazz festivals in the nation. Tucked into the picturesque vineyards of Dry Creek, Alexander Valley and Russian River in Sonoma County, Healdsburg welcomes a diverse array of internationally acclaimed and locally prominent musicians every summer, scattering performances around restaurants, hotel lobbies, small theaters and winery grounds, usually over the course of ten days. With two weekends of prime time performances and a week of engaging jazz related activities in-between, the 2016 festival gets underway June 3rd,  opening with Bay area native/Grammy-nominated guitarist Julian Lage and his Trio; the first weekend features a multi-concert, four-band "40-year Retrospective" with the great drummer, Billy Hart, while weeknight performances by Charlie Hunter and Claire Daly set the stage for the second weekend, boasting not-quite-teen piano phenom Joey Alexander, festival favorite, pianist Fred Hersch in duo with acclaimed clarinetist Anat Cohen, the Marcus Shelby Orchestra, and the closing "New Orleans on the Green" with NOLA veteran Dr. Michael White, along with after hours music from renowned percussionist, Babatunde Lea "and Friends."
Healdsburg Jazz Festival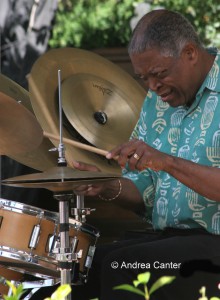 Over its first 17 years, the festival has presented a long list of legendary performers, from the first festival in 1999 with the late Billy Higgins through following years with appearances by Fred Hersch, Charles Lloyd, Randy Weston, the Heath Brothers, Billy Hart, Abbey Lincoln, Roy Haynes, Frank Morgan, Gary Burton, Kenny Barron, Regina Carter, McCoy Tyner, Delfeayo Marsalis, Patricia Barber, Charlie Haden, Vijay Iyer, Sheila Jordan and more.
The Healdsburg Jazz Festival is more than live performances over two weekends and in-between events. Over the course of the festival itself, you'll find a blues brunch, jazz dinner, and nightly jams.  All year long, the festival provides concerts in area restaurants, clubs and concert venues; and jazz education programs (including a Black History Month program of instruction and performance; a week-long residency with percussionist Babatunde Lea providing daily instruction and inspiration at area schools, building not only local talents but also the jazz audience. "When you think about jazz education," says founding Artistic Director Jessica Felix, "you think of teaching people to play. But I think about teaching people to listen to jazz…I've fought hard for this festival, and I fight every year. But every year, the struggle falls away with the first note."
The 2016 Festival Headliners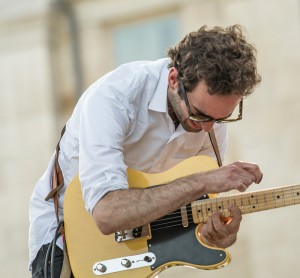 Friday, June 3, Julian Lage Trio (Shed, 25 North Street, Healdsburg, shows at 7 & 9 pm). Dubbed a guitar prodigy as a pre-teen in the Bay Area (he is a native of  Santa Rosa now based in New York), Julian Lage is now a veteran performer still in his 20s. His debut recording, Sounding Point (2009), generated widespread accolades, as did his follow-ups, Gladwell (2011), his first solo release, Worlds' Fair (2015), and new trio outing, Arclight (2016), as well as recent acclaimed duos with Chris Eldridge, Nels Cline, and Fred Hersch, and his long association with the bands of Gary Burton. A long-time friend of the Healdsburg Jazz Festival, Julian has appeared nine times over the past 17 years, including his first performance in 2000 at age 12, as a guest in Charles Lloyd's band. With bassist Scott Colley and drummer Kenny Wolleson, Lage will recreate the magic of the trio's Arclight, a startling album on which he uses a Fender Telecaster on songs from the pre-bop era as well as original compositions. This is just one more example of Julian's penchant for doing things his own way– his first recording featured his acoustic guitar along with banjo, djembe, cello, and mandolin.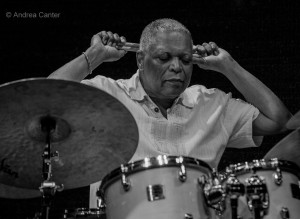 Saturday -Sunday, June 4-5, Billy Hart: 40 Year Retrospective (Jackson Theater, 4400 Day School Place, Santa Rosa; 7 pm. Day One – Quest & Enchance; Day Two – Billy Hart Quartet & Oceans of Time). A native of Washington, DC and long-time resident of New York with a faculty appointment at Oberlin Conservatory, drummer Billy Hart is as loyal to the Healdsburg festival as any native. With a resume of affiliations that includes Shirley Horn, Wes Montgomery, Betty Carter, Jimmy Smith, McCoy Tyner, Miles Davis, Wayne Shorter, Herbie Hancock, Stan Getz and more, Hart has performed at 11 of the past 17 festivals. Notes festival Artistic Director Jessica Felix,  "So many great jazz masters have had tributes to their talent and contributions, I felt one for Billy was way overdue. He is truly one of the greatest drummers in jazz history. He has been on thousands of recordings over his 50-year career and, in turn, has enhanced the careers of several exceptional musicians. He has also been a true friend to Healdsburg Jazz Festival… a big reason the Healdsburg Jazz Festival has been able to work miracles for 17 years When he began to lead his own bands in 1977, they proved to be, like him, both disciplined and daring. For this tribute, we will take you through his musical history, and showcase his deep passion for jazz and the breadth of his achievements."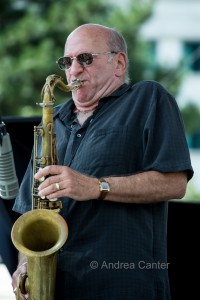 "Billy and I worked for many months choosing the four bands and the music that we felt best represented his art," notes Felix. "So many of Billy's friends wanted to participate in the tribute that I had to sadly tell some we just didn't have any more space." The four bands that make up this weekend's tribute include Quest and Enchance on Saturday, the Billy Hart Quartet and Oceans of Time on Sunday. Saturday presents bands from the 70s and 80s, opening with Quest, a collaborative founded in 1981 with Dave Liebman (Miles Davis) on sax and flute, Richie Beirach (Stan Getz, Chet Baker, Lee Konitz) on piano, and Ron McClure (Charles Lloyd) on bass. The closing set by Enchance is an ensemble of who's who from the 60s-70s, including original band members Hart and living legend Dave Holland (Miles Davis), with the roles of pianist Don Pullen and saxophonist Dewey Redman now assumed by modern masters Craig Taborn and Dewey's son Joshua, along with saxophonist Oliver Lake and trumpeter Eddie Henderson.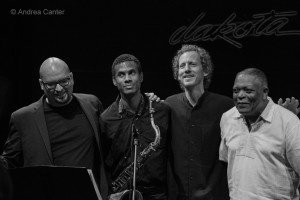 On Sunday, the night kicks off with Hart's most recent project, his Quartet with pianist Ethan Iverson (Bad Plus), bassist Ben Street, and saxophonist Mark Turner (Fly). His Oceans of Time closes the tribute, a band that first recorded in 1996. In Healdsburg, the ensemble includes local sax hero Craig Handy, internationally acclaimed saxophonist Chris Potter, violinist Mark Feldman, guitairst David Fiuczynski, pianist David Kikoski, bassist Cecil McBee, and the father-son drum team of Billy and Lorca Hart.  The younger Hart has been a fixture at the Healdsburg festival.
Earlier this spring, Hart conducted free workshops and oral history classes in Healdsburg and at nearby Sonoma State University.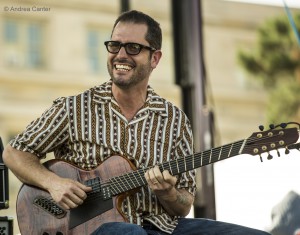 Wednesday, June 8, Charlie Hunter Trio (Spoonbar, 219 Healdsburg Av, Healdsburg; dinner and music seatings at 6 and 8 pm).  Another guitar prodigy originally from the Bay Area, Charlie Hunter doesn't just make music, he makes guitars! He launched his career in the 90s with an 8-string guitar, and now enjoys an international following and a catalog of 40+ albums. He's reuniting with long-time cohort Scott Amendola (drums)–also a Bay Area native, and adding a new voice, New York sensation, cornetist Kirk Knuffke. Expect a wild set of music from the likes of Ellington, Cole Porter, Hank Williams, the Cars and beyond.
Thursday, June 9, Claire Daly Quintet, "Reinventing Motown" (Paul Mahder Gallery, 222 Healdsburg Av, Healdsburg; 7 pm). Claire Daly may have had an uphill battle as a woman bandleader in a man's jazz world, wielding a most unwieldy instrument, the bari sax, but her talent as composer, bandleader and performer render any issues of gender irrelevant. A native New Yorker and graduate of Berklee College of Music, Daly received Downbeat's Talent Deserving Wider Recognition award for six consecutive years, as a musician who "swings like Benny Goodman with wings." For this show she enlists Marcus McLauren on bass, Peter Grant on drums, Steve Hudson on piano, and Bay Area guitarist John Scho. The band will perform music from Daly's Motown tribute album, 2648 West Grand Boulevard.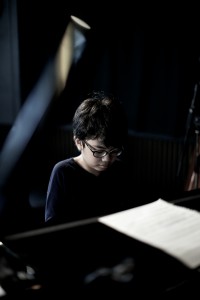 Friday, June 10, Joey Alexander Trio (Jackson Theater, 4400 Day School Place, Santa Rosa; 8 pm). One of the youngest headliners to appear at the Healdsburg Jazz Festival (Julian Lage had him beat, slightly), pianist Joey Alexander was born in Bali (Indonesia). He began teaching himself piano at age 6 after listening to his father's records, and soon was attending local jam sessions, continuing to develop without formal training. Invited to play for Herbie Hancock at age 8, he then performed at jazz festivals and won an international improvisation contest at age 10. His 2015 recording debut, My Favorite Things, garnered two Grammy nominations, making him the youngest nominee ever in jazz categories  ("Best Jazz Album" and "Best Improvised Jazz Solo") at age 12. He'll be a month shy of 13 when he comes to Healdsburg with his trio, featuring Dan Chmielinski on bass and Ulysses Owens, Jr. on drums
Saturday, June 11, Fred Hersch and Anat Cohen Duo (Raven Theater, 115 North Street, Healdsburg; 7:30 pm). Pianist, composer and educator Fred Hersch is a Cincinnati native but frequent headliner at the HJF, where his parents have lived for a number of years as long-time supporters of the jazz festival. With a total of eight Grammy nominations, the French Grand Prix du Disque, and the Jazz Pianist of the Year award from the Jazz Journalists Association, Fred has held an unprecedented three solo residencies at the Village Vanguard; recently graced the cover of Downbeat magazine (October 2015); and turned experiences from a serious medical crisis—particularly visions he experienced during a two-month coma—into an astonishing musical epic (My Coma Dreams), recently released on DVD. Classically trained, Fred studied jazz at the New England Conservatory of Music and worked early on with Stan Getz, Joe Henderson, Art Farmer, and Gary Burton before building his reputation as a solo performer and leader in duo, trio, quintet, sextet and "pocket orchestra" formats.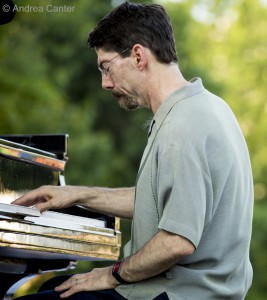 Revered for his surprising reconstructions of "standards" as well as deeply personal original works, Hersch is also known as an inspiring teacher and mentor who has helped support such modern talents as Brad Mehldau, Jason Moran and Ethan Iverson. His mastery of the duo format led to a week-long duo residency at Jazz Standard in New York, now running annually for ten years. And one of his recent partners, at Jazz at Lincoln Center in January and last month at Jazz Standard, Anat Cohen is also blazing a trail as performer and bandleader, with particular emphasis on the clarinet.  The Israeli native has topped Downbeat Critics and Readers polls (Clarinetist of the Year) annually since 2010, and has released acclaimed albums saluting Benny Goodman as well as her latest, Luminosa, bringing new audiences to Brazilian fare. On the surface their styles might seem at odds — Fred more subtle and introspective, Anat more exuberant and openly passionate, but, "despite their differences in generation and culture, [they] speak the same eloquent language of improvisation and melody…a heavenly match" (Jazz Police).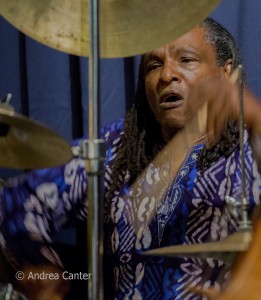 June 10-11, Babatunde Lea and Friends, Jazz in the Lobby (Hotel Healdsburg Lobby, 25 Matheson Street, Healdsburg; 9 pm- Midnight, free). Raised on the East Coast but a Bay Area resident for about 30 years, renowned percussionist Babatunde Lea has been a significant part of the Healdsburg jazz scene well beyond his years as an area resident, continuing to return each spring to conduct education programs in area schools. Lea and cohorts  saxophonist Teodross Avery, bassist Gary Brown and pianist Frank Martin ensure that the jazz continues beyond scheduled concerts, with music in the Hotel Healdsburg Lobby. Lea is a veteran of bands led by Stan Getz, Joe Henderson, Randy Weston and McCoy Tyner, a founding artist on Motema Records, and continues his unique approach to trapset and congas in his new home in the Twin Cities.
Sunday, June 12, Marcus Shelby Orchestra, "Beyond the Blues" with Tiffany Austin and Craig Handy (Raven Theater, 115 North Street, Healdsburg; 11 am, free).  Formed by composer/bandleader Marcus Shelby in 1999,  the 17-piece MSJO is comprised of some of the Bay Area's most respected and sought-after young musicians, including Rob Barics, Gabe Eaton, Darren Johnston and Danny Grewen. Former bandleader for Columbia Records and GRP Impulse, Shelby studied bass with Charlie Haden and currently leads the MSJO, Marcus Shelby Hot 7, and Marcus Shelby Trio. In the last six years, Shelby has written an extensive series of original compositions and suites as well as orchestrated a broad survey of arrangements from great jazz big band composers Duke Ellington, Billy Strayhorn, Charles Mingus and Count Basie. In 2005, Marcus received the Creative Work Fund grant to compose a jazz oratoria for jazz orchestra which narrates the life of Harriet Tubman, leading to the release of Shelby's acclaimed Harriet Tubman (Noir Records, 2008). Director of the Healdsburg area Freedom Jazz Choir, Shelby's show for the festival this year celebrates the legacy of freedom movements throughout the U.S., including nods to Harriet Tubman and Martin Luther King, with guests vocalist Tiffany Austin and saxophonist Craig Handy.
Sunday, June 12, New Orleans Day on the Green with Dr. Michael White (Dry Creek Vineyard, 3370 Lambert Bridge Rd, Healdsburg; gates at 4:30 pm). A scholar as well as clarinetis and bandleader descended from the original jazz musicians of New Orleans, Dr. Michael White brings a quartet of Crescent City musicians to close the festival in wine country style–on the green of the Dry Creek Vineyard. His cohorts include Gregg Stafford on trumpet and Seva Venat on banjo. Other bands on the schedule help make this a real party night–MJ's Brass Boppers Brass Band and the Russian River Ramblers.
Tickets, full schedule and further information about the Healdsburg Jazz Festival at www.healdsburgjazzfestival.org