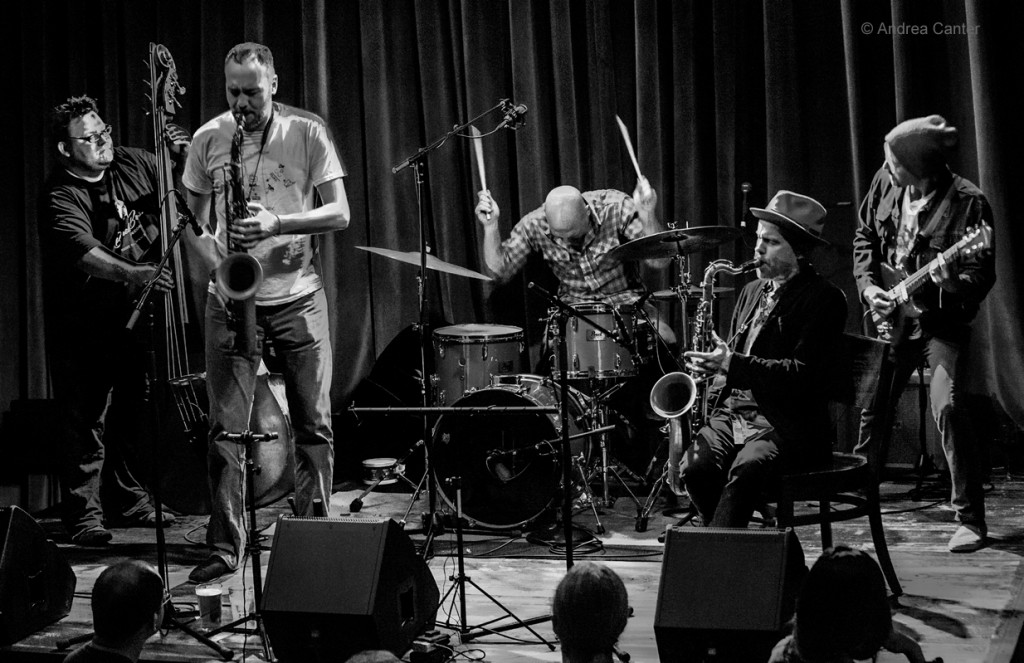 Peel any page from Dave King's touring calendar and you'll likely see gigs with The Bad Plus, Happy Apple, the Dave King Trio and Halloween, Alaska. Or the Dave King Trucking Company. The DKTC was launched in 2010 during a two-night King extravaganza at the Walker Art Center.  Six years and many accolades later, this Minnesota-New York hybrid ensemble celebrates its third recording, Surrounded by the Night, at Vieux Carré in St. Paul, July 15-16 at 9 pm. Joining King will be Twin Cities cohorts Brandon Wozniak and Erik Fratzke, teaming up with New York-based Chris Speed and Minnesota native Chris Morrissey. The band then heads east for gigs in Chicago and Milwaukee.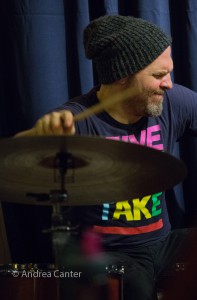 Dave King
Drummer Dave King might be best known for his long-standing work with The Bad Plus and Happy Apple, but his affiliations hardly end there. In fact, at any given moment, King is likely involved in at least ten projects ranging from the jazz oriented Bad Plus, Happy Apple, Chris Speed Trio, Craig Taborn's Junk Magic, and Buffalo Collision to rock bands like Halloween, Alaska and impossible-to-define electronic outfits like Gang Font, as well as his piano trio with Billy Peterson and Bill Carrothers. King grew up in the Twin Cities, starting off on piano at age four before switching to drums in fifth grade. As a teen he forged his early music connections with fellow Golden Valley residents Reid Anderson and Craig Taborn, whose paths would intersect again and again (including in the aptly named band, Golden Valley Is Now). He attended Cooper High School and the MacPhail Center for Music, studying jazz and rock.
At 19, King headed west, working as a session musician in LA in the early 90s before returning to the Twin Cities to find his own voice. "I always wanted to be in the mix," he told the Pioneer Press some years ago, "to help design and define the sound of the ensemble rather than just be the guy who plays drums." Soon he helped design and define the sound of Happy Apple, the trio that came together in 1996, ultimately completed with saxophonist Michael Lewis and electric bassist Erik Fratzke and straddling avant garde jazz and alternative rock. In addition to his discography with The Bad Plus and Happy Apple, and his appearances on a long list of other recordings, King released a solo album combining his skills as drummer, pianist and composer, Indelicate (2010, Sunnyside); in fall 2012, his then-new Dave King Trio with Bill Carrothers and Billy Peterson released the well-received I've Been Ringing You (Sunnyside).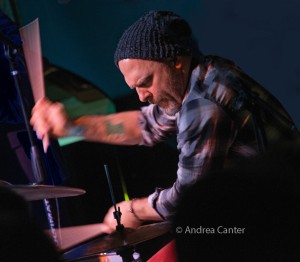 Whatever the band of the moment or decade, King remains the Energizer Bunny of drummers, both in terms of his frenetic musical wizardry and his simultaneous association with numerous and diverse bands. Traditional approaches to percussion have never appealed to King, whose technique is described by Matt Peiken (St. Paul Pioneer Press) as relying "on incredible finger control to nuance his fills, which often defy the neat subdivisions of typical beats." Similarly idiosyncratic is King's collection of "instruments" that includes walkie talkies and children's toys. "What's considered banal pop drumming is never going to be my thing," King says. "But my thing will not work with everyone. I need to have people who trust where I'm coming from, people with me who will think 'King's on the gig — something's probably going to happen.' "
With the Dave King Trucking Company, something's going to happen as he meshes with Wozniak, Speed, Fratzke and Morrissey.
The Trucking Company
The concept of the Trucking Company sound, according to Dave, is as "if the great Nashville bands of the '60s and '70s could improvise and were Coltrane fanatics." In other words, roots music meets sheets of sound? A year into their collaboration, the Trucking Company released its first CD (Good Old Light) and toured on both sides of the Atlantic, and in the past three years has appeared locally (usually as a quartet without New York-based Speed) at the Artists Quarter, Studio Z, Dakota, and Icehouse. Their "vinyl only" recording (Adopted Highway) was released in 2014, now followed by Surrounded by the Night. The DKTC performed in the 2016 Winter Jazz Fest in New York City.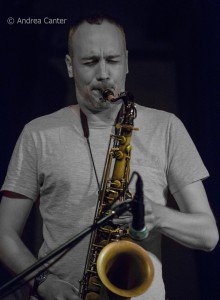 Saxman Brandon Wozniak previously lived and worked in New York City, toured with the Tommy Dorsey Orchestra, and earned his BA from Indiana University under the tutelage of the late David Baker. Since returning home to the Twin Cities in 2006, he has performed with a long list of local bands, and currently plays with the Atlantis Quartet, Zacc Harris Group, Chris Bates Red 5, Bryan Nichols Quintet, the Adam Meckler Quintet, Mancrush, and the Atrium Jazz Ensemble.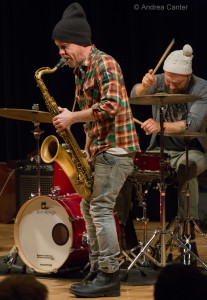 Seattle native, multi-reedist Chris Speed is one of the most creative performers and composers in modern jazz. After studying classical piano from age 5, he started clarinet at age 11, and moved on to tenor sax and jazz in high school. After attending the New England Conservatory of Music, Speed relocated to New York, where he has been an integral part of the avant garde jazz scene for the past 20 years. Over his career, Speed has performed with such artists as Tim Berne's Bloodcount, the Claudia Quintet, Alasnoaxis, The Clarinets, Myra Melford, Mark Dresser, Susie Ibarra, Erick Friedlander, Hank Roberts, Craig Taborn and Dave Douglas. He leads or co-leads Pachora, Human Feel, and Trio Iffy. In 2006, Chris helped create Skirl Records, an artist-run collective supporting the Brooklyn-based new music community. Speed was last in town with the DKTC in 2015.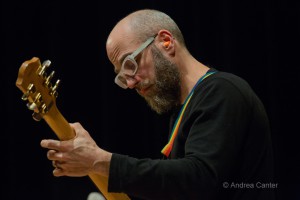 Multi-instrumentalist/composer Erik Fratzke lends his bass to Happy Apple and his guitar to other projects, including Gang Font and Zebulon Pike. The Winona native started off on drums, switching to upright bass in fourth grade. Among early influences he cites his mother's record collection (including Bartok), MTV, classical string quartets, and later, the bass playing of Stanley Clarke, Jeff Berlin and Jaco Pastorious. Early in his career, he found himself playing jazz, metal, even "Christian country rock." Over the years, the three-time Minnesota Music Awards winner as "Bassist of the Year" has played with Reid Anderson and Bill Carrothers in addition to Mike Lewis and Dave King.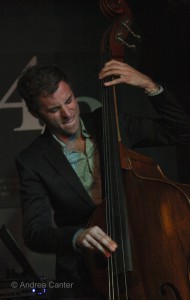 Jazz Times has dubbed Chris Morrissey "the shape of things to come when it comes to bassists and bandleaders." In his native Minnesota, Morrissey led a band that included Dave King, Mike Lewis, Peter Schimke and Bryan Nichols, who performed on the bassist's debut recording, The Morning World.  Moving to Brooklyn in 2009, Morrissey became music director for Sara Bareilles, and in that role has shared the stage with Elton John, recorded with Cyndi Lauper, co-produced Jackie Wilson's Higher and Higher for the Oprah Winfrey Network, and wrote an arrangement of Charlie Chaplin's "Smile" for the memoriam segment of the 66th Emmy Awards. In addition to The Morning World, Chris has released Cannon Falls Forever and North Hero on Sunnyside. In 2014, he was featured in Bass Player Magazine, joined the adjunct faculty at The New School for Jazz and Contemporary Music, and received a residency commission from The Jazz Gallery resulting in the creation of "Standard Candle." Among his eclectic credentials are performances with Ben Kweller, Mason Jennings, Andrew Bird,  the Mark Guiliana Quartet, Beat Music, Gretchen Parlato and Roseanne Cash.
Surrounded by the Night (Sunnyside, 2016)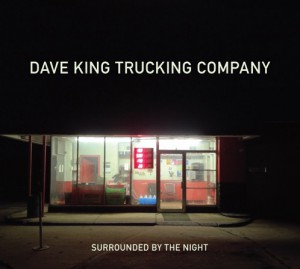 The latest offering from the DKTC continues the ensemble's devotion to modern jazz melded to the sounds of rock, pop, and bluesy Americana, and the first recording with bassist Morrissey. Composing most of the tunes, King takes advantage of the doubling of saxophones to create unique unison passages as well as prickly harmonies. Some tracks reflect the "trucking company" concept, such as the wistfully vibrating opener "Delta Kreme," which is named after a William Eggelston photo of a Cutlass in front of a burger joint, or the spare dissonance of "Blue Candy," referencing the use of speed to help truckers to stay awake. Even the CD title Surrounded by the Night conjures the trucker's world on the open road. "Parallel Sister Track" indeed suggests the tension of dual agendas (here, twisty horns vs thrashing rhythm). "Glamour Shot" has that Bad Plus pulsating percussive backdrop that we know and love, with a 50s-ish pop melody line, while "That Isn't Even Worth Selling" has a more bebop era feel overlaid with 21st century horns and a dark twisting solo from Morrissey. Fratzke's "You Should Be Watching Art Films" presents the undulating power of the dual horn lines while unleashing the composer's own overtones of magic. The closing "Don't Be Suspect of a Gift" has a foundation in rockish grunge complete with acoustic static from King and horns gone wild a la avant garde jazz. (See another review at http://bitnami-wordpress-7b91-ip.centralus.cloudapp.azure.com/archives/1270)
There are no advance tickets sales so fans of the Trucking Company are advised to come to Vieux Carré well ahead of the 9 pm start, and enjoy some great guitar from Zacc Harris (Friday) and Mayyada (Saturday), starting at 6 pm. If you are in the Chicago or Milwaukee area, check out the DKTC at the Hungry Brain in Chicago (July 17) or at the Bayview United Methodist Church in Milwaukee (July 18).
Vieux Carré is located at 408 St Peter Street in the lower level of the Hamm Building in downtown St. Paul; cover $15; http://vieux-carre.com