"Rabbath's style is so spontaneous and organic that it's difficult to tell where the written music leaves off and the improvisation begins. His technical ability is such that he sounds like a trio of one: bowing, plucking and hammering in an ever-flowing cascade of sound."  –Libby Hanssen, Kansas City Star, 6/23/15
One of the most influential double bassists of modern music is back in the Twin Cities to perform and teach. Francois Rabbath, who delivered stunning concerts here in 2012, 2014 and 2015, will teach his "New Technique for the Double Bass" to more than 70 bass players from around the world attending this year's Twin Cities Bass Camp. On Monday, July 25 (7 pm) at the Augustana Lutheran Church in West St. Paul, Rabbath will premiere new works written with his son Sylvain and arranged for Rabbath with strings and drums.
One of nine children in a musical family in Aleppo, Syria, Francois Rabbath was first exposed to the double bass through his brother. After the family moved to Beruit, Rabbath taught himself to play the bass, using a technique book by Eduoard Nanny. The fact that Rabbath could not read music or French did not discourage his self-directed studies! He spent nine years working in Beruit to earn the money to travel to the Paris Conservatory where he hoped to study with Nanny. Discovering Nanny had died some years earlier, Rabbath instead auditioned for the Conservatory on three days notice, finishing as the top applicant. He only stayed at the Conservatory briefly when it became apparent that his skills were beyond those of both students and faculty. Remaining in Paris, he accompanied such artists as Jacque Brel, Charles Aznavour, Gilbert Becaud, and Michel Legrand. In 1963, at the urging of Quincy Jones, he made his first of many solo albums, Bass Ball, which would become one of the most influential albums of its time.
From 1964, as well as composing music for movies and the theater, and performing with the likes of Simon and Garfunkel, The Beatles and Moody Blues,  Rabbath launched his career as a soloist, first in France, then throughout Europe. He played his Carnegie Hall debut in 1975 with Ornette Coleman. A few years later he met American composer/double bassist Frank Proto, who would compose three works for him—a Concerto for Bass and Orchestra commissioned by the Cincinnati Symphony, a "Fantasy for Double Bass and Orchestra" commissioned by the Houston Symphony, and the piano/bass duet, "Carmen Fantasy," which premiered in Cincinnati in 1991. Their most recent collaboration was on Proto's "Four Scenes after Picasso – Concerto No. 3 for Double Bass and Orchestra."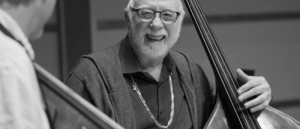 A dazzling virtuoso who accepts no limits or labels, Francois Rabbath crosses classical, jazz, and global traditions. He is credited with bringing more attention to the double bass as a serious solo instrument as well as evolving a revolutionary technique in the use of the left hand and bow arm. For Rabbath, the entire fingerboard is divided into only six positions, defined by the location of natural harmonics on the strings; he also developed the "Crab Technique," in which the hand movement resembles a crab's sideways walking.
Rabbath's bass is also unique: The end pin slants backward, rather than straight up and down as on most instruments. "It changes the center of gravity of the bass," explained titan jazz bassist (and one-time Rabbath student) Rufus Reid in an interview with Pamela Espeland for the Star Tribune. "Your body is more relaxed, and pretty much in the same position whether you're playing way up in the upper register or down low. The playground — the fingerboard — is much more accessible. François plays all over the bass effortlessly."
Francois Rabbath speaks a language, both in words and in music, that calls an audience, young and old, musicians or not, to be fully present. He plays his own compositions, pieces commissioned specifically for him, unforgettable movements from the Bach cello suites at the original pitch, and, lately, pieces composed with his son and accompanist, Sylvain. Sylvain Rabbath, born in 1984, is an accomplished musician in his own right, with a classical piano diploma from the National Conservatoire in Paris, among other achievements. In addition to concerts with his father, Sylvain was heard at the Icehouse in Minneapolis with a quintet of local musicians in July 2014.
Augustana Lutheran Church is located at 1400 S. Robert Street in West St. Paul. Tickets ($25 suggested donation) at the door.