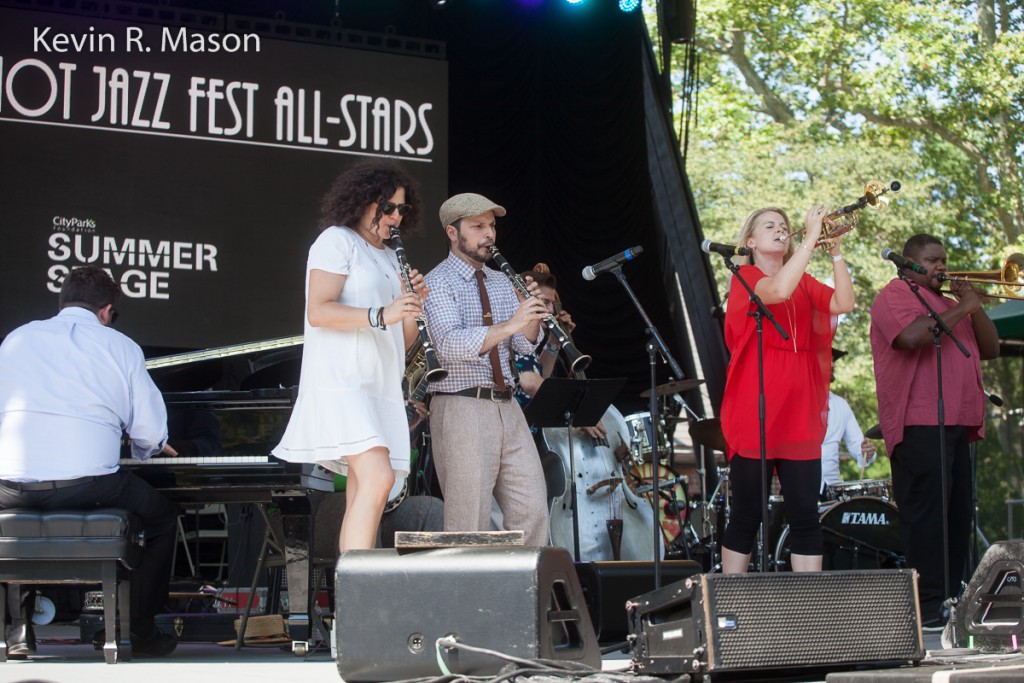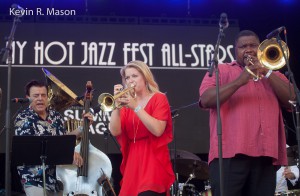 After the wonderful show on June 4, "The Legends Honor McCoy: McCoy Tyner Quartet / Ron Carter / Roy Haynes," SummerStage in New York City continued in a big way on June 25, a picture-perfect summer day, the kind of weather you dream of in winter when fantasizing about a jazz festival in June. This year, SummerStage is presenting the largest number of free jazz concerts in its history, in all five boroughs of New York.
Bria Skonberg and the New York Hot Jazz Festival All-Stars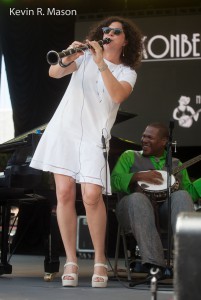 A great afternoon of jazz started in Central Park's Rumsey Playfield with Bria Skonberg and the New York Hot Jazz Festival All-Stars. Singer/trumpeter Bria Skonberg and her merry gang– clarinetist/saxophonist Anat Cohen, pianist Dalton Ridenhour, vocalist and guitarist/multi-instrumentalist Jerron "Blind Boy" Paxton, trombonist Wycliffe Gordon, drummer Joe Saylor, and multi-instrumentalist/vocalist Vince Giordano–aren't called "All-Stars" for nothing. They played an excellent set from start to finish, with a swinging sound straight from New Orleans. The group immediately got the audience going with a scorching number that had feet tapping, heads nodding, and bodies swaying. Skonberg then introduced "When You're Smiling" (with Vince Giordano taking on vocal duties), saying the song expressed how happy the group was to be in Central Park on such a gorgeous day, playing some hot jazz! Next came "Is You Is or Is You Ain't My Baby?" with fine vocals by Bria and outstanding solos by Anat Cohen and Wycliffe Gordon. Bria discussed the importance of always honoring the roots of jazz, and the concert continued with "It Don't Mean a Thing If It Ain't Got That Swing," featuring Gordon tearing it up! People of every age, size, and shape started dancing, including one couple who looked like octogenarians, but danced like teenagers. For the last song of the set, the group was joined by multi-instrumentalist Dennis Lichtman's clarinet on a fantastic rendition of "Bourbon Street Parade." Every member of the band got their moment to shine, and they all shone as brightly as the sun that was beaming down on Rumsey Playfield!
The Hot Sardines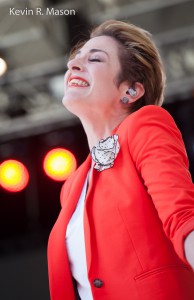 The Hot Sardines started with "Bei Mir Bist Du Schoen" and followed up with a sultry "Goin' Crazy With the Blues." Frontwoman Elizabeth Bougerol, affectionately known as "Miz Elizabeth," was dressed in a blazing reddish-orange outfit that was a perfect reflection of the music, and was in fine vocal form. Pianist Evan "Bibs" Palazzo did a classical music introduction to a sexy song that Elizabeth sang in French. Miz Elizabeth and Evan were joined by trombonist Mike Sailors, trumpeter Jason Prover, drummer Alex Raderman, saxophonist/clarinetist Nick Myers, bassist Evan "Sugar" Crane, and tap dancer "Fast Eddy" Francisco. This group makes older songs sound completely new, like a cool, insinuating version of Robert Palmer's "Addicted to Love," arranged by Nick Myers, and a syncopated tango rendition of Rodgers and Hammerstein's "People Will Say We're in Love." Actor Alan Cumming (Cabaret, The Good Wife) is a fan of the group, and recorded the song "When I Get Low, I Get High" with them. Although Cumming was in another state doing a show, Elizabeth said "he was there in spirit" when they performed the song. Things got sweet and sentimental on a song about Elizabeth's hometown, "Wake Up in Paris." A mash-up of "Dinah" with "Good Morning" (from the film Singing in the Rain) was a surprising delight. When describing "French Fries & Champagne" from their CD of the same name, Elizabeth said, "You gotta find a reason to celebrate, even when life doesn't seem all that celebratory," which she says is the manifesto of their group. Of a country-western/blues-influenced song, Miz Elizabeth said it's about that relationship many people have had, where you break up and get back together over and over, until you finally get over the person. She added that it was a true story, especially the part where you feel so good when you know it's over! The set ended with a rousing, raucous "Running Wild" from the film Some Like It Hot. Although this group defies easy categorization, The Hot Sardines have been described as jubilant purveyors of vintage jazz. They have a lot of influences, old and new, but they put their own stamp on everything they do with great musicianship, a sense of humor, and a lot of style!
Butler, Bernstein, and The Hot 9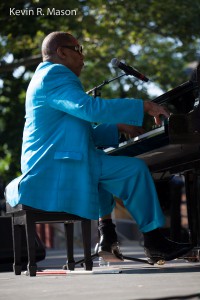 Legendary New Orleans singer/pianist Henry Butler and critically acclaimed trumpeter/arranger Steven Bernstein were joined by the fiery group of musicians who are aptly named The Hot 9. This is a really tight band, with brilliant work by all, especially some particularly passionate singing and great piano solos by Henry Butler. The set included "Dixie Walker" and King Oliver's "Sugar Foot Stomp," and they moved from jazz to blues, and many variations, with the greatest of ease. Henry Butler really let it rip on Billy Preston's "Will It Go Round in Circles." At one point, the band offered to take requests, but the audience was pleased with the delicious musical offerings on the menu, that went from ballads to sizzling up tempo songs. The band also played a hilariously sketchy song that included lyrics like "Dirty butt, stinky butt" that had the crowd rolling with laughter. "Viper's Drag" is from their CD of the same name. In closing, Steven Bernstein praised the band as great American musicians, and indeed they are. Bernstein added, "This is what makes America great again – great American music!" The exhilarating set demonstrated the truth of that statement, and the audience members at Rumsey Playfield were the lucky recipients. For this afternoon of jazz, you couldn't have asked for a more beautiful day, and the music was just as great as the glorious weather!
Upcoming SummerStage Events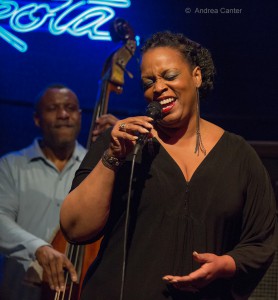 SummerStage is far from over! On Wednesday, July 27, iconic, multi-Grammy-Award winner Dianne Reeves will give a concert at Queensbridge Park in Queens, from 7:00 pm – 9:00 pm. Dianne Reeves is one of the greatest jazz vocalists in the world, with impeccable timing, an unmistakably beautiful voice, and mesmerizing stage presence. Ms. Reeves is loved worldwide by critics and audiences. If you've heard her perform live, you know how great she is. If you haven't yet heard the wonder of Dianne's voice in person, you should walk, run, skate, Uber, take a subway, fly…do whatever you can to get to this free concert by this legendary singer! Miss this show at your peril.
More free upcoming SummerStage jazz concerts:
Sunday, July 31, 4:00 pm, Queensbridge Park: Marc Cary: The Harlem Jam Sessions / Joseph Webb: Dancing Buddhas / WBGO Kids Jazz Concert Featuring Brianna Thomas & The Jazz Travelers
Friday, August 5, 7:00 pm, Clove Lakes Park, Staten Island: Terence Blanchard Featuring The E-Collective
Sunday, August 7, 7:00 pm, Central Park: Igmar Thomas & The Revive Big Band present: A Journey Through the Legacy of Black Culture, produced by Revive Music / Pre-Show Panel
Wednesday, August 10, 7:00 pm, East River Park: "We Play For You, Butch Morris" featuring Nublu Orchestra / DarkMatterHalo with Wadada Leo Smith / Screening: Black February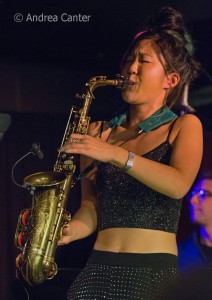 Charlie Parker Jazz Festival:
Friday, August 26, 7:00 pm, Marcus Garvey Park: Jason Lindner: Breeding Ground / DJ Caz
Saturday, August 27, 3:00 pm, Marcus Garvey Park: Randy Weston African Rhythms Sextet / Cory Henry & the Funk Apostles / The Artistry of Jazzmeia Horn / Charles Turner III / Master Class: Samuel Coleman
Sunday, August 28, 3:00 pm, Tompkins Square Park: DeJohnette – Moran – Holland / Allan Harris / Donnie McCaslin Group / Grace Kelly
For more information about the SummerStage Festival, go to: http://www.cityparksfoundation.org/summerstage/